by Advanced Sommelier Jenny Benzie
Summertime is finally here and while you are excited to be grilling on your new Weber, the precious sun-filled days on Nantucket are oftentimes better spent not having to cook (or clean up) for yourself. With the abundance of culinary destinations that this small island has to offer, this gives you the opportunity to stay at the beach a little longer, cast your line in the surf a few more times or just relax by reading the new murder mystery by Nantucket author Elin Hilderbrand. Here are some suggestions for the best All American BBQ take-out options available on Nantucket, along with the perfect wine pairing to enjoy while licking your fingers clean instead of having to do the dishes.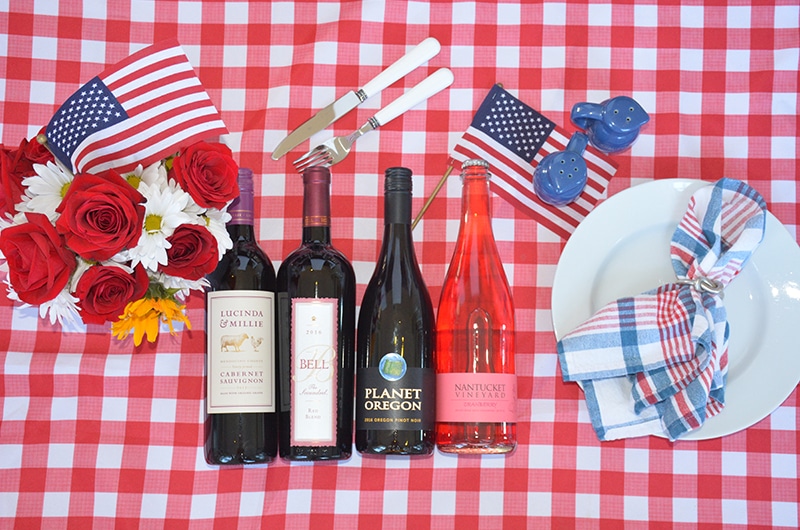 ANNYE-body who is hungry will agree that Annye Camara of her eponymous Annye's Whole Foods is THE go-to for healthy eating and lifestyle on Nantucket. Working with her in the kitchen to produce organic lunch specials during the week are distinguished, veteran island chefs Chris Morris and Stephanie Silva. While Fri-yay lunch happens to be an All-American offering with a selection of BBQ ribs served with waffle fries and creamy coleslaw, they also prepare a revolving selection of other bbq essentials including burgers, pulled pork, and fried chicken. These options are great for that last day of the work week lunch or to pick-up early to have for the start of your weekend dinner. Either way, you know that they are made with the best ingredients for your body, soul and in respect to Mother Earth.
The planetary wine pairing to match the ethos of such a meal would be Soter Vineyards "Planet Oregon," Pinot Noir, Oregon 2016. Winemaker and Nantucket Wine Fest luminary Tony Soter, along with his wife Michelle, have a commitment to producing quality wines in a way that treads softly on the earth with an ardent reverence for the environment. Grapes are farmed sustainably and the green winery monitors its energy use and waste during wine production. This wine is loaded with aromas of fresh red berries, cinnamon and a hint of woodsmoke. Raspberry and cherry cola flavors with a tangy acidity greet you on the palate with a long, gently tannic finish. This superb value of a sexy pinot noir comes in a convenient screw-top closure, easy opening for BBQ laden fingers.
When you are looking for a delicious burger—and not just any burger— Nantucket restaurant Proprietors Bar & Table is THE place for their Monday burger night. Every week Chef Michael LaScola features a take on his burger creation that never ceases to amaze and always outdoes the week prior. Burger fans flock to the bar early on this day (they open at 5 pm), without even knowing what this week's concoction might be, to ensure they get one and avoid disappointment when these tasty limited-edition burgers run out each week.
Not always knowing the exact components of your burger means you need an all-purpose wine that will deliver with a variety of options. Lucinda & Millie, Cabernet Sauvignon, Mendocino County 2016, is an excellent option to pair with your burger of the week. Winemaker Greg LaFollette crafts this red wine from 100% organically grown grapes certified by the California Certified Organic Farmers (CCOF), sourced from family farms and independent growers. Dark berries and cassis on the nose are accompanied with notes of cedarbox and fresh tobacco leaf on the smooth palate. The long, seamless finish will have you coming back for more. Luckily, this wine is affordable enough for you to have two on hand just in case you need to open that second bottle.
For Red Sox enthusiasts that prefer to watch the game at home, but don't want to deal with preparing messy wings, then take-out from The Faregrounds is the answer. This homey, year-round, local restaurant has a lovely outdoor patio to enjoy during warmer weather, lots of big screen televisions to catch the latest game inside at Pudley's Pub, and a quiet dining room setting is available for large parties and banquets. Get a Pudley Bucket of wings with your choice of sauce. Call ahead or order at the bar and have a drink with Abbott while you are waiting for your food to be prepared to-go.
Being able to play well together with your wings is exactly what you will find in Bell Wine Cellars "The Scoundrel" Red Blend, California 2016. Winemaker Anthony Bell, based in Yountville of Napa Valley, creates the most appealing glass of wine in this proprietary blend of Cabernet Sauvignon and Syrah. This wine offers juicy, bright fruit, and soft, sweet oak that make a wine full of flavor and freshness—perfect for the game and wings to match. Finely grained tannins and mouthwatering acidity perfectly frame the finish of white pepper and a note of cranberry. Bring out the Scoundrel and play ball!
After eating a delicious BBQ meal, those of us who crave desserts will need a little something sweet to finish off the festivities. The Nantucket Bake Shop is the perfect solution for a selection of bite-size sweet morsels. Their almond macaroons, freshly baked cookies, and made-to-order cakes are baked daily at this year-round, family-owned bakery, and they go fast in the summertime. Be sure to get there in the morning or order ahead of time to ensure your cookie choices are available. While you're there, pick up some delicious cranberry granola for breakfast the next day as well! Also keep in mind that they are closed on Sundays. Miss your Nantucket Bake Shop fix when off island? You can have it shipped directly to your door, or that of your family and friends, by ordering from them online.
Create your own festive fireworks by pairing your sweet bites with Nantucket Vineyards Sparkling Cranberry Pinot Gris NV. The wash-ashore Washington State Pinot Gris grapes are blended with local Nantucket Cranberries. The cranberries are gently crushed and added directly into a tank with the wine. They macerate together for a few weeks to create a beautiful pinkish hue to the color and an essence of tart cranberry to the flavor. The cranberries are filtered out and the wine is lightly carbonated, then bottled. Voila – a spectacular ending to a celebratory day!
The benefits of grabbing a meal to go on Nantucket not only include the extra free time you will have available, but also the convenience of dining on your time frame, in the location of your choice and with your preferred beverage of choice for the ultimate experience! Remember this holiday weekend to enjoy responsibly and leave only footprints on our enchanted island.