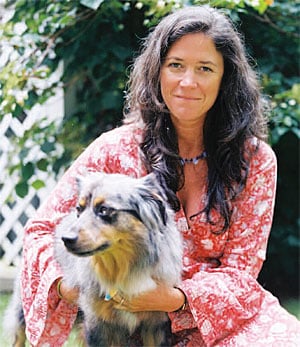 Nantucket Painter Elizabeth Congdon is marking her 50th year by beginning a series of 50 paintings of the most vivid and beautiful memories of her life.
"When I was turning 49 this year, I realized that I needed to think positively about having lived a half century. Being an artist, I knew the best way for me to that was to spend the next few years painting what's visually inspired me throughout my life, images that have persisted and burned in
my head over the years."
Congdon is known for her post impressionistic plein-air landscapes and floral still life's. Her images of Gibbs Pond, the South Shore beaches and sandy moor roads capture Nantucket's colors and light with bold brushwork moving across naturally toned linen canvases. With a quieter studio tmosphere,
her still life's express a similar freedom of line and palette, as flowers, fruit and fabric reach out beyond the confines of their edges. Like Nantucket itself, Congdon's work balances calm and passion in a way that invites both sanctuary and escape.
Congdon's new series will include images which serve as touchstones from her childhood, travels, and memories of Nantucket since 1962.
Congdon started her series of 50 by painting 8 studies of India to herald her new representation at Robert Foster Fine Art on 8 India Street. Says
Congdon, "Delving into painting India was really a way to celebrate being shown by Robert Foster at his new gallery. I have been lucky enough to have shown at Main Street gallery and South Wharf Gallery over the past 3 decades, but now I am part of something new and it's a start of an exciting
journey in and of itself."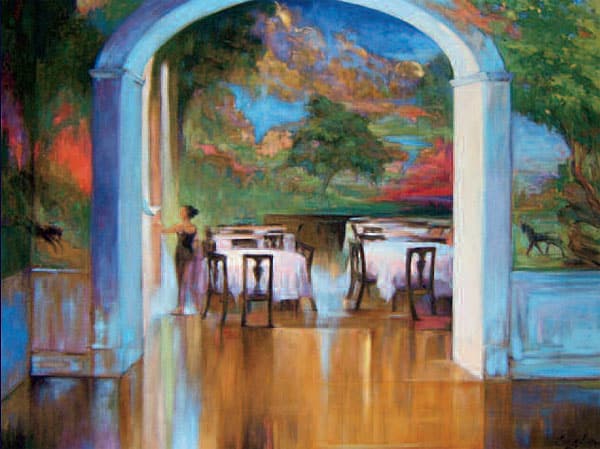 One of the three cornerstones of this year's show is the full moon over the cranberry bogs, showing the island's simplicity of sky, land and water.    "There are sweeping vistas in Nantucket, but there are also perfect little moments in the landscape which say so much," says Congdon. "A tender inch can speak day after day, year after year, decade after decade in so many ways." Another dialogue Condon offers is "Nest," a still life of the birds outside her Jamestown, Rhode Island, studio window chit chatting beyond a large vase of white lilies. "I love to paint outdoors, but there's a whole world
at home by myself and with my family that I need to paint," adds Congdon.    "This painting is about one of my first memories of my grandmother whose sunroom had a huge cage full of canaries who sang with the birds outside."
Perhaps the most personal painting is "To Sit, To Stand, To Dance." As a self described "middle-aged mother of a middle school ballerina," the artist has painted her mural decorated school lunch room in New York City, now its ballet studio, as a surreal room whose 20th century structure becomes
wild. "It's that time in your life," she says of the painting, "when your choices move from learning how to sit with yourself and accept who you are, or just where to sit at the lunch table, go to how to actually stand up for who you are, to how to express yourself fully in your own personal odyssey."
Moving within and without herself to find direction has been Congdon's compass for navigating both life and painting. Patience and passion translates    on canvas, and help her create works which are both serenely real and boldly compelling. What's next for Congdon? This fall she will begin painting
for her 2014 exhibition at the Newport Art Museum in Rhode Island.
Elizabeth Congdon Opening reception Friday July 13, from 6 to 9pm at Robert Foster Fine Art Gallery. Exhibition continues July 13 to 26th