by Sarah Teach
With helmet shields down, sticks lowered, and blades flashing under the lights, 22 celebrities from the world of hockey will spend this weekend skating their way to bettering the Nantucket community. This Friday and Saturday, July 13 and 14, Nantucket native and two-time Olympian medalist AJ Mleczko will host the 10th Annual AJ Mleczko Charity on Ice to benefit the island's only ice skating rink, Nantucket Ice.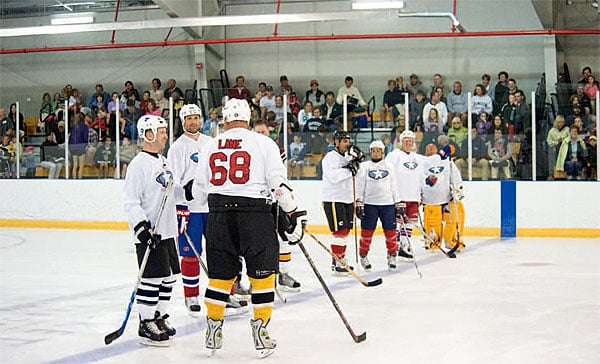 Mleczko's family was a key player on the Nantucket Ice team years before the first layer of ice was frozen. She says, "My parents moved to Nantucket year-round in the mid-90s, around the same time a bunch of islanders had the idea to build a rink on the island. They wanted to play hockey, and they had been flying over the Vineyard to do it. My family, of course, had strong ties to hockey," says Mleczko, referring to the fact that she had won a gold medal at the 1988 winter Olympics in Nagano, Japan.
She continues, "When the rink was being constructed back in '01, my mom was president of the board [of Nantucket Ice]. I was training to complete in the 2002 Olympics in Salt Lake City, and obviously following the rink's progress closely. I was born right here in the Nantucket Cottage Hospital, so the fact that there was going to be an ice rink on the island meant my two worlds were colliding in a great way. It was actually in Salt Lake City when we first started thinking, 'Maybe we can use these Olympic connections to benefit the rink.'"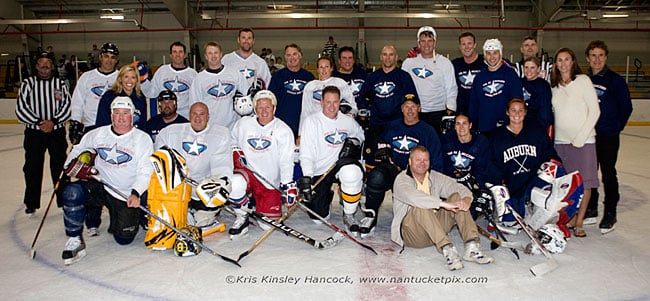 Mleczko ended up taking home her second Olympic medal, a silver, from the 2002 games in Salt Lake City, the same year that Nantucket Ice officially opened. And after seven years of fundraising, it was with great enthusiasm but also with a million dollar debt that the island rink opened to the public.
That enthusiasm finally prevails this weekend when the Annual AJ Mleczko Charity on Ice events will raise the last of the funds needed to finish paying off the original debt. "A lot of people don't understand how expensive it is to run an ice rink," discloses Mleczko. "Last year, the electric bill alone was $147,000! And of course, when a Zamboni breaks, that has to be fixed or replaced, and that's an additional cost." But the rink is an expense well worth the effort. Mleczko pours out her passion for Nantucket Ice, saying, "It's all about the kids. With the rink being so close to the
schools, it's is a safe alternative place for them to go, especially in the winter months when Nantucket can feel so isolated. A community ice rink is a unifying place."
Charity on Ice offers a span of fun activities for all ages. Mleczko describes the Celebrity Hockey Game as a very family friendly event. This Friday night, July 13, everyone in the community is invited to show up at the rink at One Backus Lane at 5 p.m. for a community BBQ. And at 6:30 p.m.,
the game will start. It's time to get ready to see all of your favorite hockey stars pitted against each other like never before! There will be a very special halftime show featuring figure skating by Dorothy Hamill and some island kids who are involved with skating activities here on Nantucket. The
Celebrity Hockey Game isn't your average Nantucket summer charity event— tickets cost just $20 for adults, $10 for ages 4-12, and ages three andunder are admitted free. The ticket price includes both the BBQ and the game.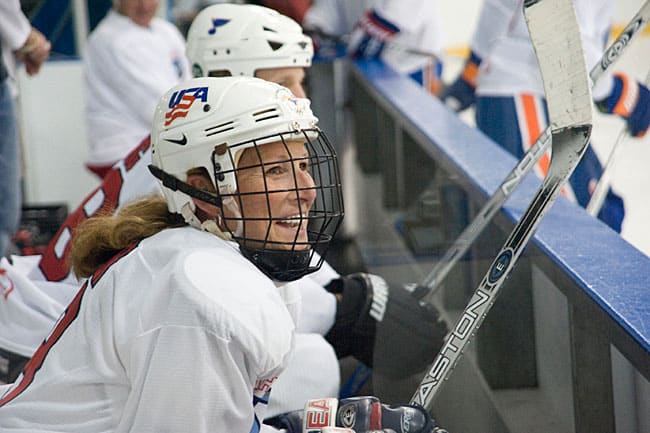 The following evening, Saturday July 14, at 6:30 p.m., the Celebrity Dinner & Auction will be held at the Whaling Museum at 13 Broad Street. The items being auctioned off are themed very ppropriately, with some highlights including Bruins tickets, two tickets to Winter Classic, Patriots tickets, passes to a Red Sox batting practice, tickets to August's Dorothy Hamill Figure Skating Fantasy Camp, movie set visits, dinner for 10 with David Gregory from Meet The Press at a favorite downtown Nantucket
restaurant, and many more surprises. Celebrity Dinner & Auction tickets are $200 per adult.
Mleczko gives credit to everyone involved with Charity on Ice, saying,    "We definitely work with a lot of generous people. And an event like this doesn't go off without hordes of volunteers." Tickets are required for all Charity on Ice events; get them by emailing info@charityonice.com or calling the rink at 508-228-2516.
Fans of the following celebrities,won't want to miss the 10th Annual AJ Mleczko Charity On Ice this weekend:
Tony Amonte (Olympic silver medalist, retired NHL, right wing)
Laurie Baker (two-time Olympian, gold and silver medalist, center)
Andy Brickley (retired Bruin, forward, current NESN & NBC commentator)
Colleen Coyne (Olympic gold medalist, defense)
Jim Craig (1980 Miracle on Ice gold medal, goaltender)
Ted Crowley (Olympian, defense)
Cleon Daskalakis (retired Bruin, goaltender)
Ted Donato (retired Bruin, left wing, current Harvard coach)
Mike Dunham (Olympic silver medalist, retired NHL, goaltender)
Hal Gill (former Bruin, current NHL-Nashville Predators, defense)
Dorothy Hamill (Olympic gold medalist, figure skating singles)
Natalie Jacobson (retired WCVB news anchor)
Brian Leetch (retired Bruin, defense, Hockey Hall of Fame)
Shawn McEachern (retired Bruin, left wing)
Marty McInnis (retired Bruin, left wing)
Kate Merrill (current WBZ news anchor)
AJ Mleczko (two-time Olympian, gold and silver medalist, defense)
Tara Mounsey (two-time Olympian, gold and silver medalist, defense)
John Shea (Emmy-winning actor, hockey coach)
Bob Sweeney (retired Bruin, center)
Brandon Yip (current NHL-Nashville Predators, right wing)
Scott Young (three-time Olympian, retired NHL, right wing)