Every summer morning, Children's Beach is a hub of activity for all ages.  Little ones chase each other across the soft grass of the spacious lawn while older kids swing and climb on the playground equipment.  Parents gather to watch and to enjoy some adult conversation.  Couples sit on the row of benches overlooking the harbor and sip their morning coffee.  There are Town sponsored activities happening at Children's Beach nearly every day, from tie-dying to volleyball, on Friday evenings the Town shows and on Thursday and Sunday evenings through mid-August there are free concerts.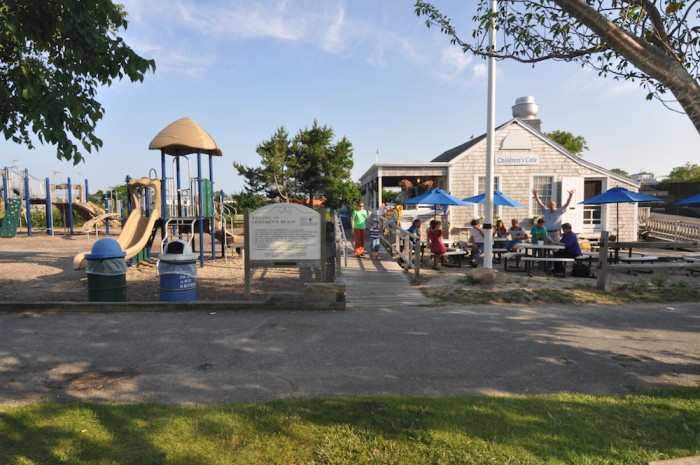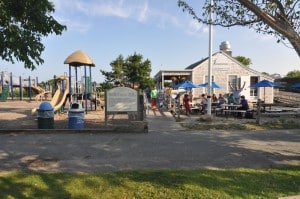 Perfectly situated right at Children's Beach to provide breakfast, lunch, snacks, and dinner is The Children's Café.
Now operated by Bartholomew Gangemi, long-time owner of the Easy Street Cantina on Steamboat Wharf, The Children's Café offers something for every age and for every taste.  Sit in the shade on the sheltered deck or under one of the blue market umbrellas on the sunny patio, or take your food to one of the picnic tables under the trees on the grass by the bandstand.  No matter where you're seated, the view from here is one of the best on the island, rivalling several of Nantucket's chic (read "pricey") restaurants.
Starting at 8 am, the aroma of freshly brewed coffee begins to lure sleep-deprived parents toward the café.  Once inside, it's hard to resist the tempting sizzle and smells of the bacon and sausage that come with the pancakes, french toast, and eggs, all made to order.  If you treat the family to breakfast at the Children's Café (and we recommend that you do!), the Blueberry Pancakes are particularly good.  Featherlight buttermilk cakes come in a full stack of three with your choice of bacon, sausage, or ham for $9.95 or in a short stack for just $6.50.  You can order them with chocolate chips or big juicy berries (our favorite) for just $1 more.  Go ahead and let the kids have the chocolate chip pancakes: you'll be the favorite parent or grandparent for the day, and they can run off the sugar rush at the playground just a few feet from the cafe!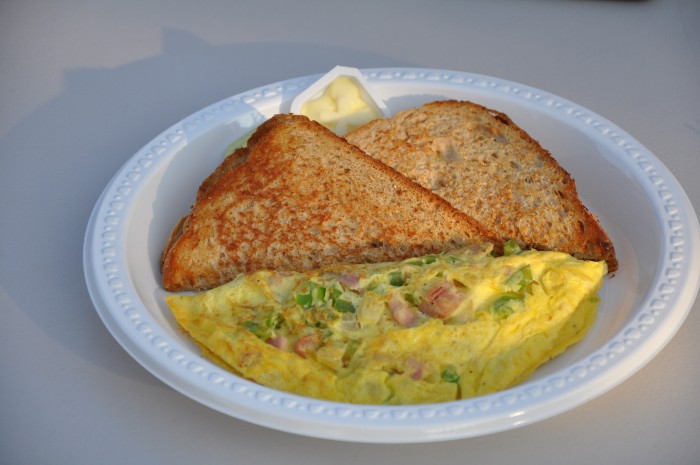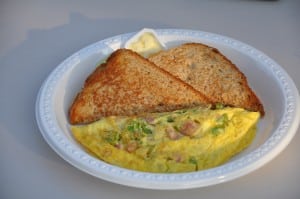 We're also impressed by the Western Omelette served at The Children's Café for just $9.95.  Served with toast, this fluffy three-egg omelette studded with chunks of ham, green pepper, onion, and folded over a blend of cheddar and monterey jack cheeses is a hearty way to start or end your summer day.  Breakfast items are served from open to close: so you can savor them for lunch and for dinner, too!
If you don't have time to sit and savor, The Children's Café offers more than half a dozen Breakfast Sandwiches from a simple Egg & Cheese ($6.50) to a Grand Slam with bacon, sausage, ham, egg, and cheese on maple grilled toast ($7.95).
The Children's Café serves a variety of finger foods and snacks all day long, so you're not limited by usual mealtimes.  The Beach Bites they offer include Cheese Sticks with Marinara Sauce (great for kids of all ages!), Chicken Fingers, their homemade version of Chicken Nuggets, Mac and Cheese, and a very nicely done Personal Cheese Pizza, which is a sort of mini deep-dish with plenty of cheese.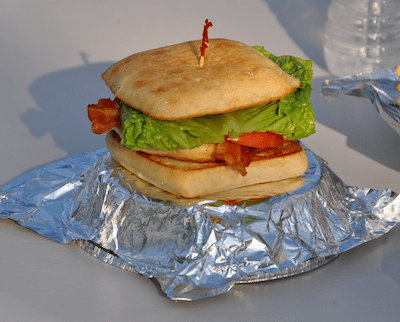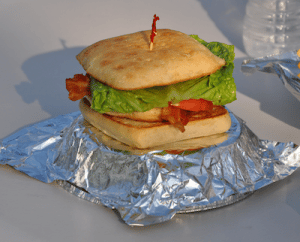 Sandwiches from this café make great grab-and-go lunches and dinners — if you had a really early start to your day fishing or beachcombing, you can order them in the morning, too!  Most of the burgers and sandwiches are served on grilled ciabatta that is tender enough to bite through, but holds together well with all the toppings you can get.  The burgers are hot and juicy, and the Grilled Chicken is moist and very tasty with crisp bacon, juicy tomato, and lettuce.  If you like it spicy, try the Buffalo Chicken Sandwich,  served with the chicken drenched in a buffalo sauce that is flavorful as well as hot, lettuce, tomato, and blue cheese on the side.  Other sandwich choices include Basil Chicken Salad, and a classic BLT or a smoked Turkey Club on white or wheat bread.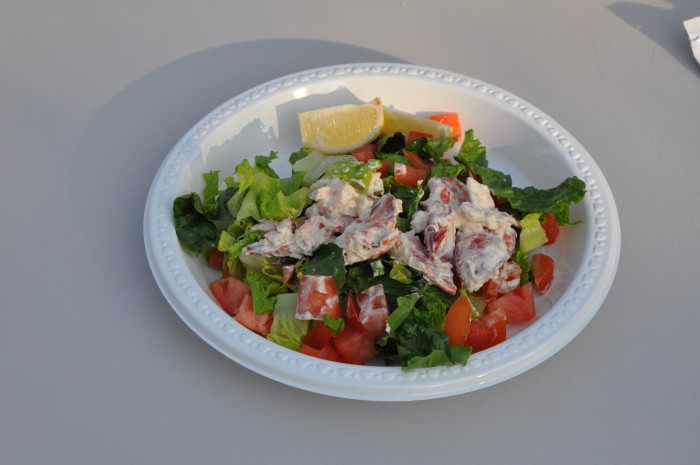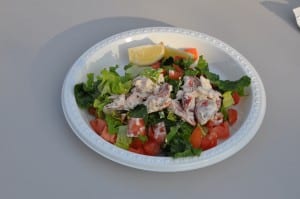 One of our favorites for lunch and for dinner at The Children's Café is their Lobster Salad.  It's the perfect seaside treat, with big chunks of lobster meat with celery, mayo, and a light seasoning.  We like this best served over a fresh salad of chopped romaine and fresh tomato, but you can also order the Lobster Salad as a sandwich on grilled ciabatta.  At the risk of distracting our readers by mentioning a different eatery, The Children's Café Lobster Salad is nearly the same as the delicious version served at the Easy Street Cantina (Gangemi's restaurant on Steamboat Wharf) but at The Cantina, it's served on a croissant.  YUM!  The Tacos at Easy Street Cantina also come highly recommended, especially the Sriracha Salmon Taco, the Fish Taco, and the gluten-free Breakfast Taco.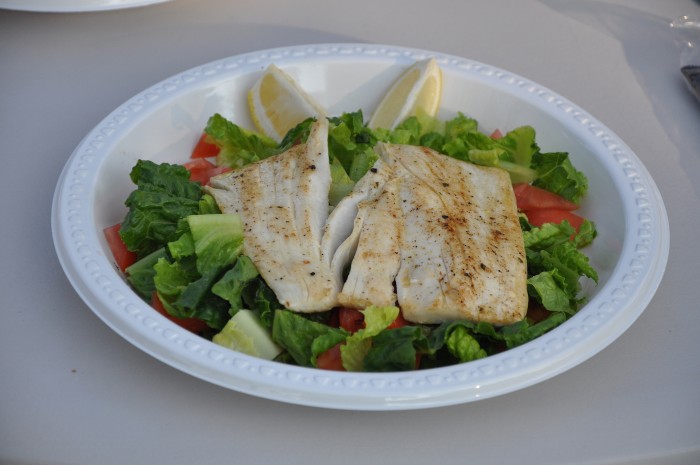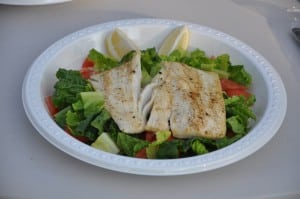 All the fish dishes offered at The Children's Café come with the option of being served on a salad or on toasted ciabatta with lettuce and tomato as a sandwich, very portable for a day at the beach.  The cooks here make very tasty Grilled Swordfish Medallions and superbly moist and flaky Grilled Mahi Mahi.
When we go to The Children's Café for dinner, though, we go for a seaside feast!  We start with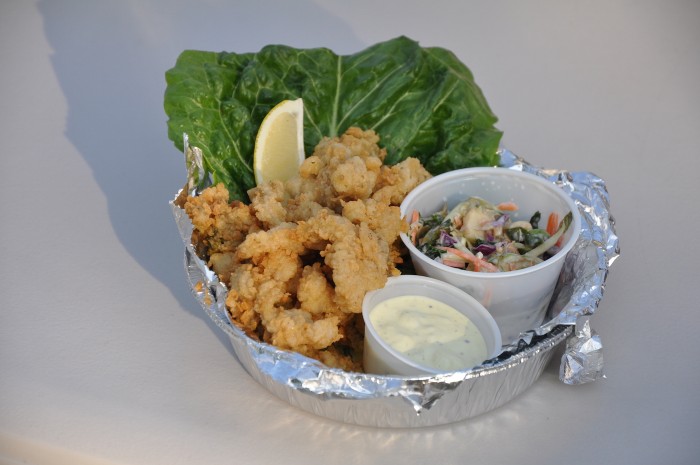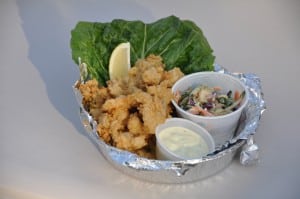 some of their light and creamy New England Clam Chowder, followed by an order of their Whole Fried Clams, which are hand breaded and fried just right: golden and crunchy outside, hot and tender inside.  The clams (and the other seafood dishes) are served with coleslaw and a very good house tartar sauce.  You'll be missing a real treat if you don't order a side of the Seasoned Fries.  Dusted with Bartholomew's Nantucket Island Spice, a special blend of 65 herbs, spices, and vegetable powders, these fries are habit-forming!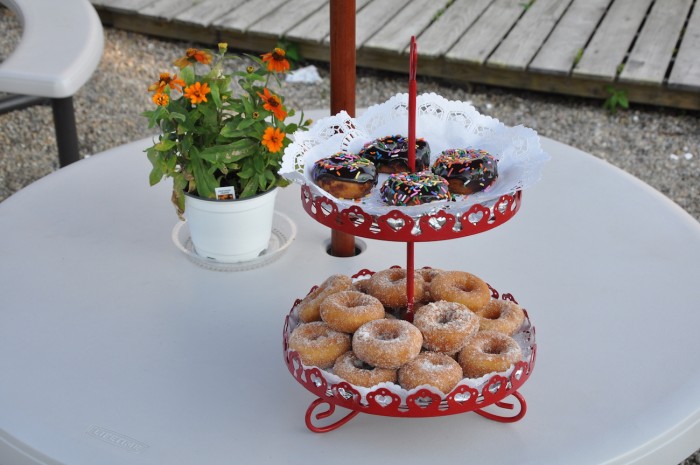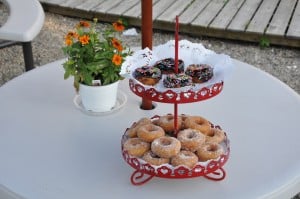 And don't forget dessert:  the café serves very good Donuts, handmade in small batches all day long—chocolate, plain, and sugar-crusted—and killer Fried Dough Sticks.
It's really fun to bring a blanket or a beach chair to Children's Beach, order your meal from The Children's Café, and tote it just a few yards to the soft sandy beach for a true island experience.
Children's Cafe at Children's Beach  •  508-228-2284
Open every day from 8 am to 7 pm (till 8 pm weekends)
Breakfast foods served all day along with regular menu items
Most items range in price from $6.00 to $13.00
Dining on covered deck, outdoor patio •  full menu available for takeout
Visa, MasterCard, American Express accepted
The Children's Café shop sells everything you need for a day
at the beach: candy, sunscreen, beach toys, and more