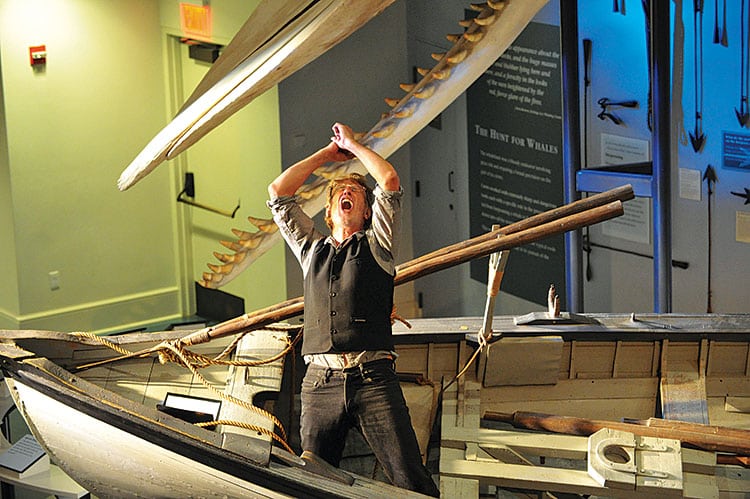 The Nantucket Historical Association (NHA), in partnership with Theatre Workshop of Nantucket (TWN) will present the dramatic staged reading of Moby Dick Rehearsed this week in the Whaling Museum, 13 Broad Street.
Moby-Dick Rehearsed, starring renowned TWN actor John Shea as Captain Ahab with an illustrious cast of community actors, celebrates the enduring legacy of Herman Melville's masterpiece of American literature.  Written by Orson Welles, Moby Dick Rehearsed was first performed in 1955 at the Duke of York Theatre in London.  TWN's adaptation of this moving play comes alive under the 46-foot sperm whale skeleton in the Whaling Museum's Gosnell Hall, where Ahab evokes the essence of the ocean and turbulent life aboard a whaleship, as he follows to the brink of sanity his obsession to find the great white whale.
"We return with great excitement for our third year of collaborating with the NHA for the performance of Orson Welles Moby Dick Rehearsed," says Gabrielle Gould, TWN Executive Director. "This production is far more than a staged reading— the energy, passion and commitment from director Diana Denley, John Shea as Ahab and the remarkable cast of players who take the "stage" under the bones of the whale is something to behold. As the NHA and TWN continue with our collaborations, it gets better with every passing year. A combination of a great performance, stunning historic locations and an amazing creative team ensures that every aspect of the event will be unforgettable!"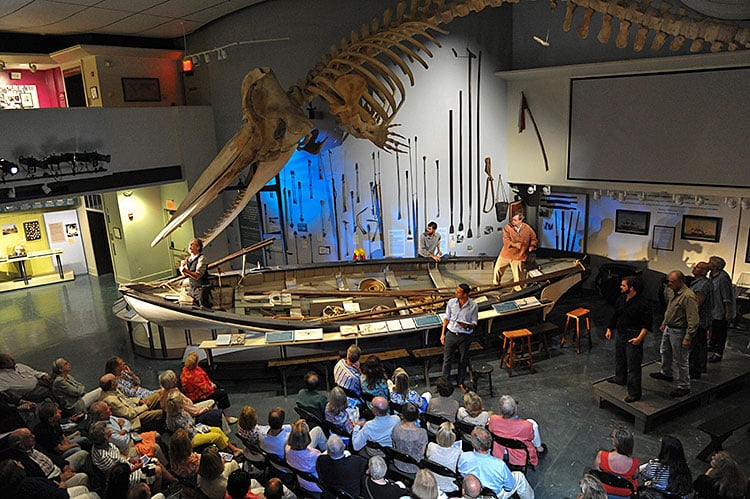 On opening night, Monday, July 15, 2013, the performance is followed by a cocktail reception and meet-and-greet with the cast.  Additional performances will be held on Tuesday, July 16 and Wednesday, July 17.  All performances will begin promptly at 7 pm, with doors opening at 6:30 pm.
"It is hard to believe that we are bringing Welles' Moby Dick Rehearsed back to the halls of the Whaling Museum for the third consecutive summer," says Marjan Shirzad, NHA Director of Visitor Experience.  "We are beyond excited to partner with TWN again and love welcoming our guests to this dramatic performance, which features top-notch acting in an unforgettable venue. Audiences have never seen Ahab quite like this!"
To purchase tickets, call the TWN box office at 508-228-4305 or visit their website at www.theatreworkshop.com.