by C. Oscar Olson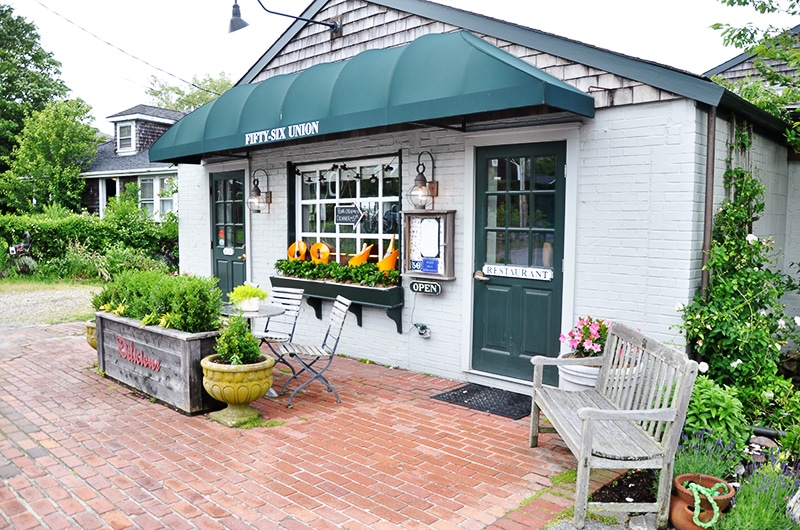 The chance to enjoy the outdoors is truly a treat when dining at a restaurant. Especially on Nantucket where the evenings are cool and comfortable, the right setting can immeasurably enhance every aspect of the event. The atmosphere is more fun and more personal, conversation is more relaxed and real. Even the food is somehow improved.
Fifty Six Union has what might be one of the best patio settings on the island. A rooftop protects you rain and shine, and hedges help define the gorgeous garden complete with rocking chairs and tables on the manicured lawn. Dining tables are decked with a soft, shimmering gold cloth, and when the sun goes down starry lights start to shine overhead. And if it gets chilly, don't fret: stylish heaters pump out enough warmth for the whole patio, and every chair is draped with a super soft fleece throw. There's ample indoor dining too, of course. Not one but two cozy and classy areas for intimate outings or large parties.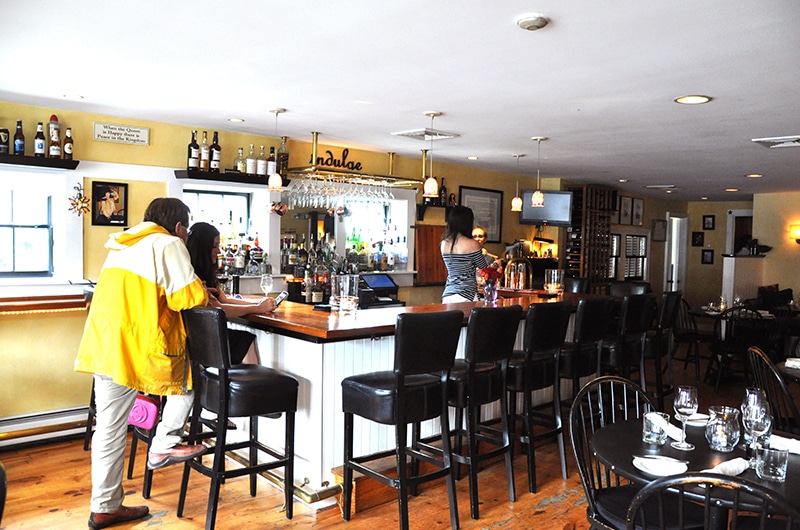 Owners Wendy and Peter Jannelle know the island and their customers well, and the passion and pride they have for both is easy to see. Peter graduated The Culinary Institute of America in 1978 and went to work on the Holland America Lines, and his global travels helped inspire the myriad of flavors on his menu today. They have been serving the island community on Union Street for close to two decades, keeping the tastes fresh and the tables full all year long. The couple are in attendance at the restaurant every evening, and even their two sons can be found on either side of the house, a clear example of their family commitment to the craft.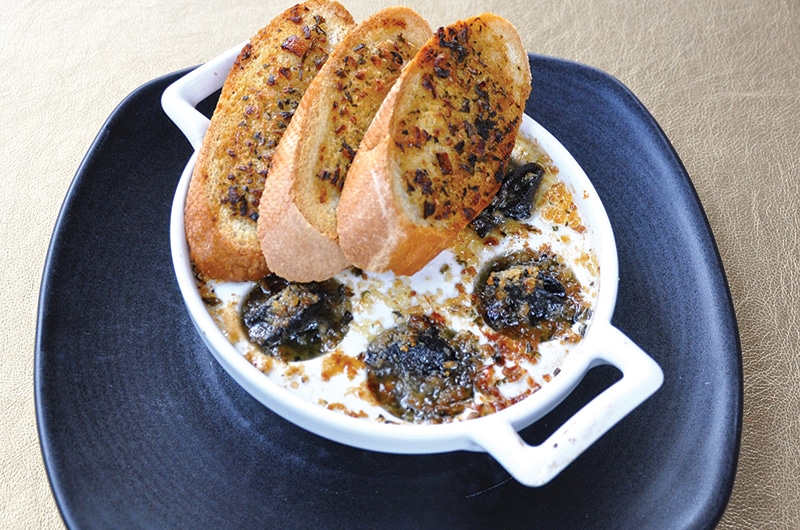 Our evening began with fresh bread and butter, and soon after came one of the specials of the evening: Escargot. These savory morsels are one of the establishment's claim to fame and often appear regularly on the menu, though not at very many other spots on the island. Six small snails are prepared in a garlic forward butter and brandy sauce with parsley, Pernod, and lemon. They are tender and toothsome with a delightful crunch from the panko breadcrumbs sprinkled on top. Served alongside are three thick slices of toasty warm baguette, they are ideal for both delivery and cleanup.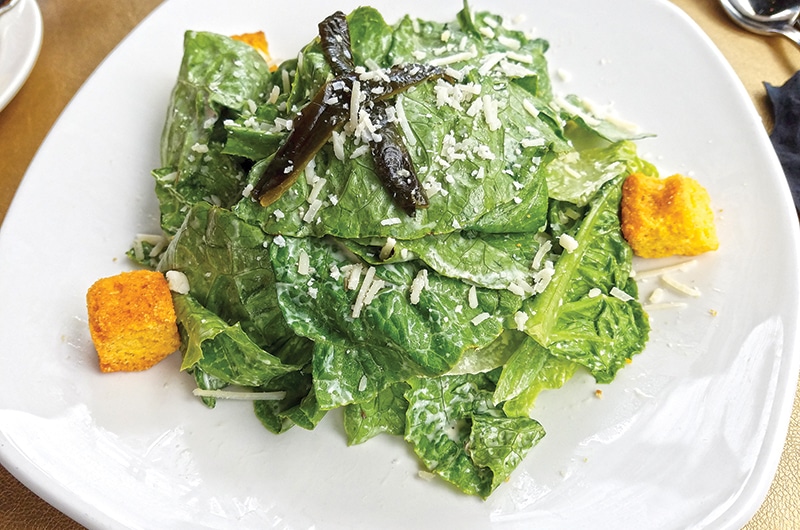 There are several salads and vegetarian options to choose from, and we opted for the Southwestern Caesar. A fun take on the Italian classic, verdant romaine fills the plate and is skirted with crunchy, crumbly cornbread croutons adding a bit of sweetness. Not overly dressed and peppered with Parmigiano Reggiano, the highlight is the criss-cross of roasted poblanos on top. These sardine stand-ins bring a savory, smoky spice to the table.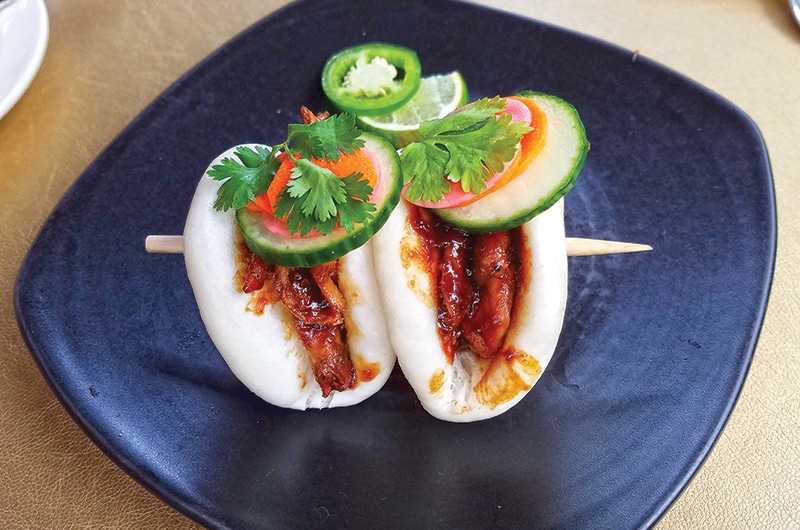 You simply cannot go wrong with Duck Confit, especially when it's served in an exciting new way. Soft, airy Asian steamed buns folded over confit duck leg and a house hoisin, pickled onion, cucumber, and carrot with cool, cleansing cilantro. The bun is mild and sends the sweet, bright, and fun flavors forward. Two are perfect for sharing with a friend, or not!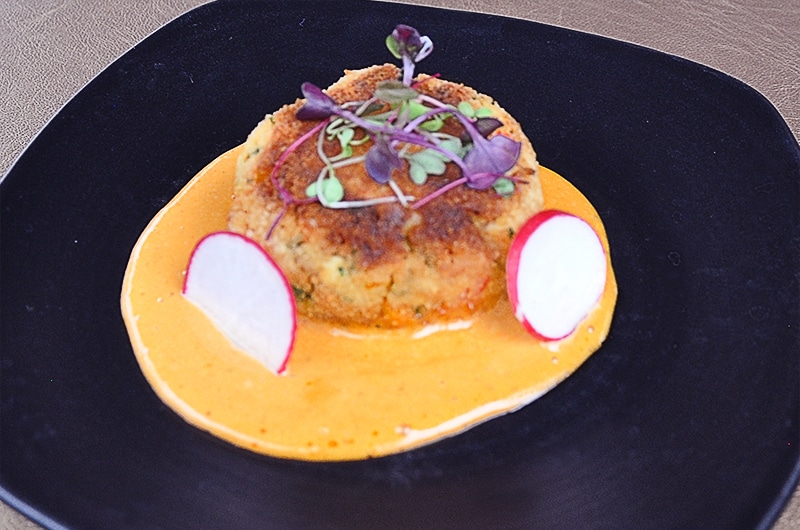 The unanimous highlight on the starter side of the menu was the Crab Cake. All meat, beautifully browned, and never skimpy, it bursts with bright flecks of red peppers and green scallions. An Americaine sauce underneath it all enhances every bite with subtle sweetness and the essence of lobster.
Wine lists are given at most of the island's eateries, but like most things, Wendy brings it to a better place. Available by the glass or bottle, each vintage is hand picked for quality, peakness, and pairability. She even boasts her own Private Label Pinot Noir by Steele: "Veronica's Private Reserve." There is also beer by the bottle and a full bar, but our favorite part every time we return is the cocktail list. One-of-a-kind concoctions are crafted to order and every one of them is worth a try. There were two brand new drink specials this evening, so we took them for a spin.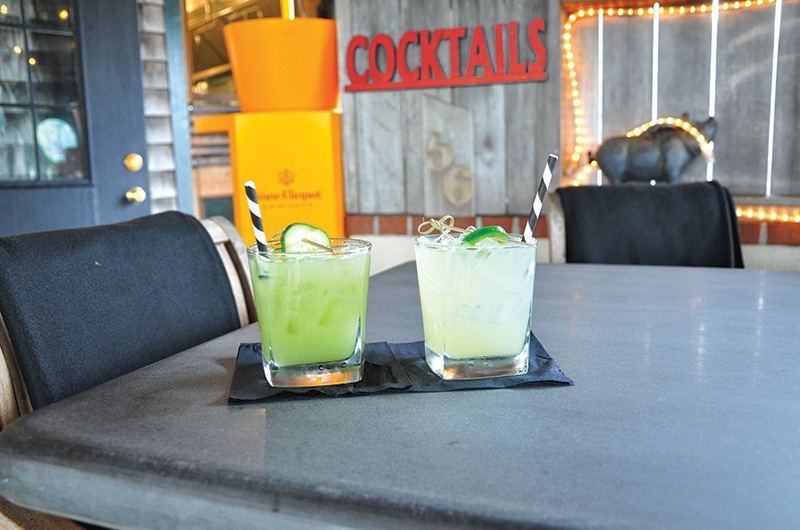 After the long, drawn out winter of 2018, we are all happily welcoming warmer temperatures. Pair the heat with the Cool as a Cucumber (Left). The cocktail blends Hendrick's gin, a softer, more floral approach to the often abrasive spirit, with tart, fragrant Japanese yuzu. It is delightfully dry and refreshing. If you need some spice while you cool off, then the Jalapeño Casa Noble (right) is the option for you. Ultra premium tequila heats up with fresh jalapeño, lemon, and lime. Just a dash of sweet agave from the divine distillate wraps all the flavors together with a smooth, clean finish.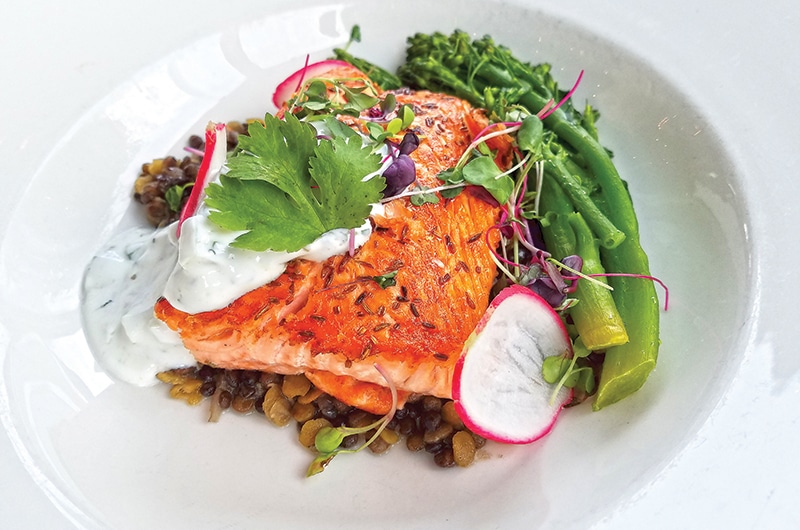 As we lounged with our libations, the entrees were coming out of the kitchen to greet us in the garden. King Salmon, dusted with cumin and coriander, was served with lentils and cooling cucumber raita. The fish was meaty and marvelous and was no doubt the star, but these lentils are worth writing home about: delicate and soft yet bursting at the seams with slow cooked flavor. Three unique components offered an enthralling mix of textures, tastes, and temperatures.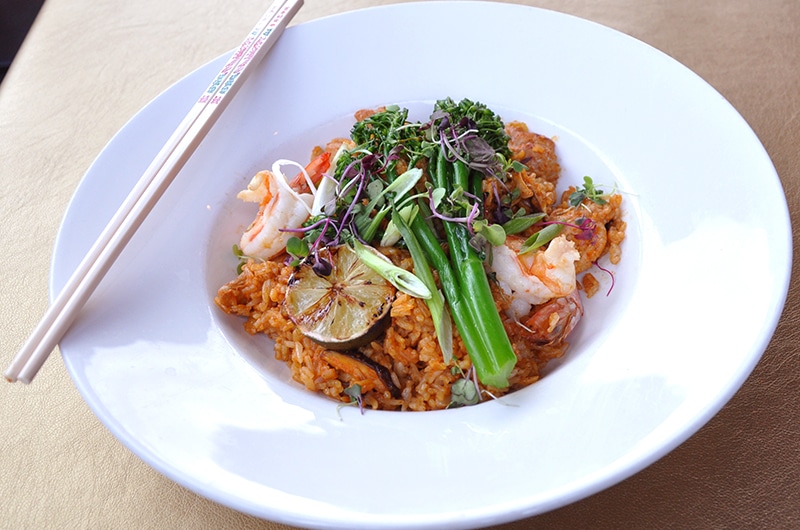 Trust the menu and listen to your server, because Javanese Spicy Fried Rice is not for the faint of heart. Sambal oelek peppers, sriracha, soy sauce, and sesame add the high-pitched heat and color to the rice. Somehow the flavor of the ginger, chicken, and shrimp survive the fire. Broccoli rabe adds some relief to the mix, but consider yourself warned.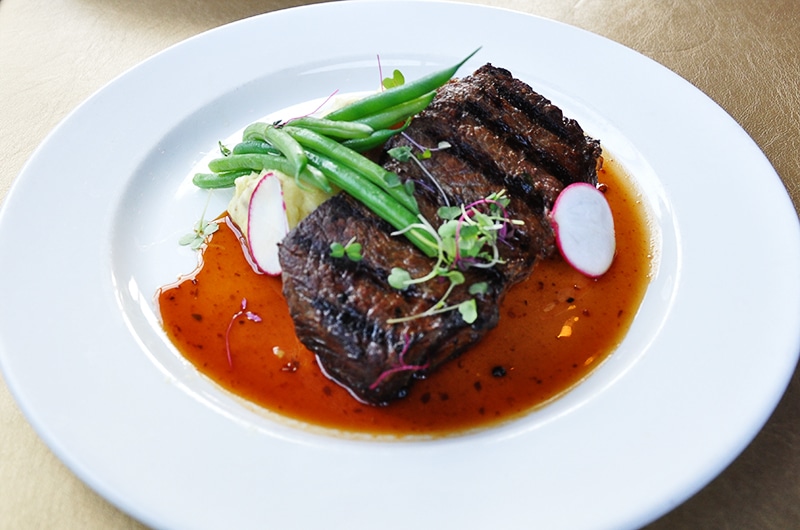 A Grilled Rib Eye Heart of beef is a steak house favorite with velvety complex mashed potatoes and garden fresh green beans. Hold the A-1 though, because the housemade 56 Sauce is our new favorite condiment compliment. The meat was spot-on medium rare and a razor thin garnish of radish radiated with a fresh crunch.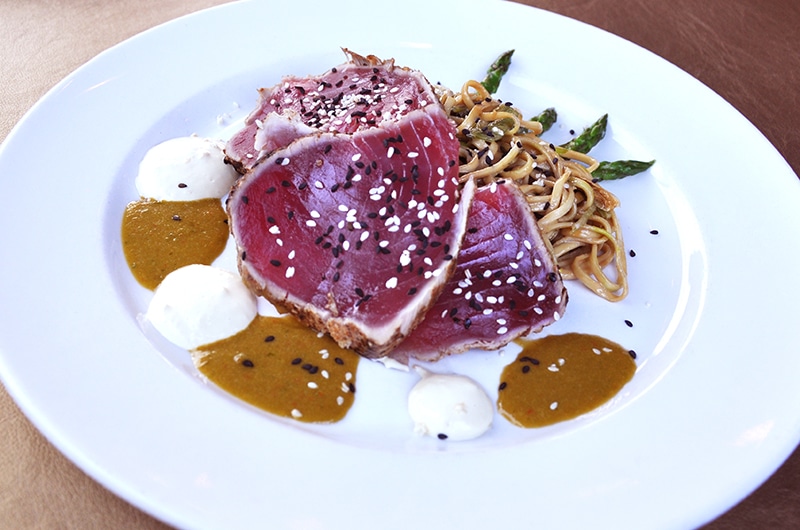 With the humidity hanging on til sunset and the warmth of the day lingering longer, we suspect the Seared Rare Tuna will become a hot item at Fifty-Six. It's served cool, dusted with 7-spice with a slight sear around the edges, then sprinkled with black and white sesame seeds. Several slices sit atop a bed of cold udon noodles alongside a pickled ginger aioli and nuoc cham, and garlic-lime asian style sauce, for dipping. The noodles are tossed in a creamy tahini base and flavored with chai and green tea. It was an easy favorite for us that night.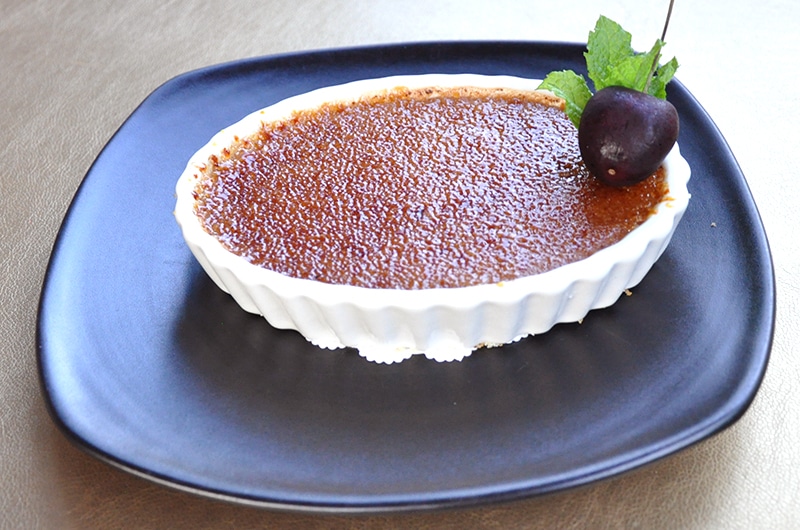 For those looking for light pick-me-up after dinner, the Fifty-Six Float is the dessert item to order. As a single scoop of vanilla ice cream melts away into a cup of fresh, hot espresso, the temperatures and flavors mingle to create a mouth watering mix sip after spoonful. Classic Creme Brûlée rotates regularly so check back often. We cracked into a White Chocolate Cherry version: smooth, slightly tart, and so satisfyingly sweet.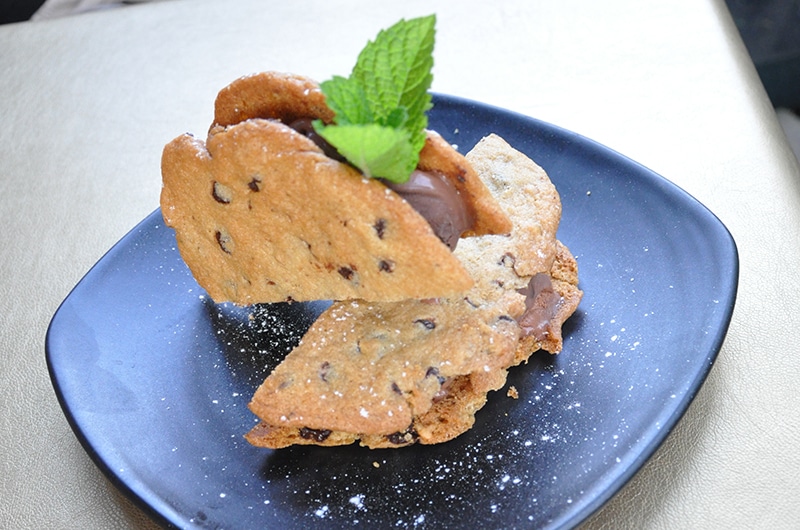 For a chilled choice, go for the Gelato Cookie Sandwich. This rustic, homemade classic brings out the kid in all of us with chocolate cookies hugging rich dark chocolate gelato. This option changes a few times throughout the season and we can't wait to see what's next.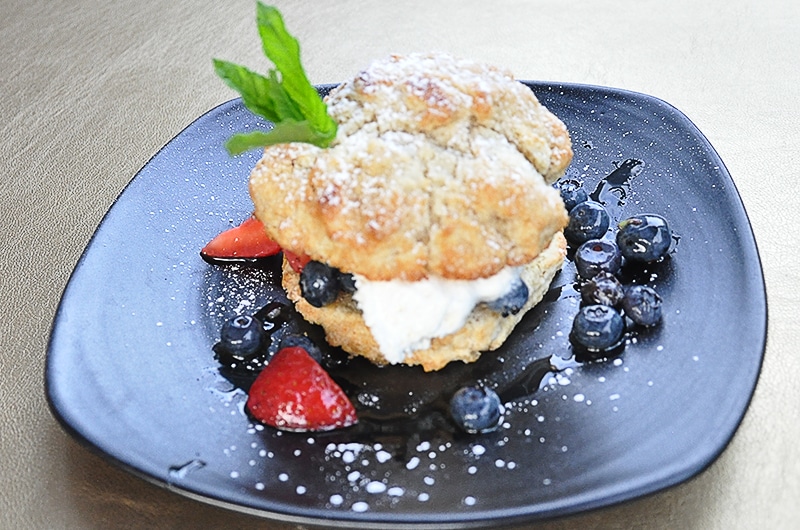 Our favorite dessert really brought it home—the Berry Shortcake. This summertime favorite quite literally brought grandma's recipe to life, just jazzed up with the essence of orange. Ripe red strawberries, blueberries, and peaks of whipped cream make this patriotic epilogue to dinner worth coming back for!
As year rounders, during the colder months we take refuge indoors at Fifty-Six, but will always welcome the better weather as we bask in the glow of new faces and summer stars. We're lucky to have Wendy and Peter month after month on Nantucket—there is just something extra special about the summer season dining on their garden patio.
Fifty-Six Union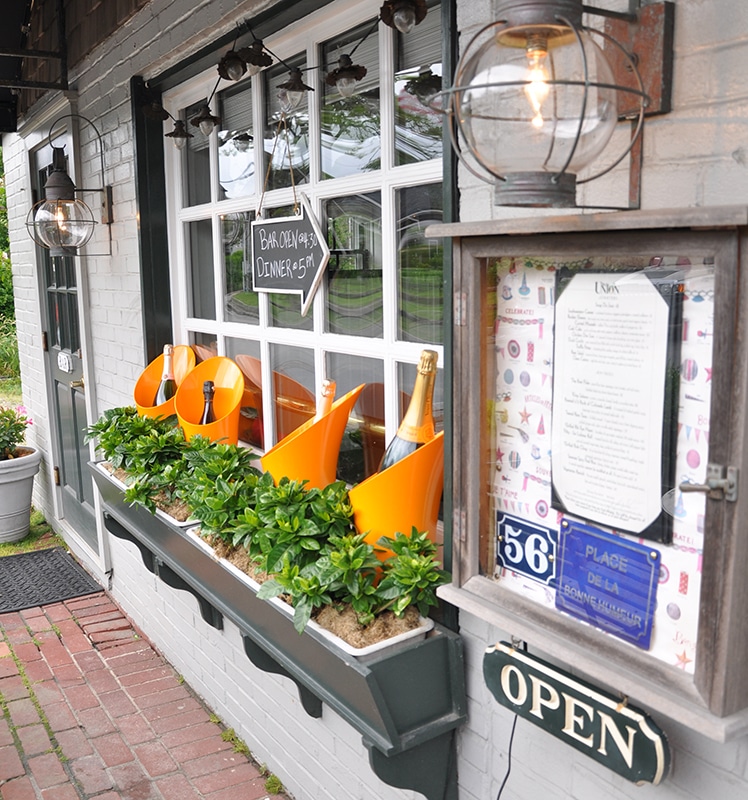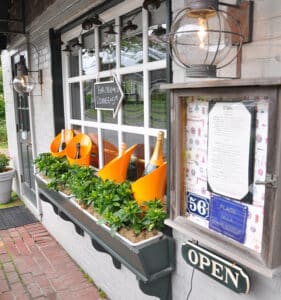 Fiftysixunion.com
Open year-round at 56 Union Street • 508-228-6135
Bar opens at 5 pm; Dinner served nightly
Entree price range is $30 to $53
indoor and outdoor dining; special Table 56; full bar
dining rooms available for private celebrations
major credit cards accepted • plenty of parking