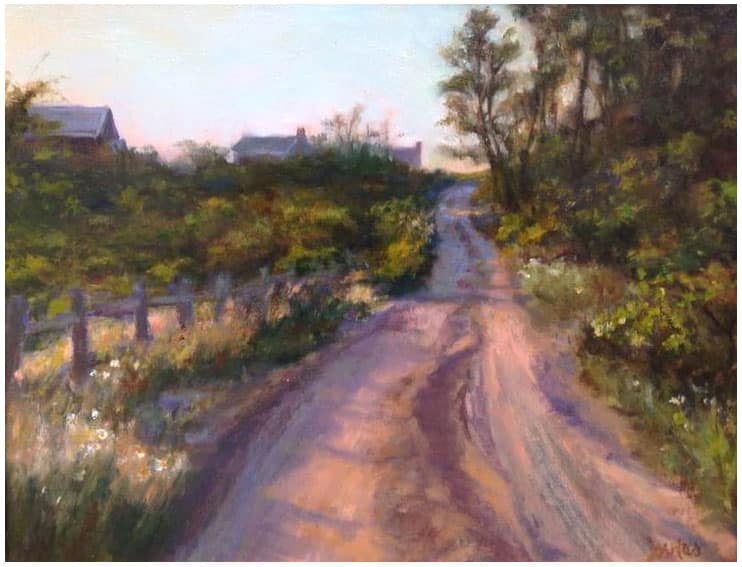 October is filled with opportunities to appreciate art on Nantucket. Several wonderful galleries will be showing both new and long-loved art. During Columbus Day weekend, Artists Association of Nantucket will host their annual Wet Paint Weekend, and Nantucket Community Music Center (NCMC) will host their famous Pipe Organ Crawl. Several local theatre companies will present special events and plays based around artists.
Artist's Association of Nantucket
On Friday, October 3, from 6 to 8 pm, a festive reception will be held at the Cecelia Joyce & Seward Johnson Gallery, 19 Washington Street. This exhibition will be curated by an AAN guest artist and will showcase works full of autumn hues and hot colors, in keeping with the fall colors found across island moors and in the warmth of the dappled sunlight of the season.
"Artists are encouraged to bring in two works, and the design element for the show will include a short explanation of why the artists produced what they did," said AAN curator Bobby Frazier.
Sosebee Studio & Fine Art Gallery
A short walk across Washington Street brings you to the Sosebee Studio & Fine Art Gallery, where you can meet the artists and see beautiful paintings, artisan jewelry, and carvings.
Robert Foster Fine Art
Robert Foster Fine Art at 8 India Street will host an opening reception on Friday, October 3, from 6 to 9 pm, featuring Rebekah Lea's fine art and jewelry. The show will continue to October 15.
Hostetler Gallery
A few steps away at 42 Centre Street, Hostetler Gallery will be showing the sculpture of the female form by David Hostetler, alongside serigraphs by Donn Russell, widely collected paintings of Power Boothe, groundbreaking aquatints and mezzotints of Art Werger, abstract paintings of Xanda McCagg, and hyper-realistic photography of Crystal Cartier.
Wet Paint Auction Weekend
One of AAN's signature art events will infuse the weekend of October 10 to 12 with color, art, and activity. "Over the course of 3 days, 50 artist members will spread out across the island to paint in preparation for a live auction on the Sunday of Columbus Weekend. Every piece auctioned off is freshly painted—or wet," explained AAN executive director Cecil Barron Jensen.
This year's Wet Paint Weekend will kick off at 6 pm Friday, October 10 with a cocktail party at Sylvia Antiques, 6 Ray's Court. Visitors are invited to meet AAN artist members over a glass of wine. Works of art from the AAN's Permanent Collection of modern Nantucket art dating back to the 1920s will be on display at Sylvia Antiques. The collection includes works from the association's founding members and influential artists over the past hundred years. The party is free, but visitors are asked to RSVP at 508-228-0722.
Wet Paint Weekend continues on Saturday and Sunday with AAN member artists painting across the island, welcoming visitors who wish to look over their shoulders as they work. Enjoy coffee with artists on Saturday morning at 10 a.m. at the AAN Gallery, 19 Washington Street. The weekend culminates on Sunday, October 12, with a live auction in the ballroom of The Nantucket Hotel on Easton Street.
NCMC Nantucket Organ Crawl
For almost a quarter of century, the Nantucket Community Music Center has sponsored the annual Pipe Organ Crawl on the Saturday of Columbus Day weekend. The audience walks from church to church as featured organists play a short recital on each organ accompanied by a brief talk about the incredible history of each instrument. The recitals are free, but donations to benefit NCMC and organ maintenance are encouraged.
The organ crawl offers a rare opportunity to hear in a single morning six notable tracker action organs built and renovated over a span of more than 175 years. In contrast to direct electric action organs, tracker action organs rely on a mechanical linkage connecting the pedal or keys to the valves that allow air to flow into the pipes. The linkage is made of an assembly of slender wooden and leather parts and bronze or brass wire. Precision-made, the parts are designed to last centuries. Organists often prefer the sound and feel of a tracker organ because they have greater control over exactly when the air will enter the valve. But the intricate structure prohibits the console from being moved, and a tracker organ can be more challenging to play.
The crawl begins at 9:15 a.m. at St. Mary's Church at 3 Federal Street, and continues to the Congregational Church at 62 Centre Street for a 10 a.m. demonstration and a 10:30 performance in the vestry of that church. At 10:50, participants can enjoy a quick coffee break at NCMC at 56 Centre. Next, it's the Methodist Church at 2 Centre Street at 11:30 a.m. At noon, head to Unitarian Church at 11 Orange Street; and finally, at 12:30, hear the organ at St. Paul's at 20 Fair Street. Feel free to join whenever you want; you needn't begin at St. Mary's.
Theatre Workshop of Nantucket
Theatre Workshop of Nantucket continues showing A Picasso and Red, two highly acclaimed plays based on twentieth century artists. A Picasso, based on Pablo Picasso, shows at Centre Stage at 2 Centre Street until October 10. Red, based on eccentric minimalist Mar Rothko, plays at Bennett Hall at 62 Centre Street, until October 11. See TheatreWorkshop.com for showtimes and tickets. White Heron Theatre Company presents a Playwrights' Workshop on October 10, 11, and 12. The public is welcome to drop in and watch rehearsals from 1-3 p.m on Friday and Saturday, then attend the staged reading at 3 p.m. on Sunday. All Playwrights' Workshop events are free.
For more art events, check the calendar of events in this issue and online at Nantucket.net.