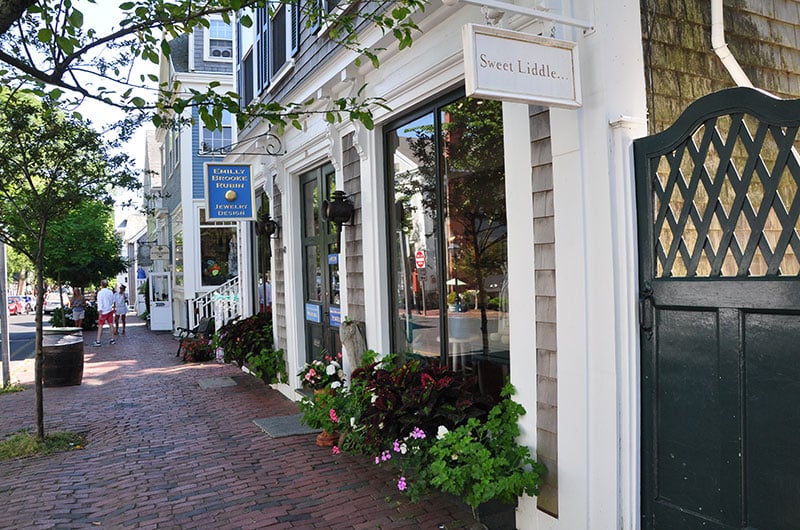 On Centre Street, near where it crosses Broad by the Jared Coffin House, there is a unique store within a store. Two shops that were originally on Old South Wharf have been united under one roof at 40 Centre: Sweet Liddle and Emilly Brooke Rubin.
You step through the front door into a shop featuring unique gifts, bohemian clothing, and beautiful accessories. Sweet Liddle offers a wide selection of fun and eclectic products—there's something unusual to catch your eye on every side shoes, floaty scarves, hard-to-find home accessories, natural skin care products, gifts you'll not find anywhere else on Nantucket. Handmade leather bags in colors and designs chosen by owner Emilly Brooke Rubin are one of their best sellers.
Everything in the shop is carefully curated by Emilly, and there's something new to discover every time you visit.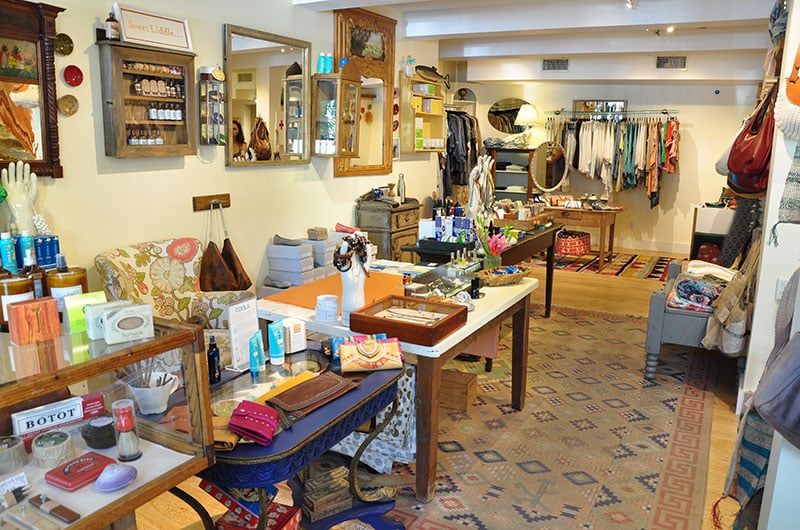 Walk a little farther into Sweet Liddle, and you'll find yourself in an elegant salon surrounded by exquisite jewelry by Emilly, who is a Nantucket jewelry designer, artist, and ocean pearl specialist. Although her shop has only been on Centre Street for two seasons, Emilly has been living and creating jewelry on Nantucket for far longer. She has summered on the island with her family since 1969, and in addition to her studio, she had shops on Old South Wharf for years before moving closer to the heart of town.
Nearly all the jewelry she shows in her salon was made by Emilly in her island studio. Her rings, earrings, and necklaces feature handsculpted work (Rubin does her own metalwork—all in precious metals), sparkling gems, and shimmering pearls. Her designs are distinctive, not cookie-cutter, and most go seamlessly from day to evening wear. "If you're spending money on jewelry you love, you should be able to wear it all the time," she explains.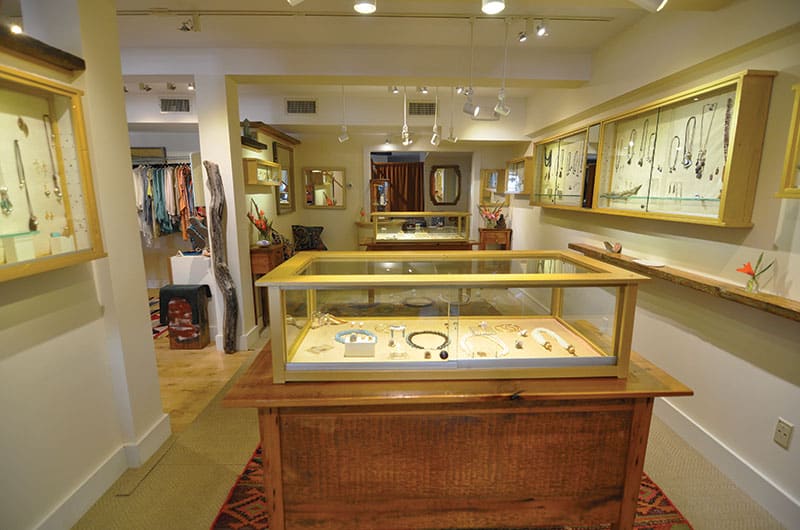 Rubin emphasizes quality and disagrees with the sale of poor-quality pearls being passed off as superior: "I work with beautiful material, and I've had the same two pearl suppliers for 25 years," she commented. And she creates her unique and original designs using rare Ocean Keshi Pearls, along with South Sea and Tahitian.
"Because I have summered on Nantucket my whole life, I understand what people here want… the unique items they are looking for." Her salon has a selection of georgeous ready-made pieces, but Emilly is happy to do custom work, taking into consideration personal style, skin tone, and color preferences of her clients. When you buy from Emilly Brooke Rubin Jewelry you are getting a unique piece made on Nantucket by the artist.
Emilly Brooke Rubin Jewelry Design & Sweet Liddle are open daily at 40 Centre Street. 508-228-3214. Follow her on Instagram at sweetliddle.