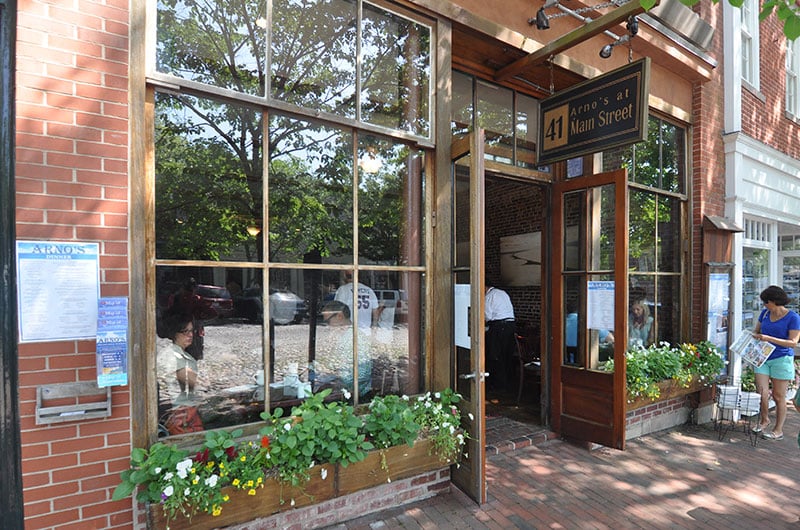 We wandered into Arn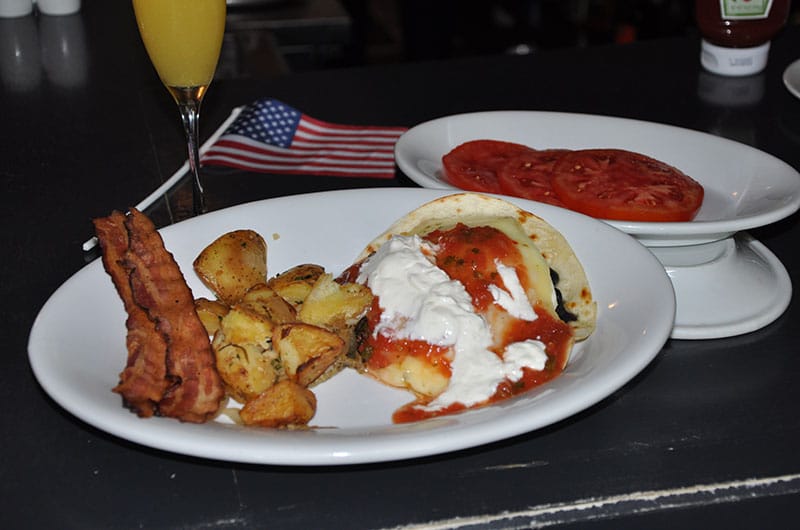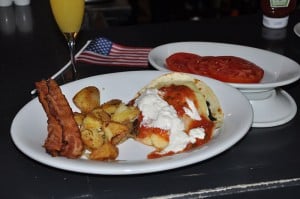 o's one morning last week, thinking we'd grab a quick breakfast before going back to work, and discovered why Main Street was so quiet: everyone was in this restaurant! We followed the host into a room filled with people chatting happily in front of plates piled with food. We snagged two seats at the bar, ordered two Red Eyes, and looked over the menu. Eight different big omelettes (eat one of these for breakfast and you probably won't need lunch!), five different versions of Eggs Benedict, Huevos Rancheros, Pancakes, Waffles, French Toast… and those are just the main categories! Clearly, this is the place to start your day on Nantucket.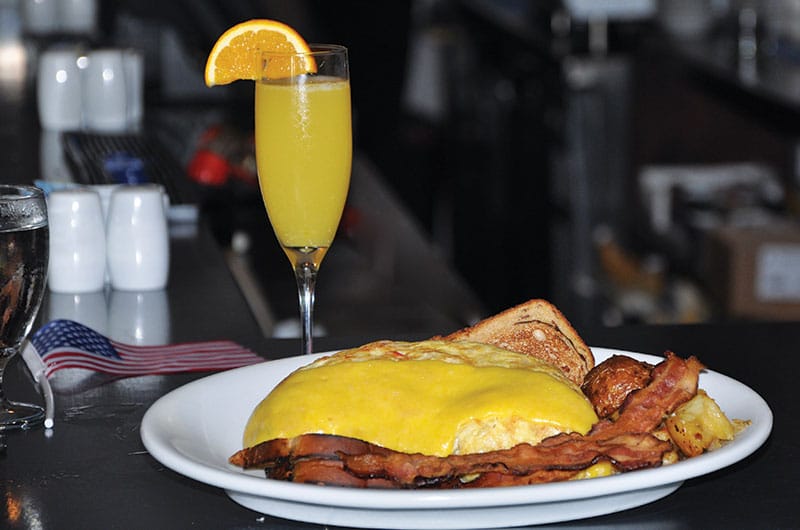 This landmark eatery is one of two restaurants we can think of that have been owned by members of the same family and served people on Nantucket for more than half a century.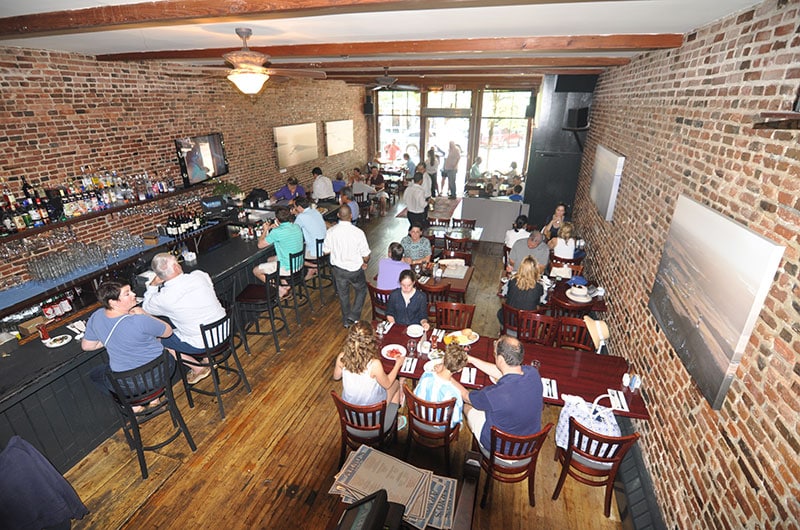 Quality is everything at Arno's, from the organic eggs and coffee to the top shelf liquors. Even the ketchup is organic (and, yes, it does make a difference). You can taste the freshness of the seafood and the vegetables served here, and portions are very generous. Only the heartiest eaters can finish an entire meal without a little help.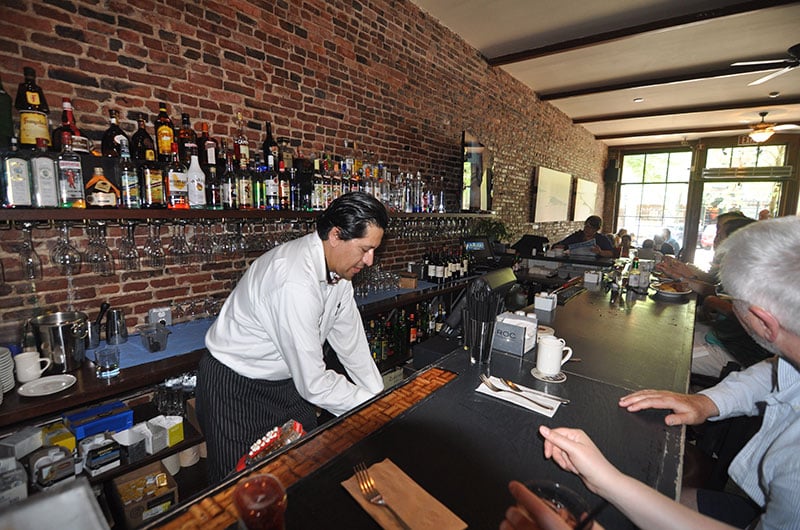 The two driving forces in the kitchen at Arno's have the expertise of chefs as familiar with fine dining as with pub-style food. Hopeton Bowen brings more than a decade of experience at Galley Beach, and Danovan Whims co-chefs at Arno's in the evenings after spending his days preparing haute cuisine at another island restaurant. You can see and taste their talents in the perfectly cooked fish and meats, in the delectable sauces that highten flavors and accentuate the main ingredients, and in the well-composed dishes.
Arno's serves food throughout the day, from 9 am to 9 pm. If you're vacationing on Nantucket from a different time zone or just don't want to plan your day around your usual schedule, this is one restaurant where you can eat breakfast till 2pm, have lunch till 5pm, and cool off with an Adult Iced Coffee or a Mimosa at any time of day or evening.
Service can make all the difference, and at Arno's the waitstaff is professional and well-aquainted with the menu. They're all very good, but count yourself lucky if George is your server. He served us during our dinner last week at Arno's with warmth, good humor, and efficiency. It took little more than a nod to bring him to our table, and he was helpful in making recommendations.
Click on images for enlargements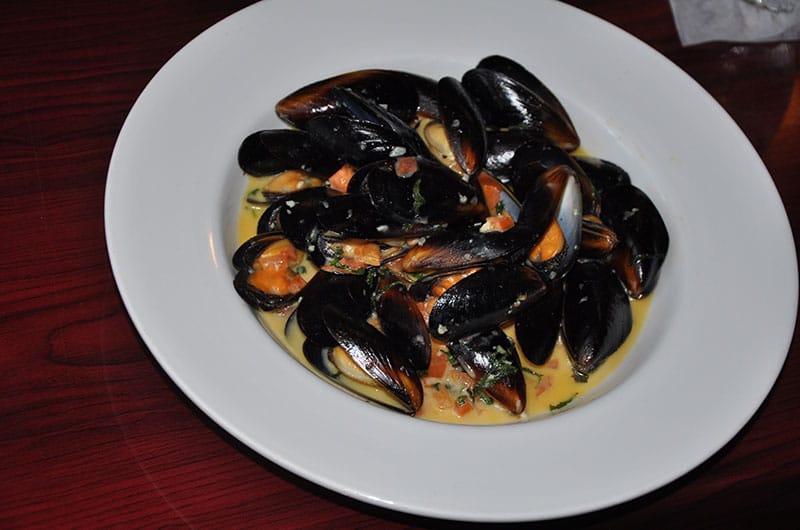 We predict that Arno's Steamed Mussels will become a summer favorite at this Main Street eatery. The bright orange morsels peeking out of blue-black shells are fresh and tender and bathed in a savory mixture of white wine, garlic, tomato, and herbs that is more an elixir than a broth. We'd almost go so far as to say that the mussels are an accompaniment to the sauce—it's that good! We were very glad for the toasty bread provided to soak up every drop.
We also used the bread to finish off the sauce on the Sauteed Calamari. We must admit that we're a bit tired of fried calamari, and this very different preparation is superb. The sauteed rings are large but still tender, and they are served in a hearty tomato based sauce that is full of flavor: shallots, garlic, cilantro deliciously balanced and not overshadowing the calamari.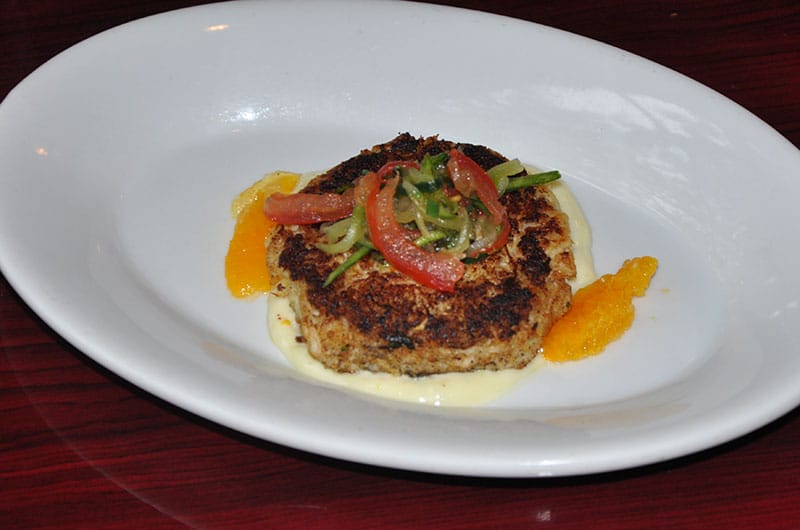 We realized there's a very good reason that Arno's is called a Breakfast and Seafood Restaurant as we dug into the third seafood appetizer of the evening: a Crab Cake that is a delightfully crunchy top and bottom, moist and full of crabmeat. A chilled cucumber slaw on top is fresh and crisp, and the lemon butter aioli underneath adds a bright, rich flavor.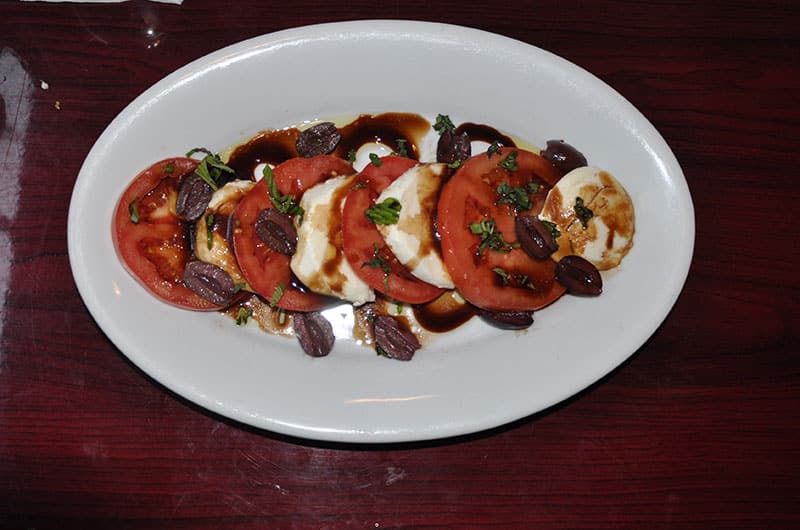 Arno's offers five salads that could be starters or a light meal when paired with a bowl of Quahog Chowder or Organic Tomato Soup. The Caprese Salad is a summertime classic and a favorite of ours, and this dish at Arno's will not disappoint! Thick slices of ripe red and juicy tomatoes alternated with thick slices of creamy white fresh mozzarella are sprinkled with shredded basil and drizzled with a bold balsamic vinegar glaze. We like the special touch of salty kalamata olive slices scattered about the plate.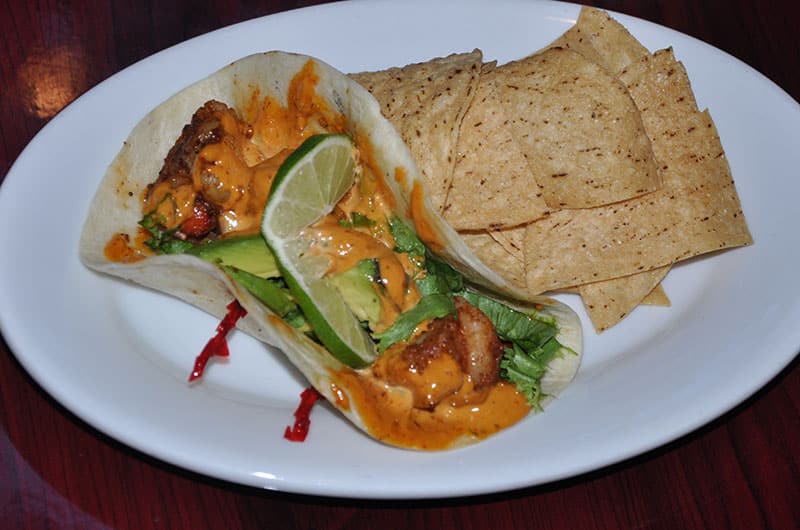 We were very pleased to see that the Seafood Tacos introduced last season are on the menu again this year at Arno's, offered for lunch as well as for dinner. They come two to a plate and are offered with a choice of seven different seafoods: haddock, flounder, salmon, swordfish, halibut, jumbo shrimp, and scallops. The seafood is dusted with a spice blend that adds some heat and tucked into the warm soft taco shells with cool slices of creamy avocado, crisp shredded lettuce, and a relish of tomato, cilantro, lime, onion, and a touch of jalapeno. A drizzle of chipolte aioli adds a bit more smoky heat. Our favorite version so far is the Scallop Seafood Taco, but we'll be back soon to try the Center Cut Swordfish Taco.
 Arno's does serve chicken, steaks, and burgers to guests unfamiliar with the joys of seafood. But you're on an island 26 miles at sea—maybe you should have a taste…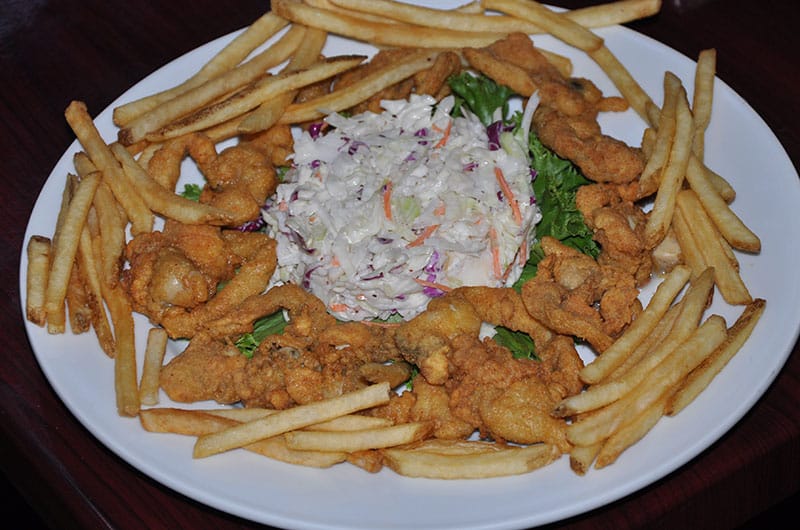 If you don't try Fried Whole Clam Platter while you're on Nantucket, you're missing a real island a treat, and Arno's is where you want to try them! We've never seen clams this large that are so tender and succulent! The breading has just the right crunch without being heavy, and because they're fried in clean, pure sunflower oil, you taste the clams, not the fryer. The clams are served with fries and coleslaw, and make a great picnic treat. Everything on the menu at Arno's is available for takeout, so consider stopping by for a couple of their six different Fried Seafood Platters (haddock, flounder, jumbo shrimp, oysters, scallops, and the Ipswich clams) before you head to the beach.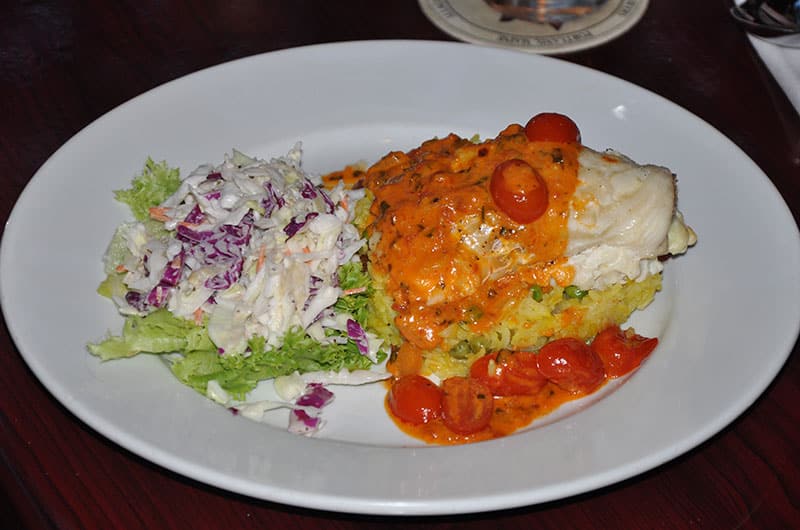 The Baked Stuffed Haddock is a delicious way to savor this whitefish. The filet is folded around a blend of spinach, ricotta, and pine nuts, served on saffron scented jasmine rice and topped with a cherry tomato and shallot sauce. The haddock is very nicely prepared, but it is the robust sauce that sets this dish apart from all others.
We also love Arno's Seafood Lasagna. Good size chunks of lobster, shrimp, scallops, and crab with ricotta and herbs are rolled in tender pasta and topped with cheese and housemade tomato sauce. This arrives at table piping hot, cheese bubbling and the pasta deliciously crisp along the edges. Cut into the lasagna rolls, and the seafood spills out, moist and succulent.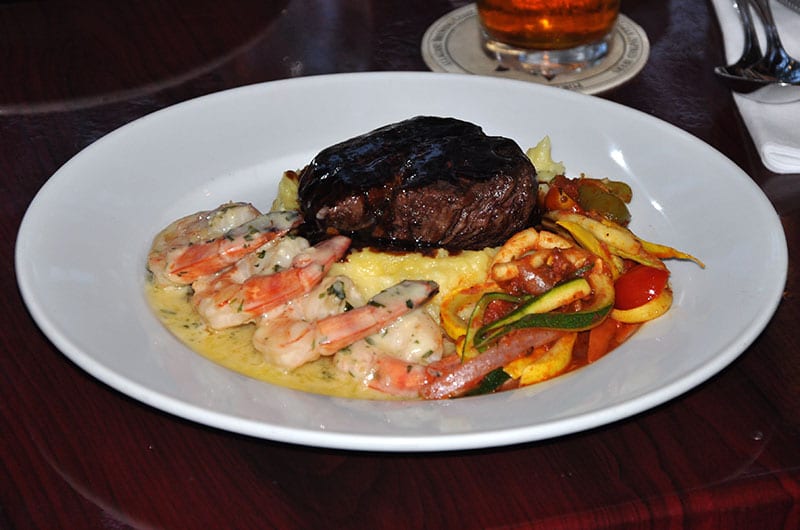 The Surf & Turf at Arno's is the best deal in town! Order this and you'll have two meals in one: a fork-tender 9-ounce filet mignon in a luscious, rich red wine reduction; nestled alongside are four large shrimp in a buttery, garlicky scampi sauce. The mashed potatoes served with both are ideal for finishing up the sauces.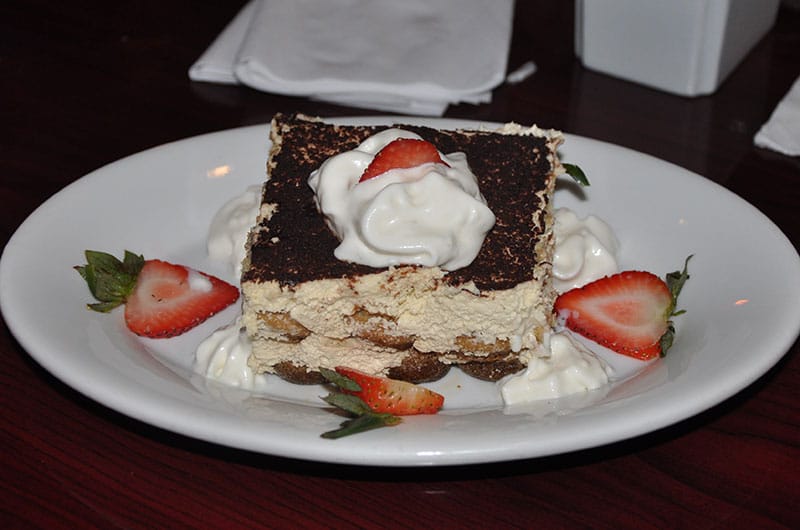 Portions are so large at Arno's that you may have to return another afternoon or evening to try their desserts — but by all means, do! Their sweet and creamy Tiramisu, with its bold and blended flavors of kahlua, marscarpone, and cocoa is worth another trip to Main Street. And the chilled Key Lime Pie makes a tasty afternoon treat.
Of course, you can opt to finish your meal with something a little less filling…a cup of freshly brewed coffee with a splash or two of spirits or one of the Arno's Premium Cocktails like their Ulimate Margarita or Orange Crush. Cheers!
Arno's Breakfast & Seafood Restaurant
www.ArnosNantucket.com
41 Main Street • 508-228-7001
Breakfast served 9 am to 2 pm • Lunch 11 am to 5 pm • Dinner 5 to 9 pm
Breakfast entree prices range from $9.95; Lunch platters from $14.95
Dinner Entree prices range from $19.95 to $32.95
Children Welcome • Take-Out Available • Handicap Access
8 Drafts Beer, Wine, & Cocktails • Major Credit Cards Accepted
Full Service Dining Bar open all day • free WiFi
Upstairs dining room available for private celebrations