~ by Abigail Terres ~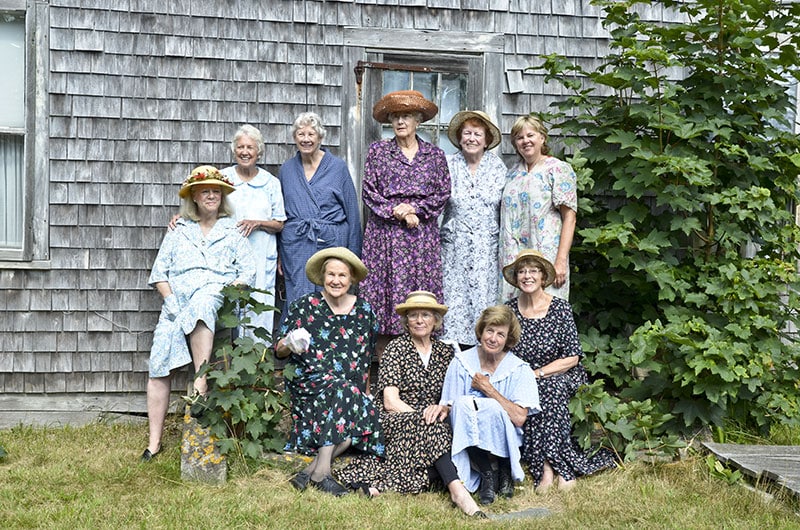 The small village of Siasconset, about eight miles from downtown Nantucket along the southeastern shore of our island, has long been a haven for the arts.
The 'Sconset Actors Colony dates back to the late 1800s, when there was no air conditioning on Broadway. When the New York City theatres closed their doors for the sweltering summer months, some of the actors traveled to Hollywood. Other Broadway actors took a ferry from Manhattan to New Bedford, a train from New Bedford to Cape Cod, then a ferry from the Cape to Nantucket, and finally another train to Siasconset, where they would set up shop in this charming town. Known as the "Actors Colony" on Nantucket, these dedicated, big name Broadway actors pooled their money together and built a "hall of amusement" with tennis courts, a bowling alley, and most importantly a stage known as the 'Sconset Casino.
When air-conditioning made it possible for Broadway theaters to remain open year-round, theatre productions in 'Sconset continued at the Casino with dedicated amateur casts and crew.
The productions were held every summer into the mid-1960s, and occasionally after until 1999. That year, a musical revue entitled On the Isle was produced by Sandy Whitehead and directed by Carl Schmehl to celebrate the 100th Anniversary of the Casino. A production company was brought in for this special performance, and the enthusiastic response to this endeavor led to the revival of a Sconset theatre group by residents Linda Mackay and Mary Warren Moffett.
Moffett and Mackay invited other co-founder/director Carl Schmehl from NYC back to Nantucket in 2000 to create an original musical extravaganza, Big Night. The founders wanted to run and re-energize On the Isle after the centennial celebration show that Carl directed at the Casino the year before. "Everyone who was involved wanted more opportunities to act and perform. These feelings all of course, stemmed from the desire to keep the historic legacy of the Actor's Colony alive and thriving," explained Kathi Loughlin, current president of On the Isle.
Schmehl, who is the Creative Director of the event division of Shackman Associates in New York, is also the Artistic Director of On the Isle. He says, "what makes our production different from, say the White Heron or Theatre Workshop, is that we are not specific—we will not just put on plays, we make movies, silent ones even [originally] filmed in 'Sconset it 1919. It was called "The Sinners" starring Alice Brady and James L. Crane, as well as musicals in addition to the theatre pieces," "we strive to keep the Actors/Artist Colony alive by creating a theatrical experience for all island-goers to enjoy."
Every summer, On the Isle produces plays, musical theater, children's performances, and theatrical events in the 'Sconset Casino using local talent from the ages of eight to eighty. As Loughlin says, "magic happens when we come together to create and perform."
Over the years, On the Isle has produced Pirates of Penzance, The Music Man, Cinderella, The Dining Room, The Actor's Nightmare, Up in the Rafters, Nunsense, as well as many children's shows and theatrical events. "We've grown over the years, becoming more professional, as well as trying to expand the organization during the season and even the shoulder season" says Loughlin. She also mentions, "the Casino and the community have helped build On the Isle up to where it is today really creating ethos out in 'Sconset."
Schmehl, whose role is selecting which plays to perform, also enjoys the search for cast members, "last year when we did Cinderella we actually went to the Stop and Shop and found our Prince Charming!" This year there are 34 members of the cast and 28 members of a Greek Gospel choir directed by Donna Cribari. Schmehl says, "there is a core group of people that come out every year and participate, but we do like to include everyone" he says.
Crew member and daughter of Kathi Loughlin, Hannah Loughlin, says "the thing that keeps me coming year after year to the productions isn't persuasion from my mom, but the fact that I can interact with people much older and younger than me who are part of my community."
Summer resident Daphne McCarthy says, "music brought me to On the Isle. It gathers people together. It is always amazing to see someone pull something out in a character. Carl Schmehl is the glue that keeps us together and makes us shine."
From the very first play in 1999, there has been a change in who predominantly participates in On the Isle productions. In the beginning it was mostly 'Sconset residents who were involved. Loughlin and Schmehl agree that over the years it has begun to have a nice mix of 50/50 between the 'Sconset community and folks of other towns extending as far as Madaket.
Many people, whether they are here summers or year-round, rave about On the Isle, "of course, it's the community coming together every summer and it is so much fun. It includes so many of us of every age." Betsy Smith, year-round resident of Nantucket adds. Many people have worked with On the Isle for many, many years, starting as children themselves, and then their children and grandchildren.
From aspiring actors to professionals, the On the Isle organization is "more of a community building piece than it is about theatre," Loughlin explained. "The coming together and performing of people from ages eight to eighty is truly amazing to see. We have a fifteen-year-old producer telling an eighty-year-old woman what to do!" she laughs. "It is good to give kids theatrical experience at such a young age because some of them actually do aspire to be actors or actresses in the theatre business. It just touches my heart to see how hard everyone is working towards this production. The feeling of going back to nostalgic moments is what people crave when putting on these plays," Loughlin emphatically stated. 'Sconset was a magnet for many very famous actors of the stage and screen at the turn of the century.
"The historic quality of the Casino and the 'Sconset community is something I cherish as I feel it is my job to carry these traditions on—as long as it is my job, I will enjoy passing this on to the next generations, as well as watch people discover the unbelievable charm of 'Sconset."
The most recent production of On the Isle is The Trip to Bountiful which is being performed in the Sconset Casino, 13 New Street, this Monday, July 27 through Thursday, July 30. Curtain time is 8 pm. Tickets are $25 for general admission can be purchased at ontheisle.org
The play was written by Horton Foote and was performed on Broadway and on film by Geraldine Page. It is an American classic about a woman nearing the end of her life who dreams of seeing her home of Bountiful just one more time. Loughlin, along with each and every member of the production would "love people to come see us and buy tickets—we have had a sold out show almost every year we have done this, and I don't expect any different this year" Loughlin adds. "Delighting the community and giving people the opportunity to come together is what we aspire do as we honor and preserve the old Actors Colony of 'Sconset."