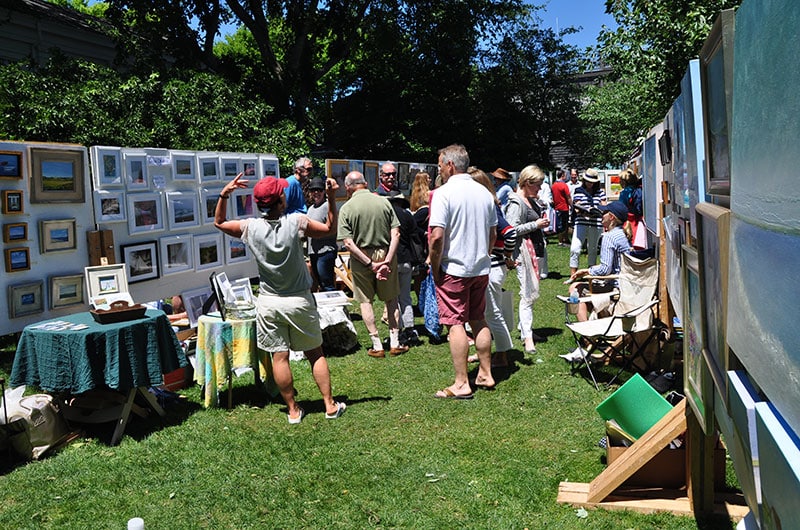 The Artists Association of Nantucket (AAN) is pleased to invite the public to its annual Sidewalk Art Show on Thursday, July 2, 10 am to 3 pm in the garden of the Nantucket Atheneum, India Street. More than twenty of AAN's artist members will be available to discuss art and sell their works. The outdoor art show is free and open to the public.
"Artists Association of Nantucket's Sidewalk Art Show has become one of the sought-after traditions of the association, and we are delighted to be hosting it during our 70th anniversary year over the festive July 4th weekend," said Cecil Barron Jensen, AAN Executive Director.
Nantucket's Sidewalk Art Show is the oldest in the nation. Founded in 1930 by artist Maud Stumm, the Sidewalk Art Show was historically held in August over the period of a few days, and was open to both professionals and amateurs. "In 1960 AAN took the reins of the event and is one of our signature offerings," added Robert Frazier, AAN curator of exhibitions. "We now offer Sidewalk Art Shows two times a summer. This year's events are July 2 and August 15."
"Over the years, the Sidewalk Art Show venues included such locations as Straight Wharf and the old town building, however the present location in the garden of the Nantucket Atheneum has become a perennial favorite. It's a wonderful backdrop and affords a relaxed atmosphere in which to meet and talk with AAN artists and purchase their work," said Frazier. "It is our pleasure to uphold this long tradition of outdoor art shows."
The next day, Friday, July 3, AAN will celebrate again with a reception from 6 to 8 pm to open the Blinded by the Light exhibition in the Cecelia Joyce & Seward Johnson Gallery, 19 Washington St.
"The Webster dictionary defines Luminous as emitting or reflecting usually steady, suffused, or glowing light; of or relating to light or to luminous flux. Blinded by the Light is an art exhibition that focuses on artworks that pop and shimmer with color," said Robert Frazier, curator of exhibitions.
"We have over two hundred and fifty members and it is a fascinating thing to witness the diversity among our artist's styles and pallets," said AAN executive director Cecil Barron Jensen. "It will be a great exhibition to herald in the light and colors of the summer season on Nantucket."
The Solo Show Spotlight Artist during Blinded by the Light is Khwan Buadam, who will discuss her work during our Spotlight Artist Talk on Saturday, July 4 at 10 am in the gallery, 19 Washington Street.
Blinded by the Light will be on display through July 13. The gallery is at 19 Washington Street, a stone's throw from Main Street, and is open Monday–Saturday, 10 am to 5 pm and Sunday 11 am to 4 pm.