~ by Abigail Terres ~
A well-known, popular outdoor venue on Nantucket, Cisco Brewers has plenty to offer for all ages to enjoy. From tastings to tours, live music to corn hole games, the brewery has a variety of laid back, summertime indulgences. New for summer 2015, Cisco Brewers is offering a Tuesday Night Concert Series, featuring national touring acts every Tuesday through September 15 from 4:30 to 7:00 pm, in addition to the daily #livemusiceveryday schedule.
The lovely property at 5 Bartlett Farm Road known to most locals as simply "The Brewery," is the home of Nantucket Vineyards, Cisco Brewers, and Triple Eight Distillery. These three constantly evolving businesses produce world-class wines, beers, and award-winning spirits. The brewery staff takes pride in generating smiles, laughter, and providing a good time for its thousands of visitors each year.
The initial idea for live music at the Brewery took off as local bluegrass band, 4EZPayments, began to come there, using their space to rehearse. "I heard they wanted a chill space to rehearse their music while drinking beer. They still play here twice a week year round!" says Live Music Manager, Kristen Hull. Since then, each year during the off season, the Brewery gets bombarded with inquires and proposals from bluegrass, Americana, folk, blues, reggae, gypsy, funk, rock, jazz bands, and more looking to book gigs at this sought-after location. The Brewery shies away from featuring groups that feature "depressing music, bands that are too large for our stage, bands with strongly controversial messages," Hull explained, "This year we started creating the summer schedule and the Tuesday Concert Series back in January. The bands typically send us links to videos of them playing live and the selection process starts from there! I watch their videos, listen to some tracks, and if I like the sound then we start talking logistics!" Kristen also mentions that although they have a stacked roster of awesome bands, not all of them end up committing, "there is no affordable place for bands to rent for 2 nights on the island. It doesn't make sense for bands to come out here if their expenses are greater then their pay. We geared the Tuesday Concert Series toward a day trip schedule."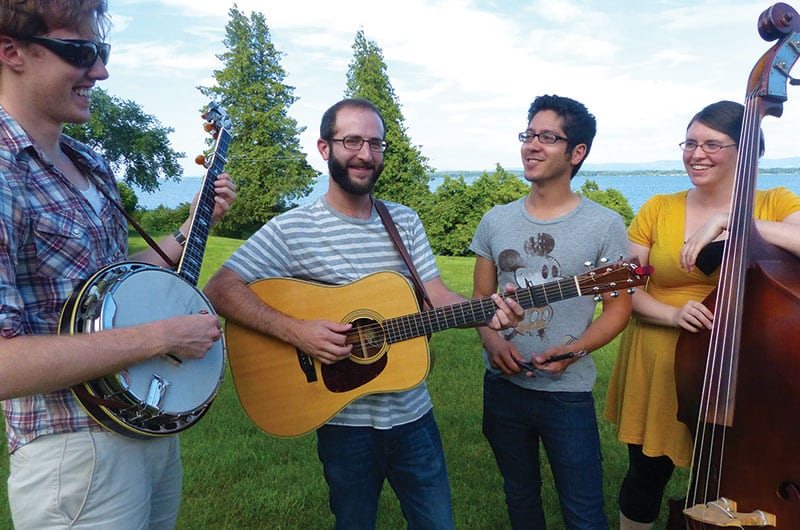 The concert series being on Tuesday is a perfect time for the Breweries fellow industry folk to stop by and take pleasure in the work and efforts of their employees. The Tuesday night concert series at the Brewery is just an addition onto the already popular and raved about band line up that they feature each week. So far this season Freevolt, Jah Spirit, The Howlin' Brothers, Dangermuffin, and the Aldous Collins Band have peformed for the Tuesday Concert Series. Featured next is Boston-based Cold Chocolate with their fusion of bluegrass and roots with a dash of funk on Tuesday, July 7 and the bluegrass group Max Wareham & The Morning Bugle on Tuesday, July 14.
Whether people are come for the bands or the beverages or both, the live music is certainly a major draw, "some bands have their own following, but I believe people come here to enjoy the atmosphere regardless of which band is actually playing. Our customers seem to really enjoy the idea of drinking a beer, cocktail, or glass of wine while listening to some great live music", says Hull. She also mentions that, "we have some awesome reggae bands this year (Reggae Therapy and local act, Foggy Roots) that are drawing some Jamaican friends who have never been out our way before.
"We have live music every day year round, but the type of music differs from a Monday in February to a Monday in August for sure. In the winter, we generally book solo musicians to play for a smaller fee on a weekly basis. There is no difference to us for July vs August, we usually have 2 bands a day for these 2 very busy months here."
Exposure to the Nantucket scene and taking a break from the usual tour route are two reasons that Hull says encourages these bands to want to promote their music at Cisco Brewers. Both touring and local acts enjoy the fun, laid back environment.
Cisco Brewers offers a free shuttle that brings visitors to and from the brewery at 5 Bartlett Farm Road every day in-season from 12:30 pm until 6:30 pm. The shuttle departs from the downtown office Visitor Services at 25 Federal Street about every 20 minutes. So if you miss one, just wait a bit for the next.
For details on Cisco Brewers, Nantucket Vineyard, and Triple 8, their products, and their complete concert schedule visit ciscobrewers.com.