by Abigail Terres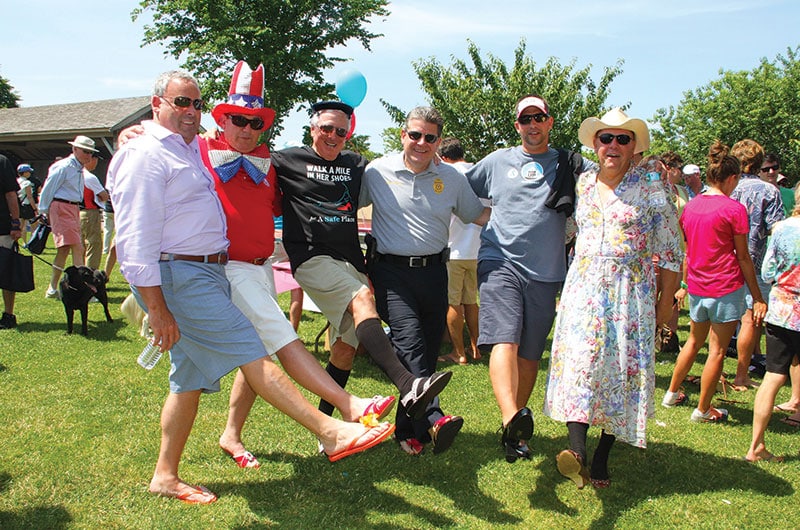 Originally scheduled for Sunday, June 28th, the 2nd annual Walk a Mile in Her Shoes® Nantucket event organized by A Safe Place, Inc. has been postponed due to the very stormy weather.  An announcement will be made when a new date is selected.
For this fund- and awareness raising event, boys and men are encouraged to literally walk a mile in women's shoes to help raise awareness and spread the message about men's sexualized violence against women and how to prevent future assaults. The saying, "you can't really understand another person's experience until you've walked a mile in their shoes," truly encompasses all that this event is about.
"This event really expands the interest level of the community as others are so enthusiastic about helping this cause and raising money…Violence is a community-wide problem as well as a world-wide problem, and I think when we have men knowing that they can tell other men that this behavior isn't acceptable, it is empowering and sort of a stepping up to the plate mentality," explained Susan Hostetler, board member of A Safe Place Nantucket.
Walk a Mile in Her Shoes® is designed to be fun while helping the Nantucket community become more cognizant of some very difficult issues among gender relations and the treatment of women by men. "Safe Place is pretty much a women's run organization, while some men are abused too, I think its important to have men participating in this community fight against this world wide problem," said Hostetler. Women can certainly participate in the walk as well; however, this particular event is predominantly targeted towards men, as they play an important role in violence prevention.
As the men walk in high-heeled shoes through the streets of Nantucket they will help raise money for "A Safe Place" whose goal is to eliminate and fight the battle against domestic violence on Nantucket. High-heeled shoes will not be provided, however event staff will have decorated women's flip-flops available to walkers who don't have heels. If participants would like to fully embrace a woman's lifestyle, dressing up is entertaining and amusing for all of the walkers!
Men have the option of walking solo, or with a team of friends, family, or co-workers. Participants can register on the day of the event at 10 am before the start at 10:30, or can the opportunity to register in advance online at: www.crowdrise.com/walkamileinhershoesnantucket.
There is a required $20 donation for each individual along with a suggested $100 fundraising fee per walker; higher donations are appreciated and strongly encouraged. All proceeds will go directly to A Safe Place on Nantucket. So please, join A Safe Place this weekend and show the women in your life that you care enough to walk in their shoes!