by Tim Ehrenberg
Marketing Director for Nantucket Book Partners,
Nantucket Book Festival, and creator of Tim Talks Books
It's not a Nantucket summer until the "Queen of the Beach Reads," Elin Hilderbrand gets us a new book in our beach bags. Golden Girl release date is June 1, and this novel tells the story of Vivian Howe, author of thirteen beach novels and mother of three nearly grown children, who is killed in a hit-and-run car accident while jogging near her home on Nantucket. She ascends to the Beyond where she's assigned to a Person named Martha , who allows Vivi to watch what happens below for one last summer. Vivi also is granted three "nudges" to change the outcome of events on earth, and with her daughter Willa on her third miscarriage, Carson partying until all hours, and Leo currently "off again" with his highmaintenance girlfriend, she'll have to think carefully where to use them.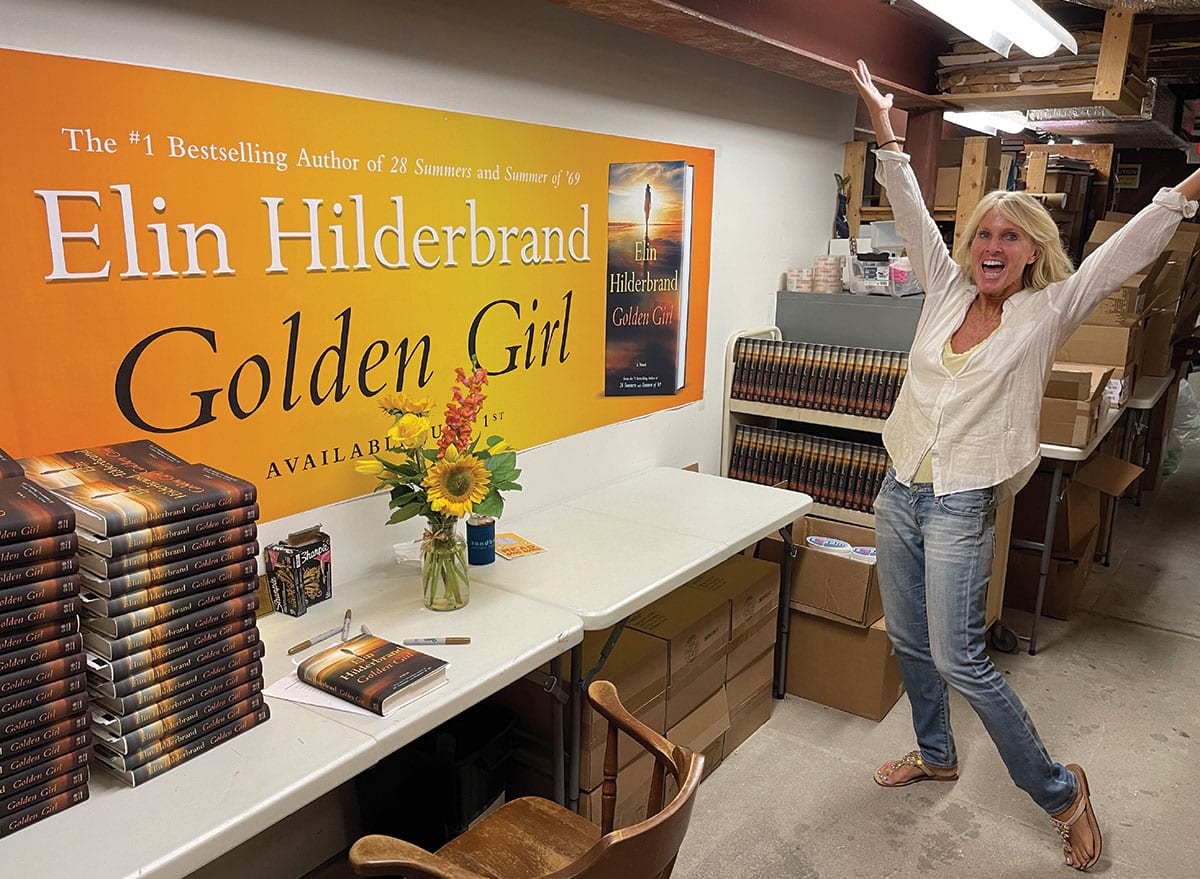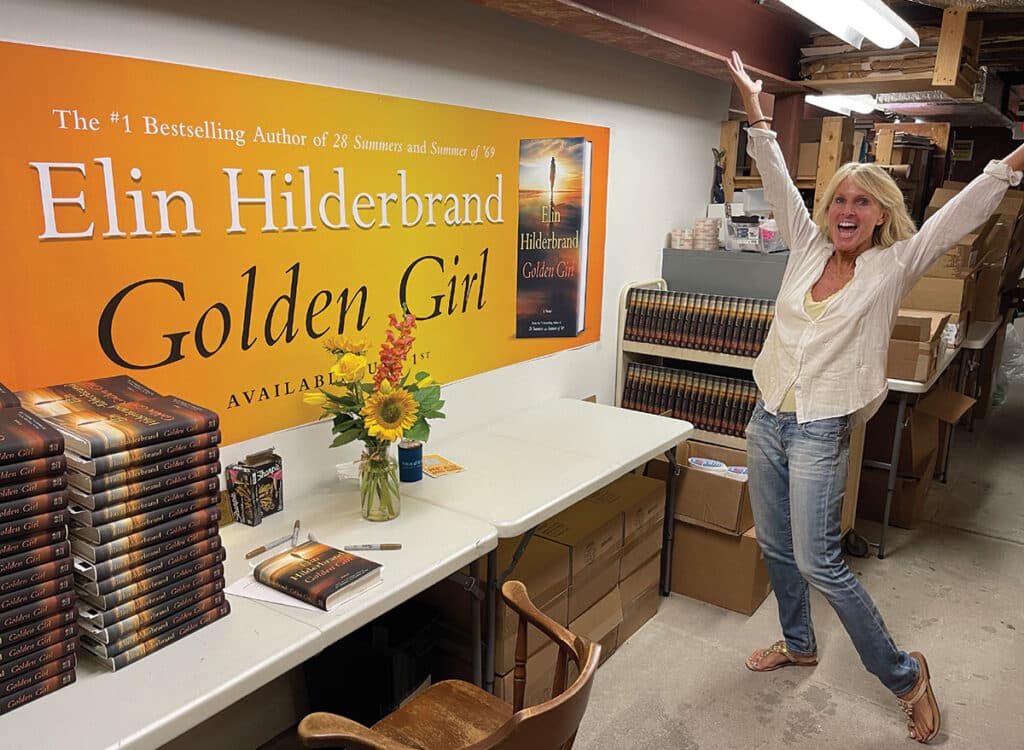 From the Beyond, Vivi watches "The Chief" Ed Kapenash investigate her death, but her greatest worry is her final book, which contains a secret from her own youth that could be disastrous for her reputation. But when hidden truths come to light, Vivi's family will have to sort out their past and present mistakes— with or without a nudge of help from above—while Vivi finally lets them grow without her.
With all of Elin's trademark beach scenes, mouth-watering meals, and picture- perfect homes, plus a heartfelt message—the people we lose never really leave us—Golden Girl is "a beach book unlike any other."
Early praise for the book has been stellar with Kirkus Reviews giving it a "starred review," and proclaiming, "If novelists are auditioning to play God, Hilderbrand gets the part."
Elin has been signing and staff at Mitchell's Book Corner have been packing up thousands of pre-ordered copies of the book to be sent around the world to adoring fans, or "Hilderbabes." Anyone who pre-orders before June 1 at nantucketbookpartners. com, will be entered into the Golden Ticket Contest. Five lucky readers will receive a Golden Ticket in their book, which will immortalize your name, or a loved one's, in the next Elin Hilderband novel. PreOrders are signed copies, and each comes with a Golden Girl bookmark and Elin bumper sticker all wrapped up in gold tissue paper.
Fans can meet Elin on Monday, May 31 while she signs her new book from noon to 1pm at Mitchell's Book Corner 54 Main Street.
I was able to ask Elin some questions during all this time together signing books.
Who inspired the writing of Golden Girl?
Golden Girl was inspired by four people. The first is my father, Robert Hilderbrand, who was killed in a plane crash when I was sixteen. I spent a good part of my young adulthood grappling with my grief over this loss. But after I gave birth to my first child, Maxwell, in 1999, I understood that a parent's love for a child never dies. And in the ensuing years, I became increasingly convinced that my dad was watching me from above. Then, in 2014, while I was battling breast cancer, I had a life-threatening complication that led me to be medevacked from Nantucket Cottage Hospital to the Boston Medical Center. The nurse suggested I say goodbye to my kids before I left, so I had a friend pluck them out of school and bring them to NCH. I said to them, I don't know what's going to happen right now, but I can tell you this: I will never leave you. Even if I don't survive this, I will always be watching you. The good news is, I survived. The power of that moment has remained with me, however, and it led me to this book .
The book is dedicated to your children Max, Dawson, and Shelby. Give me one sentence you would say to each of them if that was your last sentence.
I will never leave you. Also: Please be vigilant about trash and recycling.
Vivian Howe, the main character, sounds a lot like you. What's the fact vs fiction?
Vivi has some of my qualities and quirks. She lives in a Money Pit. She has three kids, young adults, which she finds challenging, but she's beginning to get to the point where she can be friends with her kids. She runs every day. She finds the publishing world challenging. She writes about flawed characters with love. All of these things are very Elin. (She also makes some of my recipes.) The rest is fiction.
If the main character dies right away, is Golden Girl a sad book?
I think Golden Girl is my funniest, most hopeful, and, ultim ately, most joyful book.
What would you want to be remembered for?
My generous, open, and tolerant heart…the way I love just about everybody. I do not want to remembered for m y temper. It can be really bad.
I love this idea of "the nudges" Vivian gets because how often are we thinking someone we lost just helped with that. Is there something that has happened in your life that you think was a nudge from above?
Too many times to count, I have been yanked out of harm 's way. Someone is up above keeping me safe.
You are no stranger to losing a loved one. Losing someone like this is a watershed moment in a persons' life. How did this affect the person and writer you are today?
Every single thing I do is an attempt to make sure I honor the memory of my dad. He died at 41—and I know he must be frustrated about this (much the way Vivi is: way too soon!)—so I always try to "go for it" on his behalf.
Ok, this all sounds like the most depressing book, but honestly it is funny and hopeful. Without giving anything away, what was your favorite scene to write?
My favorite scenes are A) the scenes up in the Beyond with Martha and Vivi. And B) the scenes at the fictional Oystercatcher restaurant (based on Sandbar) with Vivi's "bad child," Carson. It's always the most fun to write about the bad characters!
What Festival or Nantucket event did you miss the most this past year?
I missed Wine Festival and I missed the Pops. I did not miss Figawi nor Stroll (this migh t be a scandalous opinion, I'm sorry!)
What's your perfect Nantucket day?
Run, Peloton, barre class at Forme on Amelia Drive, beach out at Ram's Head with a krabby patty from the Surfside Shack, outdoor shower, Cisco brewery, dinner at the Pearl or Nautilus, singing at the Club Car piano or dancing front row at the Chicken Box. I don't usually get to do all this in a day, but I aspire!
Have you learned anything profound from this pandemic?
The pandemic has taught me—taught us all—not to take any of our freedoms for granted. I had Covid for 18 miserable days, and while I was sick I kept reminding myself t o remember how bad I felt so that I would feel grateful once I got better.
Elin's favorite read of the year so far: Great Circle by Maggie Shipstead TV show she is loving right now: Pen15 and Ted Lasso. MUST watch!!
What's your favorite fan story?
Back in 2014, I did a last-minute signing at Warwick's in La Jolla. I was with my kids on vacation. Only about 25 people showed up, but I was thrilled—and one woman informed me that she had taken off work and DRIVEN FROM ARIZONA in order to be there. Her name is Jessica Jackson, we are now friends and she has come to the EH Bucket List weekend multiple times. I also really love the story of a woman in St. Louis whose son drove her five hours each way to meet me on her birthday. These are the kind s of stories that make Elin Hilderbrand readers the best in all of publishing.
What's the next Elin book in 2022 about?
It's called The Hotel Nantucket, which is loosely based on the Nantucket Hotel. Only The Hotel Nantucket is haunted by a ghost named Grace who died in a fire in the hotel in 1922. It's staffed by a diverse, inclusive and incredibly attractive staff and the novel rolls us through the summer season, focusing on both the staff and the guests, as Grace watches from her spot in the rafters!