by Jenny Benzie, Advanced Sommelier of Épernay
To make the most out of this hedonistic weekend that celebrates the island and all things in the world of wine, one must take a steadied approach in order to be successful. While jumping feet first for some endeavors is the best way to get started, spending the time to make a plan as to how to best navigate through all the events …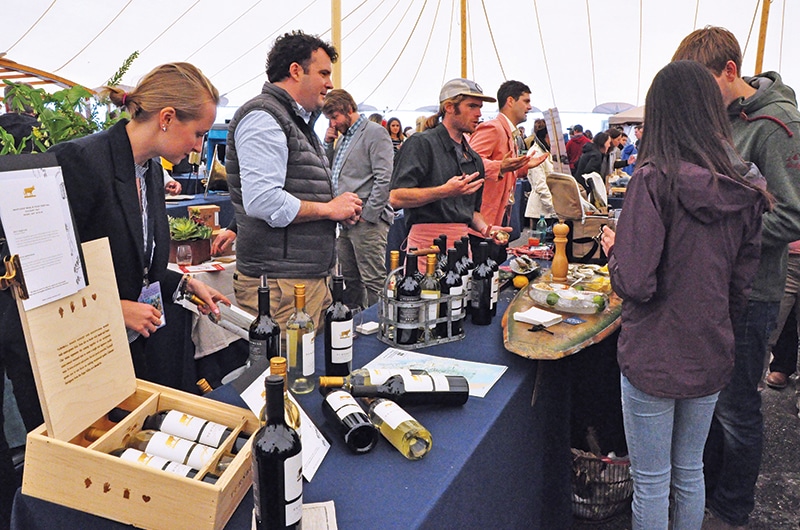 You wouldn't get in your car and just drive aimlessly around, so why would you not put some thought and effort into making the most of your wine fest weekend plans. Here are some highlights…
KICK-OFF PARTY
You pack your bags not knowing what the Grey Lady weather will bring, then make your way to your crowded transport to get to Nantucket, hoping for no unforeseen delays, and arrive to an island that receives you with open arms, big smiles, and warm greetings. Nothing says, "Welcome to the Party" more than a having some sort of spritz in your glass. A perfect way to toast the occasion is with an internationally renowned Aperol Spritz in hand.
Bright orange in color and hard not to miss, Aperol is a unique bittersweet liqueur that makes the perfect aperitif. It is made from a secret recipe that is an infusion of ingredients including oranges, herbs and roots, which oddly make for a perfectly balanced combination. Mix it with equal parts club soda and sparkling wine, and Voila! The festivities have begun.
Enjoy the Kick-Off Party for the 2019 Nantucket Wine Festival with Aperol Spritz at CRU Restaurant on Thursday, May 16, from 10 pm. You can also enjoy specialty-crafted cocktails courtesy of Campari while listening to the beats of the island's favorite DJ Ryan Brown. If you won't be on island just yet to take advantage of this gig, or just can't stay up that late anymore, you can stop by the official Aperol Spritz Headquarters for the weekend at Éper-nay Wine & Spirits and enjoy an afternoon spritz instead!
A PEEK INSIDE
A signature event of the Nantucket Wine Fest is Great Wines in Grand Houses. Not only do you get to rub elbows in an intimate setting with likeminded individuals and a visiting luminary winemaker, you also get to an insider's view into some gorgeous homes on the island. Tickets for these events go faster then a ticket to hottest concert of the season at The Chicken Box (more on that later). During the dinner sessions of Great Wines in Grand Houses, wines of the guest-of-honor vineyard are perfectly paired with a culinary experience from a visiting luminary chef.
Already have dinner plans while you are here? Then you can take advantage of one of the afternoon Great Wines in Grand Houses Tastings that still allow you personal time with the winemaker, and a peek into a home on island you would probably never the get the chance to visit again!
YOU, TOO, CAN DANCE
This weekend isn't just about food and wine. It is also about blowing off some steam from a long week of work, getting the cobwebs out of your system this spring, and making way for summer fun. Dancing your socks off is a great way to express yourself and also burn off some calories from all the delicious meals and tasty beverages you have been consuming. Be sure to bring your dance shoes, whatever those may be, and valid ID over to The Chicken Box to get your wine fest groove on!
Joshua Tree Band is the headliner this, and every, wine fest weekend. They perform as the nation's premiere musical tribute to U2 music and this is a performance not to be missed. While the long-time band members do not look like the original members of U2 or pretend to impersonate them, they do uncannily reproduce the distinct sound of one of the world's most popular rock bands. You will be awe-struck by their performance, along with the number of wine personalities that will also be in attendance. See you on the dance floor Saturday night, May 18th, after 10 pm!
As you wrap up your weekend and put Nantucket Wine Fest on your calendar for next year already, please remember to drink in moderation, use a buddy system, and always have a designated driver. Hopefully you have made arrangements to head back home on Monday morning so that you can take in every last sip of life that Nantucket has to offer. In closing, if you ever feel you have had too much to drink or are battling addiction, please do not hesitate to seek help. Cheers!