~ by Rebecca Nimerfroh ~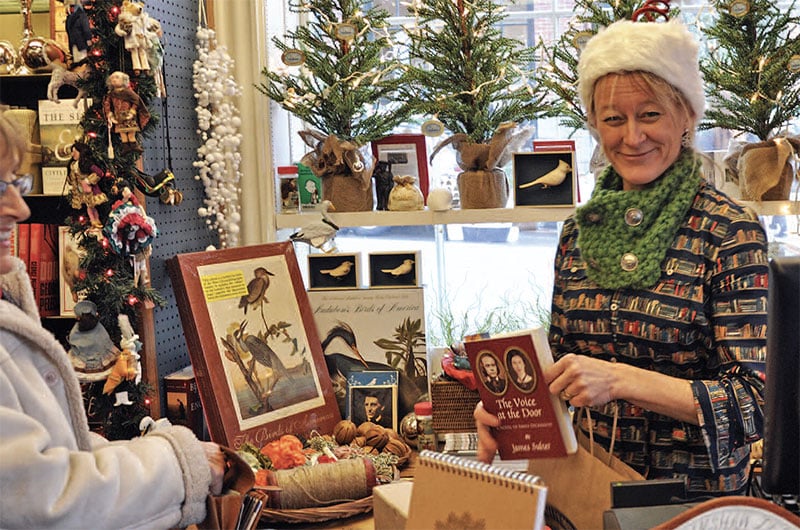 As a young girl, Wendy Hudson would spend summers aboard her grandparents' sailboat, cruising the emerald blue waters of Cape Cod. Sometimes they would make the trip to Martha's Vineyard, and rarely, because it was farther, Nantucket, which, depending on the wind direction, could be a sixhour journey. Now the owner of Nantucket Bookworks, Mitchell's Book Corner, and one of the founding brewers at Cisco Brewers (as well as part owner), Wendy remembers these first brief trips to the island with a funny tinge of nostalgia.
Her grandparents would dock the boat in the harbor for a night on the island, and Wendy would take the opportunity to "poke around town" as she calls it. "It took me a few years before I made it over to Broad Street, but I remember going into Bookworks and going around the back there, the way it was, and there was nobody watching," Wendy says, referring to how, before their renovation, the toy section of the bookstore was located in the very back, with no sightlines to the register, or any adults for that matter. "Growing up in Cleveland, we didn't have any stores that nobody could see you, and I always say that it felt like a moral test. There were all these tiny little toys and you would think, 'I could steal this, but I wont because I'm a good person!'" Wendy laughs.
Now, decades later, Wendy says, "I don't know why that made such an impression on me. People are always asking, 'Doesn't all the stuff in the back of Bookworks get stolen?' and I'm like, 'Maybe, but it's hurting them more than it hurts me!'"
Wendy first set roots down on-island when she came as a college student in 1988, to work summers at Bartlett's Farm. "I was an ethical philosophy major, and I was just looking for the good life, and that's how I ended up working there, just hoeing in the fields because I felt like that was good, worthy work," she says. During her subsequent summers here, she met many like-minded individuals, including one friend who left to serve in the Peace Corps in Africa. Wendy was hoeing in the fields with a friend named Heidi and wondered aloud how she could get this friend's address. Heidi said cheekily, "I know how you can get his address! I know who would know. I'll go tell Randy."
Her friend Heidi was referring to Randy Hudson, a dreadlocked baker for Something Natural Bakery who lived on a boat in the harbor, and whom she thought would be an ideal love match for Wendy. She told Randy about the address Wendy needed, and one morning he approached her at the Bartlett Farm truck in town, and asked her out on a double date to the now defunct Atlantic Café. Later, Randy admitted that he had been looking for an excuse to talk to her, to which Wendy humorously replied, "Well, I was selling vegetables. You could have bought a head of lettuce."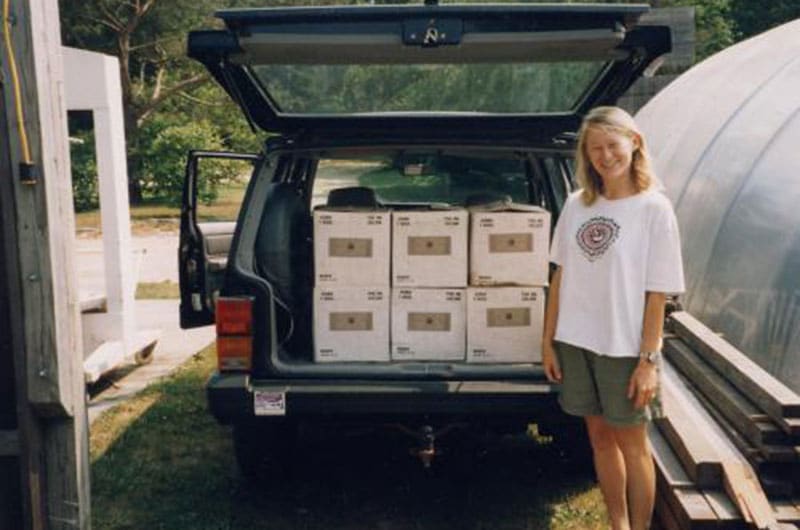 The year was 1992, and after that summer ended, Wendy moved with friends to Palo Alto, California. "There's a great store called Fermentation Frenzy," Wendy recalls, "and we just walked in there and said we wanted to make Sierra Nevada Pale Ale," she laughs. Hence, her endeavor in home brewing began. Wendy recalls that even on Nantucket, making $6 an hour on the farm, "we always drank good beer," she smiles. Back on Nantucket again, and in need of housing with Randy, Dean and Melissa Long offered them a place on the property of their small vineyard. Wendy and Randy brewed beer in the backyard, calling themselves a "nanobrewery" as opposed to a "microbrewery" because of how small their operation was. Wendy and Randy even created the Cisco Brewers logo, which to this day can be seen on everything from Jeep Car Tire Covers to T-shirts all over the island. "The brewery was our first baby," Wendy says with a smile. "It took a couple years to get the licensing. But when we did, everybody who came here was like, 'You need a license for this, do you know that?' And we were like, 'We got one!'" She laughs.
Randy proposed with a family heirloom ring one night in the fall under the stars, and he and Wendy married at the Unitarian Church. It was 1995, the same year they started the brewery, and also the same year Wendy started working at Nantucket Bookworks. When owners Pren and Patti Claflin decided to sell the business in the late 90s, Wendy, with the incredible help of her parents, was able to purchase it. Wendy cites that Pren was instrumental that first year she took ownership, introducing her to book reps and vendors, and "really held my hand. It would have been really hard if we didn't have such a tight relationship."
Throughout the years, Wendy gave birth to two children, all the while running Bookworks and serving as part owner of Cisco Brewers. Always thinking about the next opportunity, when Mitchells Book Corner, owned by philanthropic organization ReMain Nantucket was looking for a person to run the business, Wendy submitted her proposal, thinking that it would benefit both island bookstores to be run under one umbrella of ownership, and ReMain agreed, awarding Wendy the position. Five year later, Wendy says, "We met early in the summer, and the gist of that meeting is that we are both very happy and want to continue."
Another accomplishment under her belt is the creation of the Nantucket Book Festival, a weekend event that is now in its fifth year of existence. "It's funny the way things go," Wendy says. "There's years that are super busy and years that you just maintain. It's interesting." And then there was the careful restoration of Nantucket Bookworks, the construction of which was just completed last year. "I loved it so much the way it was," Wendy says, "but I couldn't let it go, it was irresponsible. But I knew that if we had Mitchell's I could employ my staff and keep everybody, and it worked out really well."
Clearly, her staff is very important to Wendy, with some of the very same employees working at Bookworks, Mitchells, and even the Brewery for years and years. Wendy says of the brewery, "I'm so excited because we employ tons of people, and we have awesome staff who have been there forever, are having babies, and just very entrenched in the community."
The Brewery, just like the bookstores has changed and grown over the years. Jay Harman, once an undergraduate college student who came to Nantucket to work at the Brewery in its formative years (unpaid for nearly a year!) was voted on as the fifth owner, and Randy now works in the distillery making award-winning whiskeys. "Randy has this incredible pallet," Wendy says. "Everything he makes is incredible."
At the time of our interview, there is a cool, crisp feel of autumn in the air. "This time of year is my favorite because you can really think about what the next thing is going to be and take a step back," Wendy says. I for one can't wait to see what she does next.