Eye on Style: Icarus & Co.
by Suzanne Daub
There is timeless beauty in the simplicity of nature, and there is a shop on Old South Wharf whose creative artist/owners have captured that beauty in jewelry, art, and ceramics.
Artists Krys DeMauro and Caroline Mullen, high-school friends who are now business partners, have collaborated to present Icarus + Co, where they sell their jewelry, art, ceramics, and textiles. "We are both very drawn to the ocean and to nature, and this island is a constant source of inspiration," explained Caroline.
"I walk my dog every morning along Nantucket beaches," she explained. "I love the rocks I find that have been tumbled by the sea into beautiful smooth shapes…they have such an energy about them!
"I have jars of beach stones I have collected all over my house and in every pocket… Sometimes when I go out walking and pick up a perfectly shaped stone to put in my pocket I find other stones there from my last walk."
Mullen, whose passion is jewelry design, envelopes the exquisite Nantucket beach stones she finds in organic shapes of sterling silver and 14k gold that reveal and accent the beauty of each one. Using a proprietary method, she "casts the beach stone into the metal," resulting in one-of-a-kind necklaces, rings, and stud and drop earrings. "Each piece of our jewelry is organic, adventurous, and a little bit imperfect."
Recently she started adding richly colored sapphires and speckled salt-and-pepper diamonds to her beach stone jewelry designs. The blue sapphires (Mullen works with many colors) remind us of the ocean, and the shimmering diamonds are reminiscent of sand. Combined with beach stones, these jewelry designs are a perfect, wearable way to bring Nantucket home.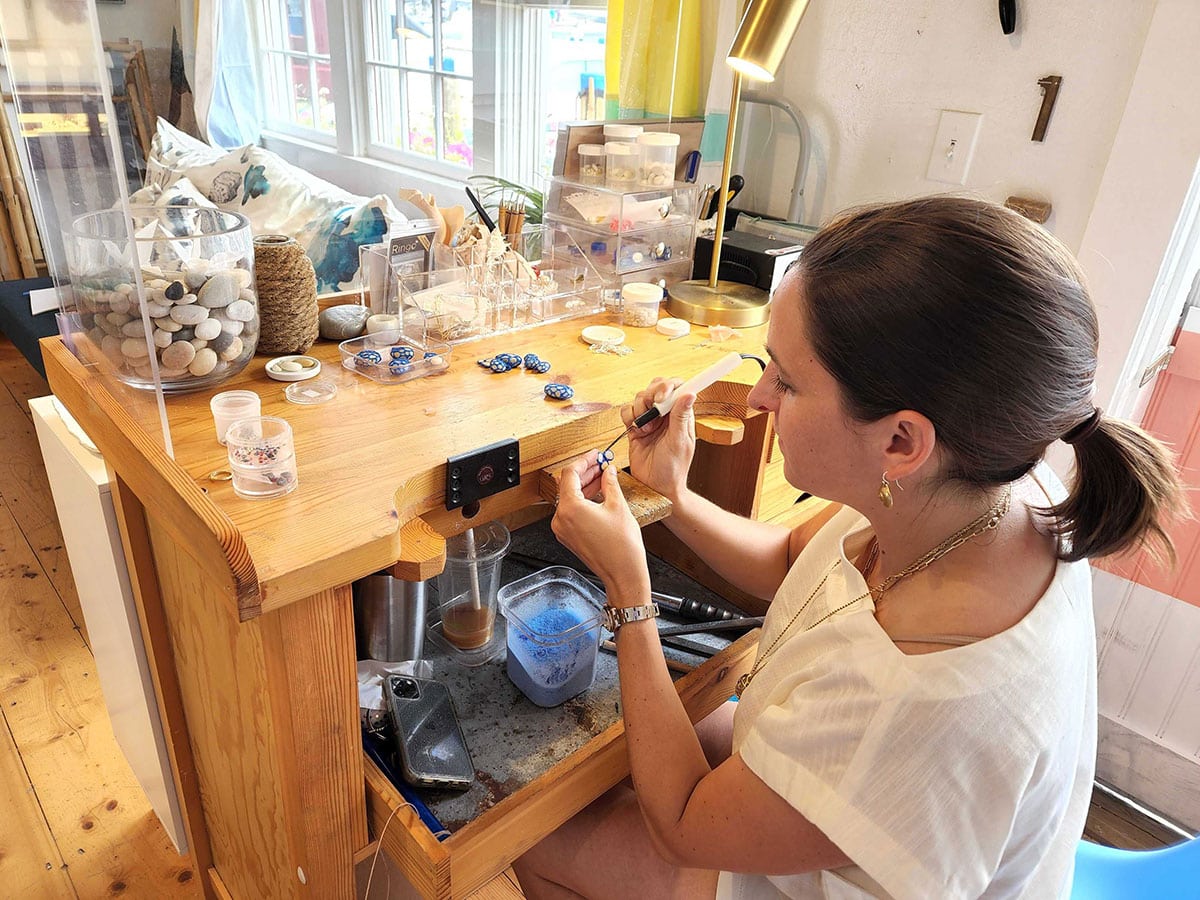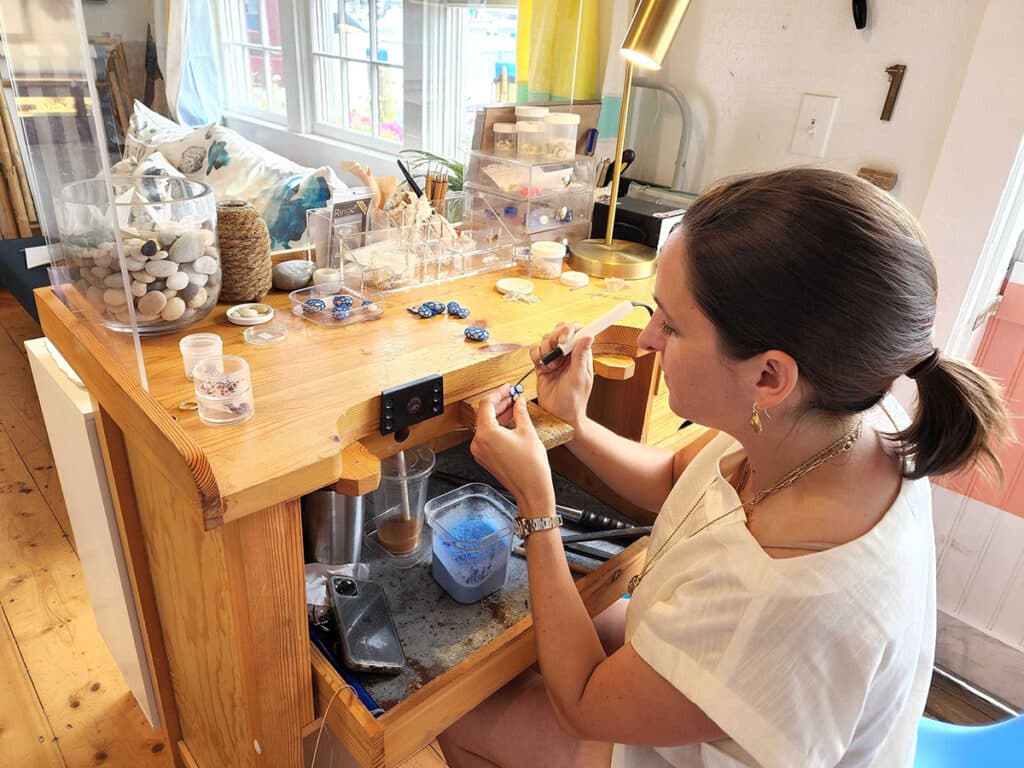 It's not only beach stone jewelry that Mullen creates: she has a Morel series, featuring rings, earrings, and cuffs with fluid, organic shapes in silver and gold. And her Shattered Sea Shard designs, inspired by the pieces of scallop shells she finds on Nantucket beaches, perfectly capture the ripples of sea and shell.
"We often cast directly from natural objects, capturing the incredible texture and detail in shells, barnacles, and more…I do a lot with objects I find on Nantucket: scallop shells, moon snails…"
Mullen's Stacking Rings are another favorite— some with beach stones and some without—in sterling silver, oxidized silver, and gold. And they are available in sizes from 5 to 13 (while they last).
Most days, customers will find Mullen working on pieces in her shop on Old South Wharf, and she's always happy to help customers find just the right piece. Because everything in Icarus + Co. is handcrafted by Mullen and DeMauro using natural objects, no two are alike: every piece in the shop is unique. At the heart of much of their jewelry is a little bit of Nantucket itself.
"So many people have a special place in their hearts for Nantucket, and they love the idea of taking home a piece."
Icarus + Co. is open daily at 19 Old South Wharf and
can be found online at icarusandco.com