by C. Oscar Olson
In these days of social distancing and staying inside, we all find ourselves missing some of the best Nantucket has to offer. No, we're not talking about the Daffy, Wine Fest, or Figawi, or any of the fun festivals that have been taken off this season's calendar or made virtual. We're talking about everything the outdoors has to offer on our one-of-a-kind island.
Nantucket is a paradise in so many ways, especially when the weather begins to warm. And we're not the ones who think so. For our four legged friends, the abundance and variety of wide open spaces the island boasts is beyond compare. From beaches and bike paths to bogs and swamps, moors, forests, and fields, there's always some place new to explore.
For many of us, though, putting off exercise is all too easy. Fortunately for me, my dogs never let it last too long. Their love for exploring on their feet is contagious; it never fails to get me up and out and moving. Since I know I'm not the only one, let's lace up our shoes and grab that leash, because it's time for a walk (sorry, W-A-L-K).
Our favorite place to unwind and explore is one of the best-known walks on the island: Sanford Farm. This 780- acre stretch of land was originally part of approximately 20,000 acres set aside for use as "common land" by Nantucket's first shareholders in 1659. The land was used for nearly 200 years for farming, grazing animals, and wood harvesting. Today, the park's popularity comes from its easy accessibility, ample parking, and varying degrees distance and difficulty. Plus, there's a poop bag dispenser and a trash can for proper disposal.
To get there, simply hop on Madaket Road heading away from town. A short ways after number 114 Madaket Road, look for a large parking lot on your left. Take a spin through the wooden turnstile and let your adventure begin.


The terrain is mostly flat with a few rolling hills; the wide dirt roads and grassy paths are easy to share with other walkers. There's not a lot of shade when the sun is shining, so consider bringing some water and be sure to use sun block. Like most places on the island, ticks can be a problem, so protect both you and your animals from biting bugs. Since you'll likely see some other people enjoying the outdoors, bring a mask if social distancing becomes difficult.
The shortest walk, known as the Northern Loop, is just shy of two miles from the parking lot and back. About double that distance is the Barn Walk which takes walkers halfway to the ocean. This slight elevation provides spectacular vistas of the ocean, and instead of other people you might catch sight of a dashing deer or osprey on high. Walking beyond the barn will bring you to the end of the path and property to the ocean's edge, a 6-mile round trip from the parking lot and back.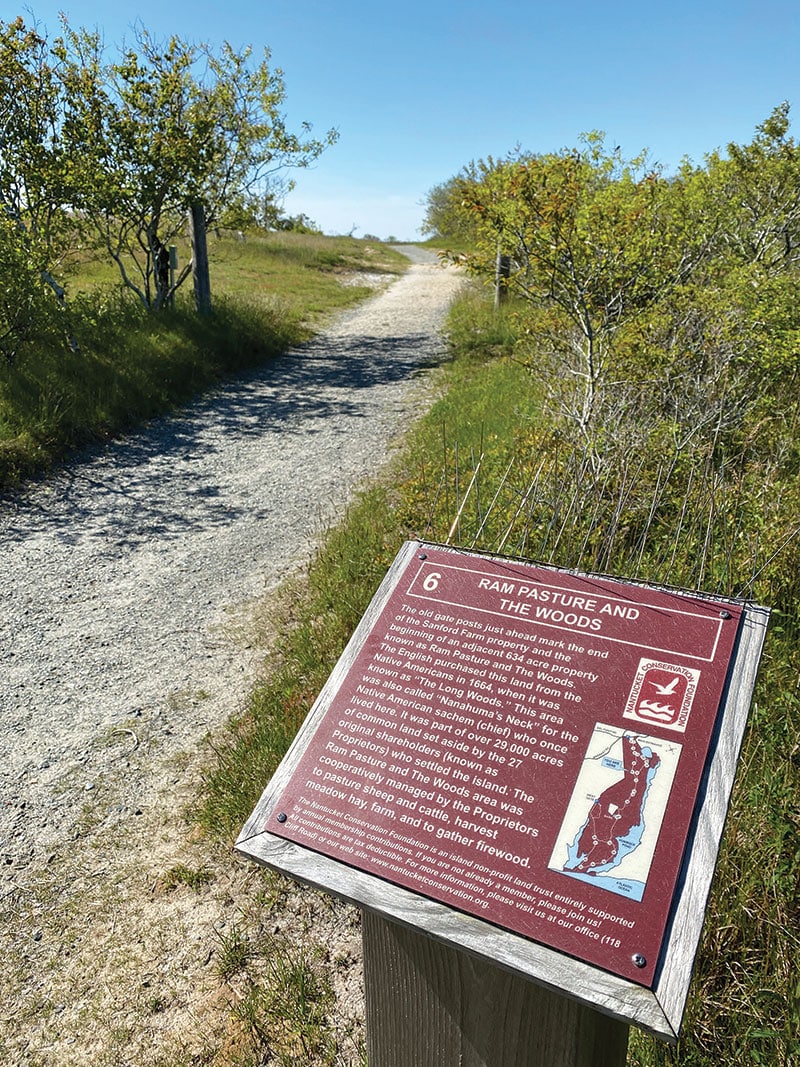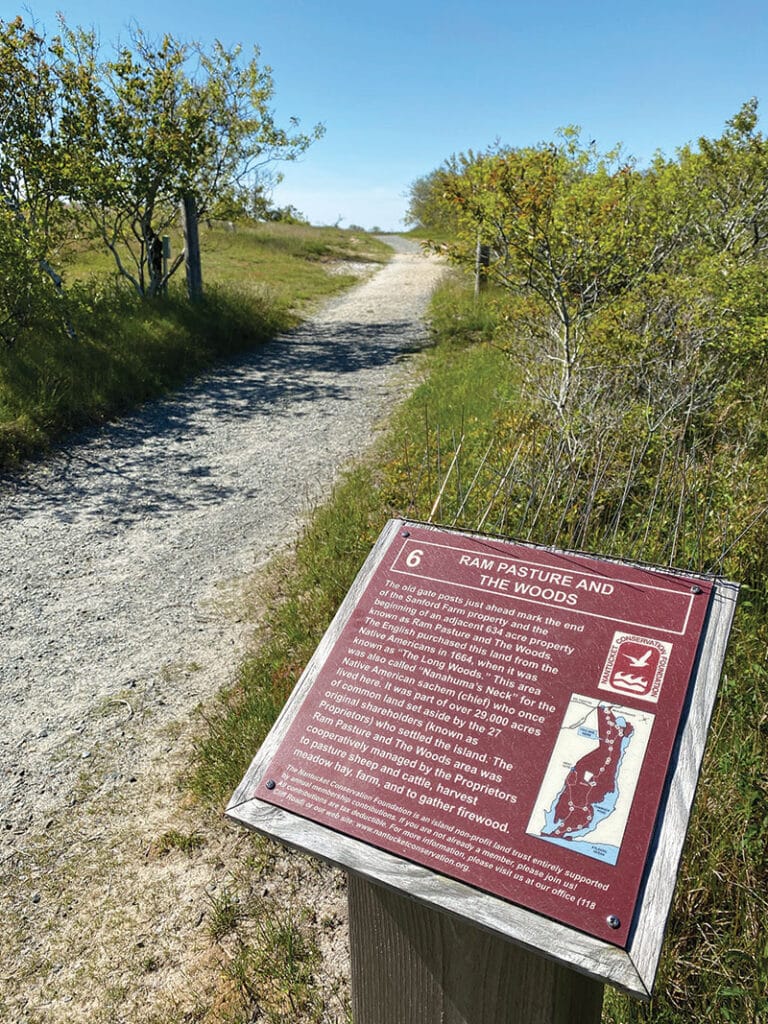 The trails are clearly marked with not only directions and distances, but also plaques packed with information. Take a moment to learn about some of land's history and the plants and animals that live there. Benches are also conveniently located throughout the walk.
Due to decades of grazing animals and clearing fields for farming, grasses, sedges, shrubs, and wildflowers are abundant on this land. Walkers will see some of the best examples of sandplain grasslands and heathlands the island has to offer. These unique habitats provide significant concentrations of rare and even endangered plants, including New England blazing star, sandplain flax, and bushy rockrose. When August rolls around, wild blueberries and fox grapes can be found on the edges of trails offering a tasty treats to trained eyes.
The property itself is owned and maintained by the Nantucket Conservation Foundation. About 60 years ago, before Nantucket really hit the mainstream, a few fine folks with foresight could see the urban sprawl of the mainland making its way across the Sound. They formed the NCF and began securing tracts of land, large and small, by means of purchase and donation. It is their mission to protect these properties for posterity and keep them open for all to enjoy.
The NCF now manages, protects, and preserves nearly 1/3 of the land on Nantucket, keeping it wild, beautiful, and open to the public. These protected lands make exploring the natural side of Nantucket easier for everyone. To bring everything the NCF has to offer at your fingertips, download the ACK Trails app for iPhone or Android. This fantastic application allows users to find their perfect outdoor experience based on preferred activity and location. Downloadable maps, photos, and satellite views make the search even simpler.
Though lots of our favorite places remain closed this Spring, the NCF properties have become a more important part of on-island than ever before. Their 9,000 acres of property are always open, and the Foundation's tireless work ensures that they always will be.
As with all wild places, be sure to leave only footprints and take only pictures. Not everyone enjoying the farm brings a dog, making common courtesy and a leash essential. The responsibility falls on all of us to keep this island as beautiful for future generations as it is for us. Let's all do our part.