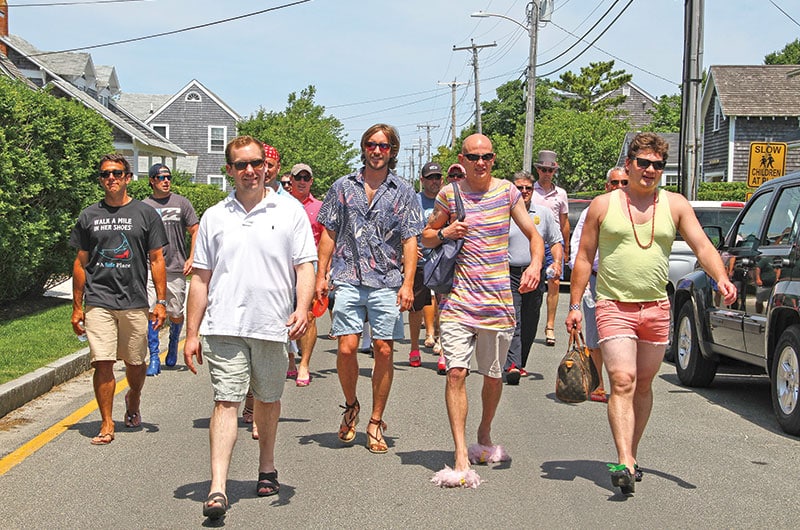 Three years ago staff and volunteers at A Safe Place Nantucket first asked men on the island to strap on some heels, buckle up some boots, or slip into some stilettos and walk a mile to raise awareness and funds to help combat domestic violence. This Sunday, June 26 at 10 am, caring men and their families will again walk the 1 mile route from Children's Beach to town, up Main Street, down Centre, and back to Children's Beach.
"It's not easy to walk in these shoes, but it's fun and will help the Nantucket community think and talk about some difficult issues: gender relations and men's sexual violence against women." Spectators are encouraged to cheer on the men and boys, particularly along Main Street, where they will navigate the cobblestones.
Walk a Mile in Her Shoes® was created in 2001 by rape crisis volunteer Frank Baird, and has grown into an international effort with tens of thousands of men worldwide raising money for local programs. According to event organizers, "…For preventive education, it helps men better understand and appreciate women's experiences, thus changing perspectives, helping improve gender relationships and decreasing the potential for violence. For healing, it informs the community that services are available for recovery. It demonstrates that men are willing and able to be courageous partners with women in making the world a safer place."
It's further described by the international organization as "a playful opportunity for men to raise awareness in their community about the serious causes, effects and remediations to men's sexualized violence against women."
As men and boys walk in high-heeled shoes through the streets of Nantucket, they are also raising money for A Safe Place, whose goal is to eliminate and fight the battle against domestic violence on Nantucket.
Men have the option of walking solo, or with a team of friends, family, or co-workers. High-heeled shoes will not be provided; but event staff will have decorated women's flip-flops available to walkers who don't have heels. If participants would like to fully embrace a woman's lifestyle, dressing up is entertaining and amusing for all of the walkers!
Participants can register on the day of the event at 10 am before 10:30 am start, or can register in advance online at crowdrise.com/walkamileinhershoesnantucket. There is a required $20 donation for each individual along with a suggested $100 fundraising fee per walker; higher donations are appreciated and strongly encouraged. Raindate is Monday, June 27. All proceeds will go directly to A Safe Place on Nantucket. Show the women in your life that you care enough to walk in their shoes!