• by Sarah Teach •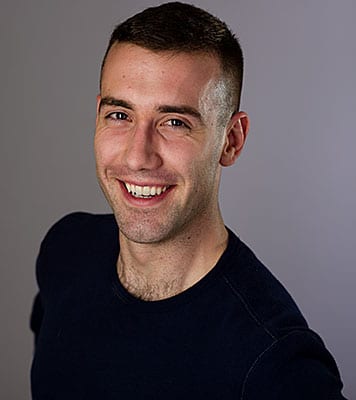 A youth spent on Nantucket sounds divine, doesn't it?  But living on this island is not an everlasting vacation, free of the existential issues faced by people everywhere else in the world.  Nantucket native Andrew Cromartie spent the first 18 years of his life absorbing this notion, and has written a screenplay that conveys that truth in a personal way.  This summer, his screenplay "Nantucket Sounds" will step off the written page and onto the screen when Cromartie's own production company, Raucous Bacchus Productions, makes it into a feature film.  The story's central character is the privileged Jack Worthington, who has summered on Nantucket his whole life. He's engaged to a beautiful young lady with a bank account that spells good breeding.  But something is amiss in the idyllic path that has been so meticulously paved for Jack.  When he meets a mysterious musician named Erin, he is forced to come face-to-face with his innermost self and sort out what he genuinely desires in life.
"Nantucket Sounds" will mark the first feature film by Raucous Bacchus Productions.  The company was launched one year ago with an agenda "…to use the power of film and theatre to ignite the senses, heighten awareness, and inspire hope and vulnerability."  Nodding, Cromartie explains their name: "We all know Dionysus, the Greek god of intoxication.  Bacchus is the Roman equivalent.  Raucous Bacchus captures the atmosphere of having a good time, but also being bold about what we're creating."  Originally a theatre company, Raucous Bacchus produced a version of "The Big Funk," an absurd comedy by Pulitzer Prize-winning playwright John Patrick Shanley.  Boston's Davis Square Theater was home to the multi-faceted performance event, which ran for several weekends, with each show integrating original music from a different band.  Cromartie recalls, "After 'The Big Funk,' our vision for Raucous Bacchus morphed to embrace a style of storytelling that highlights both music and narrative."
Expressive and well spoken, Cromartie conveys an unassuming confidence that is backed up by an immense amount of talent.  He owns and operates Reel Time Demos (www.reeltimedemos.com), a video editing company that creates high quality—and surprisingly affordable—demo reels for actors seeking work.  Throughout Cromartie's early to mid-teenage years, local television station owner Geno Geng taught him to edit raw video footage into watchable content.
By the time high school rolled around, Cromartie took advantage of the Nantucket Film Festival's Teen View program, where his one-minute movie 'Cumby Bumps' won 'Best Teen Short Film.'  Cromartie pinpoints this Film Fest involvement as the blossoming moment of his future as a filmmaker.
After graduating from Nantucket High School in 2003, Cromartie was formally trained at North Carolina School of the Arts and the New York Conservatory of Dramatic Arts: School for Film and Television.  He opens up about his college mentors: "Pamela Moller-Kareman took me under her wing for three years as an actor and storyteller.  She's a master Meisner Technique teacher, and she revealed to me how great stories are told through proper writing and directing, and intense imagination."  Cromartie throws his head back and laughs as he recalls how, at Moller-Karemen's suggestion, he cut 80% of the text from "Nantucket Sounds."  "It became so much better!"  Still grinning, he continues. "Ever since moving to Boston, I've been working with acting and video professionals all over the place.  My acting mentor was Scott Fielding, of the Michael Chekhov Actor's Studio, Boston.  And Casey Preston, the cinematographer for "Nantucket Sounds," has helped me learn the skills of proper lighting and audio for film."  As much as Cromartie revels in time spent on set and onstage, his insatiable creative hunger is for crafting narrative.  "The editing room is where the story really comes together," he explains. "I enjoy all aspects of the production process, but given the choice, I would rather spend my time editing."  Cromartie likens this penchant to that of his artist father.  "My dad will stand in front of his canvas for five hours painting blades of grass."  Cromartie gestures with an imaginary paintbrush.  "For me, editing is being there in front of my canvas, tweaking and touching up."
Of course, a feature film requires some heavy-duty teamwork.  Eighteen-year-old Jack McAllister will appear as the lead, Jack Worthington.  McAllister left high school during his sophomore year to dive full-force into the acting world.  "I've done some small commercials for L'Oreal," he says. "I appeared in the feature film 'The Drifter,' where I got beaten with a lead pipe by a serial killer."  With a note of satisfaction, McAllister imparts the tale of his tragic screen death during Shark Week.  But Jack Worthington is a step closer to real life for McAllister.  "I identify quite a bit with my character, who's the quintessential Nantucket summer kid," he says.  "I've summered on Nantucket since I was one.  I went to a Connecticut boarding school.  Some people might look at a life like mine and think everything is perfect.  But as the audience learns in the movie, things aren't always what they seem from the outside."
To play Jack Worthington's wealthy fiancé, Mika VanAdler, Cromartie reeled fellow native Nantucketer Alexandra Kopko back to the island.  Kopko, who bears a brand new degree in musical theatre from Marymount Manhattan College, discusses her introduction to the project: "I knew the people involved were really creative, ambitious, and organized.  And when I read the treatment, I found the story really compelling.  It talks about feeling trapped and wanting something bigger, which I think is something we can all relate to."  Kopko pauses.  She gazes into the distance, and wrinkles her nose a little as she continues.  "Growing up on Nantucket can often make you feel trapped. Nantucket is an isolated world that has its own set of rules.  But," (she leans forward and offers a small smile), "It's also an amazingly supportive and loving world, which makes the time when you have to move beyond it a lot harder.  That concept of leaving behind everything you know ties right into Jack's struggle in 'Nantucket Sounds.'"
Boston-based actor Erin Kommor brings just the kind of spunky energy necessary for playing Erin, the liberated musician who represents everything that Jack has been groomed to avoid.  Kommor's extraordinary vocal cords can adjust from rocking hard to sailing smoothly, without allowing a moment's rest to the goose bumps on her listeners' arms.  Kommor accompanies The George Woods Band, an eight-piece, string-rich ensemble that has been hired to compose and perform the film's soundtrack.  Lead by award-winning composer and performer George Woods, the band has achieved Boston renown for their unique and original folk-funk.
Principal photography for "Nantucket Sounds" will span 10 days on-island this July, and the remaining interior scenes will be shot in Boston.  Cromartie anticipates the film will be completed by October.  "We plan to not sleep at all!" he says with a chuckle.  "I see this as a chance to give back and contribute something meaningful to the community that raised me."
With the necessary support, Nantucket Sounds will be entered into the 2014 Sundance, Tribeca, Boston, Palm Beach, and Nantucket Film Festivals. In an effort to raise the funds necessary for producing the film, the group has launched a campaign with Kickstarter, which enables anyone to securely contribute any amount of money to the project.  The Kickstarter page and trailer can be found at www.kickstarter.com/projects/raucousbacchus/nantucket-sounds-a-raucous-bacchus-film.  The group will only be able to collect the funds raised if their goal of $20,000 is met by July 7.  If you're looking for opportunities to support promising young Nantucket artists in a measurable way, then this project is your puzzle's corner piece.  The talent behind "Nantucket Sounds" is as local as they come, and they're ready to rauc your world like Bacchus.