by Carl Oscar Olson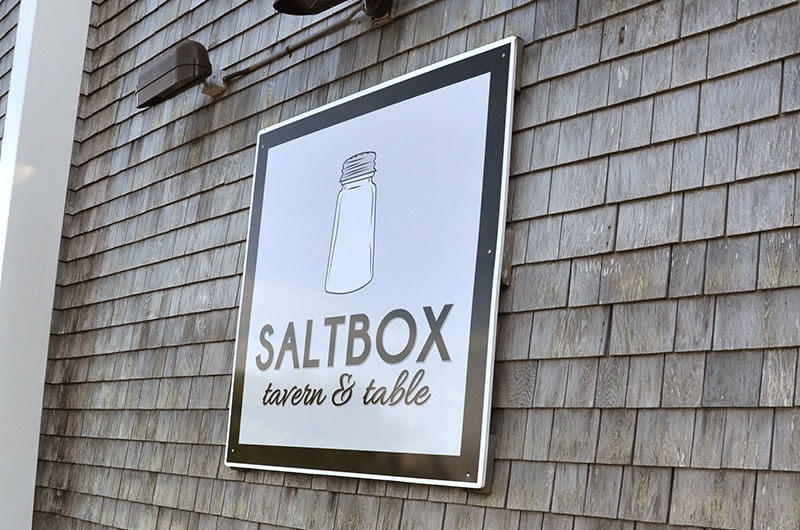 We all have one of those goto spots. Maybe it's down the street or around the corner, in your hometown or vacation destination. It doesn't matter who you are, regulars and first-timers alike feel right at home right away, and that's why they keep coming back. On Nantucket, Saltbox Tavern & Table is the place where everybody knows your name.
New this season, located away from the hustle of town and conveniently near the airport and WAVE bus stops, Saltbox is just plain comfortable. From the spacious indoor dining room, breezy patio, and two fully stocked bars indoors and outside, it is the place to be while on-island. You'll be greeted by smiling staff and the happy hum of conversation before bellying up to their from-scratch menu, daily buck-a-shuck, and did we mention cocktails?
Click Images for Larger View.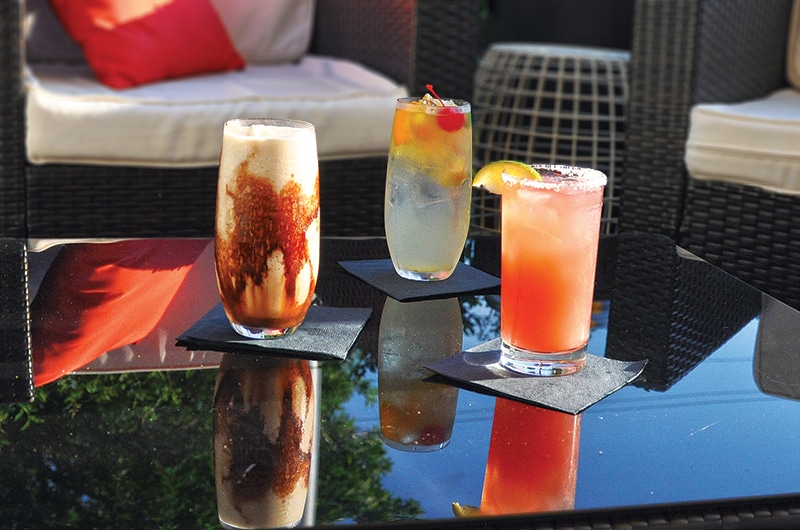 The classic Mudslide is perfected, so dive in to a delicious dance of rum, Kahlua, and Irish cream that is so sweet and satisfying. The Spicy Senorita is something different, mixing watermelon juice, ghost pepper infused tequila, and fresh lime. It's fresh and fiery, bringing out a savory side of your favorite summer fruit. The crowd favorite at Saltbox is the White Sangria, a citrus-forward, fruity, and refreshing remedy for those hot days of summer.
Everything that comes out of Chef Jermaine Scarlett's kitchen is made inhouse. There are no shortcuts or timesavers, and you can taste the difference. The starters are all sized to share, but they're so good you might not want to.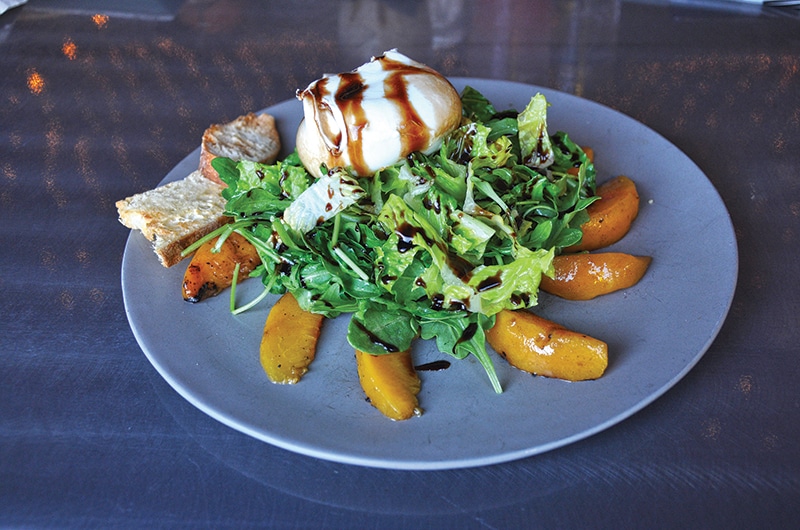 Fresh, milky Burrata is served atop a bed of romaine and arugula, drizzled with tangy balsamic, skirted with juicy grilled peaches and warm, toasty bread. The flavors all speak for themselves but when combined they create a sumptuous, seasonal treat.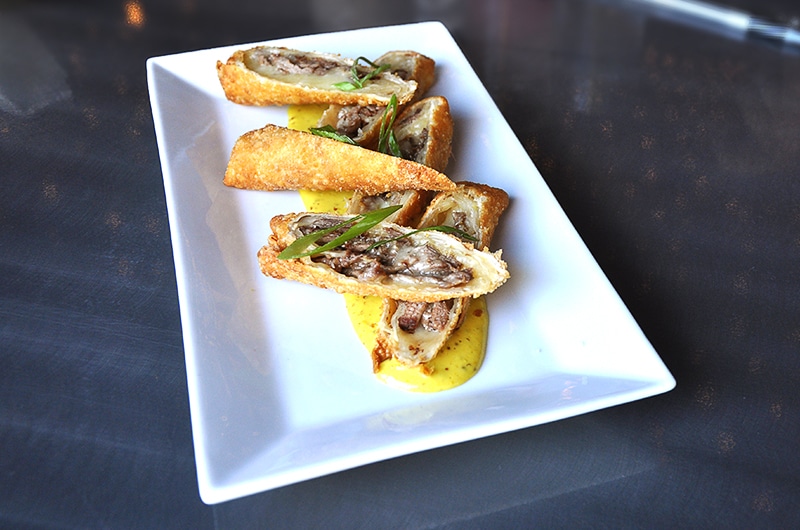 The new classic Steak and Cheese Egg Rolls are undeniably fun finger food, served sliced with a horseradish mustard sauce for dipping.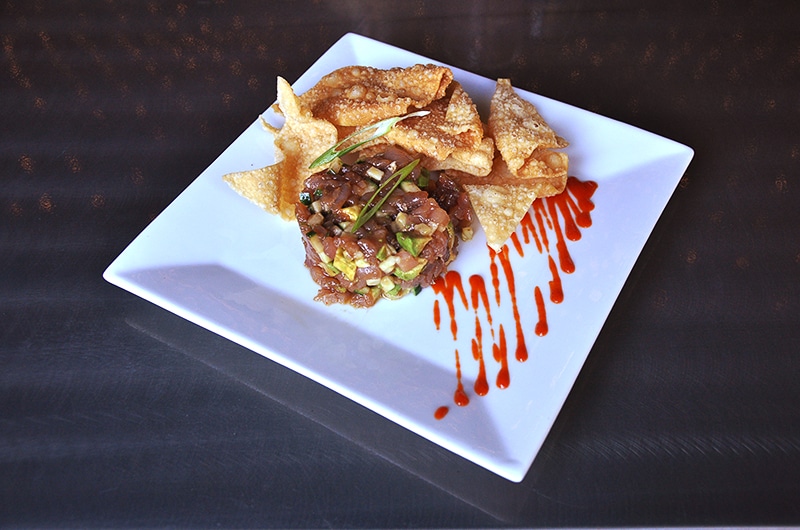 Deliciously cool Tuna Tartare comes with fresh fried wonton chips that were still warm. Flavors of soy and sesame sing with just the right sizzle of spice in every bite combined with crunchy cucumber cubes and creamy avocado.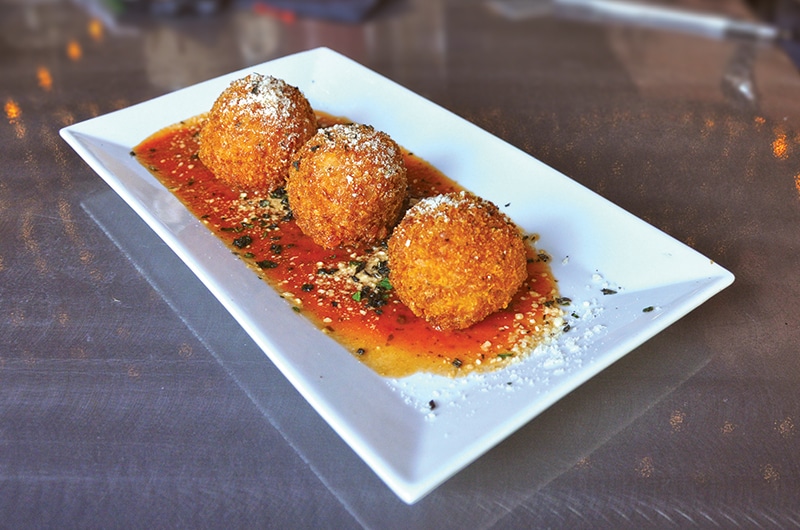 Three perfect spheres of Arancini were well sauced with an eye-opening fra diavolo. Peppered with parmesan, the crispy fried shell on the outside gives way to creamy, rich risotto inside.
The flamekissed flavors of the Grilled Romaine make it an easy favorite for us. Two whole hearts are lightly charred on the outside and juicy within, drizzled with a classic Caesar dressing, parmesan, and thick cut crispy bacon. We added tender, perfectly grilled shrimp to make it a meal.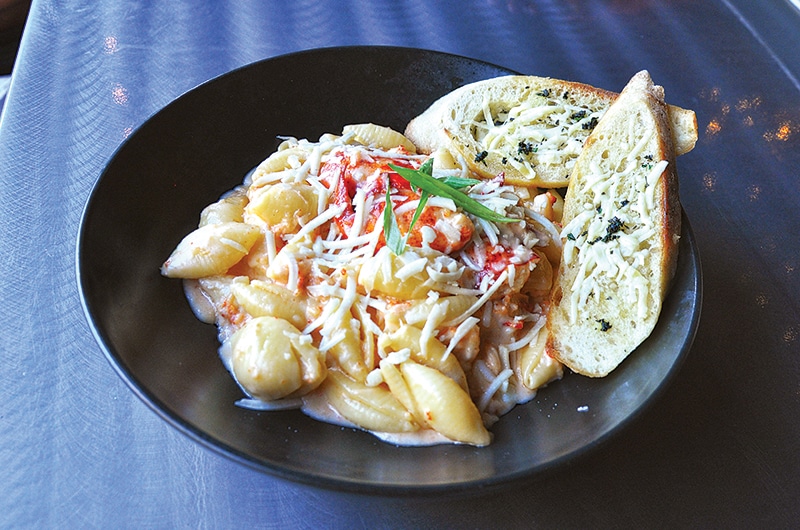 After those five fantastic first courses, we couldn't wait to see what our entrees had in store. Lobster makes everything better, so the Lobster Mac & Cheese was a no brainer. Simply one of the best cheese sauces we've tasted boasts creamy English cheddar that coats every inch of this dish. The shells of pasta scoop it all up so every bite has a burst of goodness, and the garlic bread is ideal for mopping up what's left behind.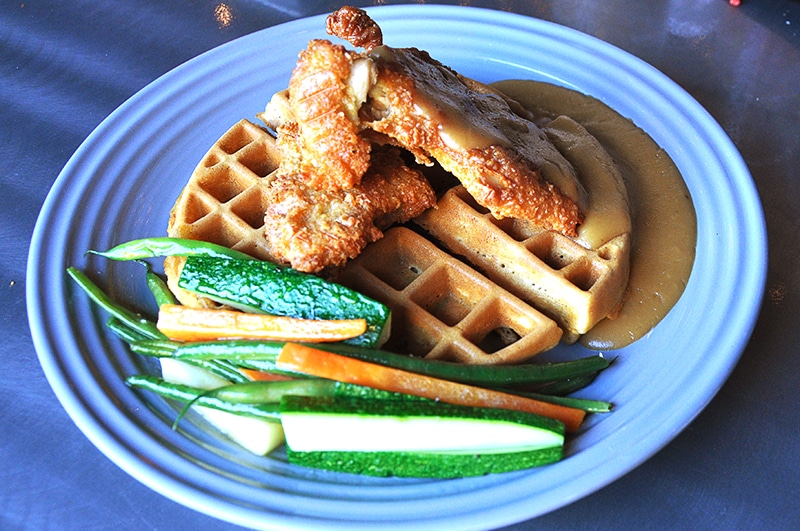 A Nantucket take on the southern staple, Chicken and Waffles had our mouths watering. Deep fried and decadent, it's gravy smothered and served with lightly sautéed carrots and zucchini. The waffle is well seasoned and serves as a stuffing component, soaking up all the succulent sauce.
Six jumbo sea scallops, shrimp, and a huge helping of lobster made the Seafood Bowl easy to love. Served over al dente linguini and a fragrant coconut cream sauce, the attention to every detail in this dish was apparent. Every morsel of goodness was perfectly prepared.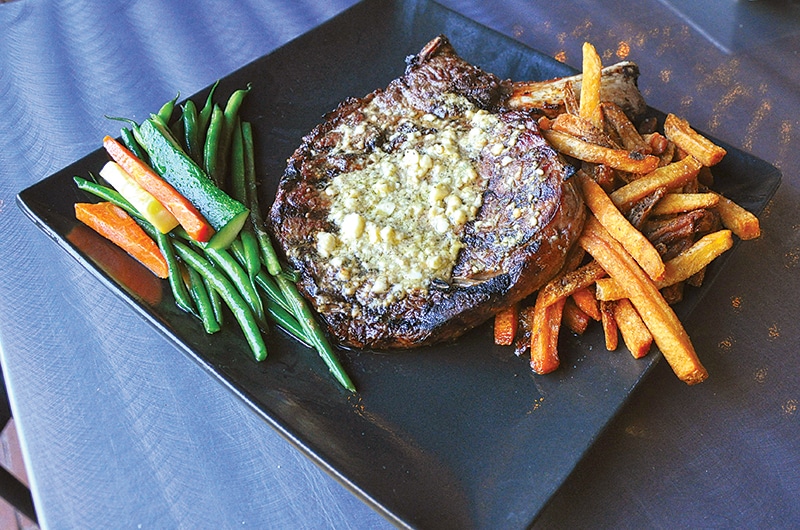 You can't go wrong with a steak, and the 16 oz Ribeye was just right. It's served bone-in and cooked to perfection, then covered with a blue cheese compound butter that melts right in to the meat. The pommes frites alongside are golden brown and beautiful while the green beans and carrots added an essential fresh crunch.
If you still have room for dessert, most of the options are ever-changing at Saltbox. That means you can be sure that they're always fresh, made daily, and based simply on what's fresh and available. On the other hand, for more reliable sweets, you can always depend on freshly flavored Sorbets and Ice Creams like mango, raspberry, or blood orange.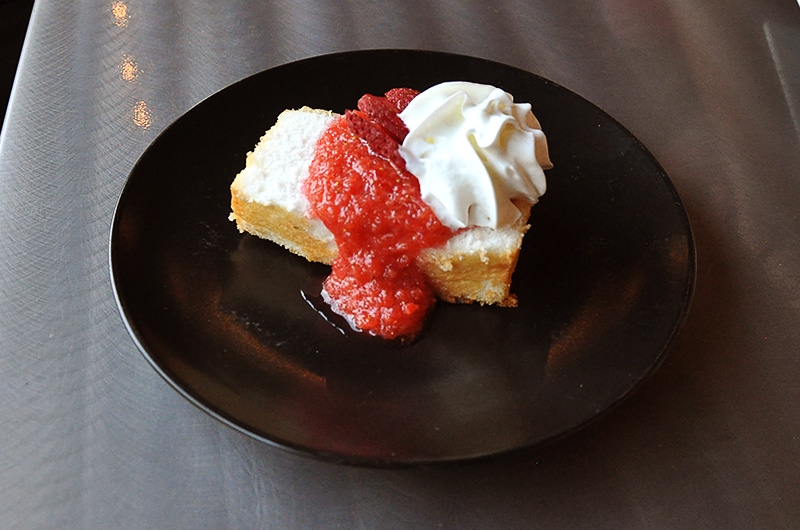 Summer strawberries are abundant in our garden, but we can't quite get enough. Strawberry Shortcake was a welcome surprise at the end of our meal. Sugary, ripe red berries rest on featherweight angel food cake that acts like a sponge to the juicy red sauce spooned on top.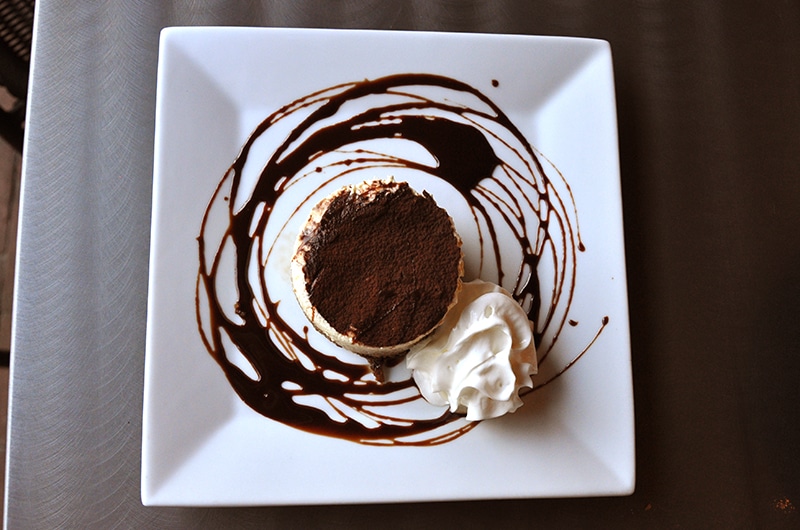 Lucky for us, our favorite coffee confection Tiramisu

 was on the list. Dusted with cocoa and drizzled with chocolate, it was rich and moist and the perfect finale. Both were decked out with fresh whipped cream, making for a picture-perfect finish.
If you're tired of the beaten path and the same old spots, then maybe it's time to try something new. Get to Saltbox Tavern and Table for a fun, refreshing, and reliable island eatery.
Saltbox Tavern & Table
saltboxack.com
774-333-3814 • 7 Macy's Lane
Open every day from 11:30 am
Sandwich & Entree prices from $16 to $39
Buck-a-Shuck daily from 3 to 6 pm
Major credit cards accepted • Families welcomed
Indoor & Outdoor Seating
Available for private events