• by Frances Ruley Karttunen •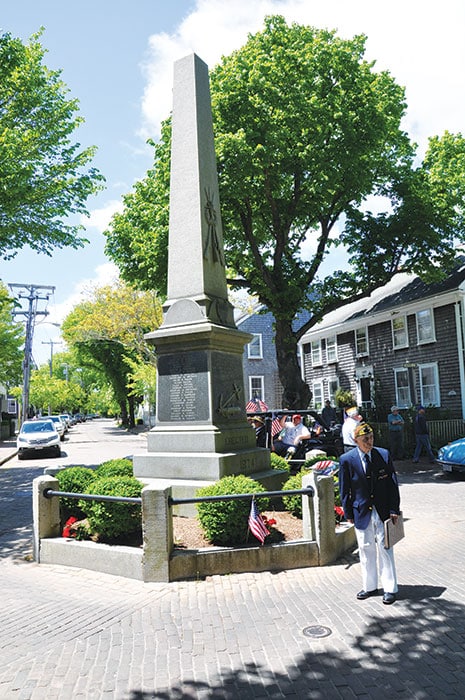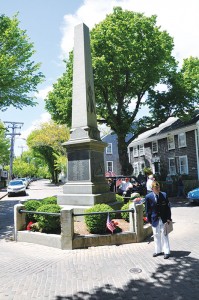 Nantucket's Main Street exists in three distinct segments. The wide part from the head of Straight Wharf uphill between storefronts is known as Main Street Square.  The square resulted from widening the street after the Great Fire of 1846.  At the foot of the Square is the old brick customs house. The Pacific Club has relinquished its meeting room on the ground floor to a crafts gallery, but the ghost of the days when aging whaling captains, veterans of voyages to the Pacific whaling grounds, played endless rounds of cribbage there lingers on.
At the head of the square is the red brick Pacific National Bank, built in 1818.  From a makeshift observatory on its flat roof, Nantucket's premier scientist, Maria Mitchell, observed a comet, the discovery of which launched her off-island career.
Beyond the bank building, Main Street narrows. Like the square, it is paved with cobblestones that were purchased from Gloucester for that purpose in 1837 (not, after all, brought to the island as ballast in the holds of empty ships, as we used to imagine).  The cobbled street passes between handsome houses, including the famous Three Bricks constructed for the three sons of Joseph Starbuck and the two neoclassical columned mansions across the street.  This section of Main Street could be said to reek of whale oil wealth accumulated in the first half of the 1800s.
The cobblestones end at an obelisk, beyond which the cobbles give way to yellow brick leading to the edge of town.
Where the obelisk stands was once the town center, located at a distance from the stench of the whaling-era waterfront.  Here the town building once stood with the town's liberty pole out front. Within was a courtroom, and nearby stood the whipping post where punishment was meted out to wretched miscreants. A jail built in 1803 (quaintly known as the Old Gaol) still occupies a back yard between Upper Main Street and Vestal Street. Not far away there were an almshouse and a Quaker home for the aged. A large Quaker Meeting House also stood nearby.
By the 1870s, Quakerism and the whaling industry had both collapsed on Nantucket; a brick building on Union Street, just off Main Street Square, had been taken over to serve as the Town Building; and the whipping post and the liberty pole had long since faded from memory.  The intersection of Main Street with Gardner and Milk Streets was no longer a hub of activity, but like the Pacific Club, it retained an aura of by-gone importance.  Where better to place Nantucket's Civil War monument?
Work commenced in October 1874.  One of the millstones from the recently demolished Roundtop Mill was recycled as the base for the obelisk on which were inscribed the names of Nantucket's Union dead, seventy-three in all.  On May 29, 1875, Nantucket's Soldiers' and Sailors' Monument was dedicated.
The American Civil War had been the first in which the Nantucket community had participated. Previously, Quaker pacifism had kept Nantucketers out of combat, but to the Civil War the island sent three hundred thirty-nine of her sons, fifty-six over the town's quota.  Of those who went to war, only the names of the men who died appear on the Monument.
Robert Mooney, local Civil War historian, has recounted many a story of both the island's Civil War dead and those who returned home after the war, but there are some veterans of that war whose stories have yet to be told.
A total of twenty African Americans enlisted identifying Nantucket as their hometown.  Most served in the Union Navy, but three joined the 5th Massachusetts Cavalry.  All survived the war, so none of their names appear on the monument. In October 1891 veterans Sampson Pompey and Hiram Reed were elected charter members of the Nantucket Post of the Grand Army of the Republic. When Pompey, Reed, and their fellow veterans Joseph Simons and George Michael went to their final rest in Nantucket's Colored Cemetery, their graves were marked with U.S. Government markers. To this day each grave is decorated with an American flag on Memorial Day.
Benajah Boston Jr., cousin of Nantucket's black whaling captain Absalom Boston, served in the Union Navy. After the war he stayed away from Nantucket until 1916, when he came home long enough to give a colorful account of his eventful life to the Inquirer and Mirror. Then he took off again and eventually died in great old age in Rock Island, Illinois, leaving on Nantucket no marker or inscription commemorating his service in the war.
Then there was Harriet Hollway, born in Nantucket to a Quaker family in 1823.  One of eleven children, she began teaching school at age fifteen, showing—as her obituary put it—"a spirit of independence and executive ability for which Nantucket women have in past been noted."  Widowed and already in her late 30s at the opening of the Civil War, she volunteered for service and subsequently was mustered in as a regular Union Army nurse.  She served the last eighteen months of her enlistment at a hospital in Portsmouth Grove, Rhode Island, and after the war she made her home in Newport.  In 1890, "by special act of Congress she was granted a pension," which she enjoyed until her death in 1898.
Other Nantucketers who should be honored for their parts in Civil War history include teacher Anna Gardner, her student Annie Nahar, and Maria Mitchell's brother William Forster Mitchell.  These three went south in the immediate wake of the war to help educate people newly freed from slavery.  A policy of withholding literacy from slaves had created an enormous need of schooling for people of all ages.  Anna Gardner went first to New Bern, North Carolina, and later to Virginia to establish schools, to design curricula, to teach, and to serve as a school principal.  William Forster Mitchell went to teach in the same area.  Annie Nahar, daughter of a seamstress and a barber in Nantucket's black community, had been a beneficiary of the 1840s struggle to racially integrate Nantucket's public schools. Of these three Nantucket educators, she traveled the greatest distance to begin her service—first to New Orleans, where she was already teaching in 1865, and then on to teach in Texas.  Joseph Farnham, who had attended primary school in Nantucket when Annie Nahar was in grammar school, wrote that she could "unquestionably have passed as white…yet she was of African parentage, was true to and dwelt with colored people. She was a young woman of rare character and attractiveness." Had he known what she did after she left Nantucket, he might have added that she was every bit as courageous as the men whose names are inscribed on the obelisk on Upper Main Street.
Frances Karttunen's books, The Other Islanders: People Who Pulled Nantucket's Oars and Law and Disorder in Old Nantucket are available at Nantucket bookstores. Frances Ruley Karttunen's latest book about Nantucket history is Nantucket's North Shore: A Neighborhood History. All her Nantucket books are available from local book sellers.