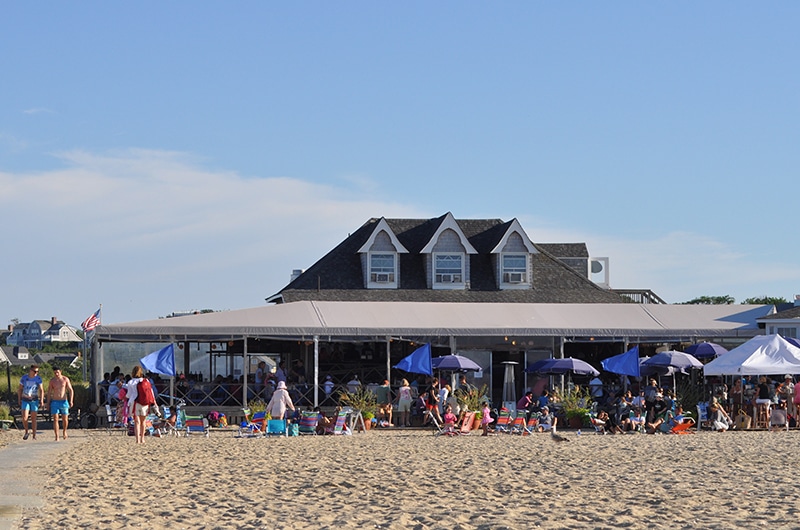 Through fall, winter, and spring, we waited and we dreamed.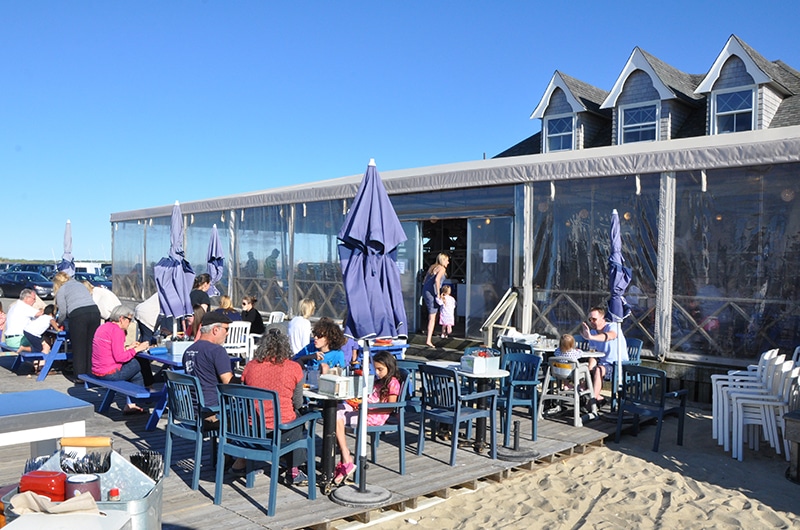 We waited for the days to grow longer and for the cold winds to change to soft sea breezes. We dreamed of spending afternoons at the beach, basking in the summer sunshine and listing to the soothing rhythm of the surf.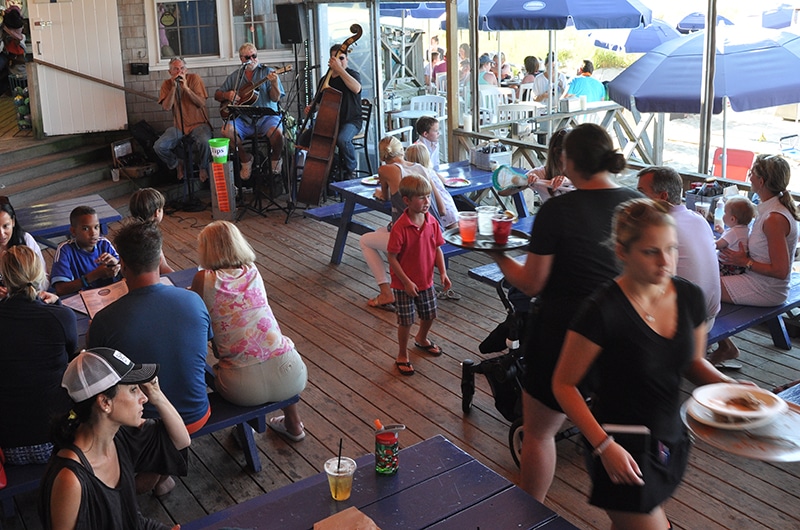 Finally, this week the wait was over and we made the dream come true, sitting on a sun-dappled beach deck, sipping cool drinks as we perused the summer menu at The Jetties Beach Bar & Restaurant.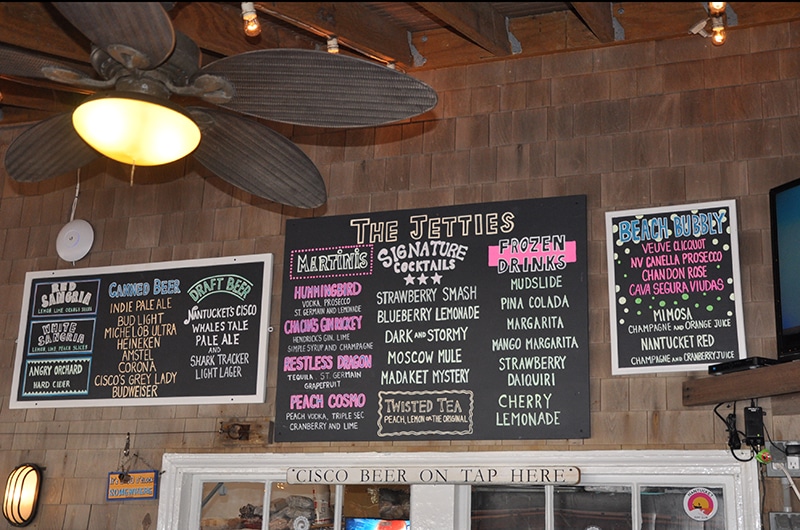 Owner Marshall Thompson was at his usual station, greeting the many regulars by name and overseeing the smooth operation of this very busy, very popular seasonal spot. And we were happy to again be served by K.C., who, when we expressed our pleasure that she had returned, simply swept her arm toward the beach stretching out beyond the eatery and said "Of course I'm back—just look at where I work! Now, what can I start you with?"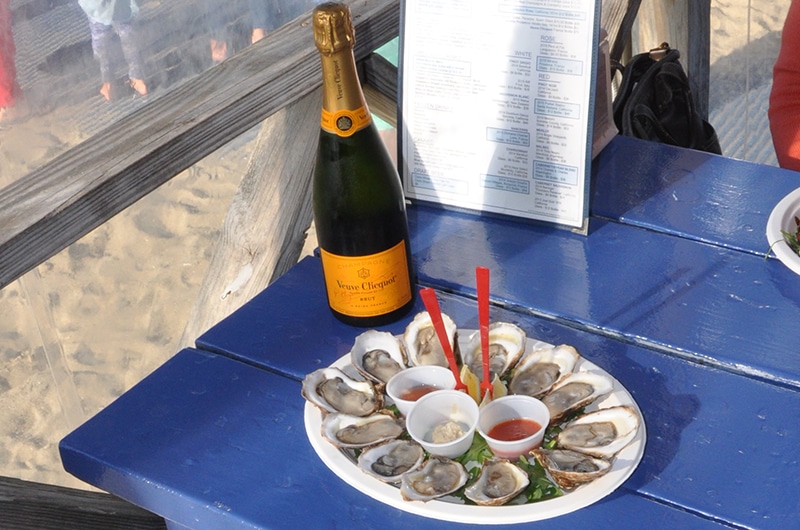 There are many reasons Jetties Beach Bar & Restaurant is a favorite with locals as well as visitors. First of all, its ON the beach. If you're lucky to snag a seat on the first level, you can dig your toes into the warm sand while you sip a frozen Mudslide, a Madaket Mystery, or your choice of cocktail. Celebrating with a sweetheart? Jetties has a Veuvelicious selection that pairs a bottle of bubbly with a dozen freshly shucked oysters from their raw bar. If you're dining out with family, there's a plus here for every generation.
Adults can savor a delicious dinner featuring steak or lobster (or both), or a variety of pastas and risottos, while the kids can chow down on hot dogs, chicken fingers, burgers, chicken, or fried mac & cheese. There's live music for adults and sand for the little ones to play in. Parents need not stress over the joyous cries of their 18-month-old or over their toddler wanting to visit other tables—the early dinner crowd won't mind. Adults not so charmed by little ones simply arrive a little later.
And last but not least, the food is delicious! Yes, you can get a burger or a lobster roll, but you can also order a first-class three-course dinner at Jetties without the fancy attire, the babysitter, or the black Amex. All that's missing is the tablecloth, the china, and the attitude.
Click images to view enlargements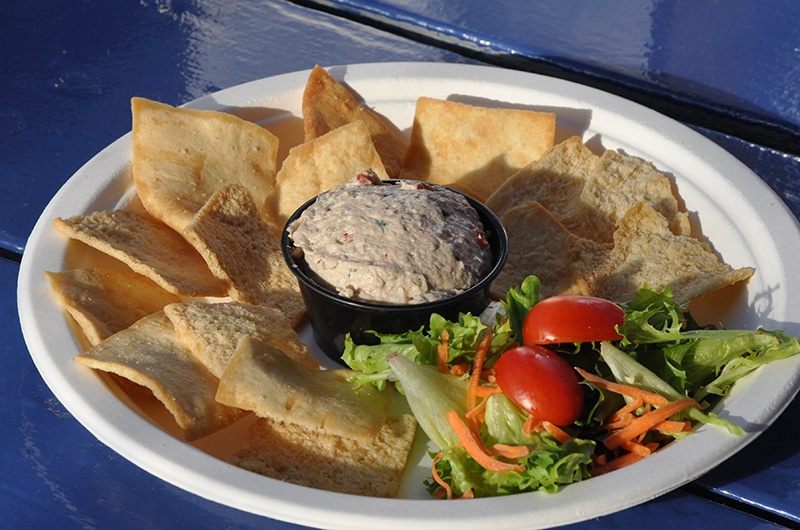 We started our meal with a creamy and flavorful Smoked Bluefish Paté that had a wonderfully summery taste of the sea, which is to say that it tastes of bluefish but is not "fishy." There's just enough smokiness and the right amount of seasoning to mellow the bluefish without masking it.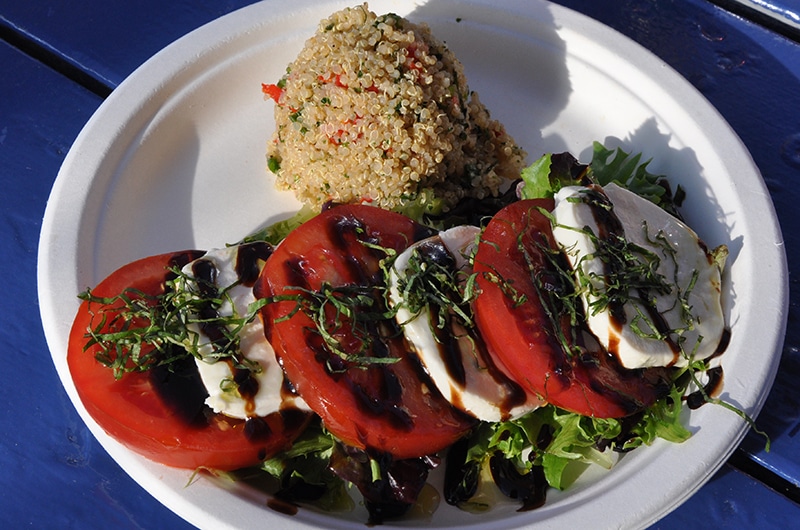 We're not sure where this chef got the gorgeous tomatoes for his Caprese Salad this early in the season: ripe, juicy, and flavorful, they were spectacular along with the fresh basil, creamy mozzarella, and a tangy balsamic glaze. This season, The Jetties added a Quinoa Salad to the menu as a healthy alternative to fries with their sandwiches and kids' meals. The fluffy quinoa is tossed with bell pepper and herbs in a light lemon vinaigrette. It can also be ordered as a vegetarian add-on to the other salads offered. We added it to our Caprese Salad and ended up with a hearty platter that was deliciously sweet, nutty, refreshing, and healthy.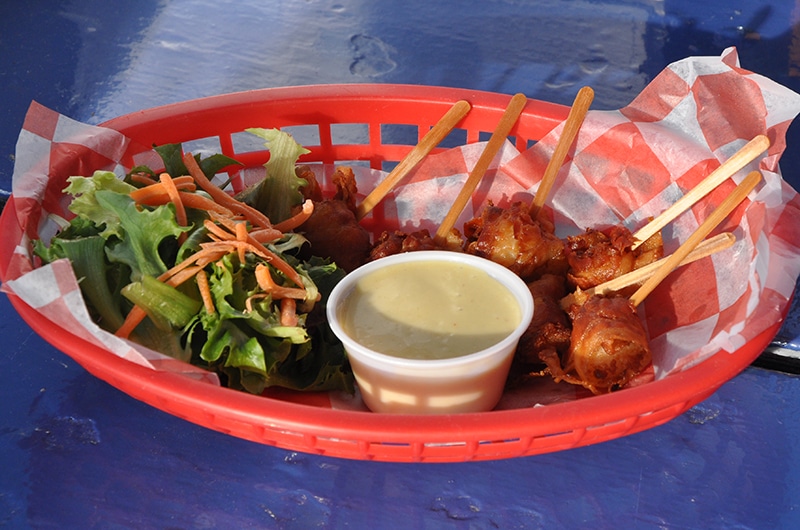 Many of the appetizers served at Jetties are designed for sharing. We shared the Bluefish Paté and the Bacon Wrapped Scallops. These are a perfect Nantucket treat! All grease is rendered from the bacon—only the crunch and flavor rema i n—a n d the scallops inside are sweet and moist and cooked just through. The dipping sauce has a great balance of sweetness and tang. If you plan to share this, double your order because they go down real easy!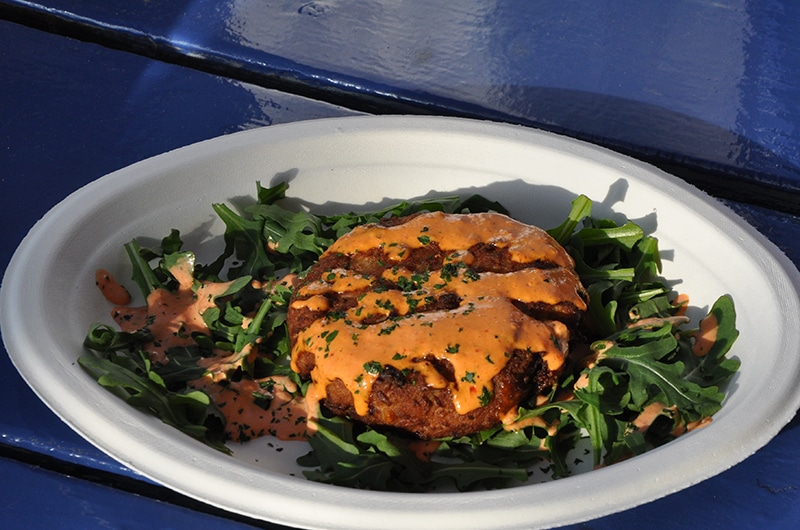 We also enjoyed the new Crab, Shrimp, & Scallop Cake on this summer's menu. The cake is served with a tasty golden-brown coating and with very little filler so the flavors of each seafood shine through. We love that the addition of shrimp and scallop meat give a heartier texture and more nuanced flavor to this variation on a crab cake.
We get one of their thin crust Pizzas every single time we eat at The Jetties—we can't resist! This trip it was the Caprese Pizza we ordered and happily devoured, the sweet roasted tomatoes and strips of fresh basil deliciously nestled into the mozzarella cheese and alfredo sauce. If you've stopped by for cocktails and a snack any one of their seven specialty pizzas is great for sharing. You can also design your own from their list of 14 toppings.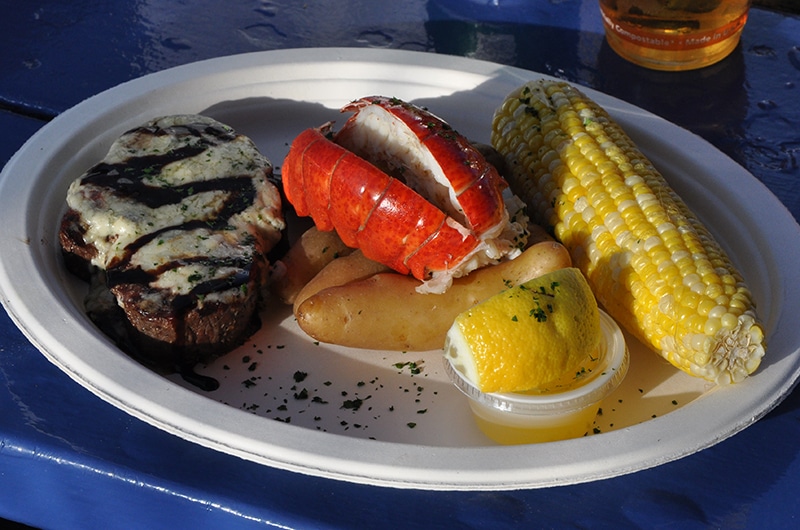 Surf & Turf at Jetties is a cross between a clambake and fine dining. It's a hearty platter, with a split lobster tail, fingerling potatoes, corn, and drawn butter alongside a good size filet mignon topped with gorgonzola cheese and balsamic glaze. The lobster is moist and sweet; the beef succulent and tender. Bring your appetite if you order this dish, or be prepared to finish it at home the next day.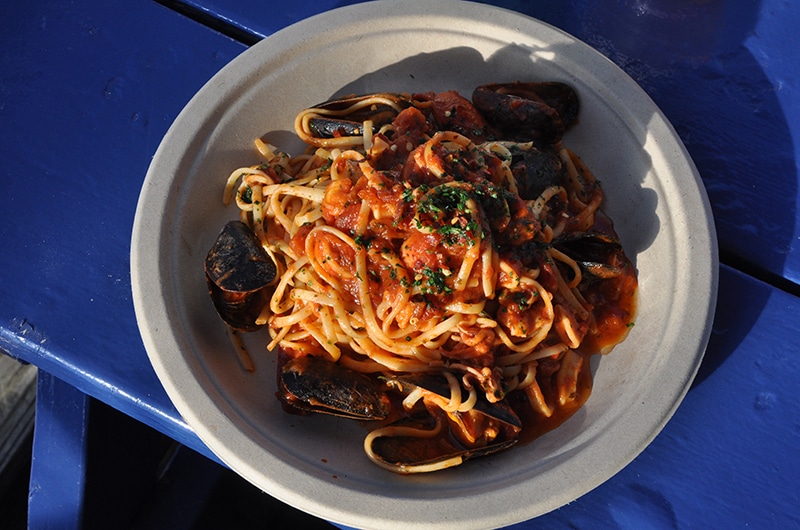 Five of the dinner entrees are pasta dishes, and they vary widely, featuring seafood, chicken, and beef. We tried the Seafood Fra Diavolo, a mix of succulent shrimp, big chunks of lobster, tiny rings of calamari, and tender mussels in a spicy (but not fiery hot) red sauce served over linguini (you can also choose gluten-free penne).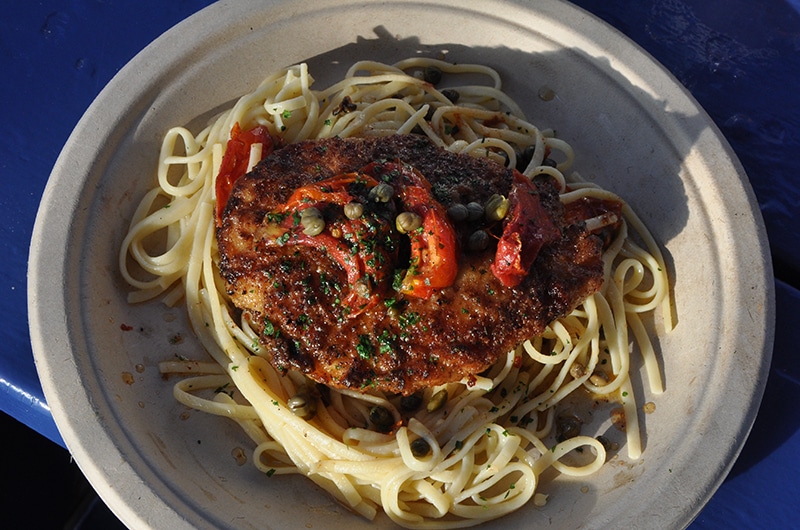 As good as this was, the Chicken Piccata pasta was our favorite pasta dish. The breading on the pounded chicken breast was scrumptiously crispy; the meat inside superbly moist and juicy. Plenty of puckery capers and sweet roasted tomatoes were served overtop, and the luscious lemon-garlic butter sauce dripped down over the pasta underneath.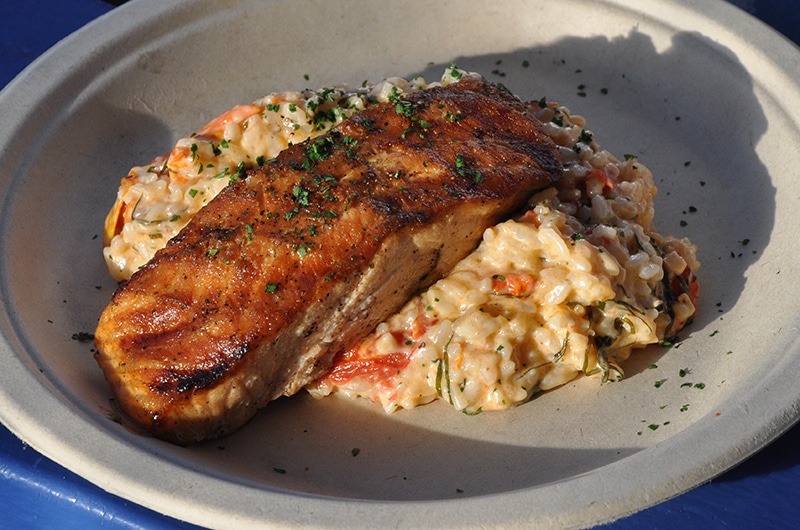 Another menu category offered only for dinner is Risotto, with four different preparations: salmon, scallops, chicken, and vegetarian. We went with the Grilled Atlantic Salmon and were delighted by the richly resonant flavors of this dish. The fish arrived beautifully crusted and perfectly seasoned— cooked through yet still moist and flaky. It was served draped over a creamy risotto studded with roasted tomato, olives, and basil.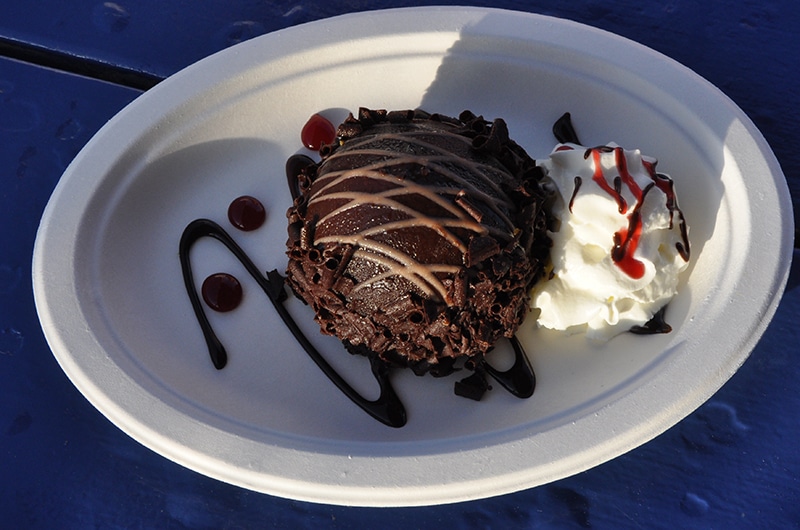 If you'd like a sweet ending to your meal, we recommend a frozen Mudslide, but if want to use a fork and not a straw, The Jetties is currently serving a very tasty Chocolate Mousse Cake …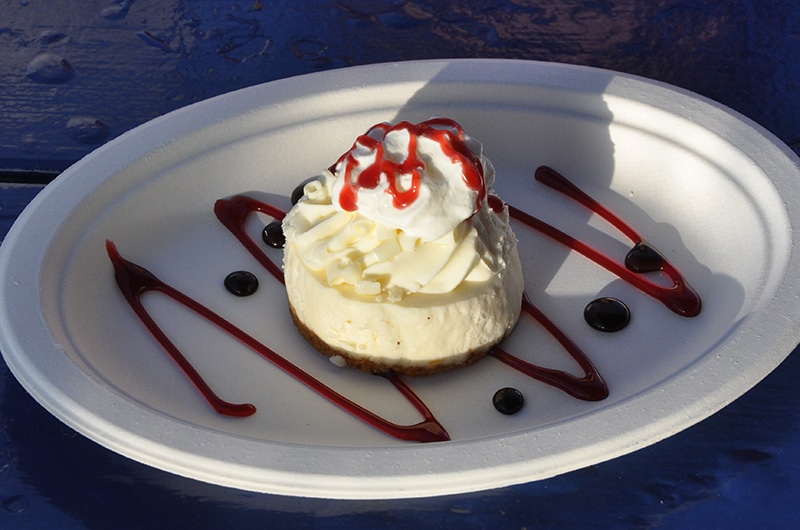 … and a creamy Cheesecake with chocolate and raspberry syrups, both individually sized.
When we left, the top deck was packed with locals, enjoying fresh raw bar tidbits with cocktails and conversation.
Most of the families were preparing to depart: time to get the little ones to bath and bed. Jetties Beach Bar & Restaurant serves their salads, appetizers, and pizzas at lunch as well as at dinner, plus at lunchtime (11:30 am to 4 pm) you can also order their fabulous Fish & Chips featuring fresh cod in Cisco beer batter or choose from an expanded sandwich selection.
At lunch or dinner, The Jetties Beach Bar & Restaurant is the ideal spot to savor the joys of the summer season.
The Jetties Beach Bar & Restaurant
4 Bathing Beach Road at Jetties Beach
thejetties.com • 508-228-2279
Full Service Lunch 11:30 am-4 pm • Takeout Lunch 11:30 am-4 pm
Bar opens at 11:30 am • Buck a Shuck daily from 3-5 pm
Full Service Dinner starts at 5 pm
Dinner entrees range from $16.50 to $36.50 (most between $18-$24)
Pizzas from $14 to $22.50
Reservations not accepted; parties seated when all are present
Kid's menu • Sheltered and open air outdoor & beach seating
Live Music • Full liquor license • major credit cards accepted
The Jetties can be rented for private celebrations & weddings
See their video at NantucketWeddings.com
plenty of parking and next to an NRTA shuttle stops