For more than three decades we've invited all who live on and visit the island to enter our annual Nantucket Photo Contest. Our readers enthusiastically participate: every year we receive hundreds of their favorite views of Nantucket.
This year we had nearly as many photos of sunrises as of sunsets: it was a summer of early risers! Lots of surf shots were sent in, and fewer photos of hydrangeas (which did not bloom well this year). Many images submitted were shrouded in fog, giving some scenes a romantic look and others a tinge of mystery.
This year's winning photo of a rainbow over the harbor was taken by summer resident Robert Borneman, who hails from Houston, Texas and has been visiting since his parents first brought him here in 1972. The vote was unanimous: Borneman's photo includes several iconic aspects of Nantucket: the harbor, the way the clouds on the horizon turn golden, the grey shingled homes along the wharf, the red dory, and even the ferry and "dolphins." Since he purchased a home here, Robert says "I now spend much more time on the island and enjoy every minute of it."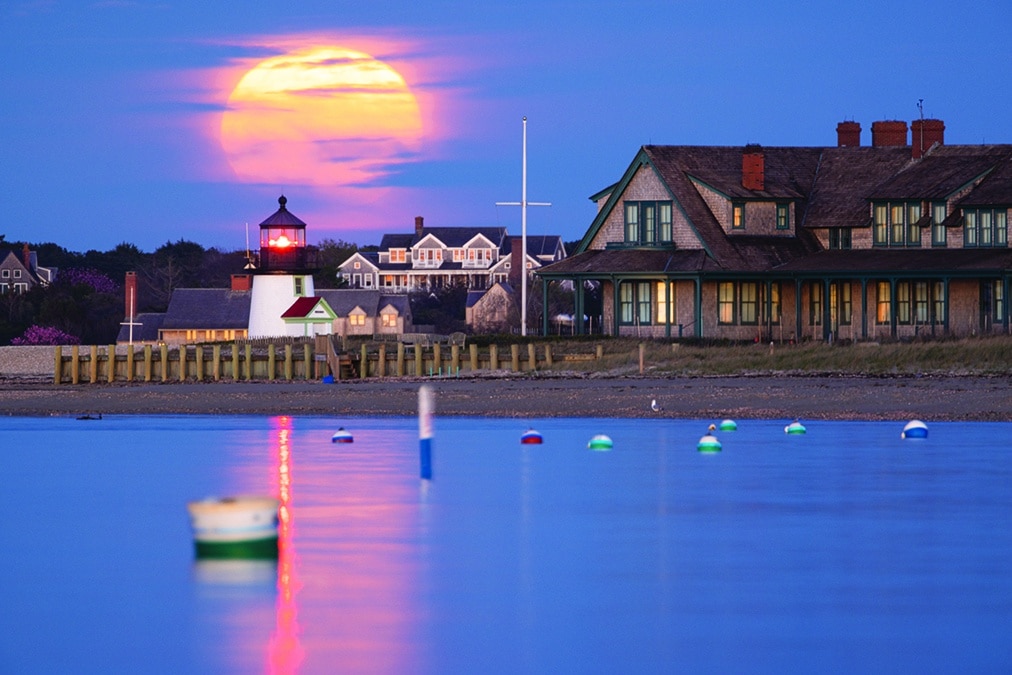 Second place this year went to Charlie Nutting of Boston, who has visited Nantucket since he was a child. His stunning photo of a super moon rising over Brant Point Light is a once-in-a-lifetime capture! We love the glow reflected in the still water and shine reflected in the windows. It almost looks like the moon ignited the lamp in the lighthouse. As he told us: "It was truly a special night…I had just arrived on the ferry an hour earlier, and knew we might be in for a pretty special moonrise. All the stars (and moon) aligned."
Many photos that were entered are printed in this issue: even more are posted online at Nantucket.net—the Insider's Guide to Nantucket, just click on the banner ad on the home page to see them.
To the many photographers who did not receive a prize or honorable mention: don't give up, there's always another chance to win—we've already received entries for the 2024 Nantucket Photo Contest. To enter, email your high resolution photos of Nantucket Island taken during any season that depict our island and island life to ackphotocontest@gmail.com.
Stay in touch with the island you love: follow us on Instagram @nantucket_insider and sign up for our free Nantucket eNewsletter by clicking on the box ad at the top of Nantucket.net. Your Nantucket photo may appear on a cover next season or in a blog post.