If you want to maintain a healthy, happy lifestyle, balance is key. We all walk the line between staying active and putting our feet up, eating right and indulging, working hard and playing hard. The list goes on. We can all use a little help along the way, too, so it's a good thing we have Proprietors bar & table.
Located in the heart of town on India Street, the restaurant is charming and rustic without being stuffy. The exposed beams on the ceiling break up the stamped tin tiles, while the merry, modern artwork and locally designed wallpaper bring a lighthearted air to the atmosphere. All of the art, by the way, is for sale. Every room has a different mood, but each is as inviting as the last, and when day turns to night, the mood changes with it.
The food at Proprietors is as eclectic as the decor. In a way, the variety on the ever-changing menu harkens back to Nantucket's whaling days. Sailors gone for months on end would finally return with not just stories, treasures, and trinkets, but recipes, ingredients, and new techniques from their travels.
Click images to view enlargements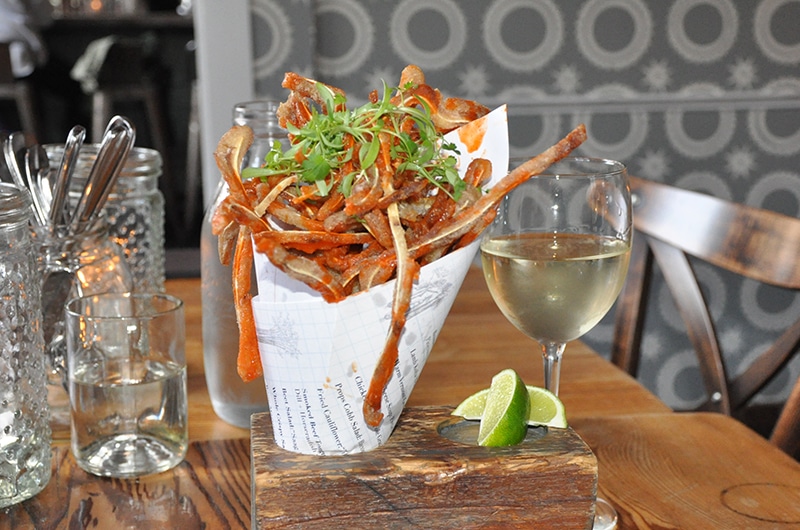 Who needs bread when you have Pig Ear Fries? Our first dish was some of the best finger food on-island and the perfect starter. Sliced thin and well coated with a Louisiana-style pepper sauce, they are salty, spicy, and mouthwatering. A squeeze of lime holds back the heat, and the micro-cilantro cleanses the palate perfectly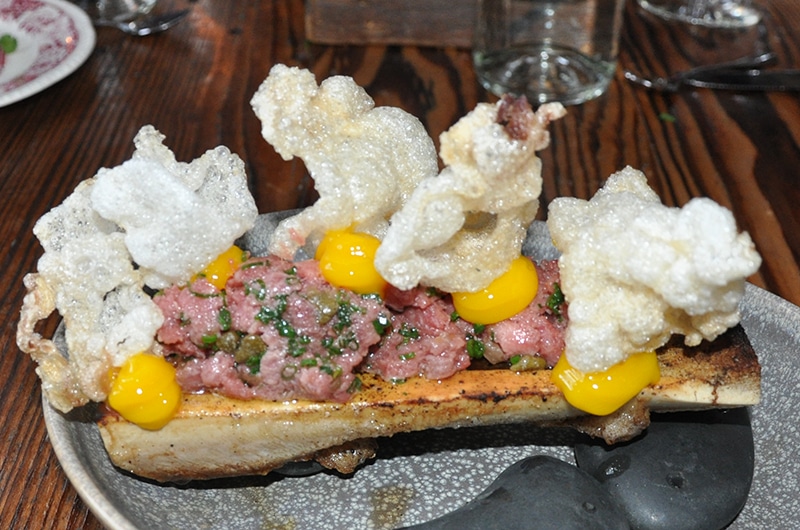 We've had Bone Marrow before, but never like this. Beautifully plated over smooth river stones, the bone is cut lengthwise and covered with beef tartar, a few light, crisp puffs of beef tendon, and finished with an egg yolk jam. The marrow is warm and smooth and rich, while the cool tartar is peppered with capers and chives, setting each other off in a mind-blowing manner. The yolks bring it home with an unheard of silkiness. And though we could eat a bag of the puffed beef tendon, hold back: Use them to scoop up all the goodness.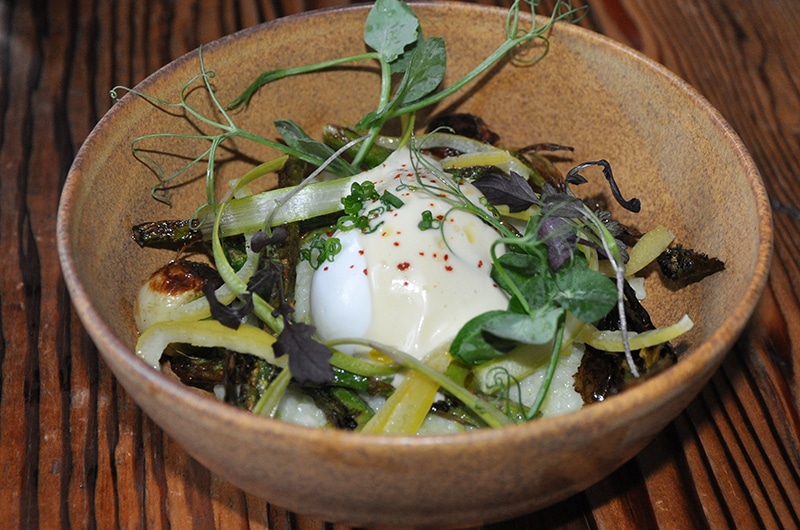 For our next plate, we lightened things up with the Asparagus. When set on the table, the aroma of summer filled the air with fresh greens and charred vegetables. The star of this dish is served two ways: grilled whole and shaved raw, yielding a dynamic approach to the vegetable. Mingling in between are gorgeous grilled baby turnips, giving the old cellar root some new life. It's topped with a soft-boiled egg, blood orange maltaise, and pea tendrils, all sitting on a throne of warm green garlic rice grits – a kind of savory rice pudding. The mix of temperatures, textures, and flavors made this taste of warm weather worth coming back for.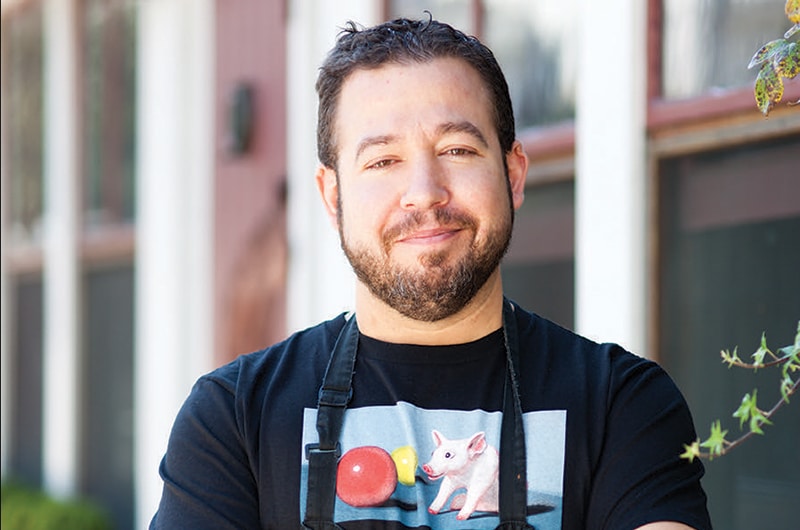 The menu, like a lot of other things, is refreshingly different from most other island eateries. Instead of dividing the dishes into categories like soups, salads, entrees, or sides, Chef Michael LaScola (the genius in the kitchen at Proprietors) arranges it from light to heavy, top to bottom, start to finish, beginning to end. Michael and Orla, the minds behind the famed American Seasons, pride themselves on showcasing global cuisine and local ingredients. And there is a clear emphasis on family-style dining, with each dish designed to be shared, though you might not want to. It might be less traditional, but we think it's a lot more fun.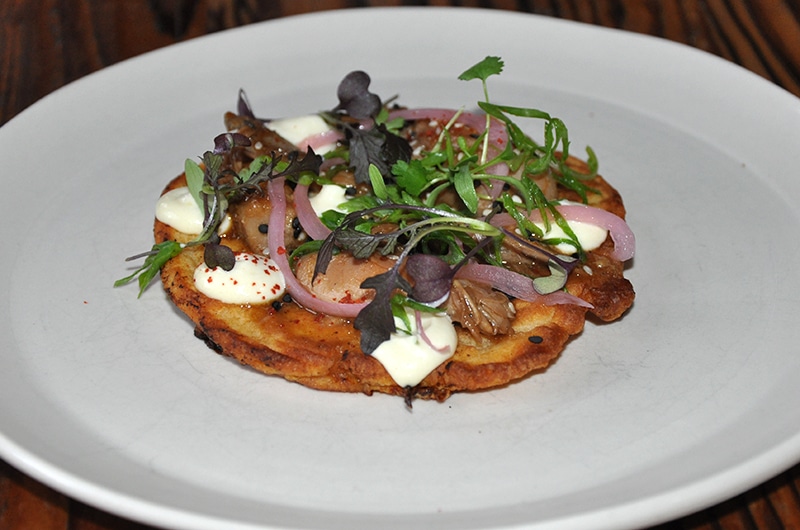 Though not described as such, for our final "starter" we went with a house favorite, the Kimchee Pancake. The flavor of kimchee can be intense and isn't everyone's cup of cabbage. But don't be afraid. The fermented flavor is dialed down and delicious in this dish, served warm and contained within the pancake. It's covered in succulent Korean BBQ and pulled duck confit. Dollops of cool sesame buttermilk and pickled onions really bring things to life.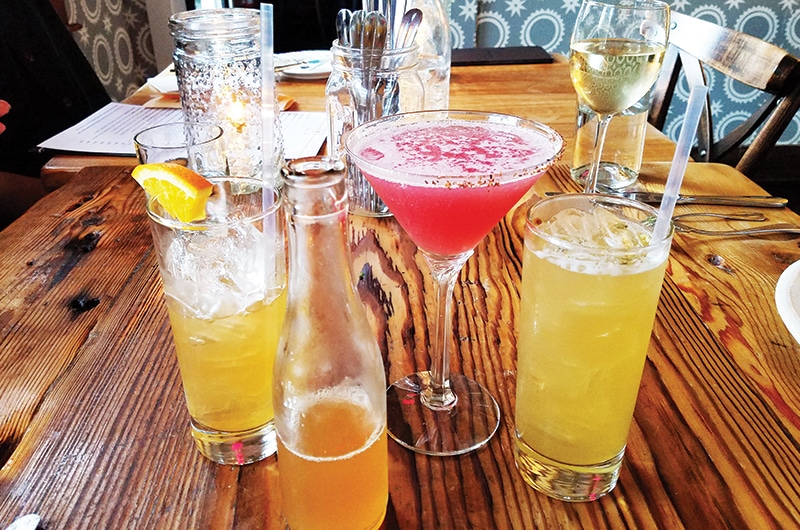 Proprietors is a lot more than just food. The restaurant boasts an impressively full bar, featuring an immense number of hard to fine whiskies, tequilas, and digestifs. The beer list is hard to beat and aims to please, featuring a wide variety drafts, cans, bottles, and even bombers. The wine list offers multiple Awards of Excellence from Wine Spectator and is not to be missed. House cocktails are something to write home about, too, as the bar crafts many of their own bitters, shrubs, and tinctures. The house tonic is out of this world. That being said, we decided to try a few house favorites. The No. 3 (center) was a local concoction of 888 Cran vodka and 888 Can Cordial infused with a lightly spiced peppercorn tincture. A Maraschino liqueur added just enough cherry sweetness. Next up, the eye-opening No. 7. (right) A base of Tequila Blanco get just a shot of fire from Thai bird chilis which is leveled out with a honey-chamomile syrup and lemon. We found the gorgeous garnish of dried chamomile flowers is best stirred in to enhance the floral flavor. Last but not least was the No. 9 (left), the famous seasonal House Bottled G+T. A one-of-a-kind house made tonic and orange flower water gets its soul from Escubac, a gin-like spirit made without juniper. It's slightly sparkling with an herbal, earthy finish.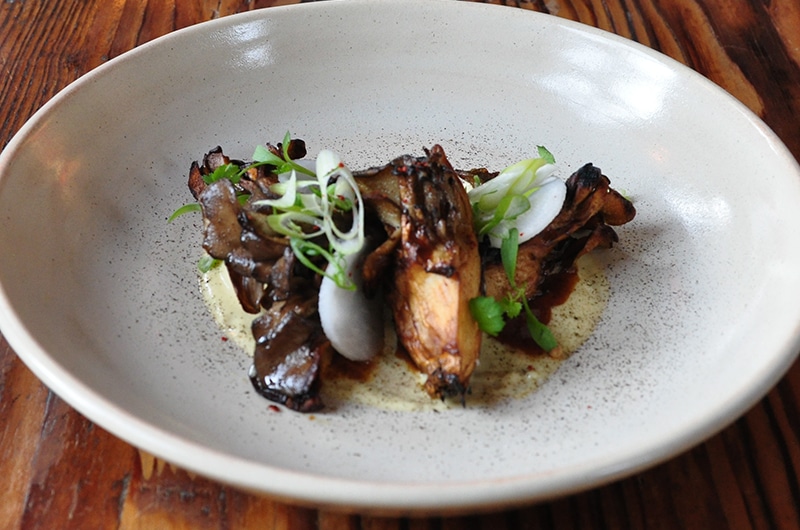 With a large number of meatless dishes on the menu, we had to add one more to the order. The Seared Maitake Mushrooms were so meaty and decadent one might not realized they're vegetarian. Though they looked heavy, the mushrooms were delicate, yet so flavorful. The miso-onion dip underneath was just as light and made the perfect accompaniment. A few wheels of picked kohlrabi brought just enough acidity to the table, while the sprinkling of nori brought out the best in every component. It's no surprise this dish was in our top 3 for the evening.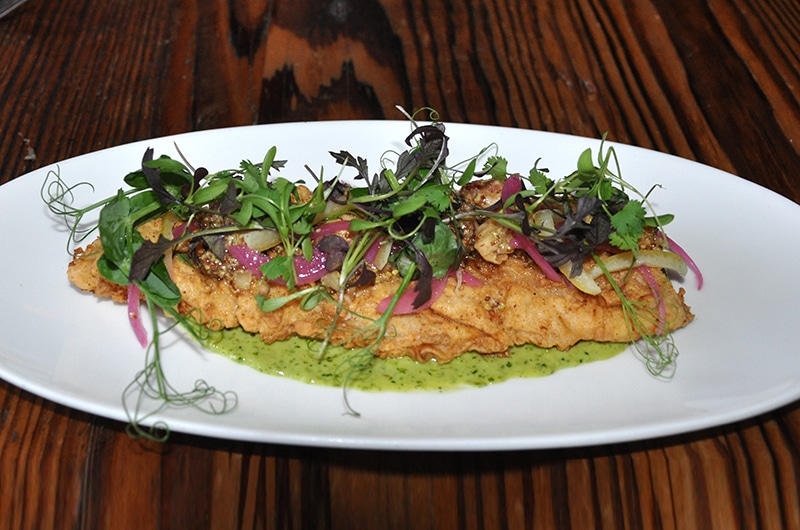 There is no shortage of ocean seafood to be had on the island, so when we saw a freshwater fish on a menu there was no second guessing. The Chicken Fried Trout was a real winner with an audible crunch over moist fish. The filet sat on a brilliantly creamy green goddess dressing and the top of the fish was painted with a mustard bacon vinaigrette. The lemon confit meant no need for a citrus squeeze, and the micro herbs on top rejuvenated both the eyes and the tongue. With all of these delectable adornments to the trout, we expected its mild flavor to be lost in the mix, but the fish was still the star.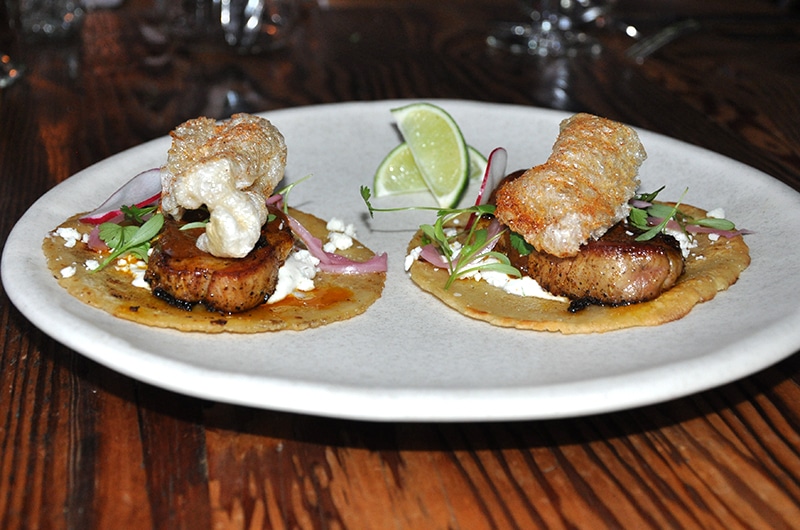 Another one in our top 3 were the Pork Belly Tacos "Conchita Pibil" (a Yucatan style of barbecued pork). The house corn tortillas walked the line between soft and hard shell and had so much flavor for such a simple component. The salsa matcha, an unusual nutty yet acidic salsa, was bold enough to settle down with the fabulously fatty pork, while cotija cheese and cracklins had us wishing there more than two. They might be hard to eat politely, but who cares?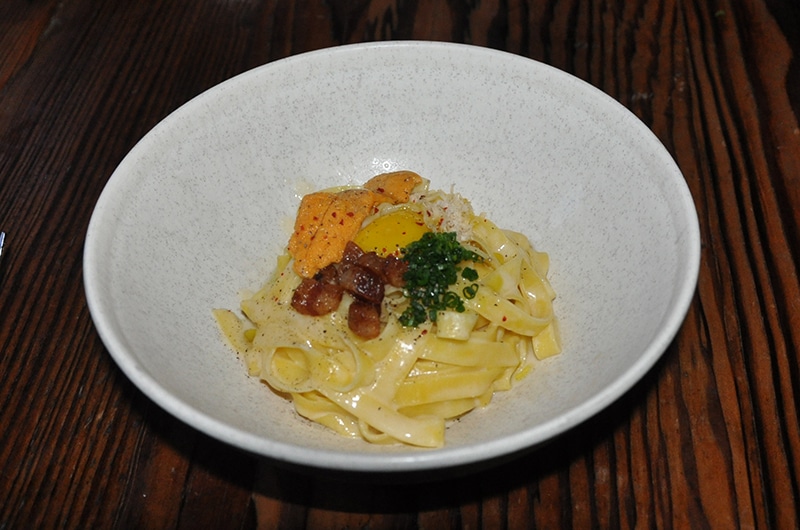 There are always special plates in addition to the regular menu, and we would've hated to miss the Tagliatelli. Uni, quail yolk, bacon, shredded gouda, and chives sat separated on the house-made pasta, reminding us of a bowl of pho or ramen. We gave the bowl a good stir; the yolk broke and created a velvety sweet sauce that coated every noodle. The smoky gouda and bacon married with the uni, creating something undeniably fruity. All of it was exquisite.
Perfectly seared and sweet, we couldn't skip the Diver Scallops. They rested in a rich and wholesome baked potato butter, bringing an earthiness to the plate. A vidalia-bacon jam carried the sweetness of the scallops and the thin, crispy fried potato skins came with contrast. The ramps brought the two teams together seamlessly. Briny, earthy, sweet, and enticing.
One of our favorite things about the evening, after the food, of course, was the diversity of people going in and out the door. Casual and classic, upscale yet approachable, and all around inviting, Proprietors draws a wide variety of patrons.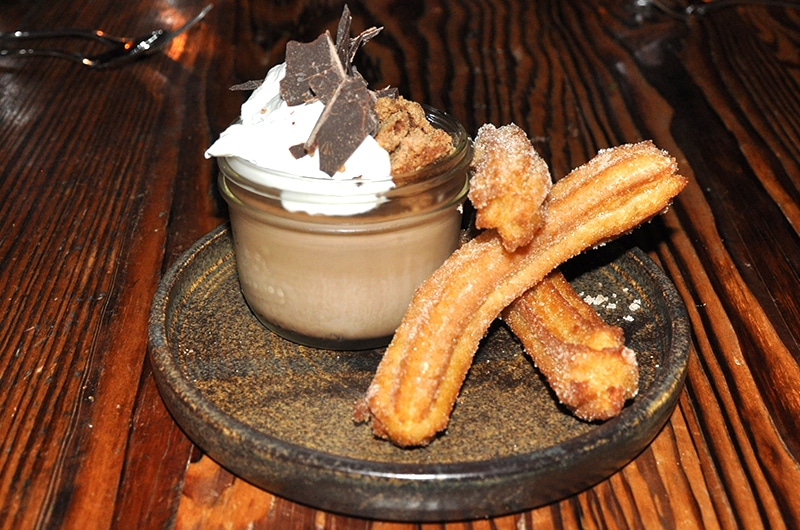 What would a meal be without a proper finish? This finale is not listed on the menu, so be sure to ask—no matter which you choose, you'll not be disappointed! Out of the four options offered the evening we dined at Proprietors, we only had room for two. The Chocolate Pot de Creme is a chocolate lovers dream. This rich, thick treat is covered in fresh whipped cream and chocolate shavings, teamed up with "coffee soil," a kind of sweet, crumbly coffee cookie. In keeping with international influence, fresh, hot cinnamon churros sit beside. Crunchy and sweet outside, lush and creamy inside.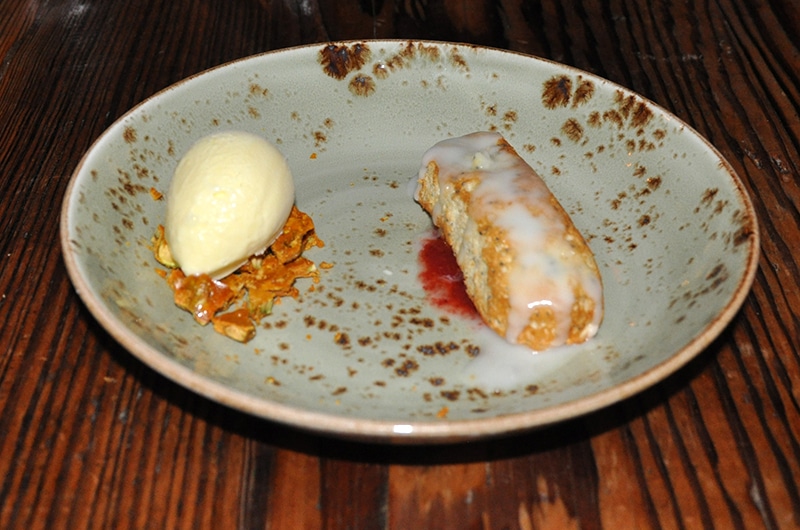 On the other side was the Lemon Poppyseed Twinkie. A delicious renovated version of its namesake, this light lemon glazed cake conceals a fresh strawberry sauce. Served with pistachio brittle under a terrifically tart buttermilk ice cream, both were the perfect end to a perfect meal.
Leaving The Proprietors Bar and Table, we all felt inspired. The food was so artfully created, plated, and of course, balanced. Lucky to have this gem in our community, we can't wait to go back.
The Proprietors bar & table
9 India Street • Reservations: 508-228-7477
proprietorsnantucket.com
Dinner from 5:30 pm • Sunday Brunch from 10:30 am
Prices range from $14.50 to $38
vegetarian options • full bar • credit cards accepted • first floor accessible