by Carl Oscar Olson
As diners, we often seek out the best a restaurant has to offer. There are many categories to consider, and sometimes sacrifices must be made for not all can make the grade in every category. On Nantucket, for the best steaks and seafood, the best views, the best cocktails, service, and more, the search ends successfully at Brant Point Grill.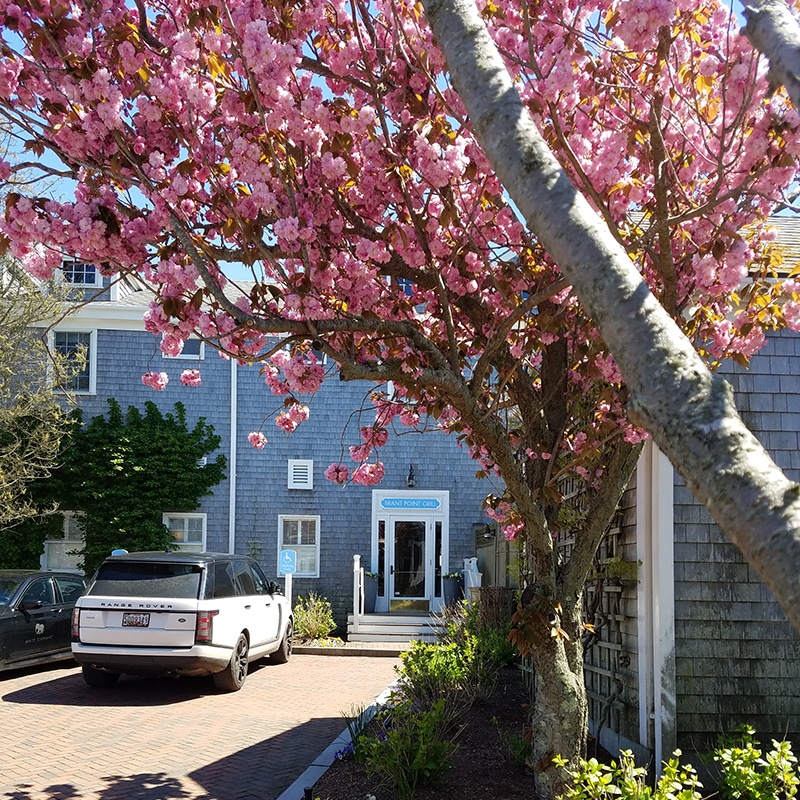 Located in the heart of the island on Easton Street, this fine dining yet family-friendly establishment is not only a destination for many but a prominent piece of Nantucket's history. Created in the 1920s, the hotel was originally a collection of rustic cottages. Founder Elizabeth T Ludwig dreamed of the day her vision would become the finest harbor-side hotel on Nantucket.
Smiling staff, wide doors, and warm decor greeted us as we were escorted to our seats. Though the sun was setting, the views of the harbor were still stunning. We all looked forward to returning when the weather is warmer and days are longer, each of us planning to take full advantage of the BPG bounty that is outdoor seating.
A shining bucket of breads graced our table, overflowing with a variety of soft bakes and crunchy crisps. The wine list is a connoisseur's dream with hundreds of bottles from around the world, and beer drinkers rejoice over a superb selection of local New England microbrews. Since the cocktail list had been freshened up for the spring season, we decided to try a few house favorites.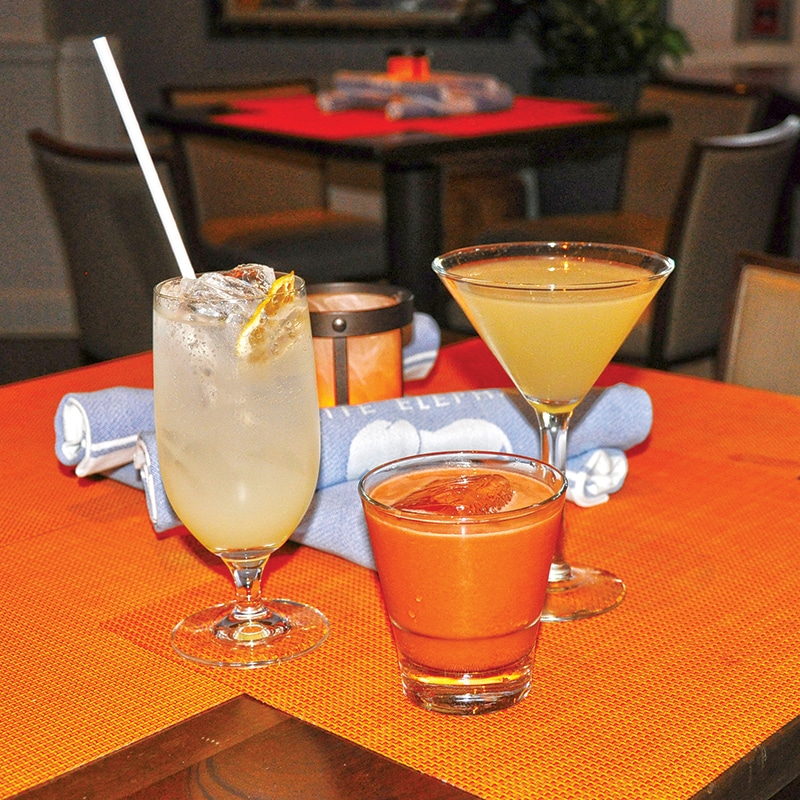 The Surfside Sour is a tantalizing take on the classic Mai Tai. Diplomatico Mantuano Rum and Plantation Pineapple rum are tied together with a few dashes of bitters, a pour of Macadamia nut orgeat, and squeeze of fresh lemon. It's opaque and frosty and so sippable. The herbal, earthy, fruity, and fragrant Northern Exposure mixes Elephant Gin, a small-batch spirit combining rare African botanicals with fresh apples. Caraway and fennel infused vodka and a ginger & green apple verjus make it complete. We were all surprised and delighted by The mACKtail, the perfect balance of Los Poblanos Organic Lavender Syrup, lemon, and club soda. It sparkles with beautiful balance and had us coming back for more. The surprising part? It is non-alcoholic.
The menu changes with the season, a great reason to come back often to taste what's new. The options are concise yet diverse, wide-ranging for every taste, and never overwhelming. After studying the starters, we knew just where to begin.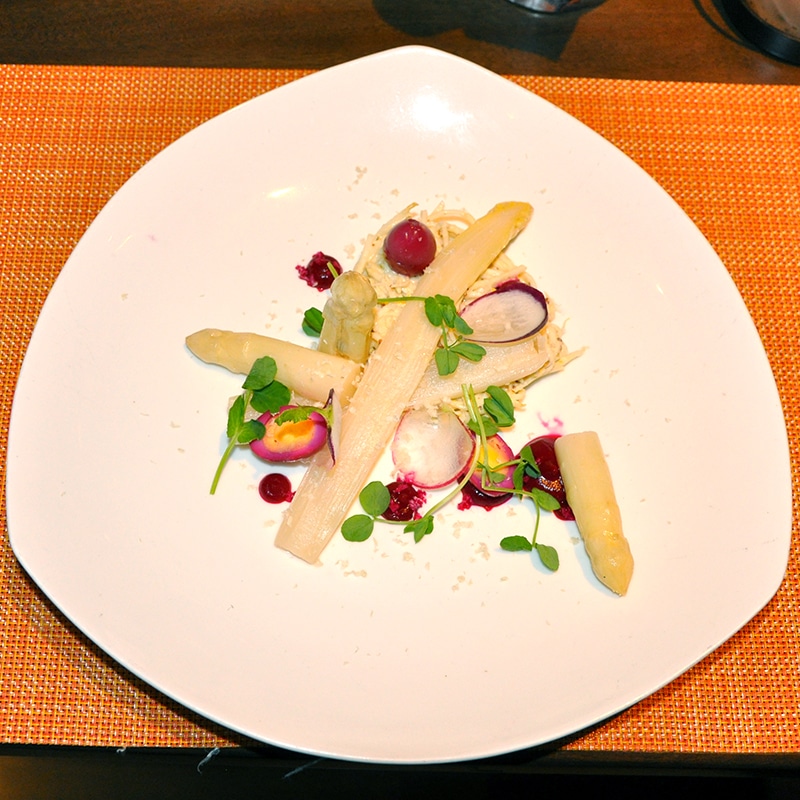 The Marinated White Asparagus is buttery and delicate, a celery root slaw provides a clean crunch and pickled quail eggs bring a perfect pungency. Toasted parmesan serves as seasoning over all and fresh radishes are purple, peppery, and fun. This dish smacks of spring.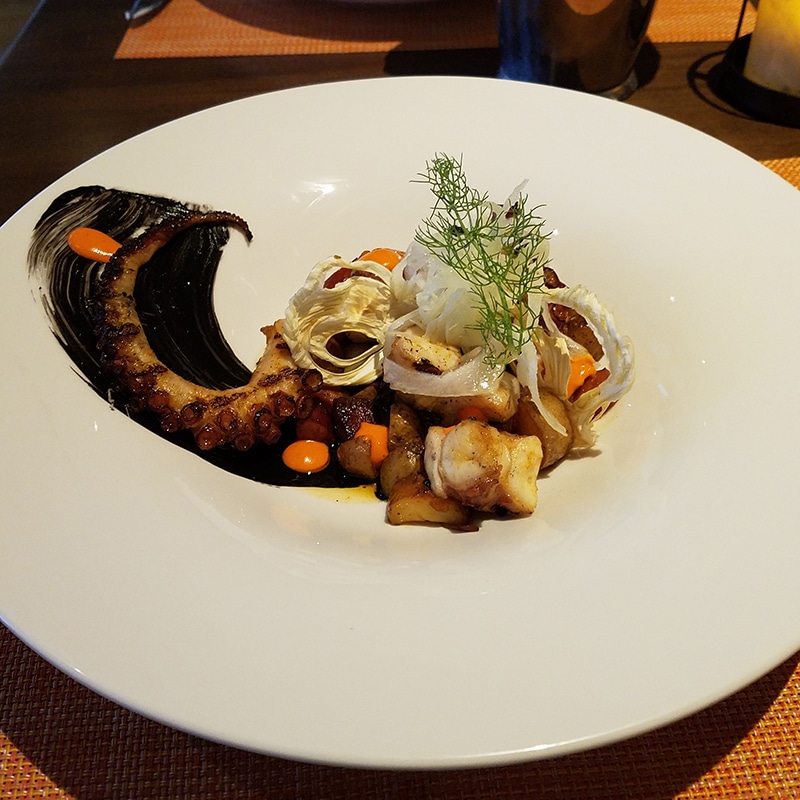 We love the charred smokiness of the impressively tender Warm Grilled Octopus with andouille sausage. Plated with creamy fingerling potatoes, and refreshing fennel, this dish is a work of art and so are the flavors.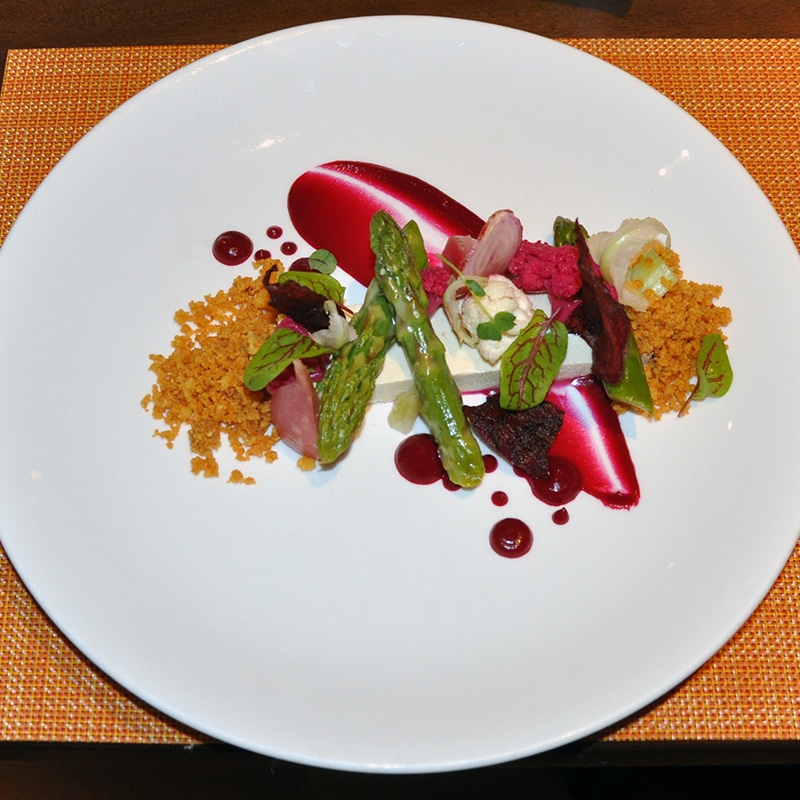 Colors jumped off the plate of Caramelized Cauliflower Mousse. The pure white molded mousse is soft and subtly sweet, swirling with the fresh flavors of the season. Asparagus and beets add an earthy bite to the appetizer, while the toffee notes in the brown butter crumble enhance the sweetness throughout.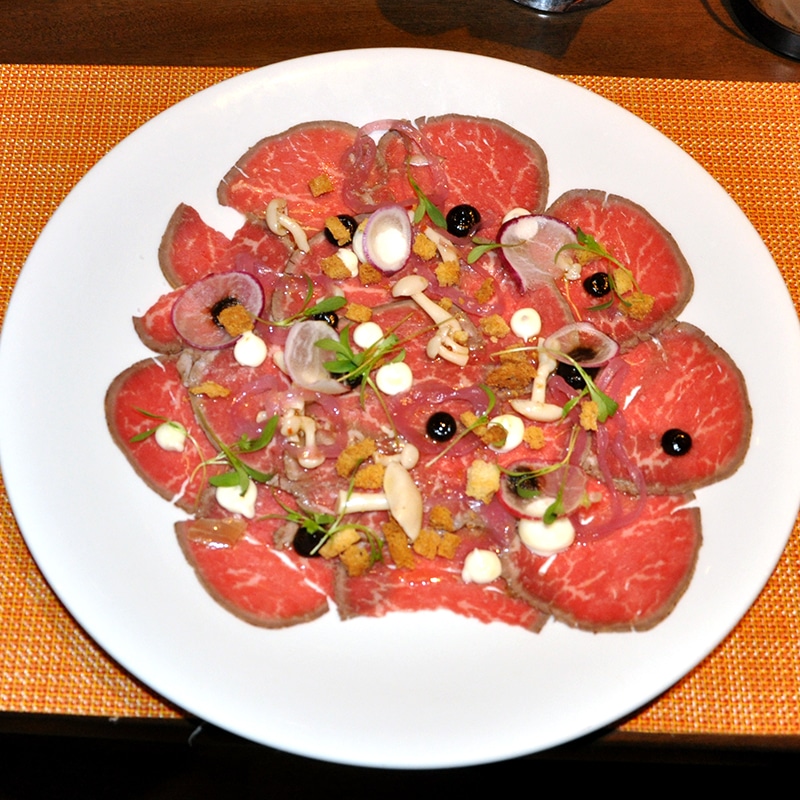 Our favorite starter of the evening is the Pineland Farms Beef Carpaccio. A canvas of barely browned, razorthin, melt-in-your-mouth beef medallions cover the plate in a decorative pattern. Atop are smatterings of rich truffle aioli and black garlic, tangy pickled red onions, and shimeji mushrooms. Brioche croutons add a crunchy contrast. This dish will have you coming back for more.
The Brant Point Grill is the only place you need to go for your steak and lobster fix. Their beef is all sourced from Pineland Farms in Maine, where cattle is raised humanely and fed a strict vegetarian diet. This is simply the highest quality and best tasting beef available, where farmers practice the "Never-Ever" protocol: no antibiotics, no added hormones, and no animal byproducts. Everyone's favorite crustaceans are brought in by boat daily. The standard mode of preparation is on the grill, but lobsters here can also be steamed, boiled, or baked to please any patron.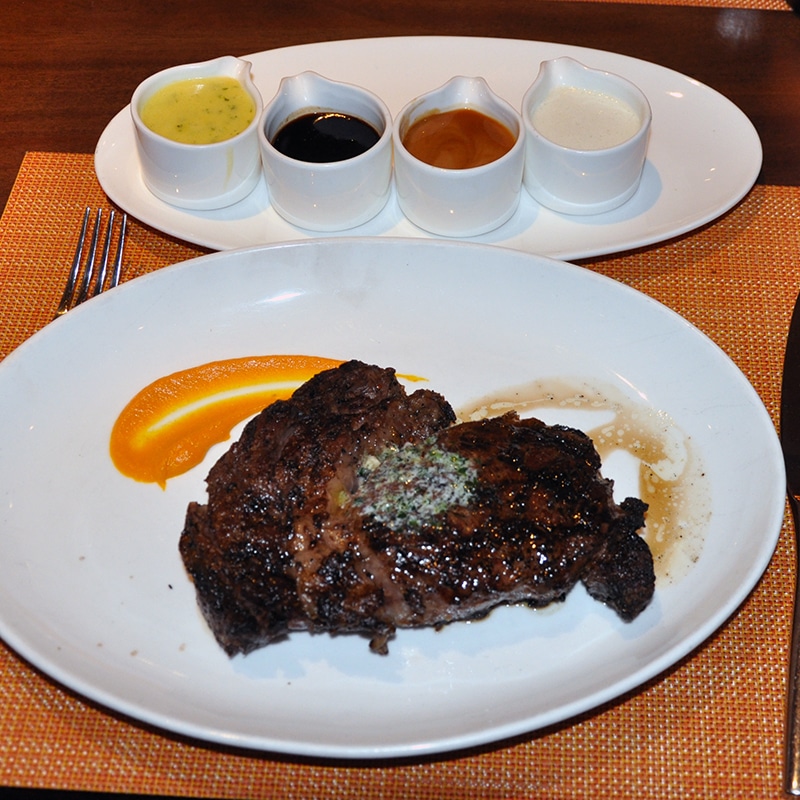 The cook proved as good as the cut as the magnificent marbling of fat just melted away in the 16-ounce Prime Aged Rib Eye. Underneath the charred, caramelized crust was perfectly pink, medium rare meat, and each bite was better than the last. There are four side sauces to choose from for steaks served at Brant Point Grill, and we couldn't choose just one. Each adds a different edge to the steak, from the tantalizing tang of the bernaise to the lovable funk of the blue cheese, but our favorite was Executive Chef Thomas William Pearson's rich peppercorn.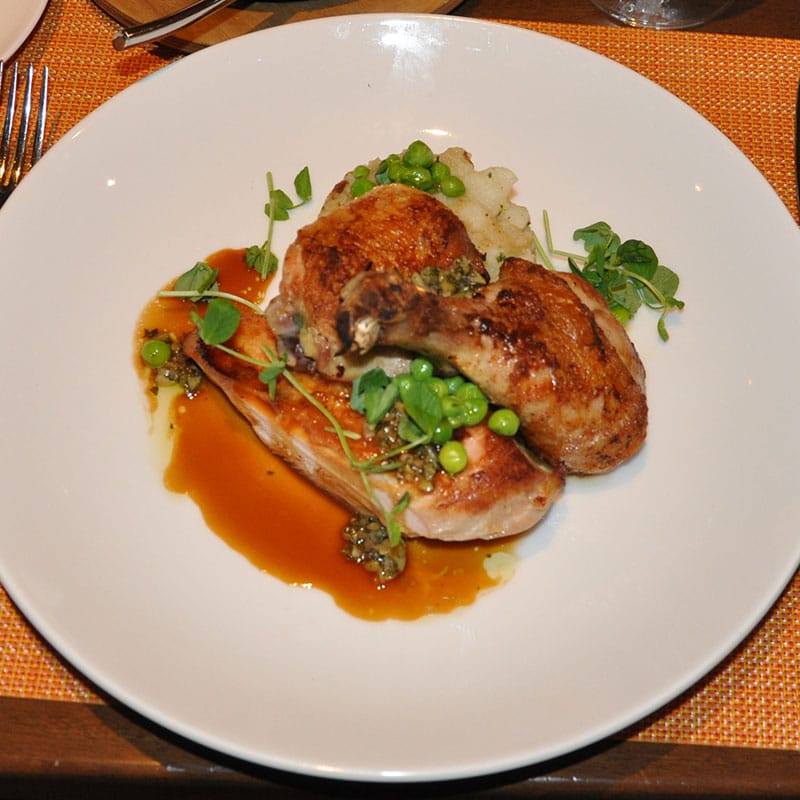 We found a comforting classic in the Half Roasted Misty Knolls Chicken.  This tender, moist, beautifully browned and broken down bird was served with snappy spring peas, nutty almond crushed potatoes, and an olive anchovy tapenade with depth beyond compare.  The crispy skin on every cut of meat was to die for.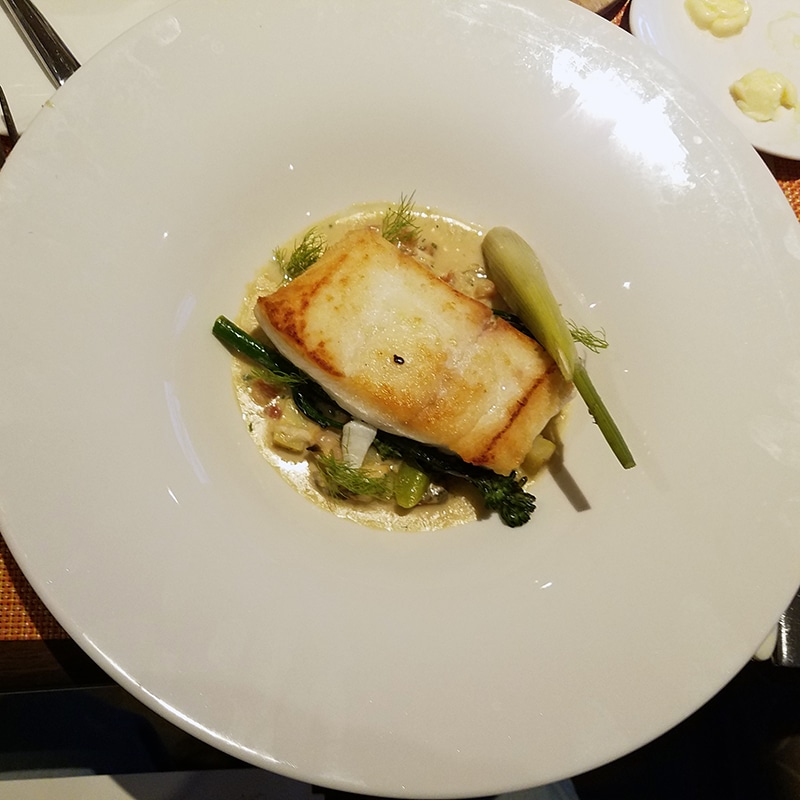 First the turf, then the surf: the Atlantic Halibut Fillet is a seafood sensation. The crackling sear on the fish gives way to pearlescent, flaky flesh. Served alongside baby leeks and broccolini, all of it takes a dip in a wonderful crab, clam, and mussel sauce. Fingerling potatoes help soak up every drop.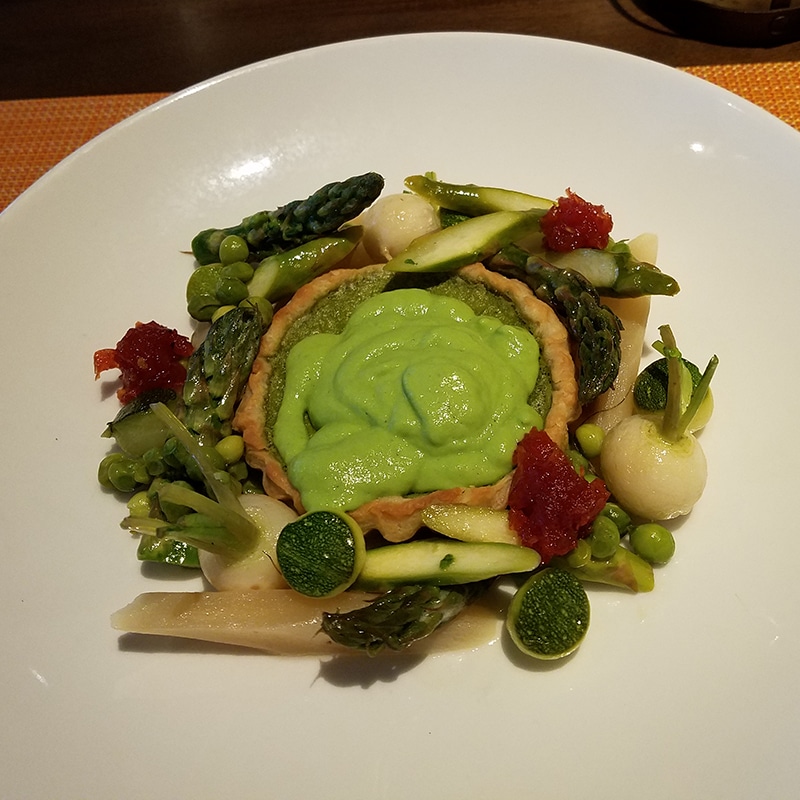 A creative vegetarian choice—Pea and Mint Tartlet—is served with a table side pour: a verdant cascade to complete the dish. A wreath of spring vegetables encircles the beautifully browned tart, dollops of tomato jam adds an edge of color and sweetness.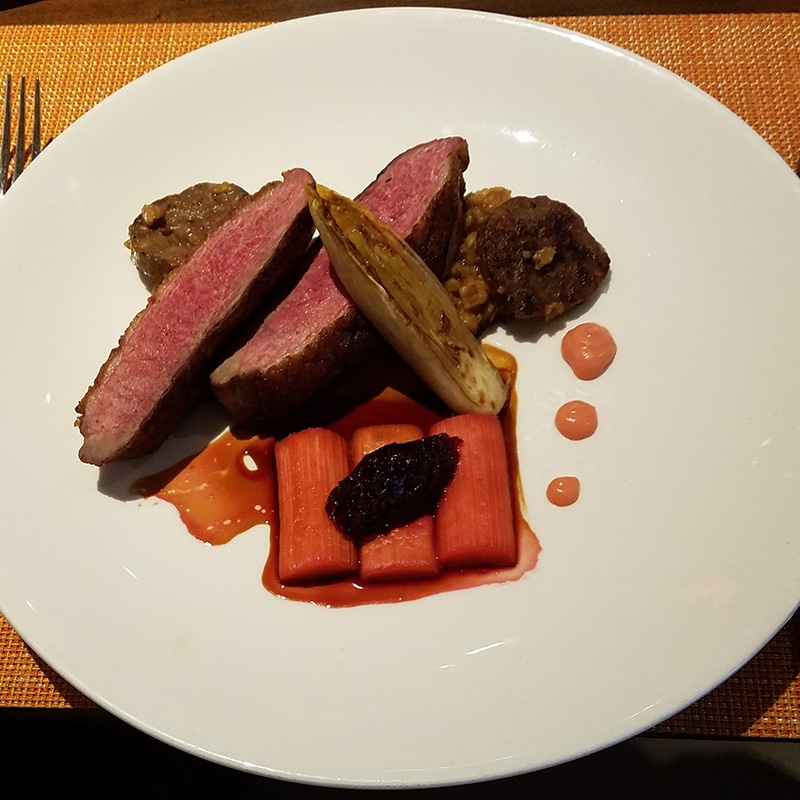 At first glance, the Spiced Rohan Duck almost had us fooled, with its rosy medium rare color camouflaging itself as beef. One taste and you'll understand why this is the best duck we have ever tasted. Fork tender, it's served alongside the deep, rich flavors of duck sausage and caramelized endives. We loved a piece of the sweet-tart stewed rhubarb with every bite.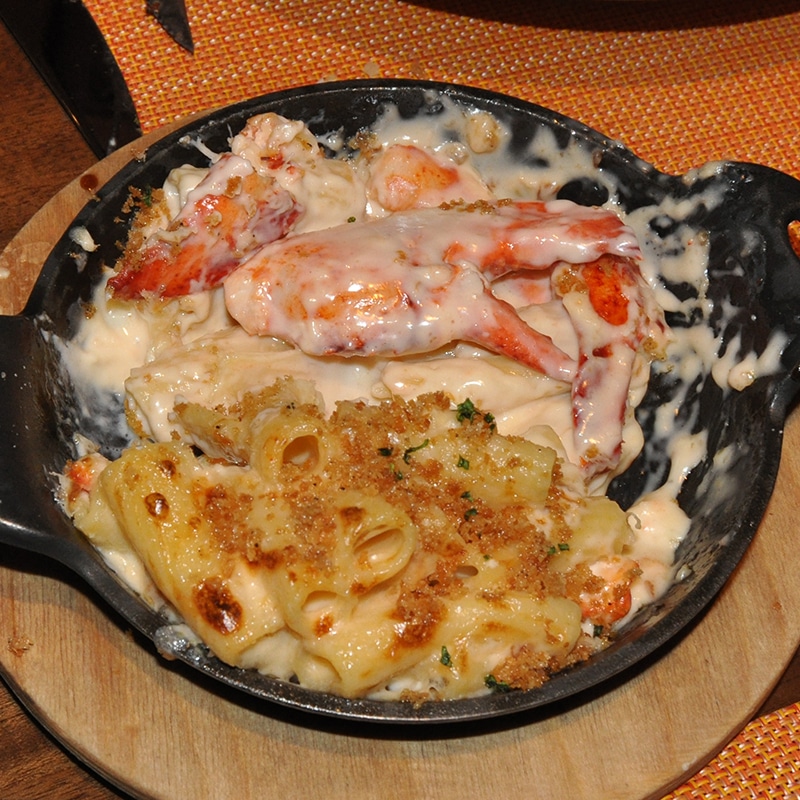 For those of us who like to start the night early, the bar at BPG serves food from 3 pm. There are plenty of options from bites to burgers, but we recommend you try the Lobster Mac and Cheese. The bounty of claw meat within this creamy comfort food is unheard of, and the nutty tang from the Vermont cheddar is just so good with the sweet, tender lobster.
Unlike many fine dining restaurants, the portions here are generous and filling. We were, needless to say, happily stuffed. But Brant Point Grill boasts some of the best desserts on the island, and we just couldn't say no.
A refreshingly refined Key Lime Tart arrives decked out with white chocolate ganache, raspberry sorbet, and other-worldly dehydrated meringue. Encircled by a spiraling red raspberry coulis, it's picture perfect and every bite is a different experience.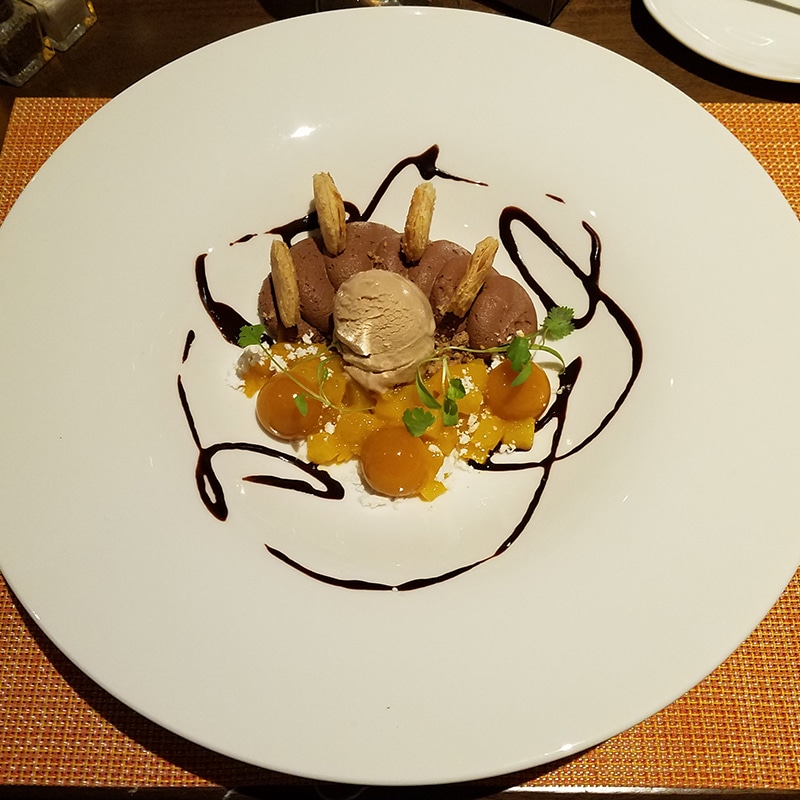 The Deconstructed Napoleon is a balancing act of sweet and tart. Sinful chocolate mousse practically floated it was so light, and the mango jam and jelly was vibrant and aromatic. Flavors from both could be found in the hazelnut ice cream resting on top.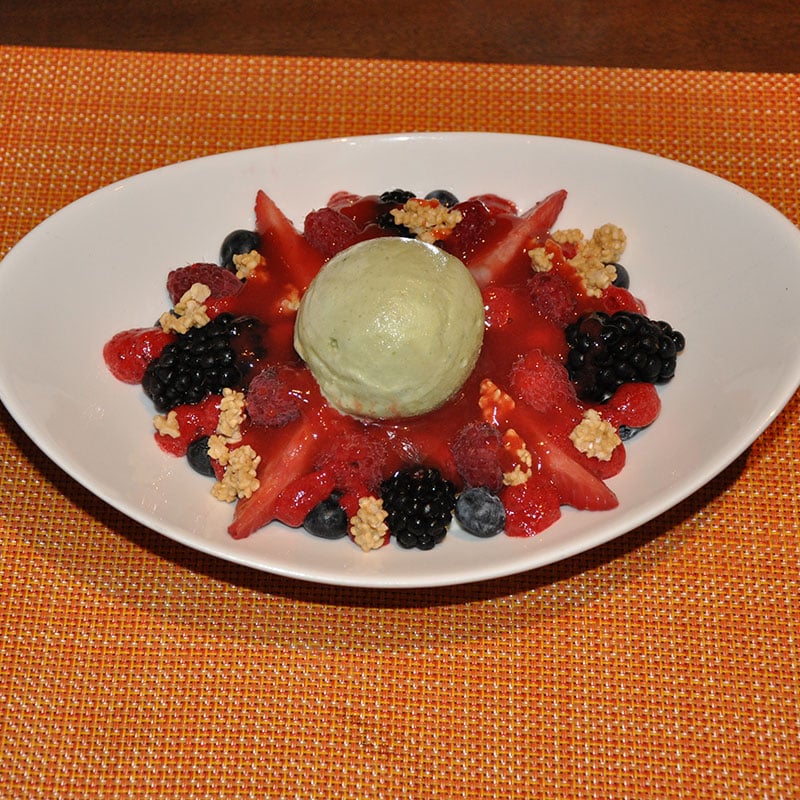 For the grand finale, the Panna Cotta took the cake. We dreamed of summer gardens while spooning through the chocolate soil and delicious mix of fresh berries, but our favorite component was the basil ice cream.
Brant Point Grill achieves the ideal balance of perfection and approachability. Bring your date or bring your family, there's simply something for everybody at BPG.
Brant Point Grill at the White Elephant
50 Easton Street
BrantPointGrill.com • Reservations suggested: 508-325-1320
Breakfast served 8 to 11 am • Sunday Brunch from 10 am to 2 pm
Lunch 11:30 am to 3 pm • Bar Menu 3 to 11 pm • Dinner from 5:30 pm
Most Dinner Entrees from $25 to $59
Spring Dinner Prix Fixe: 3 courses for $45
Full Bar • Indoor & Outdoor Dining • Handicap Access
Major Credit Cards Accepted • Families welcomed