Celebrating their second summer season on South Water Street, Amy Young and Felino Samson have continued to create something superbly special. Featuring family-friendly, delicious dining in an easygoing atmosphere, their menu is filled with food that is as fantastic as it is fun. To put it simply: The Beet is not to be missed!
Though they are certainly casual and fast for takeout lunch and dinner, dining at The Beet has become better than ever. Comfortable and quiet outdoor seating is new this summer on the pedestrian walkway leading to Easy Street, and we were lucky enough to find a table there the night we dined.
This year, The Beet has gotten even more creative with custom cocktails, but we had to start with our favorite option that everyone can enjoy. They're no doubt making lemonade with all the lemons 2020 has brought, but let's not forget about the limes. The glowingly pink Beet Limeade is electric on the eyes and on the palate. It's slightly sweet and terrifically tart with a subtle kiss of earth from beet in the background.
The Beet boasts several hand-picked wines to choose from, be it by the glass or the bottle, along with sake and craft brews. We had to try their take on the classic summer sipper, the Florida Orange Spritz. It mixes sparkling Spanish Cava with tangy blood orange juice and a dash of bitters. Garnished with an orange slice, this cocktail comes alive with gradient shades of pink and orange and a delightful, fruity fizz. Their Sake-rita  combines Funaguchi Kukusui Gold rice wine with fresh lime and a touch of ginger. This new take on a classic is round up front with a bright spice on the finish.
Like the rest of the menu, the appetizers are all alluring and eclectic. These and every dish is created from scratch by chef Felino Samson, using his Filipino heritage and world travels to inspire every aspect. As owner Amy Young puts it, "Felino has an incredible palate for flavor," and we couldn't agree more.
Arroz Caldo, a Filipino chicken and rice soup, makes an excellent light lunch or the best beginning to your dinner. It's hearty, rich, and creamy without using cream and has generous chunks and shreds of all white meat chicken. Complex flavors come from ginger, floral saffron, scallion, a squeeze of lemon, and a dash of fish sauce for an umami finish.
The offerings are kept as fresh as the ingredients they're cooked with at The Beet, using the best of what's fresh and available, so be ready for new flavors as we continue into Autumn. Even with a slight October chill in the air, it's warm enough to dine outside, and The Beet will soon be adding heaters for the comfort of their patio diners. They also have some indoor dining, and their full menu is available for takeout.
A salad is never just a salad on South Water Street. The Middle East brings all the vibrant flavors of the Mediterranean to your plate with housemade herbed falafel over tabouleh with crisp romaine, red ripe cherry tomatoes, cucumber, olives, peppery radish, and a satisfying crunch from pita chips. Flecks of mint and a savory sesame za'atar dressing coat every bite, and it's finished with a golden turmeric tahini drizzle.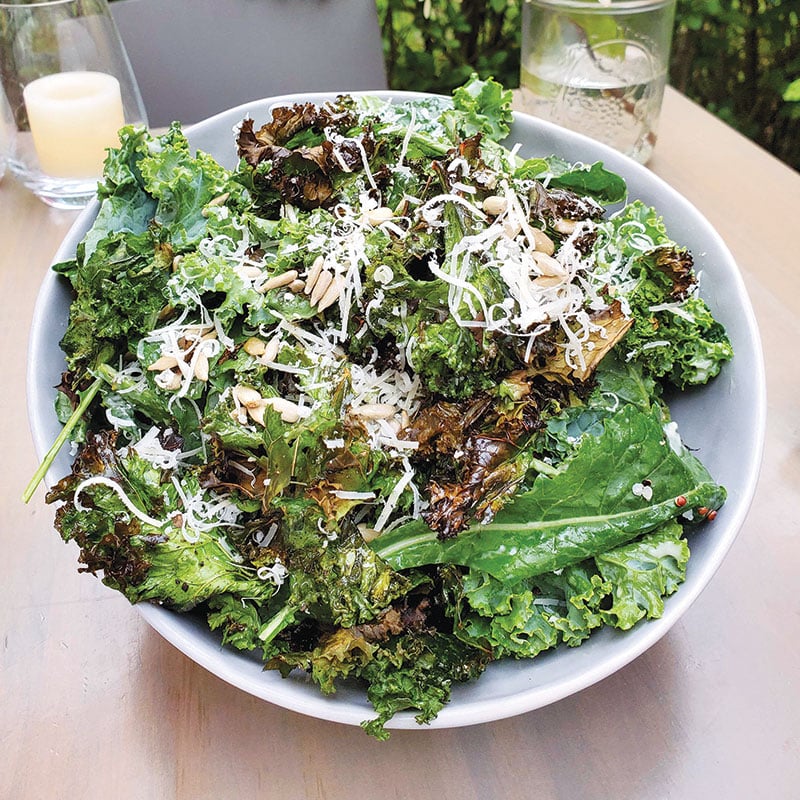 The Hulk looks more like Bruce Banner until you dig through the mixture of fresh and crispy kale to reveal layers of charred broccoli, crispy sweet Brussels sprouts, quinoa, and herb-infused green rice. We loved the contrast of warm and cool, fresh and baked, and the miso parmesan caesar dressing topped with the toasty nuttiness of sunflower seeds.
Portions are plentiful, so if you have any leftovers like we had, they travel well and are great the next day. Amy likes enjoying The Hulk for breakfast by adding an egg on top. A delicious and nutritious breakfast in a flash, the jammy yolk melts into the herbed rice and enhances every morsel. Easy adjustments like this can made to almost any menu item, so make your salad a wrap, ask for a different dressing, or swap out a side.
We were instantly taken by the mouthwatering aroma of the Korean BBQ Quesadilla as soon as the dish hit the table. Succulent shredded short rib, cheddar cheese, and pickled red onion were all wrapped in toasty scallion pancake. Drizzled with a tangy sweet sauce, a forkful of the pineapple slaw between bites cut through the richness of this entree.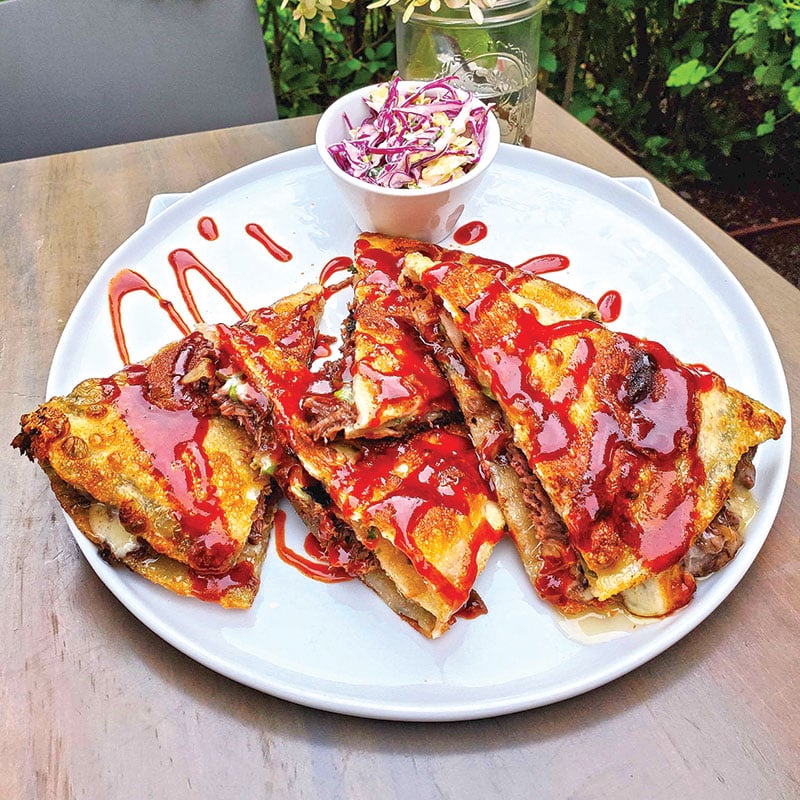 A new take on a steak dinner, the Bistro Steak Salad was one we'd order again and again. A splendidly thick 9-ounce Prime New York Strip was perfectly prepared to our order and drizzled with a gleaming whole grain Asian mustard sauce. Served alongside is tender watercress over a warm potato salad of pickled red onion, julienned radish, verdant green beans, scallions, parsley, and golden brown fried shallots. Every component made each bite unique, and we couldn't get enough.
Other dessert options weren't mentioned on the menu, so it's best to ask about what sweet endings might be in store for you. Their Rice Pudding was a dream and we were so glad we got to try it. Layers of toothsome jasmine and forbidden rice were topped with a luscious vanilla custard, providing a touch of delicacy to the texture throughout.
Though the challenges keep on coming in 2020, Amy and Felino persevere by putting their all into every dish. Everything was incredible when we dined with them last year—but somehow, this year, they made The Beet even better! We look forward to watching The Beet continue to grow and adapt to our island community, and we can't wait to taste the flavors that Felino and Amy cook up next.
The Beet
9 South Water Street • 508-680-1857
thebeetnantucket.com
Open Monday-Saturday from 12 noon to 8 pm
Prices range from $10 to $34
beer , wine, & sake • credit cards accepted • kids' choices available
Korean BBQ Quesadilla indoor & patio dining or take-out • first floor accessible • online ordering