It was art that revived Nantucket Island in the 1920s, '30s, and 40's, and art is still a major draw on our island today. Here are ten of our top picks for Nantucket Art Galleries you will not want to miss during a visit to Nantucket:
Cecelia Joyce & Seward Johnson Gallery 19 Washington Street • NantucketArts.org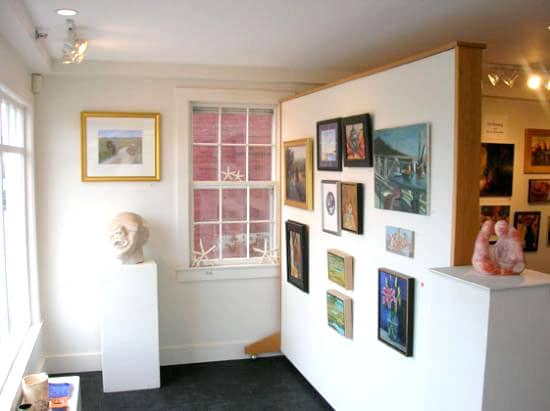 The official gallery of the Artists Association of Nantucket, this two-story gallery exhibits art by the many AAN member artists: paintings, photography, textile art, pottery, sculpture, and more. There's always something new here. This week, a juried Artist/Patron Show opens with a festive reception from 6 to 8 pm on Friday, August 17. In the gallery at 10 am on August 18, Julia Mostykanova Feeney will give a free and informal talk about her art and techniques. You can also meet and chat with some AAN artists at their annual August Sidewalk Art Show in the Atheneum Garden Saturday, August 18.
GS Hill • 40 Straight Wharf • GSHill.com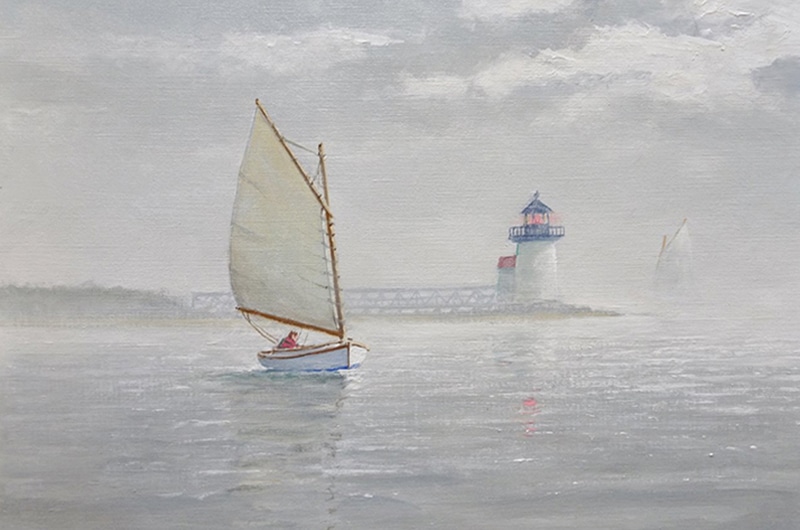 You mustn't leave the island without visiting this gallery that features the art of island painter Gregory S. Hill. For more than 3 decades, he has captured the essence and the spirit of Nantucket in his original oil and watercolor paintings. He documents island life in beautifully textured and precise paintings: you can feel the wind in the sails, smell the salt air, and feel the summer sunshine when you look at his work. Hang a GS Hill original on your wall and you will have Nantucket with you forever!
Lorene Ireland • 13 Old South Wharf • IrelandGalleries.com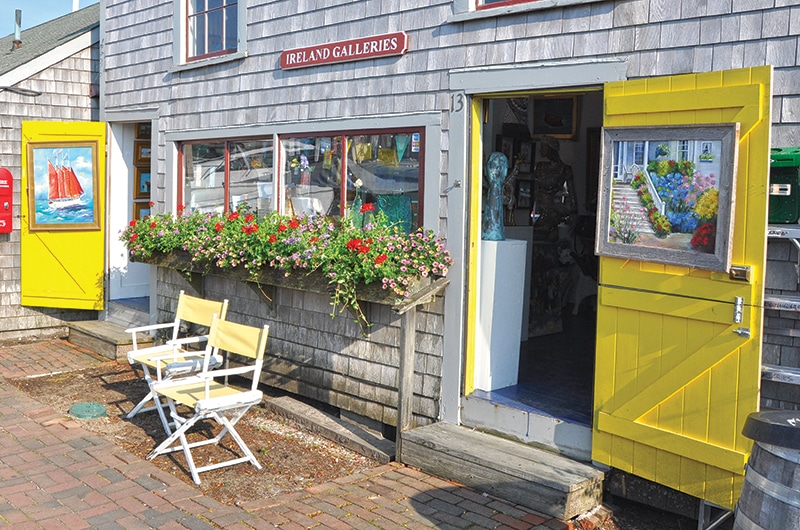 This unique gallery and shop adds fun and color to the wharf with paintings, sculpture, and Lorene Ireland's world-famous mosaics and shell designs. The internationally acclaimed mosaic and shell artwork of Lorene Ireland is front and center. Ireland has won multiple awards at the World of Wearable Art show in Australia.
Pete's Fresh Fish Prints • 17 Old South Wharf • Petesfreshfishprints.net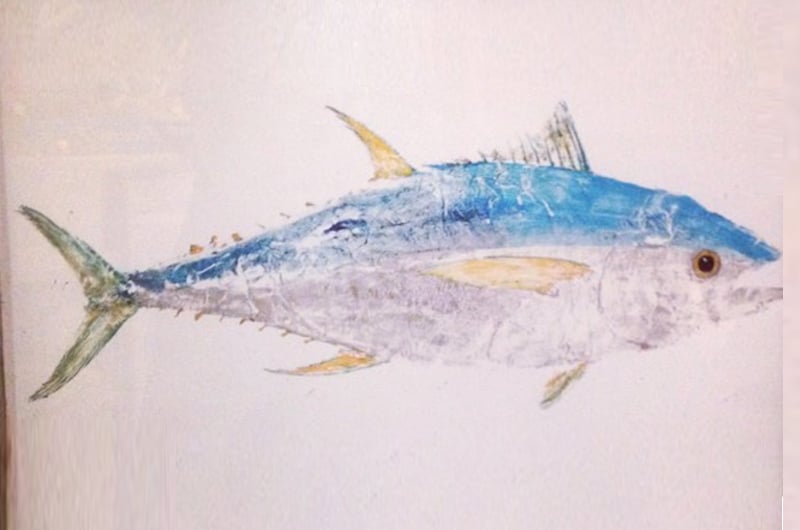 Gyotaku is the art of creating prints of genuine fish on delicate handmade rice paper. This art form captures and reproduces the exact characteristics and features of an individual fish. Peter van Dingstee's art expresses a variety of compositions, textures, and colors through this unique art form, breaking through yet keeping with the traditional boundaries. It's hard to imagine a better memento for anyone who loves Nantucket and fishing!
Robert Foster Fine Art • 8 India Street • RobertFosterFineArt.com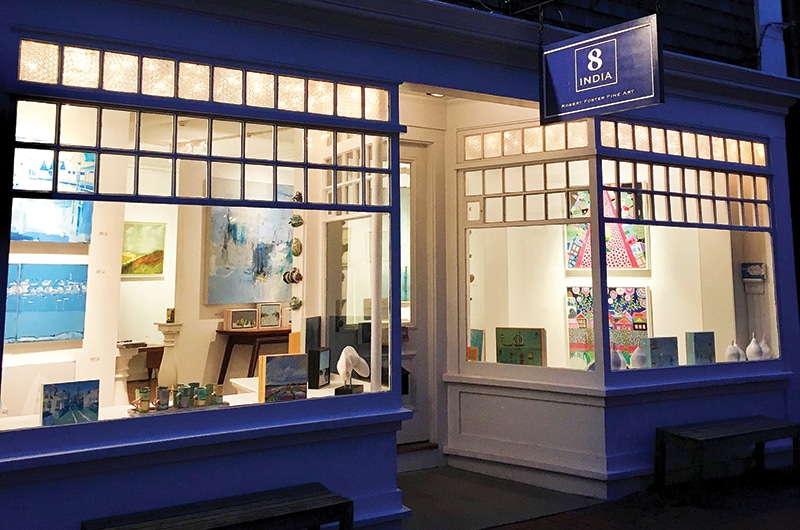 Located in the heart of downtown (around the corner from Centre Street, next to Black-Eyed Susans), this intimate gallery specializes in island artists who are working today. Their rotating exhibitions offer a wide range of styles, featured this week (till August 22) is Kwan Buadam, whose decorative painting talents range from painting huge murals & frescoes in ancient Thai temples to doing faux finishes and various forms of decorative artwork in businesses, homes, and children's rooms.
Hostetler • 42 Centre Street • HostetlerGallery.com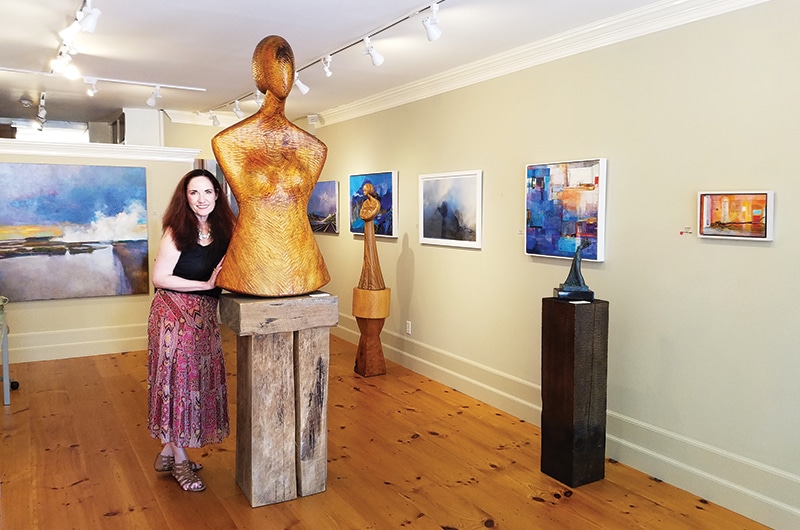 Established in 1982 to exclusively feature the work of David Hostetler, this gallery features his graceful sculpture alongside many colorful and exciting painters from Power Boothe to Xanda McCagg. Their current exhibition features Polaroid Pulls and abstract color photograms by Ellen Carey, abstract photographs of iconic movie scenes by hazart, color photographs by Sherre Wilson Liljegren, and unique photograph based prints by David Hostetler. All the artists use dramatically different techniques to create their artwork.
Samuel Owen Gallery • 46 Centre Street • SamuelOwen.com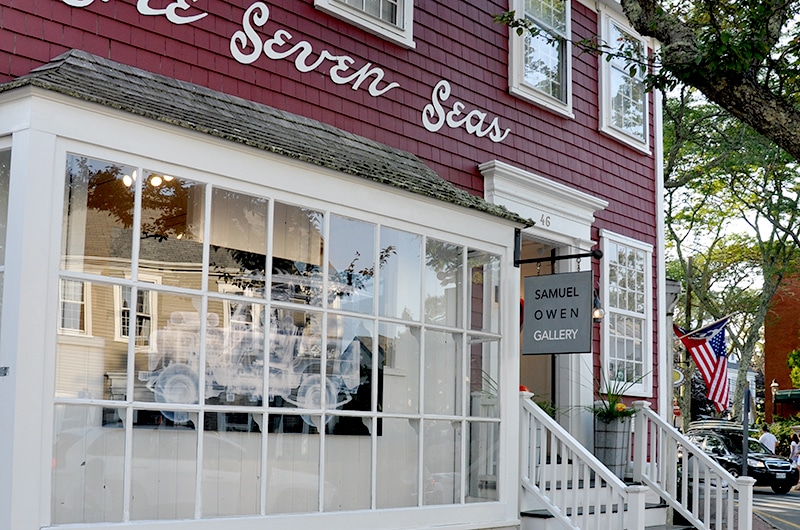 In the historic Seven Seas building where Centre Street meets Broad, this Contemporary Art Gallery features more than 45 different artists. Nantucket is a seasonal home—they have a year-round gallery in Greenwich, CT—and the artists they bring with them to the island for their summer exhibitions are internationally known and stunningly different from the usual fare. Paintings and silkscreen prints by Dan Baldwin, who is a the forefront of the new Young British Artist movement is just one example. On August 17 from 6 to 9 pm and August 18 from 11am to 3pm, Fine Art meets Wearable Art as the collection of Bonnie Roseman will be on display.
Gallery at Four India • upstairs at 4 India • thegallerynantucket.com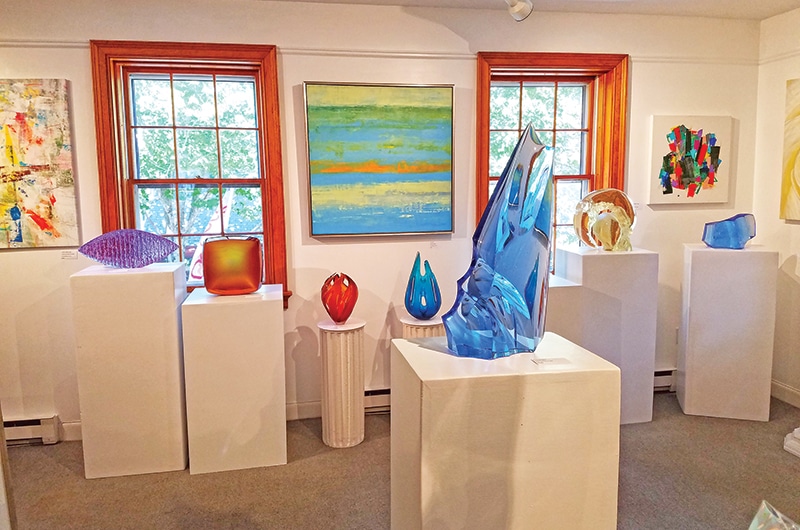 The Gallery At Four India Street has been a fine art destination here since 1989. Gallery Owner and Director, Kathleen Knight provides a wide variety of artworks by well established-known artists. Contemporary Realism, Abstract & Traditional paintings, sculptures, and a unique collection of sailor valentines are featured. New this season, her extraordinary display of art glass is not to be missed! This Friday, August 17 from 6 to 8 pm, you can party with her and help celebrate her 30th anniversary on Nantucket.
Lochtefeld • 4 Fair Street 508-228-0604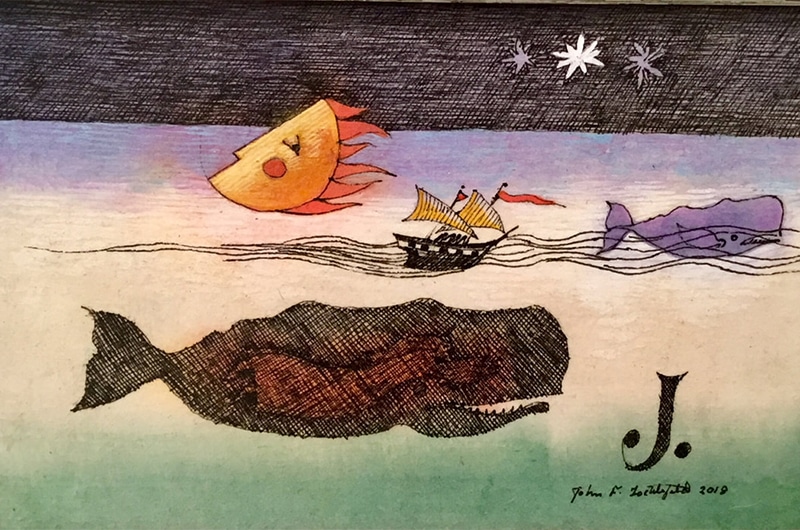 This island gallery is just a few steps off of Main Street, around the corner from Murray's Toggery Shop, across from the lovely Fair Street Park and features fine prints, drawings, paintings and sculptures by John Lochtefeld. His work with elements of fantasy and fairy tale has captured the imagination of his collectors for more than 50 years here on Nantucket. We love his whimsical, detailed prints that depict sea creatures, ships, and Nantucket, and the interplay of color and shapes in his paintings.
Nantucket Carving & Folk Art 167 Orange Street • Nantucketcarvingandfolkart.com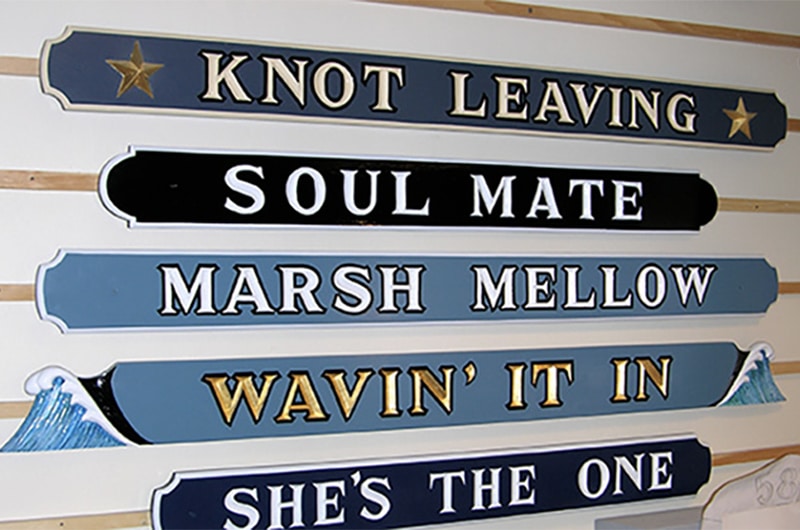 You've seen the work of Paul McCarthy and Jean Petty all around town in the beautiful quarterboards and signs of Nantucket. But their work goes far beyond the commercial: in this gallery, slightly out of town, you can see the exquisite carvings of master woodcarver Mc- Carthy and the gorgeous folk art paintings by Petty.