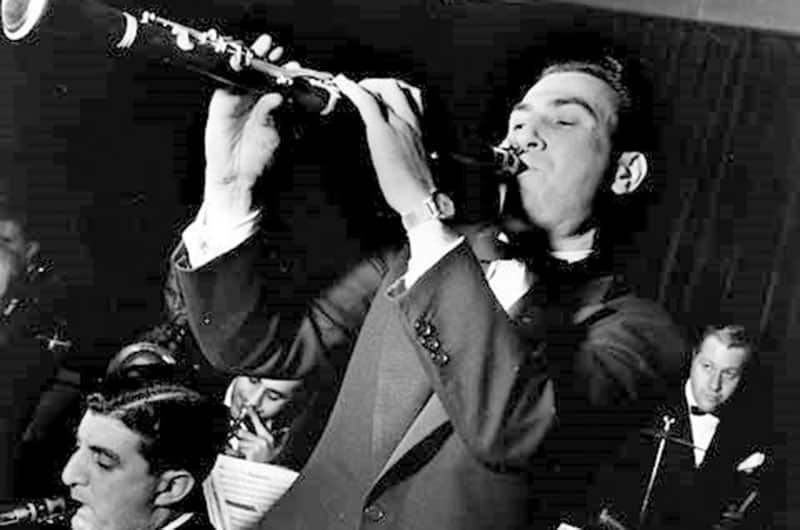 Nantucket Arts Council and Nantucket Dreamland Film and performing Arts Center present the concert finale of its spring 2015 Downtown Celebrity Concerts when The Artie Shaw Orchestra appears on the Dreamland main stage this Sunday, May 31, at 4 pm.
Starting in the 1930s, Artie Shaw pioneered and has since epitomized swing music—the rhythmic, infectious, and popular style featuring bass, drums, and brass instruments lifting listeners in syncopated, "swing time." Swing music dominated American music from the mid 1930s through the late 40s, with big bands and orchestras of up to a dozen players. Sometimes violins, guitars, and pianos joined in the fast tempos, with lilting melodies from front of band singers. Artie Shaw remains in the pantheon of founders and leaders of those bands, with Glenn Miller, Count Basie, Wood Herman, and fellow clarinetist Benny Goodman. Shaw appeared in what's considered among the first public swing concerts in 1936 in New York City. Soon after, he recorded a huge hit version of composer Cole Porter's "Begin the Beguine," which won him the moniker "King of Swing." Around the same time, Shaw was the first bandleader to hire a black female singer, Billie Holiday. He married eight times including, famously, to actresses Lana Turner, Ava Gardner, and Evelyn Keyes.
Shaw, who died in 2004, assembled the new Artie Orchestra in 1983, originally featuring virtuoso Dick Johnson on clarinet. Today, saxophonist and clarinetist Matt Koza, who has toured worldwide in jazz, symphony, and other orchestra venues, is the featured player and serves as director of The Orchestra.
Many listeners will find the music made popular by Shaw and fellow swing musicians familiar to them. On Nantucket, the group's playlist of more than two dozen songs includes titles by great composers of what's often called the "American Songbook": "S'Wonderful," "Frenisi," "Begin the Beguine," "Stardust," and lesser-known compositions.
Tickets to the performance are $40, available under CONCERTS at NantucketDreamland.org or by calling the Dreamland box office at 508-332-4822. For more on Nantucket Arts Council, visit NantucketArtsCouncil.org. This year's Downtown Celebrity Concerts series has been presented jointly by Nantucket Arts Council and Nantucket Dreamland. Complimentary tickets for Nantucket music students are available through support from Nantucket Golf Club Foundation.