More than three decades ago, well before artisan chocolates were all the rage, Kathy and John West created a Nantucket startup dedicated to offering the best hand-crafted chocolates and sweets to Nantucket residents and visitors. Their shop, Sweet Inspirations, is now an island landmark celebrating it's 35th Anniversary.
Recently they shared with us some of their "sweet memories" … John was working at a job in corporate high tech in Boston, when he met Kathy, his partner in life and in business, and it was Kathy who first brought John to Nantucket Island.
"John had never been to Nantucket," commented Kathy, who had family on the island. So she brought him to the island one September to visit. "We left Hyannis on the Hy-Line boat in pouring rain," John explains. "About 2 miles off Nantucket, the rain stopped, and I saw the island with that golden light after a storm hitting the town and the steeples, giving them a beautiful glow." With a smile and a blush he went on…"I just fell in love with Nantucket—I thought 'this is my place'."
John decided to take a risk to follow a dream. Within a year they had created the business plan for Sweet Inspirations. John and Kathy carefully chose the name of their artisan chocolate shop: "We were truly inspired by a love for the island, its people, visitors, and natural beauty." They started wholesaling in 1981 and in 1983 they opened their first shop on-island, close to the White Elephant, across from The Mad Hatter. "Our first employee and key to our successful start-up, was Nantucket long-time resident Jean Dee. She is remembered as 'Mom' for her happy smiles, samples, and friendly conversation." As with any new venture, hours were long: "we found time for recovery and a safe haven for late night 'office meetings' at the Fish House Restaurant with Stew and refreshments served at the bar by Roy Flanders and Phil Garuffi."
"Our first and favorite chocolate was our Almond Buttercrunch. This was initially offered exclusively through Nantucket's local businesses. Now artisan- dipped year-round at our Zero India Street Showcase Kitchen."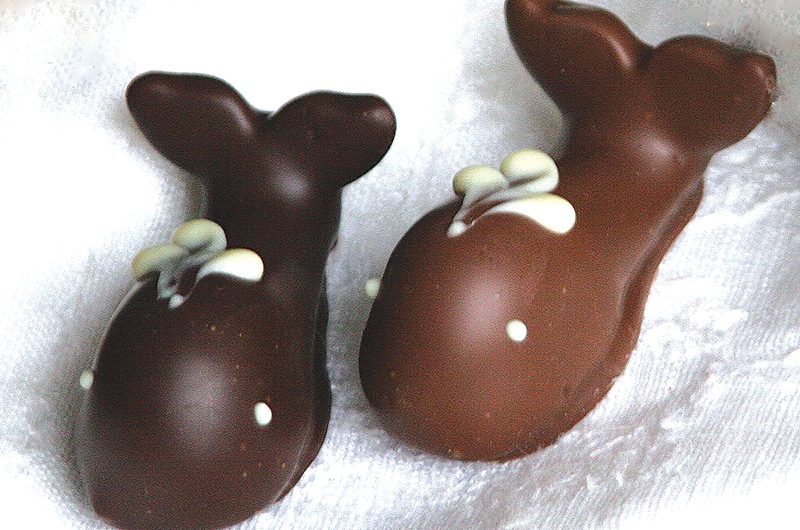 Now located in the heart of town at Zero India Street across from the Atheneum park, Sweet Inspirations is very much a part of Nantucket. All their artisan chocolates are made using very fresh, top-shelf ingredients from Belgian chocolate to fresh cream and high-quality fruits, nuts, and flavorings. Still popular early creations include the elegantly simple chocolate Nantucket Scallop Shells, Pecan and Caramel Islands, the original Cranberry CreationsTM Chocolate Covered Cranberries, the Nancy Chase Nantucket Mint, and the extraordinary Cranberry Cheesecake hybrid truffle.
Change of seasons, different celebrations, client requests and suggestions, their own travels, and staff from different corners of the world give John and Kathy a steady stream of inspiration to create fresh, new confections. "We're like the league of nations in here," said Kathy, "we've had staff from all over." John added: "International chocolate inspirations include the memorable Bermuda Dark n' Stormy and Swedish Glugg Truffles." Recently designed chocolates include the Chocolate Oysters and their artisan truffle, Coco the Chocolate Whale."
When asked about their personal favorites, John admitted to enjoying a dark chocolate covered pretzel with his morning coffee and Kathy goes for the dark chocolate with almonds or the caramel with sea salt. They both often finish dinner with a dark chocolate almond medallion.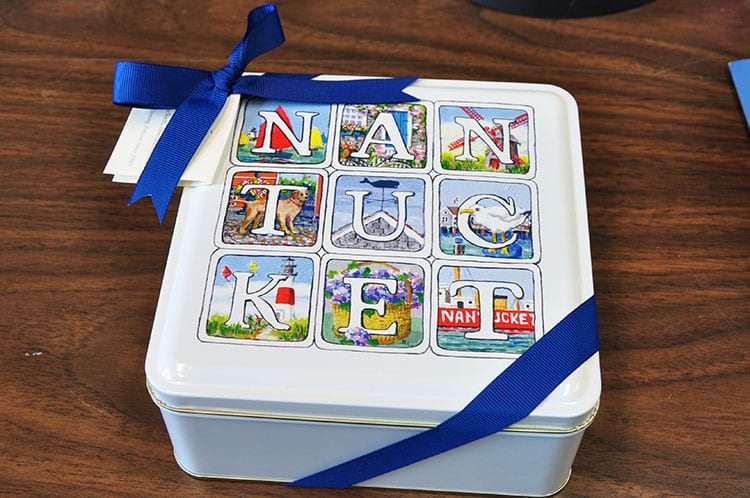 John and Kathy also created an extensive collection of unique limited edition gift tins by collaborating with local artist Barbara Capizzo and skilled American Tinsmiths. These collectible tins make wonderful gift boxes and the retired editions are in high demand.
Sweet Inspirations' artisan chocolates have won numerous awards and recognitions, including features on the Food Networks Food Finds, Oprah's Best Gifts Show, and competitive awards on Nantucket, Cape Cod, and Boston.
With Sweet Inspirations, John and Kathy West have turned their creativity, work ethic, and tenacity into the sweet dream of a successful Nantucket business. "Our goal," explained John, "has always been to be one of the best on Nantucket. We love being here and connecting with people…everything starts with customer service! As long as we stay inspired, the sign will stay up—and we have a long list to explore!"
Sweet Inspirations is open daily at Zero India Street. Web and phone order services : 508-228-5814 • Nantucketchocolatier.com