Summer starts for us with dinner at The Ships Inn.
A short walk from Main Street up tree-lined and historic Fair Street, this inn and restaurant is one of the few on Nantucket whose owners, Chef Mark and Ellie Gottwald, have preserved the integrity and beauty of a whaling captain's home while bringing it up to expectations of modern taste and comfort.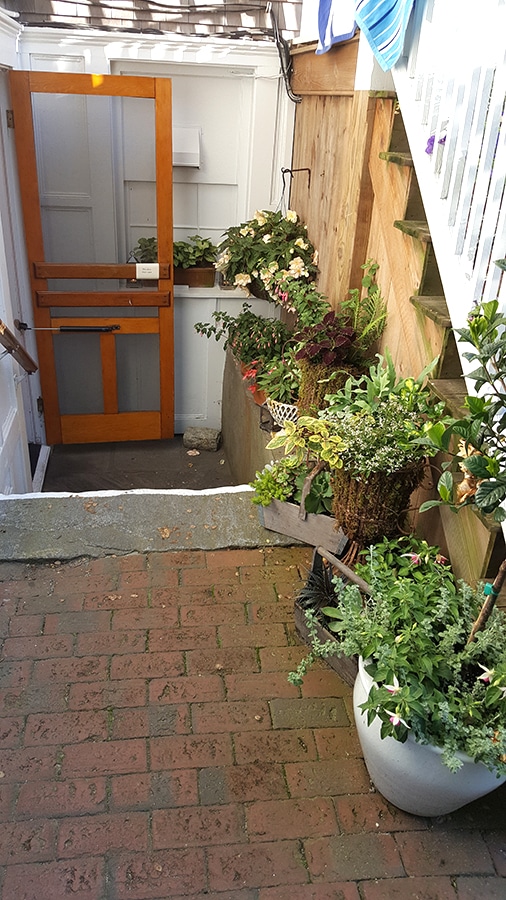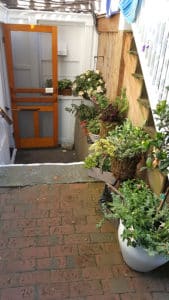 Entry to the restaurant is through the garden door on the side of the building (we met a staffer there who was clipping mint leaves from the kitchen garden for a mohito) or through the front door of the inn. We have often thought as we entered this way what tantalizing aromas must tempt guests every afternoon as the kitchen prepares for the evening meal.
Every morsel served at The Ships Inn is prepared inhouse by Chef Gottwald and his crew, from the trio of warm breads served in a lightship basket at the beginning of a meal to the legendary souffles that often end a meal here. Attention to detail is key: Chef Gottwald designs different accompaniments and garnishes for each of the 25 dishes on his menu. "It's a lot of work, but it's worth it," he explained. He is ever-present in the kitchen: designing, conducting, cooking, creating. All dishes are a la minute rather than prepped in advance, even the sauces, and this makes for remarkably vivid fare.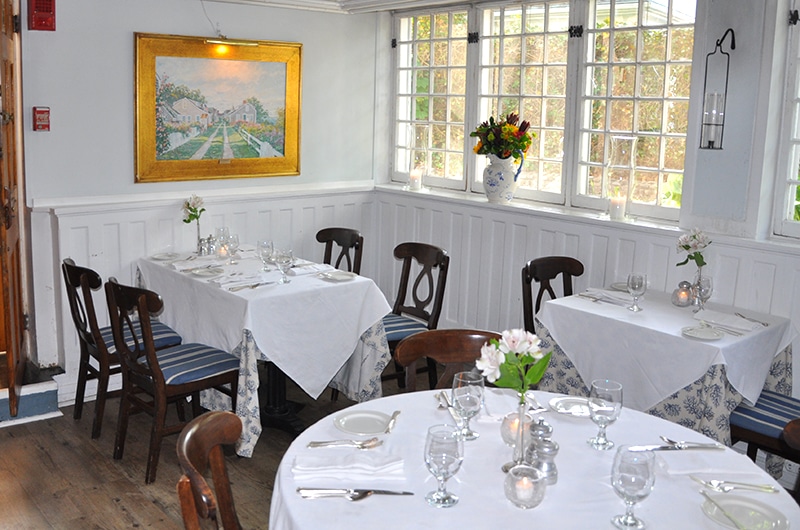 There are many appealing ways to begin dinner here, every one a winner!
Click on images for larger veiw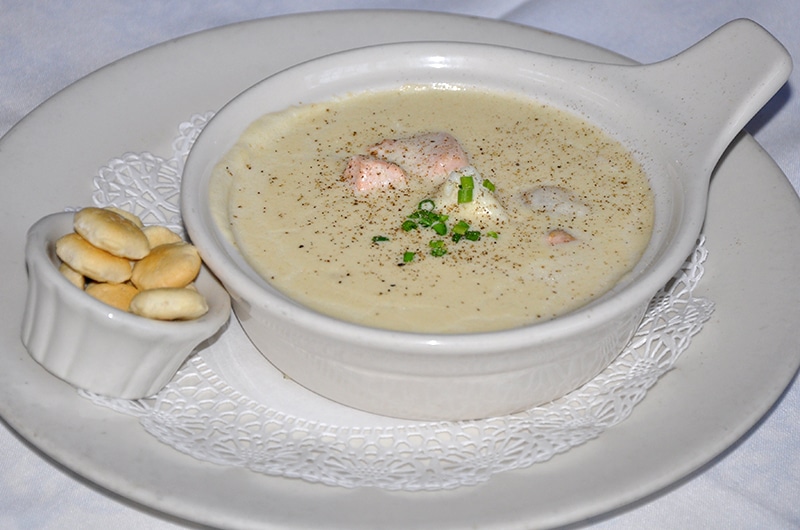 Even on a warm summer evening, Chef Gottwald's soups are not to be missed. Whether you choose Lobster Bisque, Cauliflower Soup with cheddar, or, as we did, the Nantucket Seafood Chowder, these soups will fill your belly and warm your soul. The chowder is made to order: yes, made to order soup—that takes dedication! The broth is a delicate blend of stock, clam juice, a touch of cream, and just enough fennel and pernod to tickle your palate. Then the fish is added— salmon, swordfish, halibut—fresh and lightly cooked. The result is full of flavor yet light for a chowder.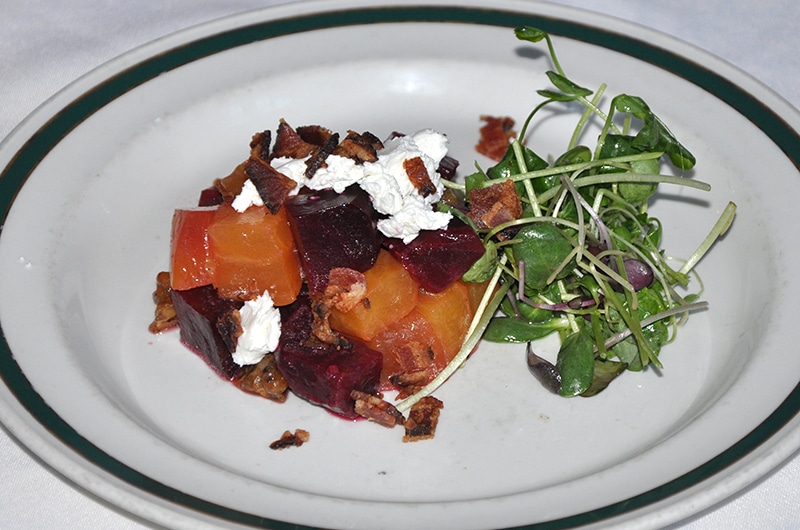 The chilled Beet Salad is a more obvious choice for a summer starter. Delectably sweet red and gold beets tossed with candied walnuts and bits of crunchy bacon are piled next to a handful of micro greens and topped with creamy goat cheese. The mix of sweet and smoky, pungent cheese and the earthy spice of the greens makes this one of our favorite preludes. (Suggested pairing: Albarino, Martin Codax, Spain)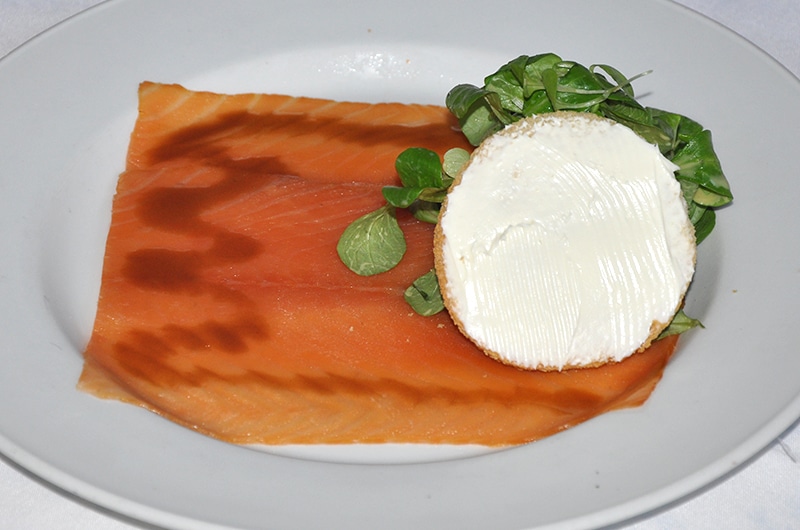 New to the menu and an appetizer we hope stays on it is Chef Gottwald's House Smoked Salmon. Cured with salt, sugar, and maple and then smoked over mesquite, the salmon has layers of flavor. It's served simply with baby mache tossed in honey-mustard dressing and a round of light, crunchy toast slathered with marscarpone. Eaten together, the different textures and flavors are delightful! (Suggested pairing: Chianti Classico Riserva, Volpaia,Italy)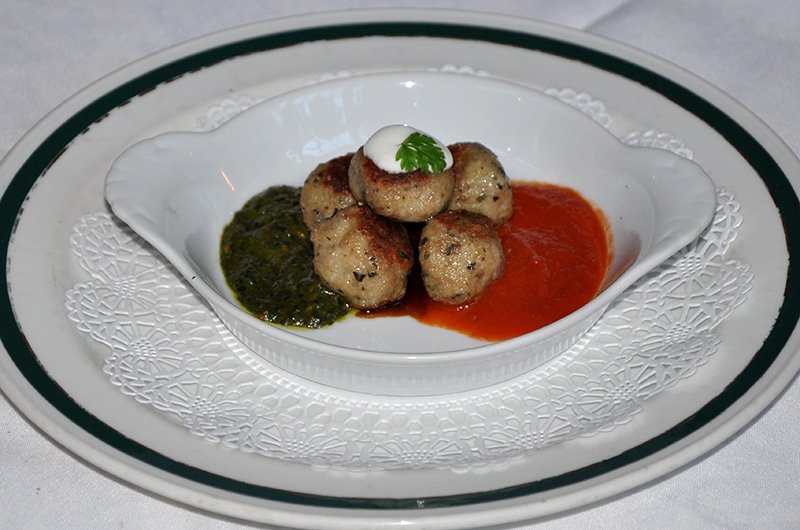 Also new for this season are Lamb Meatballs. Formed without crumbs—just lamb, sage, thyme, garlic, and seasoning—these, like many other offerings at Ships Inn, are gluten-free. It's the robust flavor of these little morsels that we loved. They're served on a colorful and tasty trio of sauces: lamb demiglace, fresh pesto, and tomato sauce, each lifting or deepening the flavor and adding visual appeal. (Suggested pairing: Merlot, Alexander Valley, California)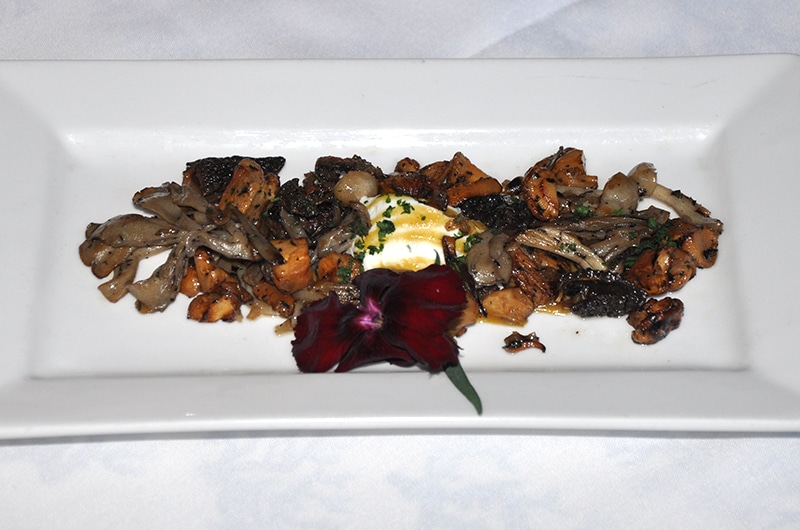 Sauteed Wild Mushrooms sounds more like a side dish than the star of the show—until you take your first forkful. The mix of textures and delicate flavors of half a dozen different varieties from maitake to morel is subtle and seductive. A citrusy tamarind sauce adds a bright spark of flavor, and a generous dollop of goat cheese brings it back to earth. (Suggested pairing: Cotesdu- Rhone, Guigal, Rhone)
Entrees at Ships Inn are often supplemented by evening specials featuring fish freshly caught by the chef himself! Chef Gottwald is an avid fisherman with a commercial license; his boat, Forelle, is docked at Straight Wharf. When Striped Bass is in season, he catches enough that it is offered as a special nearly every night.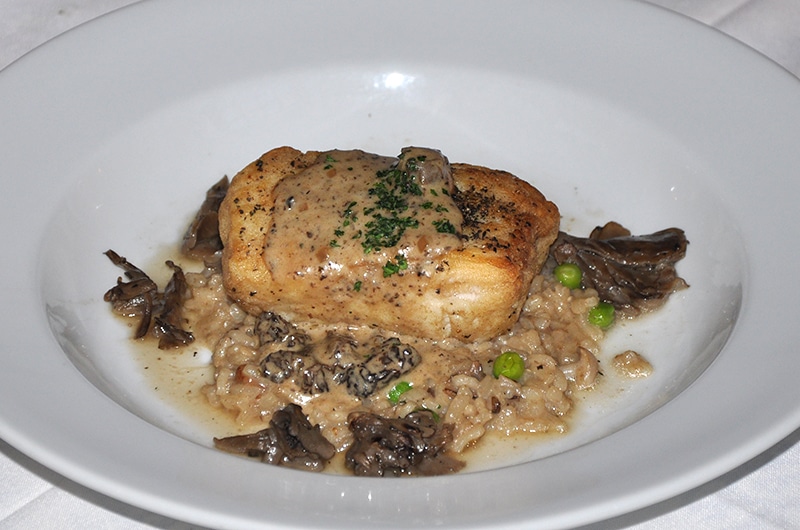 Though not caught by the chef, the fish we enjoyed at during our dinner last week was sparkling fresh. The Sauteed Halibut is a dish of deep, lasting flavor: the fish, lightly crusted, is served on a mushroom risotto studded with plump English peas and chanterelles, morels, brown maitake, and tiny white Hon Shemeji. A lusciously creamy morel sauce (emphasis on the mushroom) is poured over. (Suggested pairing: Chardonnay, Flowers, Sonoma)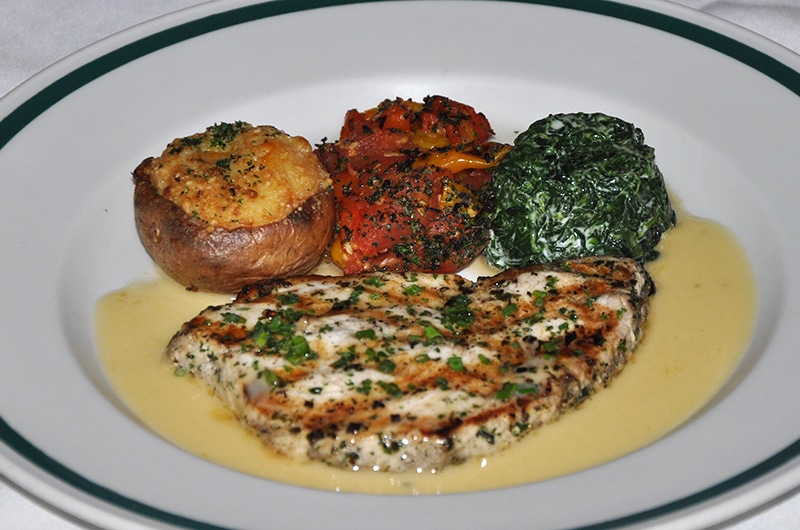 The Grilled Swordfish stole the show! This was the best swordfish we'd tasted in a decade—good enough to dream about and definitely good enough to lure us back to Ships Inn. The fish was moist and flaky, and a lemon thyme beurre blanc was at the same time bright and rich. The custom accompaniments were a timbale of creamed spinach, a truffle baked potato, and a summery roasted tomato topped with a tomato compote. When our server collected this dish there was not tidbit left on it. (Suggested pairing: Chateaunuef-du-Pape, Chante-Perdrix , Rhone)
Beef lovers have several superb choices at Ships Inn—Veal Scallopini, Short Ribs, and Filet Mignon—but we recommend you splurge on the Dry Aged Sirloin "Steak au Poivre." A thick cut with robust flavor and juicy tenderness drenched in a rich, dark sauce, this is a classic dish executed with perfect technique. Tender green beans, naturally sweet carrots, and potato gratin accompany . (Suggested pairing: Cabernet Sauvignon, Hall, Napa)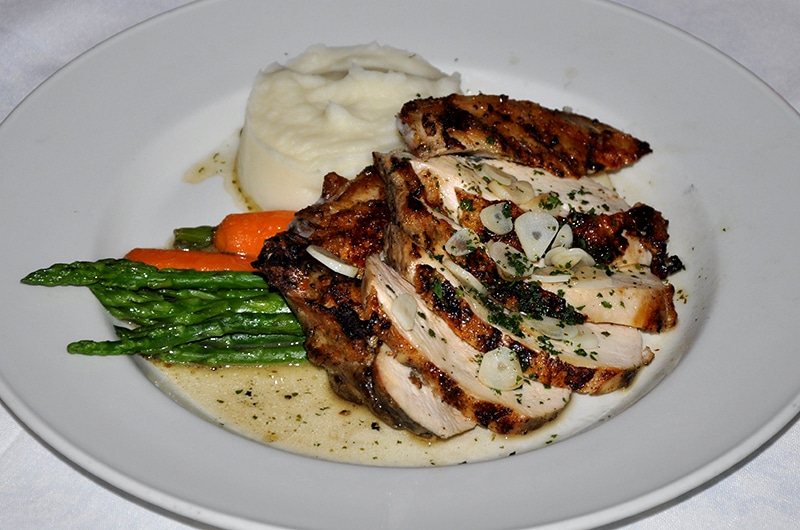 As I type this, it still surprises me: our second favorite entree (did I mention how good the swordfish is?) was the Grilled Chicken. No, you could not make this at home. Chef Gottwald's chicken is supremely succulent and tender with beautifully browned crisp skin and served in a sauce of lime and sweet garlic. Matched with satiny whipped potatoes, carrots, and thin spears of asparagus, the dish is deeply satisfying. (Suggested pairing: Pinot Noir, Lemelson, Willamette Valley)
It's almost unfair how good the desserts are at The Ships Inn, considering how little room you will probably have for them.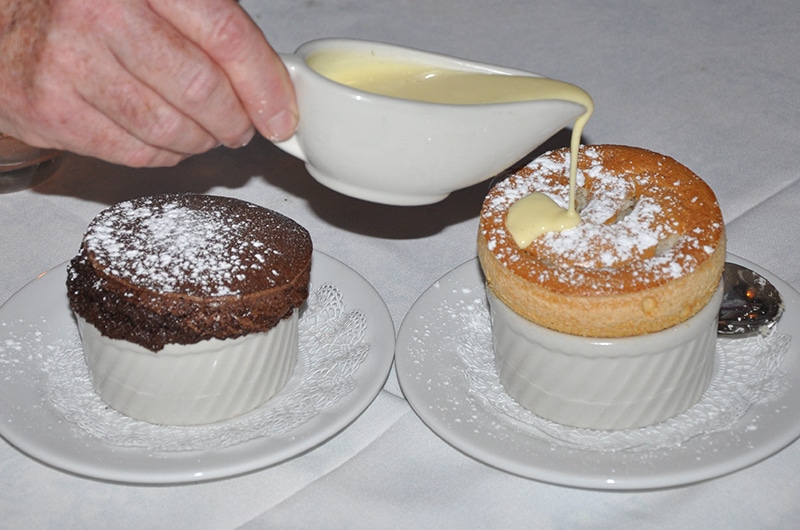 The one dessert you must order, no matter what flavor is offered is the Soufflé. You won't see this selection on the dessert menu because it must be ordered when you order your meal so that it is ready when you are. Plan ahead. It's been a few years since we dined here on an evening when Chocolate Souffle was featured (we adore the Raspberry and the Grand Marnier), and we forgot how good it is, especially with the cool creme anglaise poured tableside over its warm dark deliciousness. (Suggested pairing: Reisling,"Vin de Glaciere", Pacific Rim)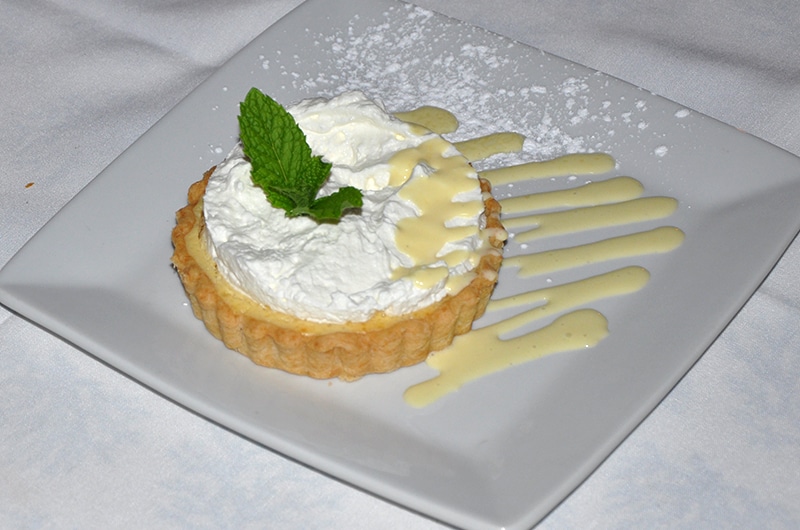 All the desserts served here are big enough to share, which is lucky because you'll definitely want to have your companions order the Key Lime Tart that will dazzle your taste buds with its sweet-tart creaminess in a buttery crust. (Suggested pairing: Muscato, Villa Ponzi, Sicily)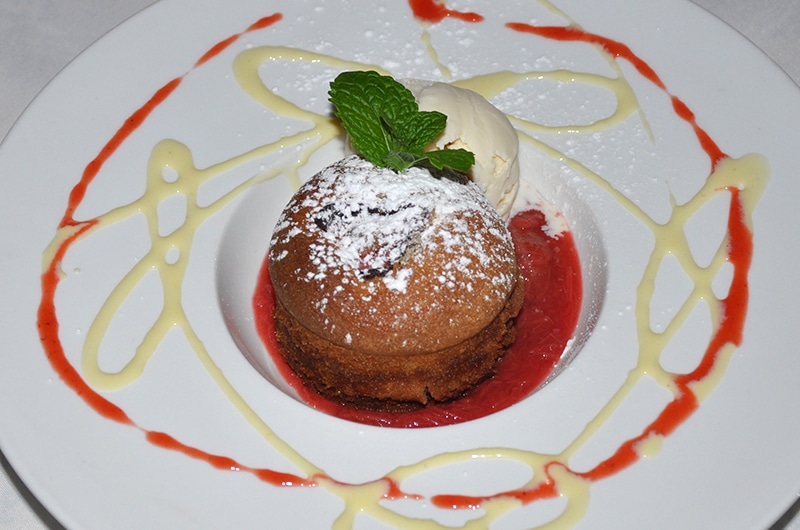 Or, even better, try the Strawberry Rhubarb Cake that is light as a cloud and awash in a heavenly strawberry-rhubarb sauce. (Suggested pairing: Tawney Port, Otima, 20 year).

All splendid ends to a spendid evening!
The Ships Inn
Reservations suggested: 508-228-0040
13 Fair Street • shipsinnnantucket.com
Dinner served from 5:30 p.m. • Dory Bar opens at 5 p.m.
Entree prices range from $ 24 to $ 45
International Wine List & Full Bar • major credit cards accepted