by Suzanne Daub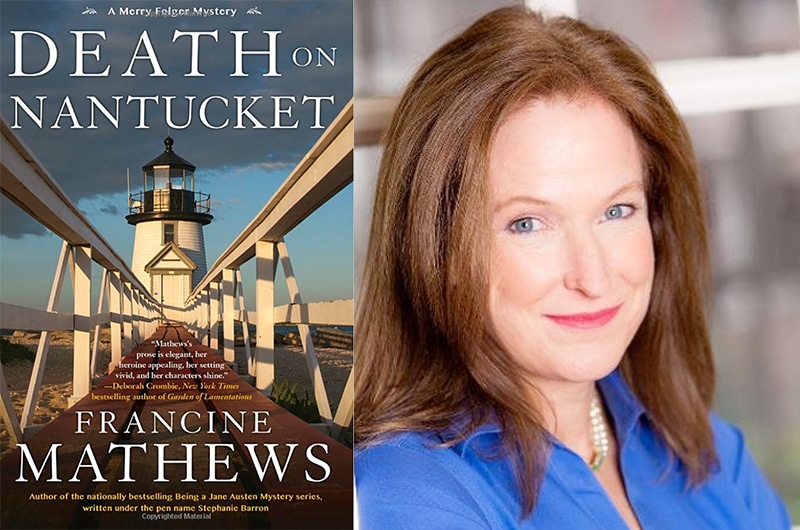 This weekend the annual Nantucket Book Festival features a stellar line-up of authors and events. Throughout Friday and Saturday, writers will read their work and talk about their creative processes. Panel discussions and interviews will help festivalgoers get to know participating writers. Ticketed social events provide unique opportunities to engage with authors and poets—a hallmark of this festival. A complete listing of authors and events is at Nantucketbookfestival. org.
Several of the presenting authors at this year's festival have ties to Nantucket and roots in our island community; one of these writers got sand in her shoes during her first island visit as a young child. Of the twenty-six books she's had published (so far), five are mystery novels set on the island she loves. Francine Mathews was introduced to Nantucket at the age of four, but it was a summer she spent on-island thirteen years later that made Nantucket her special place.
"I had the great gift of working on the island as a nanny when I was seventeen years old. I was employed by a wealthy Washington family—a second marriage between an older man and a young wife—and their daughter was three. Their goal for the summer was apparently never to see her," she explained. "They rented me a bike, and I spent my days riding around the island with the child in a helmet on the back. I told her stories as we rode, sang her songs, tried to give her the simple and lovely childhood memories I'd had of New England summers growing up. How to fly a kite. How to hunt for shells. Penny candy. Ice cream cones. Things her parents never did with her. I got to know almost every corner of Nantucket that way, and I fell passionately and incurably in love with the place."
After that magical summer, Mathews studied for four years at Princeton and three at Stanford, and then applied for a job with the CIA. She "spent a year temping in Northern Virginia while the FBI asked inconvenient questions of everyone she had ever known, passed a polygraph test on her twenty-sixth birthday, and was immediately thrown into the Career Trainee program: Boot Camp for the Agency's Best and Brightest." In 1992, Mathews wrote Death in the Off-Season, her first book and the first in her "Merry Folger" series of mysteries set on Nantucket. "I wrote Off-Season as an experiment to see if I could actually attempt and complete a coherent novel—and I chose to try a detective story because I'd always loved reading them. It occurred to me that I would be spending a great deal of creative time in one place, and that I had better love living there mentally for the next year or so. Nantucket was ideal. Moreover, it had long struck me as similar to a small English village like St. Mary Mead in Agatha Christie's Miss Marple books: an intimate community somewhat isolated from the larger world, where a murder might make a distinct and engrossing impact on everyone's lives."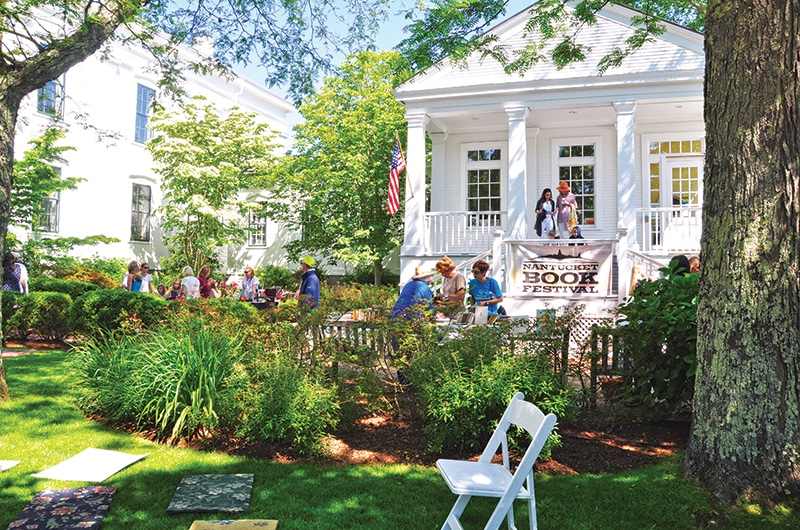 Writing in the evenings after her day job in intelligence analysis at the CIA, her debut novel took Mathews nine months to complete. A year after it was published, she left the Agency and started her career as an author. Her second novel was the next in the Merry Folger series, Death in Rough Water. As she continued to write her series set on Nantucket, Mathews, under the pen name of Stephanie Barron (her middle and maiden names), also began writing her Being a Jane Austen Mystery series for a different publisher. In addition to these two series, Mathews has also written historical fiction and spy novels.
When asked whether she prefers to write books in a series or stand-alone novels, she replied: "they offer different pleasures. Series characters involve both writer and reader in a community that is sustained over time: a group of recurring friends whose lives must be followed and incorporated into each new volume of the written world. People like Rafe and Tess daSilva, for instance, in the Merry books, or Jane Austen's sprawling family. It's somehow comforting for me to return to those worlds when I take up the next chapter. Stand-alones, however, are immensely exciting whether I'm writing about Jack Kennedy in 1939 or Queen Victoria in 1860 because I begin with nothing except a blank page. Inevitably, stand-alones require a year, if not more, to write. Series novels demand half that time, because so much already exists in my head." She declined to name her favorite character, explaining "That's like asking which child is your favorite."
She does appear to have a favorite setting, however: Nantucket Island. "One of the aspects of island life that fascinates me—and is integral to my series—is the distinct experiences that residents and visitors often have. Most who live on the island, or return to it seasonally, would say they do so because they love the place. Yet year-round islanders know and prize a very different Nantucket, in many ways, than Summer People. Even within that seasonal group, there are divisions: those who've been coming to the island for five generations, living in unwinterized family homes that have descended through time, deeply rooted in a different way from those who fly in with their personal chefs for two weeks spent at their fifth residence.
"Contrast those groups with the folks who are essential to Nantucket's survival as a community—the teachers, the police, the folks who sustain Cottage Hospital and manage the Harbor, collect the trash, and cut the lawns, and repair the plumbing, and report the news, and do everything else that makes a town function—and you have very different constituencies that claim equal ownership of Nantucket. I think that offers the potential for conflict. And conflict is the essence of crime stories. Choosing to make my series detective Meredith Folger a woman deeply rooted in both the island and its police force was critical."
Nearly a quarter-century after her first novel was published, Francine Mathews returned to her Merry Folger series to write a fifth novel set on Nantucket. Death in Nantucket was released early this year. When her publisher suggested reissuing the series, which had gone out of print, along with a new installment, "I was thrilled, but asked that I be able to bring the previous books seamlessly up to the present to avoid a twenty-year gap in both the characters' lives and the reality of Nantucket between Death in a Cold Hard Light and Death on Nantucket. It has been a privilege to be able to refine all the books before republication."
Not only did Mathews update her island references, she was also able to refine her early writing. "I was shocked at how overly verbose and prosy the first versions were. I pruned them as viciously as a rugosa run amok. In other ways, however, my [writing] process remains the same—I'm a dedicated outliner and plotter, because mystery novels stand or fall on the success of their puzzle plots. My stories inevitably diverge from their outlines, that's part of the creative process, but having a map for the story's evolution is critical…
"I'm trained as an historian, and delving into the details of a particular place, person or time is utterly riveting. I assemble libraries specific to the subject matter of each novel, and immerse myself in the material before I begin to outline a particular story. The research usually provides the kernel of the crime or the focus of the imaginative world, plotting the novel would be impossible without it. "As for writing itself, I love to write dialogue. Once my characters open their mouths and speak, they take over the novel."
Mathews is planning another novel for the Merry Folger series: "I've always wanted to set a book on Tuckernuck." Fans will have a chance to ask her about it at her booksigning Saturday at noon outside Mitchell's Book Corner on Main Street or after her talk in the Atheneum Garden on Saturday at 4 pm.
In her essay On Writing, Francine Mathews states: "I have always been someone who wrote for a living. When I was young, I put words on paper because I was a solitary child, because my father died when I was a teenager, and the world I could make in the pages of lined notebooks helped keep my loneliness at bay. I wrote to escape, to conceive a more exotic life. I wrote myself out of despair and into adulthood, and words, for me, will always possess a transformative power.
"But ultimately I wrote because I had no choice. Words are the way I understand existence."