Dr. Sarah Treanor Bois
Director of Research & Education at the Linda Loring Nature Foundation
There are many unique and special things about Nantucket, not the least of which are our gorgeous conservation lands. Much of these habitats are home to rare and unique species of plants, animals, birds, and insects. The various conservation organizations work to manage the landscapes and mitigate for potential threats to the species and habitats which are important to biodiversity as well as to the island aesthetic.
One of the major threats to Nantucket's native biodiversity are non-native invasive species. What is a non-native invasive species? First, a non-native is a species unlikely to have arrived without human assistance. The invasive part of the definition means that it is established and spreading with negative impacts causing economic or ecological harm, or is harmful to human health.
In response to this looming and ever-present threat, in 2003, the Invasive Plant Species Committee (IPSC) was created by members of the Nantucket Biodiversity Initiative and the general public who were concerned about this growing problem. It began as a mix of conservation professionals, botanists, professional landscapers, business people, Nantucket Garden Club members, and local plant enthusiasts.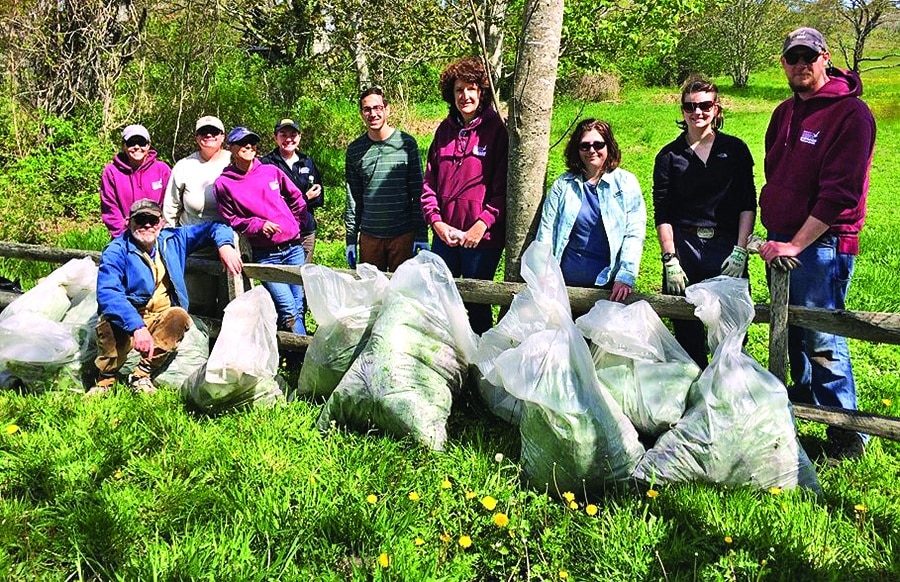 The goal was to create a group that cares about the issue from multiple angles. Early on, we worked to define our "worst invaders" and those that might be a threat to come.
Today, more than fifteen years later, membership includes the island's major conservation organizations, private businesses, and educational organizations. A list of partners is at nantucketbiodiversity.org/ipsc
In New England, 32 percent of the documented plants are not native. Of those, 10 percent are considered invasive and directly threaten native species. What kinds of harm occur from non-native invasives on Nantucket?
Economic: Invasive plants cost the U.S. an estimated $20 billion per year to manage and control. On Nantucket, the Nantucket Conservation Foundation and the Nantucket Islands Land Bank spend a lot of time, money, and people power managing invasive species on their extensive properties. Many species, like garlic mustard and spotted knapweed are removed by hand (cover photo). Others have to be mechanically and sometimes chemically treated for more effective removal. Smaller organizations, like the Linda Loring Nature Foundation, have hired contractors for invasive species remediation. All of these methods are costly.
Human Health: Many invasive shrubs have a longer phenology, meaning they hold their leaves on longer into the fall. This helps create higher humidity, perfect habitat for ticks. Recent research has shown that tick densities are three times higher under invasive shrub populations than native plants. So, if you hate ticks (and who doesn't?), you should consider removing all of those invasive species.
Ecological: One of the major concerns about non-native invasive species is their impact to our diverse ecosystems on Nantucket. With a number of rare and endangered species calling Nantucket home, invasive species have the potential to displace natives, damaging populations. Native plants are known to increase biodiversity and reduce risks associated with invasive species, which supports resilient ecosystems in the face of climate change.
The IPSC works to combat these negative impacts of invasives by actively pursuing non-native invasive plant species identification, management, research, education, and eradication.
So how to these plants arrive to our island? Most introductions are accidental; through hitchhikers on your clothing or luggage. Dogs are also vectors of transport—think of all the seeds and barbs that stick to fluffy fur. Many invasive shrubs produce berries which are eaten by birds (honeysuckle and autumn olive, for example) and transported as the bird digests. Seeds are excreted in the new location and may germinate into a new population.
Within the island, invasive plants can be further spread through contaminated landscape equipment, animals, as well as windblown seeds.
Some of these factors may be more difficult to combat. One thing we can address, however, is the planting of known invasive species.
The state maintains a list of species that are banned for sale and transport within the Commonwealth. However, the IPSC tends to focus on the importance of planting native. Native plants support insects, which in turn support birds and other animals. More caterpillars in your yard might sound alarming, but most of these caterpillars are eaten by nesting birds, and many become pollinators.
What can you do to help "stem the tide" of invasives?
Responsible landscaping practices: Please don't plant invasive plants! The complete list of Massachusetts prohibited plants can be found on the IPSC website. IPSC would also ask that the following plants no longer be planted on Nantucket: Scotch Broom, Chinese Silver Grass, or Weeping Love Grass. While not currently on the State banned list, on Nantucket these species have shown invasive tendencies and are already known to escape cultivation.
Plant natives: The Nantucket Biodiversity Initiative, along with the IPSC, the Nantucket Conservation Foundation, and the Nantucket Land Council, produced the guide, "Landscaping with Native Plants on Nantucket." This guide helps you select native plants for your landscaping with information on soil moisture, preferred light levels, and type of plants desired (tree, shrub, grass, perennial). Copies of this guide are available at many conservation organizations or can be downloaded from the IPSC website.
Report invasive plants – If you see something, say something. If you see a worrisome plant or think you have one of the worst, let us know! Have a favorite conservation area and notice a new, potentially invasive species? Send us an email. The more populations we know about and document, and hopefully eradicate, the better. Feel free to contact co-Chair of the IPSC, Dr. Sarah Bois, at stbois@llnf.org.
Join a pulling event – throughout the growing season (May to August) the IPSC holds weekly pulling events for Garlic Mustard and Spotted Knapweed. If you're interested, check out the website or email Sarah Bois at the above email. The IPSC provides training, gloves, and trash bags. Your efforts help keep these invasive plants out of the conservation areas and prevent further spread.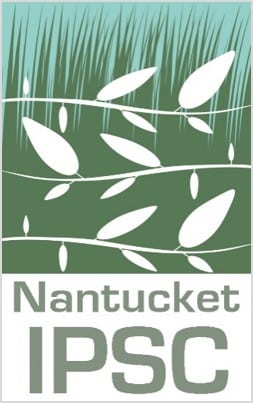 Want more information about invasive species? Interested in being a member of the Nantucket IPSC? Have you discovered an invasive plant that needs reporting? Would you like to volunteer with one of our invasive plant removal projects? Visit .nantucketbiodiversity.org/ipsc