The Nantucket Historical Association (NHA) is hosting two special presentations this weekend in their Whaling Museum, 13 Broad Street.
This Friday, September 15, at 7 pm, The world-famous Walden Chamber Players returns for a Nantucket performance.
Founded in 1997, the Walden Chamber Players are considered one of the most exciting and versatile chamber groups performing today. The Walden Chamber Players bring together rousing and eclectic combinations of string, piano, and wind ensembles that draw from a rich palette of sources and styles. Based in New England, the ensemble performs in some of the most prestigious venues throughout the United States.
Friday's performance will feature classical pieces including "String Trio in B-flat Major, D. 581" by Franz Schubert, "Waltzes for violin, viola, cello, and double bass" by Fred Lehrdahl, "Sonatine a trois, op. 221b" by Darius Milhaud, and "String Trio in G Major, op. 9, no. 1" by Ludwig Van Beethoven. Tickets for the performance are free for NHA members and $10 per person for the general public and can be purchased at nha.org/tickets. Doors open at 6:30 pm, with the concert beginning promptly at 7 pm.
"The NHA is thrilled to welcome back the Walden Chamber Players for an exciting performance at the Whaling Museum," commented Brianne Roth, NHA Public Programs Coordinator. "This year's selections will surely delight and inspire music lovers of all ages."
The Walden Chamber Players appearing at the Whaling Museum are: Bassist Donald Palma, Violinist Laura Frautschi, Violinist Christof Huebener, and Cellist Ashima Scripp.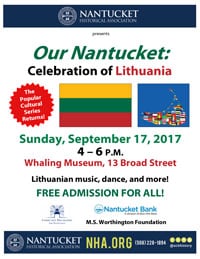 On Sunday, September 17, the Whaling Museum is closing early at 3 pm to prepare for a special evening called "Our Nantucket: A Celebration of Lithuania" to be held from 4 to 6 pm. This free event is part of a series that the NHA presents periodically to feature the diversity of Nantucket residents. "Nantucket's rich history has a long-standing legacy of a diverse mix of people from all over the world," says Roth. "The NHA is honored to celebrate cultural diversity through the Our Nantucket series. Each installment seeks to engage neighbors, friends, and community members to share experiences from near and far in hopes of learning about different cultures in an inspiring atmosphere."
At Our Nantucket Lithuania, audiences will be treated to a variety of cultural performances and live events throughout the evening.

Each of the NHA's "Our Nantucket" program features a panel of guest speakers who bring awareness to their individual stories of immigration and relocation to Nantucket. Facilitated by the NHA, panelists share their memories of their home countries, along with their new experiences since moving to Nantucket Island.