Commonly asked questions and misunderstandings about antiques… and the odd or end fascinating bit!
Christmas is the most nostalgic time of year, so it is no wonder that antique Christmas decorations are very popular. Collectors especially prize an old German heirloom, which makes perfect sense since the holiday itself, and most of our holiday traditions, came from Germany.
Santa figures are perennial favorites, but Ach der liebe!, there are so many different characters … Weihnachtsmann, Sankt Nikolaus, Pelznickel, Christkindl…. and literally dozens more! Unless you are German, it can be pretty darn confusing: just who is whom, and who brings gifts around here?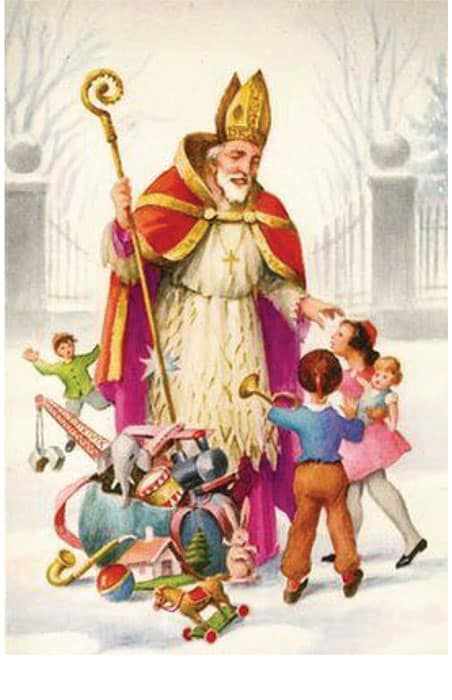 Well, it all began with Saint Nicholas, the legendary bishop of Myra, the patron saint of children, sailors, students, teachers, and merchants. In the German speaking world, Sankt Nikolaus became associated with the celebration of Christmas, and brings children gifts on his feast day of December 6. He is known by many names in different regions: der heilige Nikolaus, Nickel, Klaus, Niglo, and more. He is a kind and gentle elderly man, a bishop with mitre and robe. In some areas he is accompanied by a helper, often a formerly scary character like Krampus, Knecht Ruprecht or rauer Percht, who reminds children to be good and assists handing out gifts.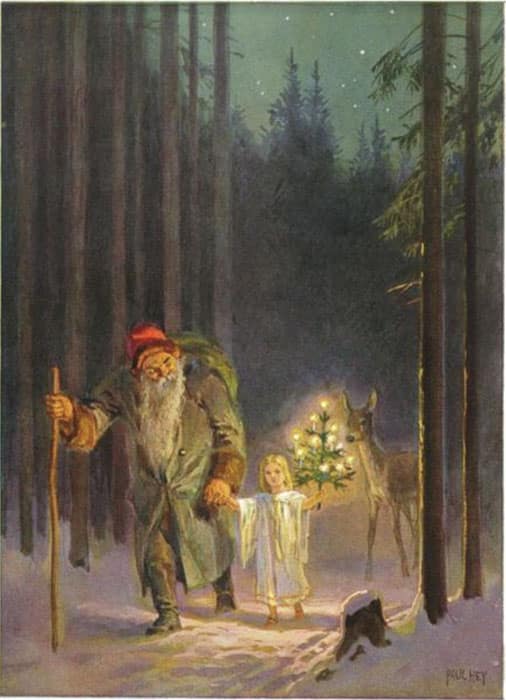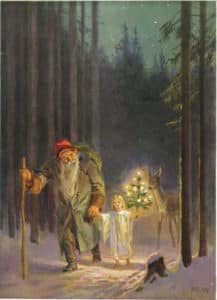 In the Northwestern German Pfalz region, Nikolaus became Pelznickel, a fur clad Santa who brings fruit, nuts, and gifts to children. Among Germans settling in Pennsylvania, Ohio and elsewhere in America he became known as Belznickel. The famous illustrator Thomas Nast was born in the Pfalz, and remembered his beloved childhood Pelznickel when creating our first images of the American Santa Claus with winter suit, fur trim, and boots.
Protestant areas of Germany of course had no saints, but Martin Luther didn't want any children to be left out of the Christmas traditions, so he replaced Nikolaus with der Christkindl. The Christ Child thus brought gifts, though for the holiday he was transformed into a winged angel, usually a beautiful young girl. In America Christkindl became Kris Kringle. In the mid 19th Century Christkindl became more secular in many areas and evolved into der Weihnachtsmann, the Christmas Man or Father Christmas.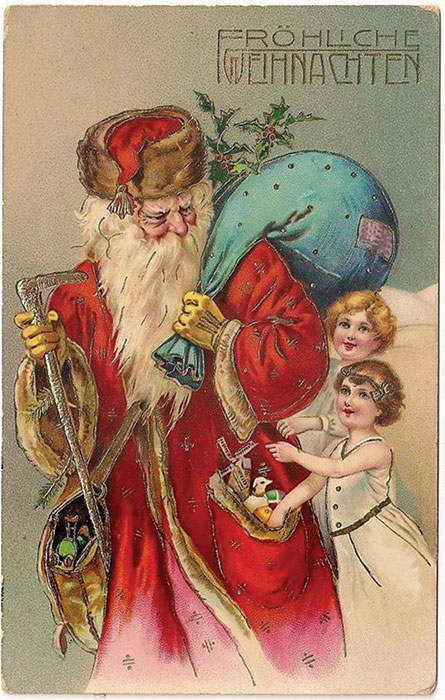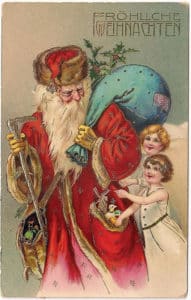 While old traditions live on in many regions, today most children in Germany look forward to a Christmas Eve visit from either Christkindl, or more often the Weihnachtsmann, a figure that is pretty much the same as our American Santa Claus. So the next time you see the man himself remember where he got his start.
Antiques Snippets are provided by Jack Fritsch, proprietor of the Antiques Depot at 2 S. Beach Street (across from the Nantucket Yacht Club) NantucketAntiquesDepot.com .