by C. Oscar Olson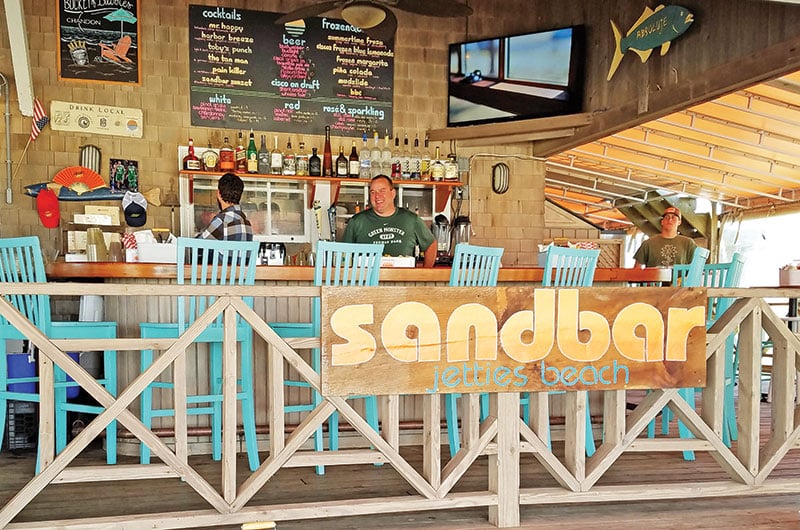 There are very few restaurants on Nantucket that truly have it all. Ample parking, kid friendly, outdoor seating, and, of course, a great menu. And breathtaking ocean views. And easy access to the beach. And I could keep going on, but keep reading and you'll see what I mean. Sure, this all sounds too good, but it's the truth. Sandbar at Jetties Beach hits every mark, and they do it with a smile.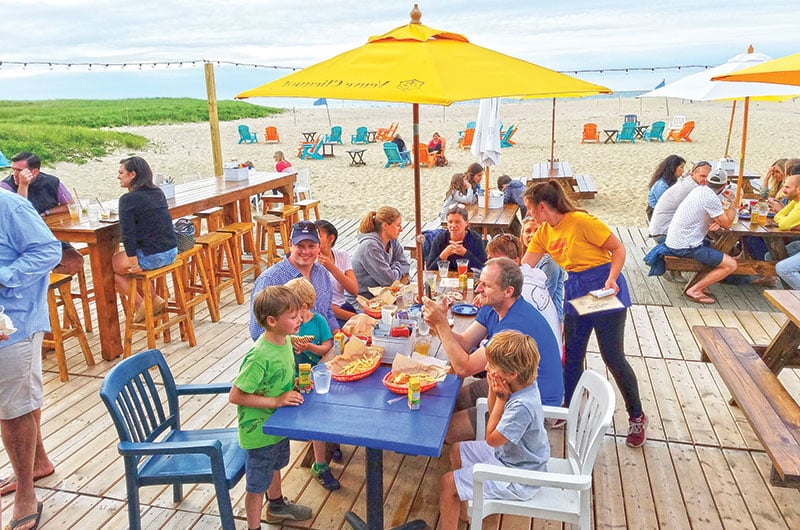 The Jetties might be a short drive from town, but it feels like you're miles away. As you make your way down Bathing Beach Road, the houses spread out as the dunes and beach grass take over. The ocean comes into view beyond a stunning sprawl of white sand, and sitting on the edge of the beach is Sandbar.
Parking isn't a problem, and neither is finding a seat. There's loads of room inside the restaurant or on the deck, at the bar, and even a few tables on the sand (shoes optional). The menu is eclectic but to the point. Naturally there is a focus on fresh seafood, but you can build your own Jetty Burger, send for a Sand Dog, and more. Whether you find yourself at Jetties Beach for a snack at the bar, a meal with the family, or an intimate date night, you'll find what you're looking for on the menu at Sandbar.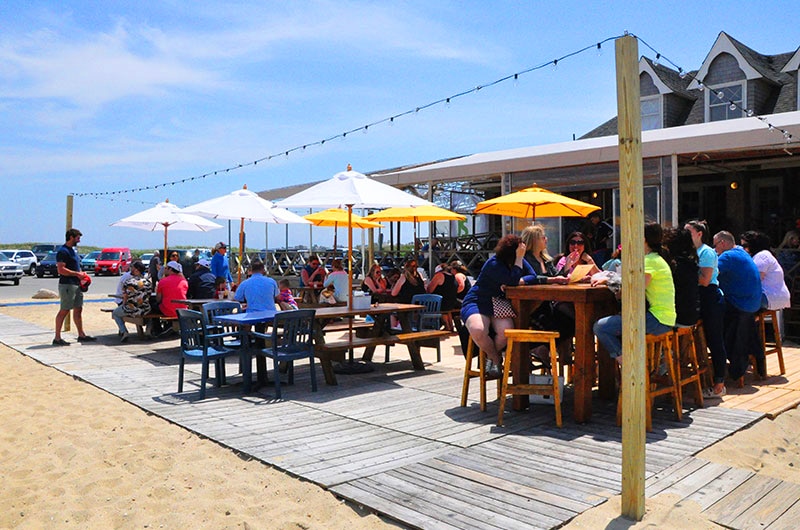 Owners George Kelley and Nick Nass bring unique strengths and experiences to the table at Sandbar. George is a native Nantucketer and learned the ropes at more than a few island institutions including The Gazebo, The Boarding House, and Nautilus. He studied economics at Lehigh but always heard his hometown calling his name in the summer. A mix of his many travels and love for his home makes him an invaluable asset at Sandbar. Nick hails from New York and found a love for island life in Honolulu. After a successful career in real estate he made the decision to fly north, and it didn't take long for him to fall in love with the unique Nantucket community. After some time at Ropewalk and then five years at Cru, Nick is thrilled to share his talents at the Jetties.
Click images to view enlargements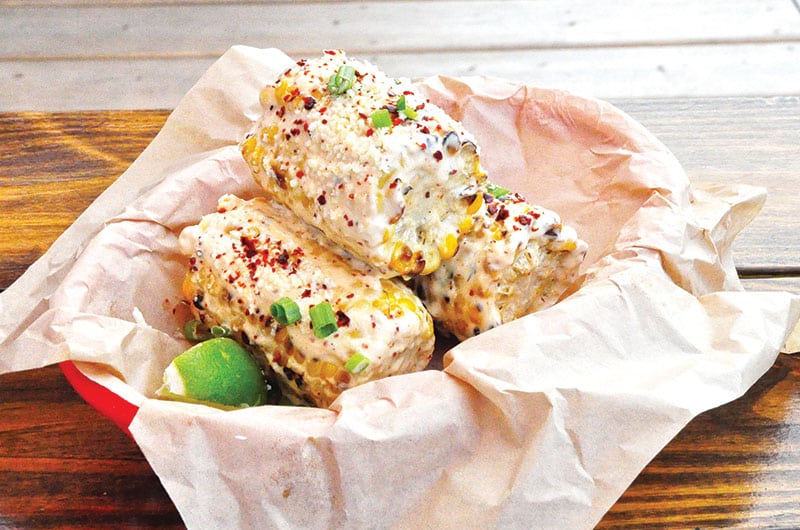 The appetizer options range from must-haves like wings and chowder to less common, even hard-to-find favorites. Street Corn was a first for some of us, so we had to start there. The ears are served halved and grilled to a nice light and smoky char. Served up with a healthy coating of cotija cheese, scallion, and aleppo (a variety of pepper similar to ancho), we were wishing we ordered two. Each bite is smooth and sweet with just the right spice and sizzle on the finish. A squeeze of lime brightens things up and adds some acid to the balance. Mouth-watering and well worth the mess.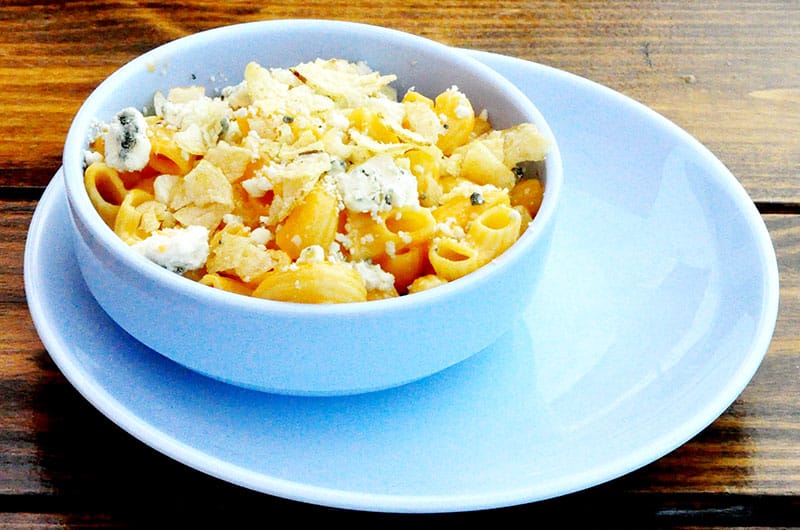 The new classic Buffalo Mac & Cheese is a bleu cheese lovers dream. A generous crumble of curds adds a rich brightness that compliments the well-sauced pasta, and a sprinkling of potato chips bring a salty crunch to the dish. Our favorite starter by far, though, were the Grilled Oysters (cover photo). The shellfish are grilled quickly to keep them creamy and never overdone, and a spoonful of fried shallot butter and garlic brings some savory to the brine. Believe me: six will not be enough!
Jetties has got to be one of the most idyllic places on Nantucket to relax with a drink in hand. Sandbar offers an extensive list of house cocktails and frozen drinks, wine by the glass or bottle, and all the right beers in cans plus local favorites on draft. Sit at the bar or put your toes in the sand and enjoy this prime location for summer sunsets.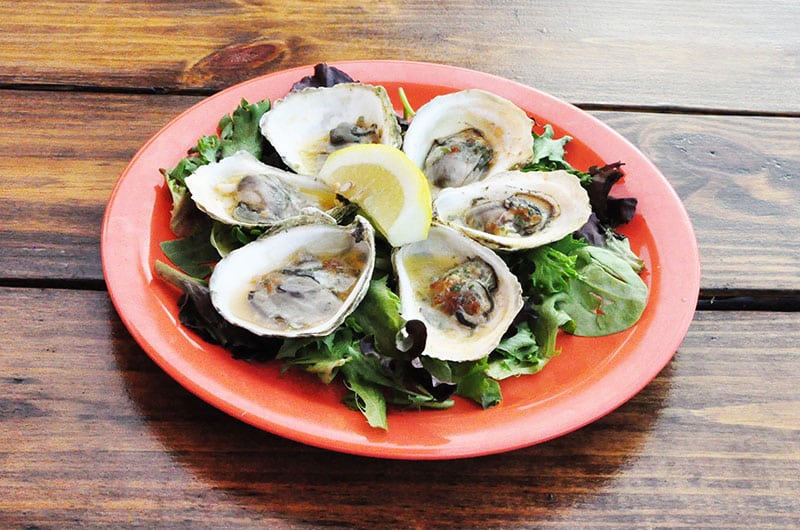 There aren't many places still honoring the tradition, but this island establishment is proud to offer the quintessential "Buck-a-Shuck." Come down from 3 to 5 pm for $1 oysters, and enjoy littleneck clams, shrimp, and some cool, satisfying ceviche. They also feature a limited menu with snacks, salads, and plenty of options for those hungry kids in tow. And when the little ones are done eating, send them over to the play ground just across the parking lot. It's built on soft sand with plenty of play options, and, best of all, it's within view of the patio.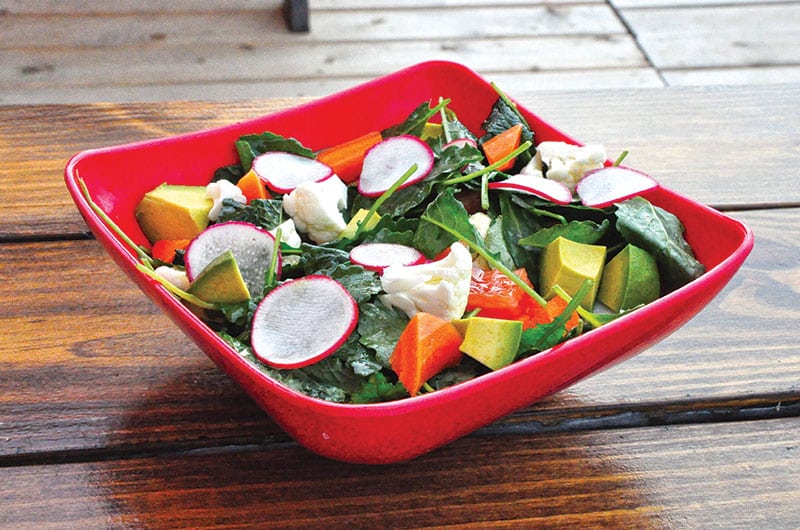 Speaking of salads, do yourself a favor and give these a try. The Kale Summer Salad gives that leafy green some much needed justice. Tender, subtly sweet baby kale is the star, but ripe tomato,buttery avocado, thin-sliced radish, and tangy pickled carrots and cauliflower shine just as bright. A sweet and sour lemon-honey vinaigrette brings everything together in beautiful, bite-sized harmony.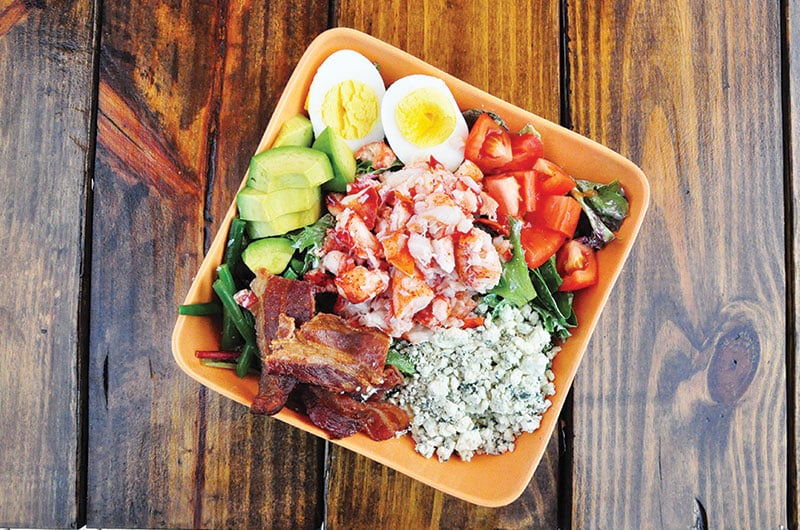 The Lobster Cobb is built to share and build-your-own. Bacon, egg, avocado, and bleu cheese sit separately in neat piles atop lettuce with a generous portion of sweet lobster front and center. It's big enough to pile on separate plates and share with the table.
When the ocean view starts calling your name and you decide you've had enough lunch, then head for the surf. Didn't bring your beach gear? Have no fear! The Beach Shop is attached adjacent to the restaurant and offers everything from towels, toys, sunscreen, and Sandbar apparel. There are even equipment rentals and changing rooms.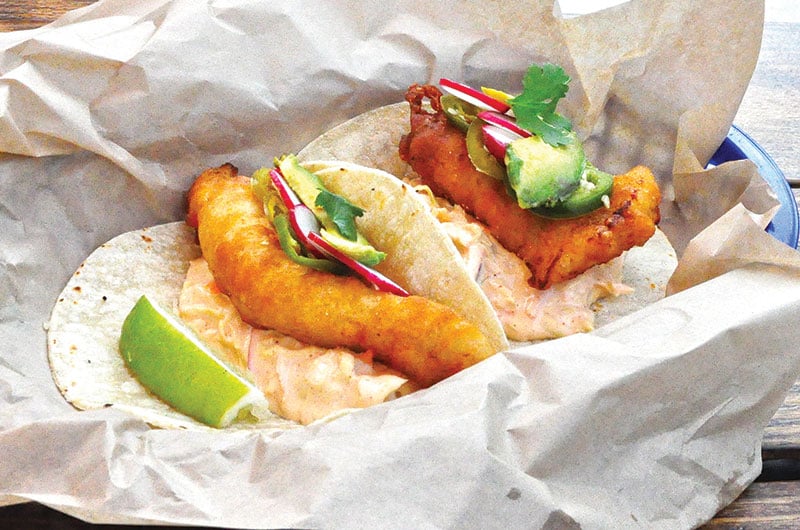 The evening we spent at Sandbar, a live band was pumping out classics until 6 pm, and our entrees were right on queue. We had been craving Fish Tacos for quite a while, and these did not disappoint. Two fresh, flaky cod fillets came wrapped in white corn tortillas, resting on a powerful house coleslaw beside a slice of avocado and peppery sliced radish. A squeeze of lime made every bite just right.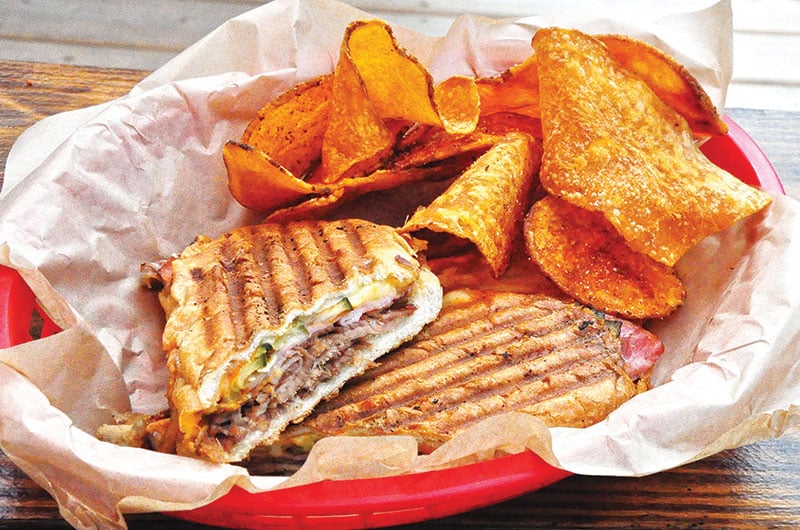 We hadn't had a good Cuban sandwich since our visit to Key West a few years back, so Manny's Cubano was a must for us. The sandwich is pressed and grilled and the crunchy, buttery crust hides the goodness within. Layers of smokey sliced ham, mojo pork, and melty muenster cheese made a mouth-watering marriage with a tangy pickle in every bite. It came with thick cut, golden brown, sumptuously seasoned house potato chips.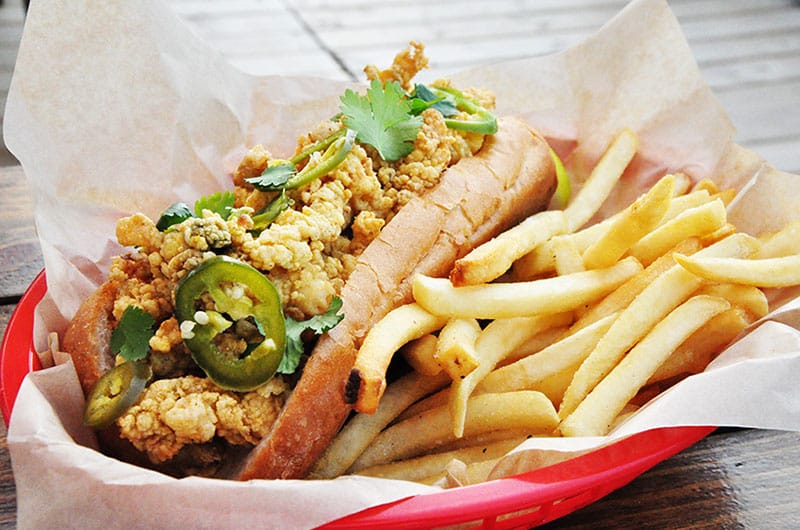 Chef Emmanuel "Manny" Rojas, former Chef de Cuisine at Nautilus and also of The Pearl, insisted we try his Clam Po-Boy, and he was so right. A mountain of whole belly fried clams flowed over the edges of a fresh, flaky roll. Underneath was more of the zesty house coleslaw, and on top thin slices of pickled jalapeño and fresh cilantro. A north-meets-south take on the New Orleans classic with a spark of the southwest. There wasn't a bite left on the plate.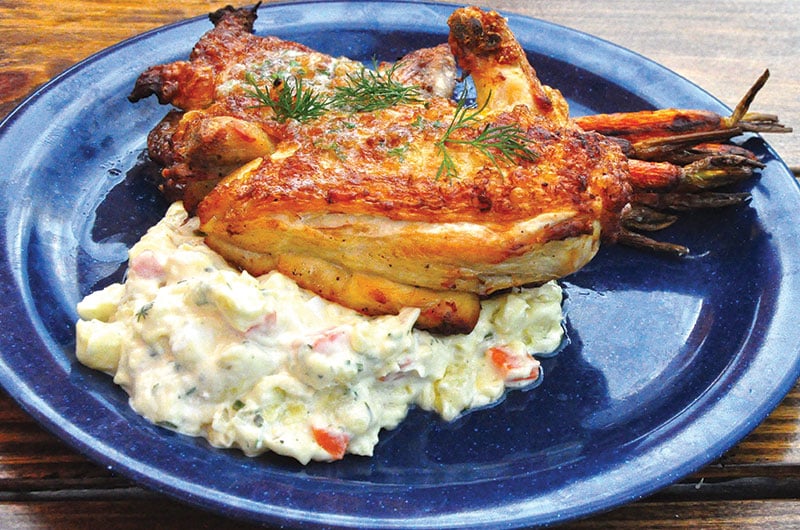 As the sun was going down, the Roasted Half Chicken came right on time. It was beautifully plated over house potato salad and roasted carrots, and you could hear the crisp of the skin just by looking at it. The chicken was deliciously seasoned and moist, the carrots were tender and sweet. The potato salad combined summertime flavors of dill and horseradish, and hidden throughout were more of those snappy pickled vegetables (an idea we might have to borrow for our next barbecue!). This dish brought deliciously different contrasts in temperature and texture and was our favorite for the evening.
It is very telling of an establishment when the staff are as happy as the customers. Our waitress, Nicole, greeted us with a sunny smile and was wearing it throughout our meal. All in all, Sandbar at The Jetties is the perfect spot for just about everything. The scenery, service, and food are all top-notch. And be sure to keep the Jetties on your radar: rumors are going around of a menu expansion at the end of June. We know we'll be back.
Sandbar at Jetties Beach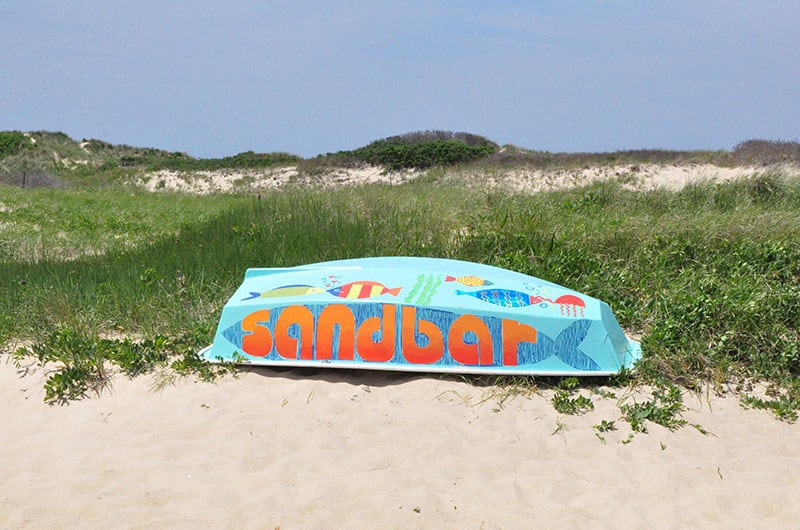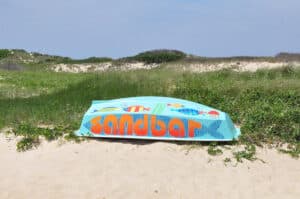 4 Bathing Beach Road • 508-228-2279 • jettiessandbar.com
Lunch every day but Wednesday • Dinner Thursday-Monday from 5 pm
Buck-a-Shuck from 3 to 5 pm
Most menu items range from $10 to $26
Call about private celebrations • Take-Out Available Summer Season
Full Bar • Major Credit Cards Accepted • Casual Attire