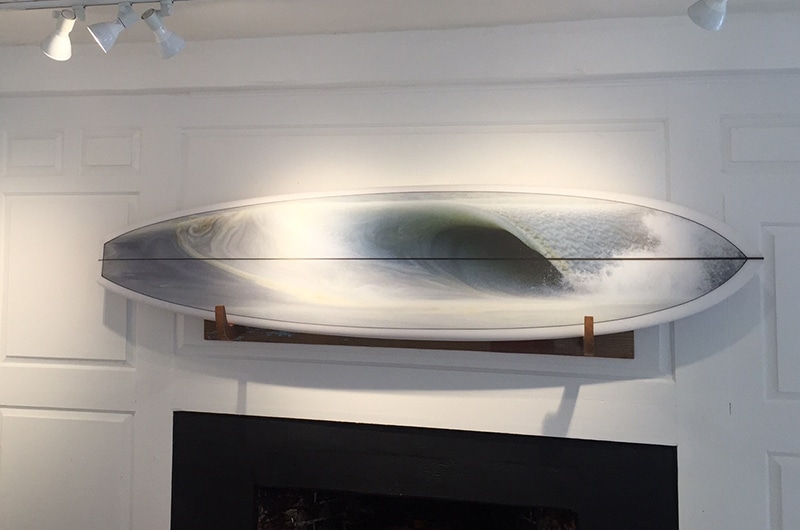 More than a year after his frozen "Slurpee Wave" photos became a viral Internet sensation, Nantucket photographer Jonathan Nimerfroh returns to The Samuel Owen Gallery with a new collection for the 2016 season, marking the event with an Opening Party Celebration on Friday, July 1 from 5 to 8 pm at The Samuel Owen Gallery at 46 Centre Street in downtown Nantucket.
Nimerfroh's moody compilation consists of six breath-taking Nantucket scenes, including the angry waves at Surfside with "Point of Breakers," the Sankaty Lighthouse on a foggy evening with "Lost in the Light," a surfer waiting for his next wave at Nobadeer in "Lone Surfer," and the perfect swell at Cisco Beach with "Cisco Dreamin'." Also to join them this season are two custom-made surfboards adorned by the two most recognizable "Slurpee Waves." Affectionately referred to as "Slurpee Surfcraft," these two original pieces of art, handcrafted by Southern California's Christenson Surfboards are fully functional in the water and measure 7'6″ long, a perfect addition to any art collection or surf enthusiasts' quiver.
"Imagine standing on a wave while riding on a wave," Nimerfroh smiles, referring to the finished pieces. Designing these boards was not without its challenges, however, with special consideration made for the photos in particular, which had to be specially printed on fiberglass, then embedded onto the board during the glassing process. The result is a stunning collaboration that both highlights the severity of Nantucket's unpredictable seas while in turn celebrating them as well.
For more information on Jonathan Nimerfroh's new collection, including the Slurpee Surfcraft, visit The Samuel Owen Gallery at 46 Centre Street, or visit samuelowen.com, or call 508-680-1445.
Samuel Owen Gallery specializes in contemporary art, both original works and multiples. In Nantucket, as well as in their gallery in the heart of Greenwich, CT, Samuel Owen Gallery maintains an extensive inventory of work by Damien Hirst, Shepard Fairey, Mr. Brainwash, CANTSTOPGOODBOY, Dale May, Eric Zener, Peter Tunney, to name just a few.