• by Sarah Teach •
It was 1983 when the brilliant and accomplished young con man was chewing his way through the Upper East Side's upper crust. Nineteen-year-old David Hampton turned the same trick several times over: he'd visit a wealthy household masquerading as a college friend of that family's Ivy League children. After blubbering out a just-been-mugged tale, the young scholar needed only a place to stay until his father, actor Sidney Poitier, arrived in New York the following morning. With each new set of clothes Hampton was given, the bait grew shinier, and Hampton dazzled his string of hosts with insightful intelligence. When an unwitting host eventually found Hampton out, the young man was arrested, charged, and eventually spent 21 months in state prison.  As the Hampton tale unfolded in the New York Times, playwright John Guare was captured.  He used the story as launching pad for his 1990 play, Six Degrees of Separation, which made it to Broadway within its first year of production. Three years later, Guare had adapted the play for a film that starred Will Smith as the con man, and ended up winning leading lady Stockard Channing an Academy Award.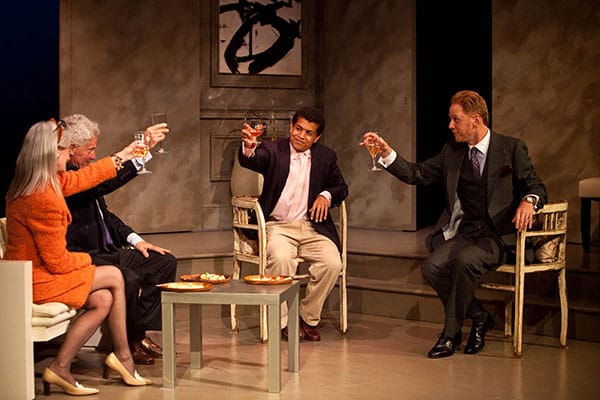 Theatre Workshop of Nantucket is ringing in 2013 by bringing the drama to Bennett Hall.  New York City based actor Chris Herbie Holland makes his TWN debut as Paul, everyone's favorite antagonist.  Holland's youthful, earnest expression of Paul is so impeccable that it dares the audience to perceive him as Paul in real life.  Ronan Bradley (Hustler) may be a TWN newcomer, but Nantucket certainly knows him now.  Seasoned TWN director Anne Breeding stars as Ouisa, the most affected of Paul's victims.  John Devaney brings his oddball energy to the stage as Flan, Ouisa's art dealer husband who is delighted by the influence that articulate Paul has on his South African investor, Geoffrey (played by New York actor Toby Miller).  The couple's friends, Kitty and Larkin (Pam Murphy and Chuck Gifford), and new acquaintance Dr. Fine (A.T Wilce) are miffed to find that they too have been conned out of some cash and clean sheets.  Vanessa Calantropo, Adam Noonan, Kaitlyn Burke, and Matt Huberman portray the victims' indignant children who lack the cultural prowess of Paul, who initially passes as the child every parent hopes to have.  Vince Veilleux (Rick)—regardless of role or show—is consistently interesting to watch.  Elizabeth (played by Janet Forest) serves as the purest victim of the story.  For her, Paul will always stick close by, but never once as a fun dinner party anecdote.  Caleb Kardell is intensely sexy as the needy Trent.  Peter Sendelbach is the only cast member who plays multiple roles as Detective/Policeman/Doorman, the token static character who doles out the characters' senses of justice–and injustice.
Costume Designers Anne Breeding and Molly Martin have synthesized fabulous outfits that are reminiscent of the retro roots of the early eighties; Bruce Diltz's set dressing brings us to the same place.  Lighting designer Sandra Galley starts slow and gradually crescendos with a deeply emotional plum that borders the scene on psychedelic.  The cast's perceptions of reality and truth are being altered; it's Galley who whisks the audience along for the ride.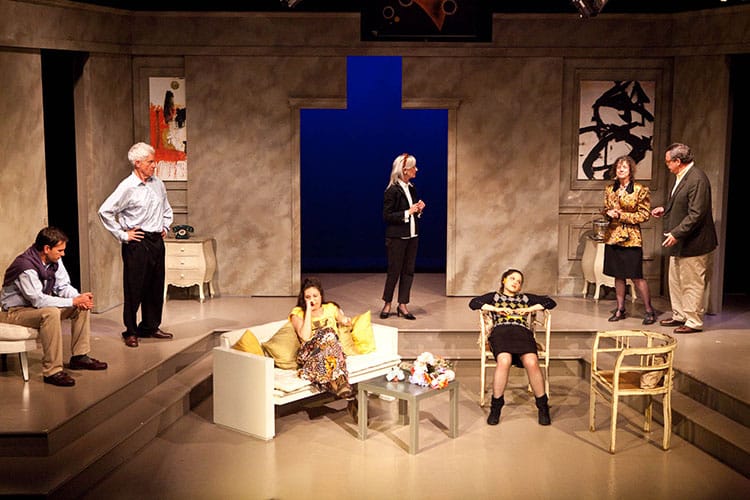 As it requires a cast of 16 meaningful parts, Six Degrees is not an easy show to pull together, but director Kate Splaine is TWN's Queen Midas.  Her thoughtful direction gives this show its limber creative legs.  After all, any theatre can choose a smart script, but without a good director, the show will spin around a couple times then go belly up.  Long live the queen; I hope to see much more of Splaine's work at TWN in years to come.
The play's title refers to the theory that there are no more than six acquaintances between every person on the plane.  And we're not just talking about the Joneses; as Ouisa says, we are all linked to "…A native in a rain forest.  A Tierra del Fuegan.  An Eskimo.  I am bound to everyone on this planet by a trail of six people.  It's a profound thought."  The six degrees theory says that the location or ethnicity of our mutual counterparts is irrelevant (regardless of whether social standing and race are relevant in our everyday lives).  Guare's play claims that theory is true whether or not we like to admit that relevance.  The audience leaves the play wondering about the lives of the people to whom we are so close yet so far.  What struggles, what joys might you and that rain forest native share… or the person on the other end of town and the income spectrum?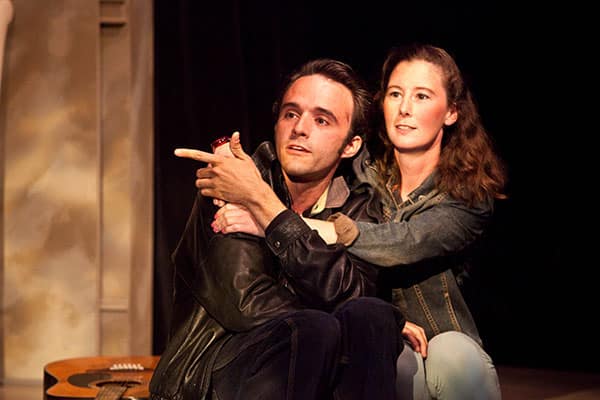 If you were in New York in the early 80s, you may well have passed the real David Hampton on the street.  If you had met him, you might have even allowed him into your home.  But did David Hampton, con artist extraordinaire, ever become anything but an anecdote of the wealthy New Yorkers who he had ripped off?  Sadly, he died alone in 2003 of AIDS-related complications.  If you were alive in 2003, it's safe to say that there are fewer than six people between you and this incredibly adept man who met an unfortunate end.
The line I overheard from a fellow theatergoer after opening night sums up my recommendation for this show: "It's hard to believe that this is community theatre."  I plan to go again towards the end of the production to see how this already excellent show matures.  And speaking of maturity, don't bring the kids to this one due to nudity, hard language, drug content, sexual content, and violence.  Six Degrees shows at Bennett Hall through June 22 on Thursdays through Saturdays at 7:30 p.m.; Sunday June 2 at 3:00 p.m., and Sunday June 9 & 16 at 6:00 p.m. Running time is 90 minutes with no intermission; tickets are $30 at TheatreWorkshop.com and worth every penny.