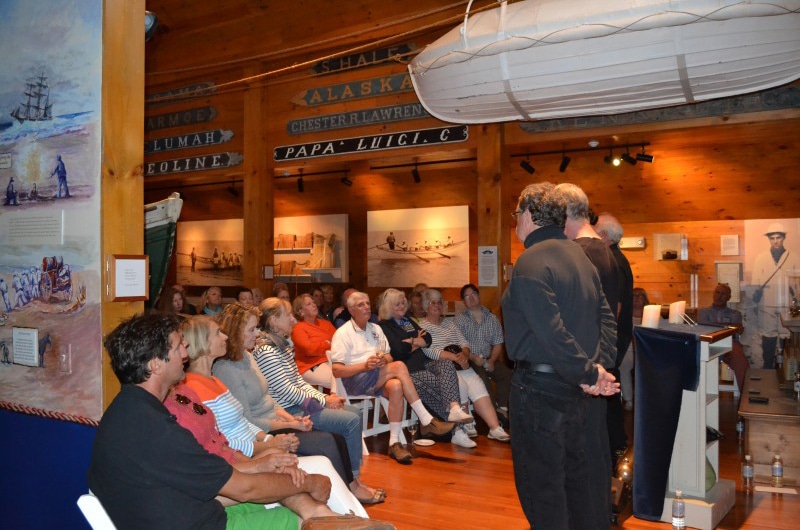 "You have to go out, but you don't have to come back…"
Thursday, June 21, Nantucket actors and musicians will bring island's valiant lifesaving stories to life with dramatic readings set against the backdrop of the Nantucket Shipwreck & Lifesaving Museum Shannon Gallery and original 1914 Massachusetts Humane Society surf boat, Siasconset.
Museum Director, Lisa Lazarus, shares that patrons will hear, "heroic feats such as the rescue of the crew aboard the H.P. Kirkham by celebrated Nantucket keeper Walter N. Chase and his Coskata lifesaving crew on a cold January night in 1892. This is a fearless tale of rescue and perseverance that occurred fifteen miles off of Great Point on the Rose and Crown Shoal and took more than 24 hours."
An Evening of Shipwreck Stories & Sea Shanties will end with a lively performance of song. Fitting with the evening's theme, sea shanties were used by lifesavers and sailors to foster synchronicity while rowing. This powerful evening of story and song is a truly special, authentic Nantucket experience.
An Evening of Shipwreck Stories & Sea Shanties is presented by The Egan Maritime Institute (Egan Maritime at the Nantucket Shipwreck & Lifesaving Museum, 158 Polpis Road. Tickets are $25 ($20 for Egan Maritime members). Doors will open at 5:30 pm, when libations and lite fare will be served. The performance will begin at 6 pm. To purchase tickets call 508-228–2505 or visit eganmaritime.org
Egan Maritime's Nantucket Shipwreck & Lifesaving Museum is celebrating its 50th Anniversary Year showcasing 2018's special exhibition Courage & Calamity, 50 Ships Against the Sea. Hundreds of years ago more than 200 merchant ships passed by Nantucket every day. Forging through wind and waves, they sometimes never made it to their final destinations, foundering off the treacherous shoals that surround our tiny island. Shipwrecked! These are the stories of some of the more than 700 ships that wrecked in our waters and the brave men and women who came to their rescue. The museum is open to the public Monday-Saturday, 10 am to 5 pm and Sundays noon to 5 pm. Admission is $10 for adults, $5 for ages 6-18, and free to those under 6.