by Jenny Benzie, Advanced Sommelier of Épernay
It has often been said many times that the island of Nantucket takes a big sigh as soon as the month of September begins. Time to catch up on whatever was left behind to enjoy summer days and also an opportunity to gently transition into what will soon be the holidays before we know it. Nantucket is a very friendly, neighborly island where we love to support each other as we roll into this shoulder season. Here is a selection of Nantucket highlights to enjoy this time of year and the perfect wine pairing for such splendor.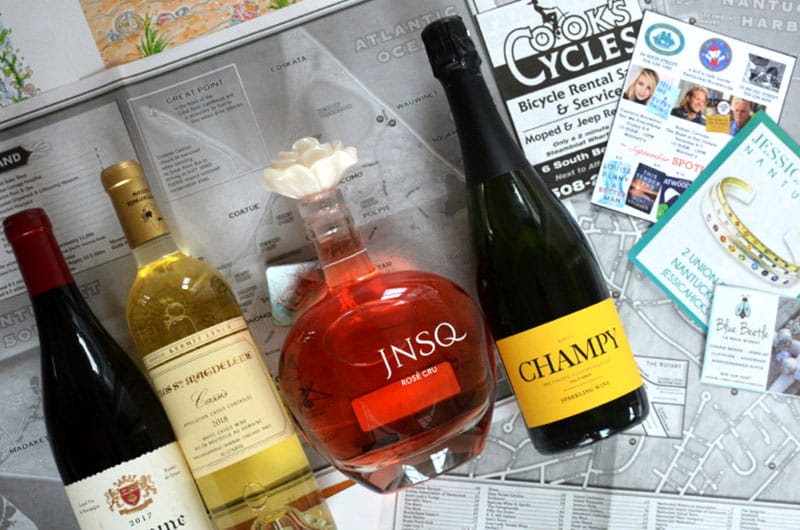 BOOKS & BUBBLES
Rob Cocuzzo is no stranger to adventure or writing about it. His latest book about to be released, The Road to San Donato, is an adventurous travel memoir of an American father and son tracing their Italian heritage on a bicycle trip. With only their bare essentials, Cocuzzo and his 64-year-old father embarked on a torturous 425 mile from Florence to San Donato Val di Comino, an ancient village hidden in the Apennine mountains from which their family emigrated over a hundred years ago. After finally reaching their destination, they both discover so much more than just their own family history, including that of many who were exiled during World War II.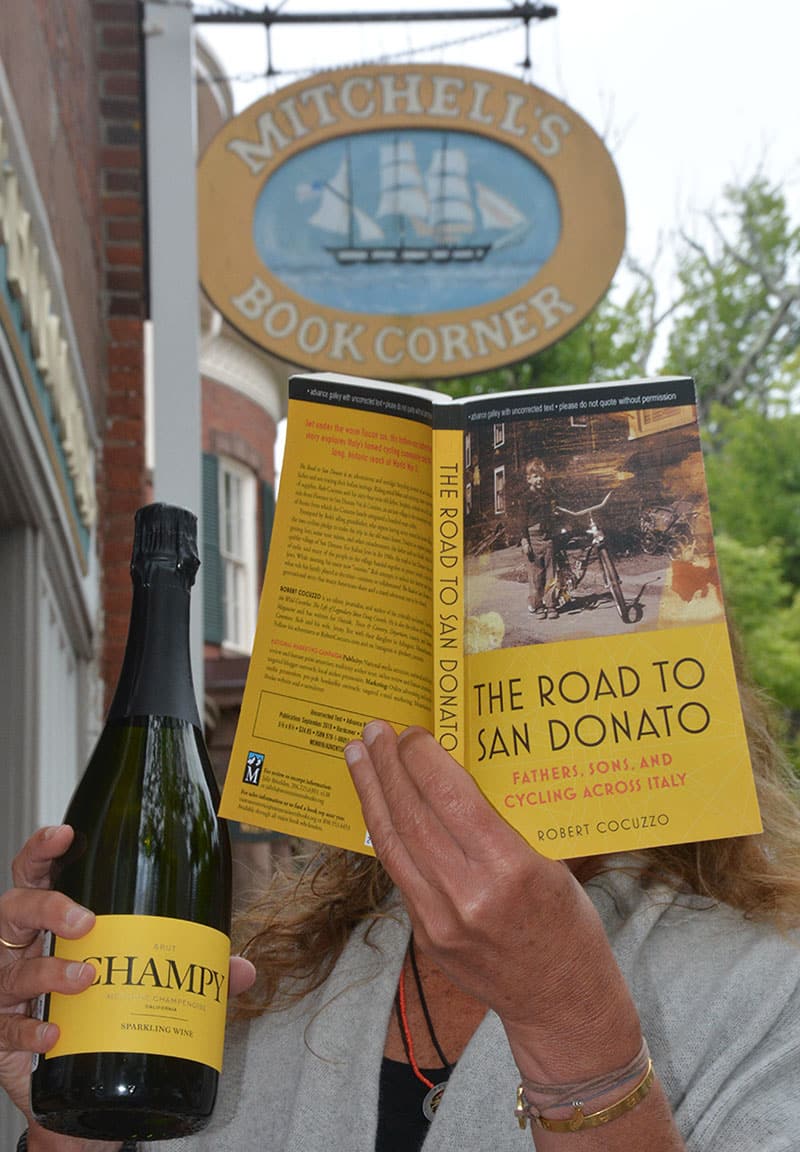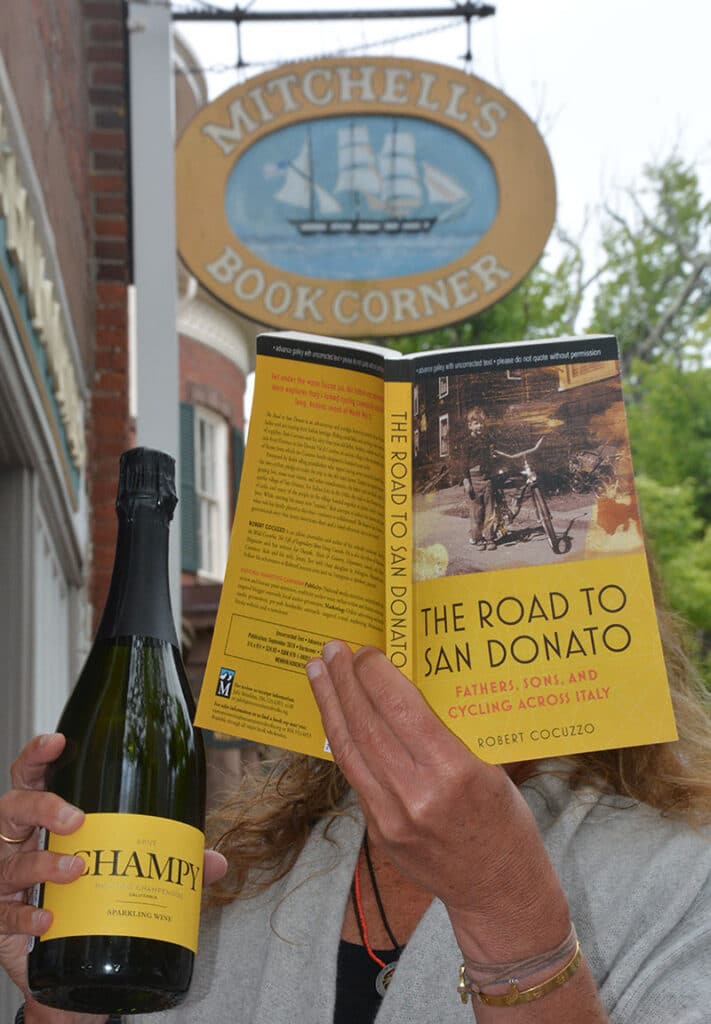 There are a couple of opportunities to meet + greet with the author this weekend to learn more about this story of fathers and sons, discovering lost "cousins" and how history unveils, along with the challenges and exhilaration of traveling by bicycle. The Nantucket Dreamland will be featuring Dreamland Conversations Presents: Rob Cocuzzo on Friday, September 5, at 5pm. Mitchell's Book Corner at 54 Main Street will be hosting a book signing with the author on Saturday, September 7, from 10:30 am to 12 noon.
Meanwhile, Cocuzzo's Emmy award-winning wife Jenny Johnson is the mind behind the sparkling wine brand Champy. This lively brut hails from Sonoma County and is a blend of Chardonnay and Pinot Noir. It is made in the same method as Champagne in which the secondary fermentation that creates the bubbles occurs in the bottle. Soft, lush, and creamy in the mouth, this bubbly has hints of citrus flower on the nose and bright notes of sweet green apple and ripe stone fruit on the palate. Cheers to family time on Nantucket in the fall!
CASHMERE + CASSIS
As the weather turns a little brisk at night on Nantucket, now is the time to purchase what will surely be a staple wardrobe piece for months to come. Keep Nantucket close to your heart and get cozy with an exclusive Nantucket Island Cashmere Sweater from island boutique Blue Beetle. This tunic style sweater features side slits that make it comfy for traveling to and from on the Hy-line Ferry to your favorite fall destination. The detailed sleeves are flattering on everyone and add a close-knit sense of comfort. This sweater is available in a variety of popular colors, including Sky Blue, Navy, Dark Navy, and Birch.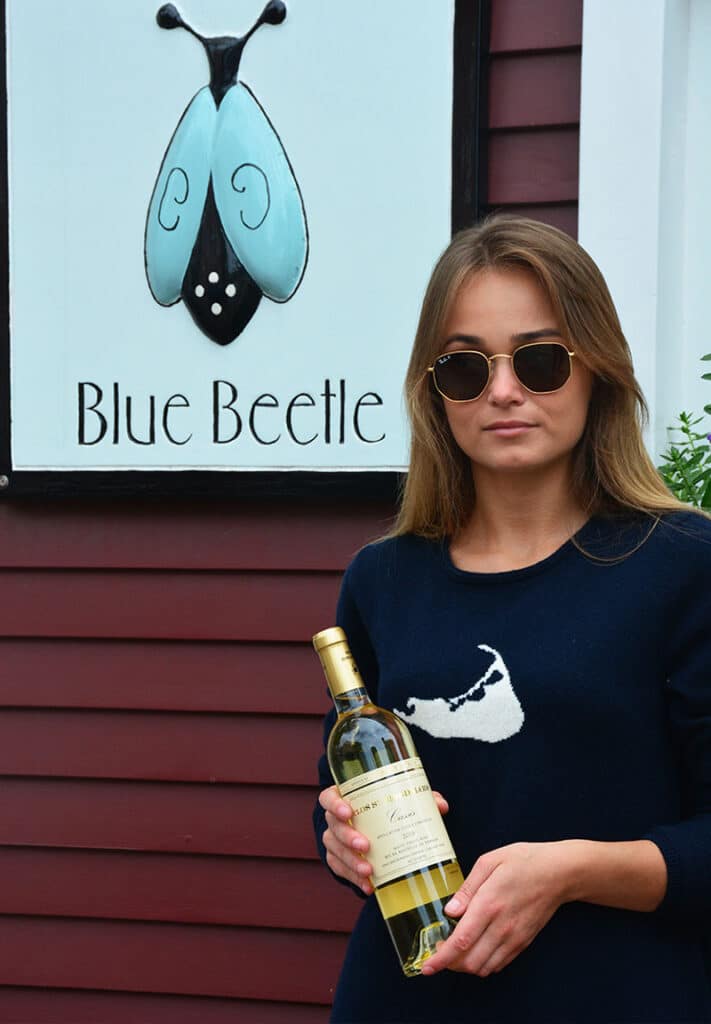 Cooler weather calls for a heartier white wine to enjoy while watching sunset, yet without the heavy oaky flavor. Clos Sainte Magdeleine Cassis Blanc is a beautiful expression of Provençal white wine made from Marsanne, Ugni Blanc, Clairette and a touch of Bourboulenc. The organic vineyards are planted on abundant white limestone literally on breathtaking cliffs that overlook the stunning Mediterranean sea below. This brings a mineral, coastal salinity to the wine. Hints of yellow flowers, citrus and peach are all prevalent on the nose, with focused finesse on the long lasting palate of this wine. A toast to cooler weather and the influence of the sea!
JEWELRY + JE NE SAIS QUOI
The holidays will be here before you know it. Time to get a jump-start on that holiday shopping for yourself! Jessica Hicks Jewelry, located at 2 Union Street, creates gorgeous, high-end jewelry with Nantucket inspiration in mind. Her pieces aptly reflect the beauty and splendor of the ocean waters with her coral necklace, along with the peacefulness of nature in her monarch wings earrings. Her classic, signature "Lorraine" collection features handdrilled holes, including a selection of lightweight aluminum earrings that have been anodized with bright fun colors. Buying a different piece each year is a great way to begin a new holiday tradition as you mix and match her different styles of rings, bangles, and more together.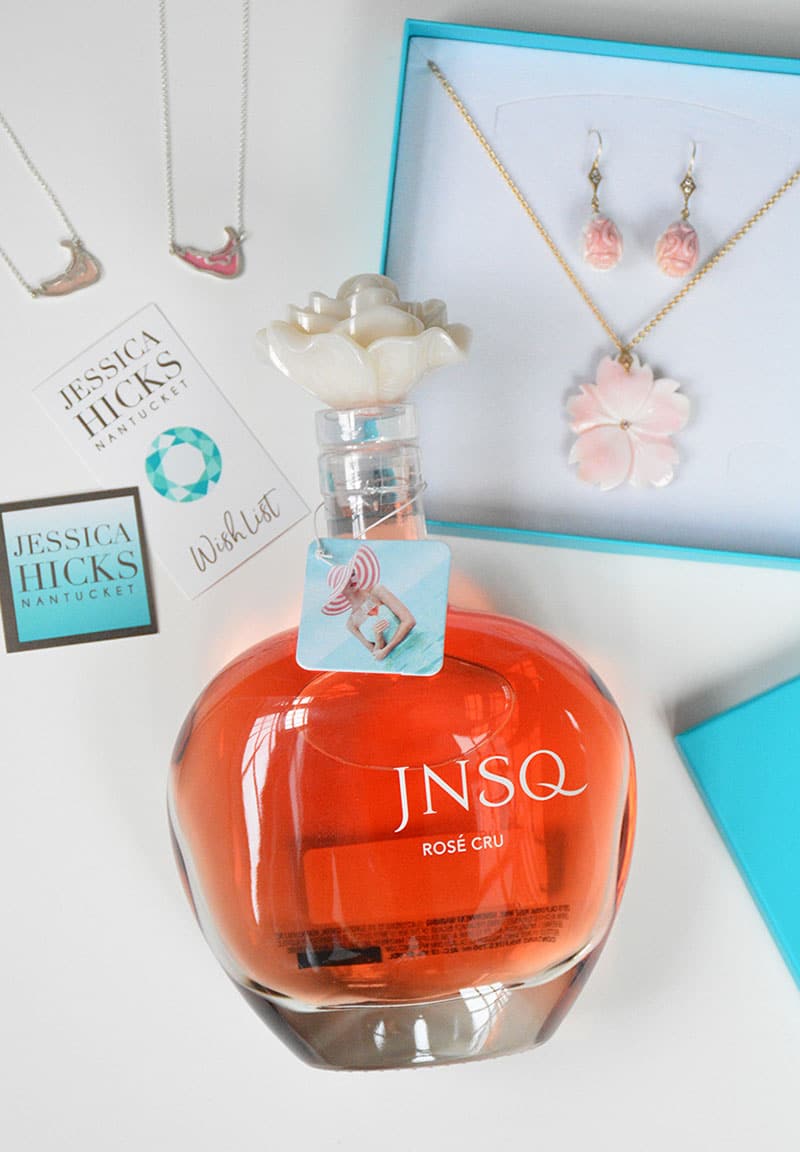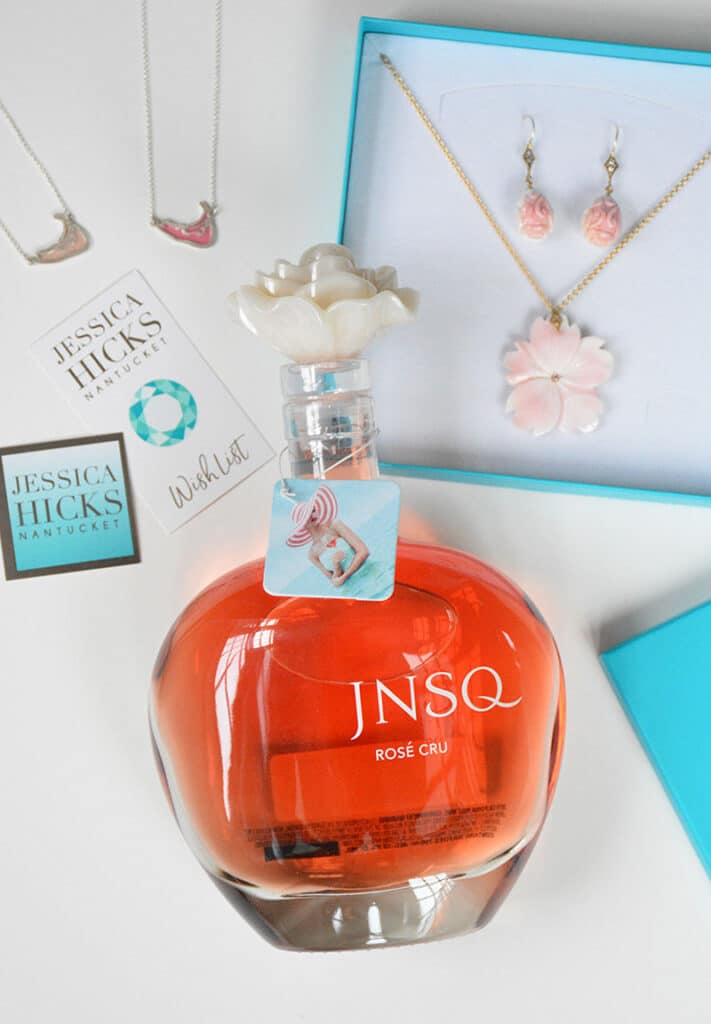 The "Je ne sais quoi" of Jess's jewelry is equally matched with a wine of a similar name. JNSQ Rosé is a California wine with a French accent. This aromatic pink wine is made from a blend of Grenache, Pinot Gris, Syrah, and Viognier grown in California's Central Coast. It has dynamic flavors of fresh strawberries and white floral notes. It is an excellent option for any gift-giving occasion, such as a wedding celebration or bachelorette party. After the party, the unique, collectable wine bottle makes for a beautiful vase and the signature floral bottle stopper is reusable for your next soirée.
BIKES + BURGUNDY
One of the best ways to see all the fall flora and fauna of the island is by taking a leisurely bike ride. The island has more than 35 miles of bike paths that stretch from Madaket to 'Sconset, with several spokes in between. Young's Bicycle Shop and Nantucket Bike shop, both conveniently located downtown on Broad Street, has all the latest bikes and accessories for your beach runs, brewery jaunts and beyond for a day of cycling. Rent for the day or week, ask about drop-off and pick-up service for cycling ease.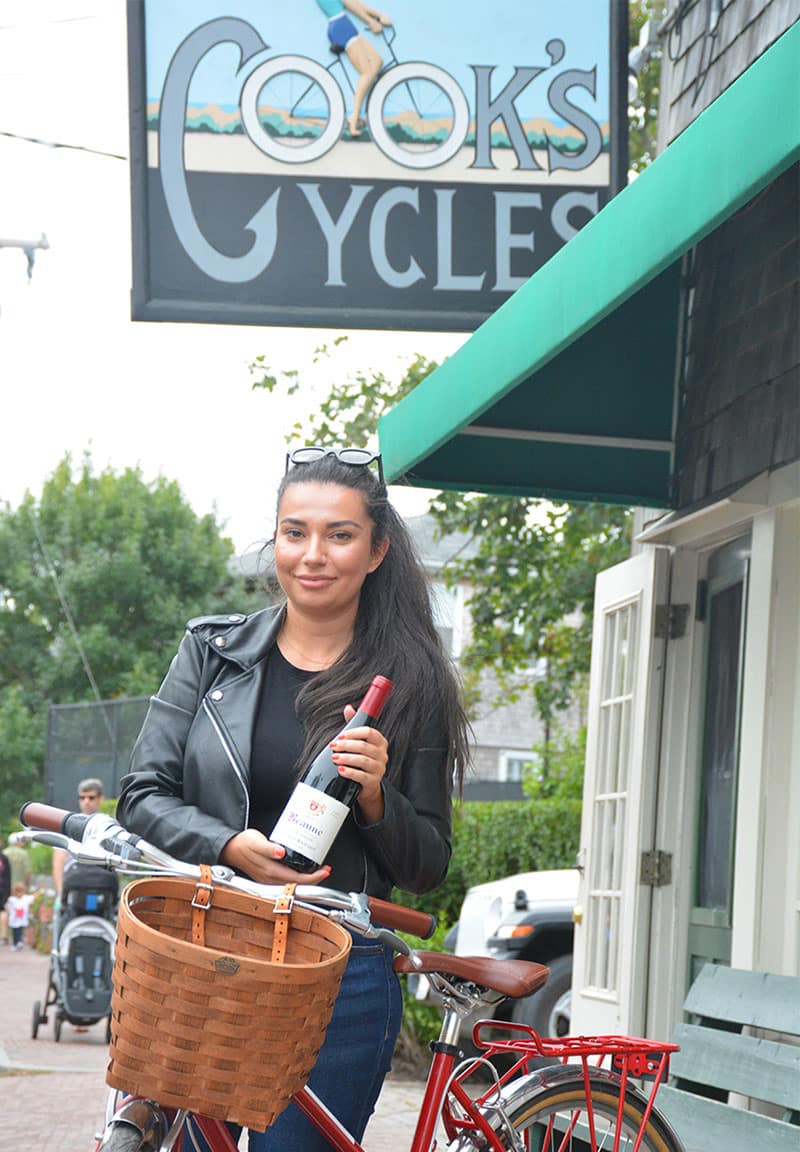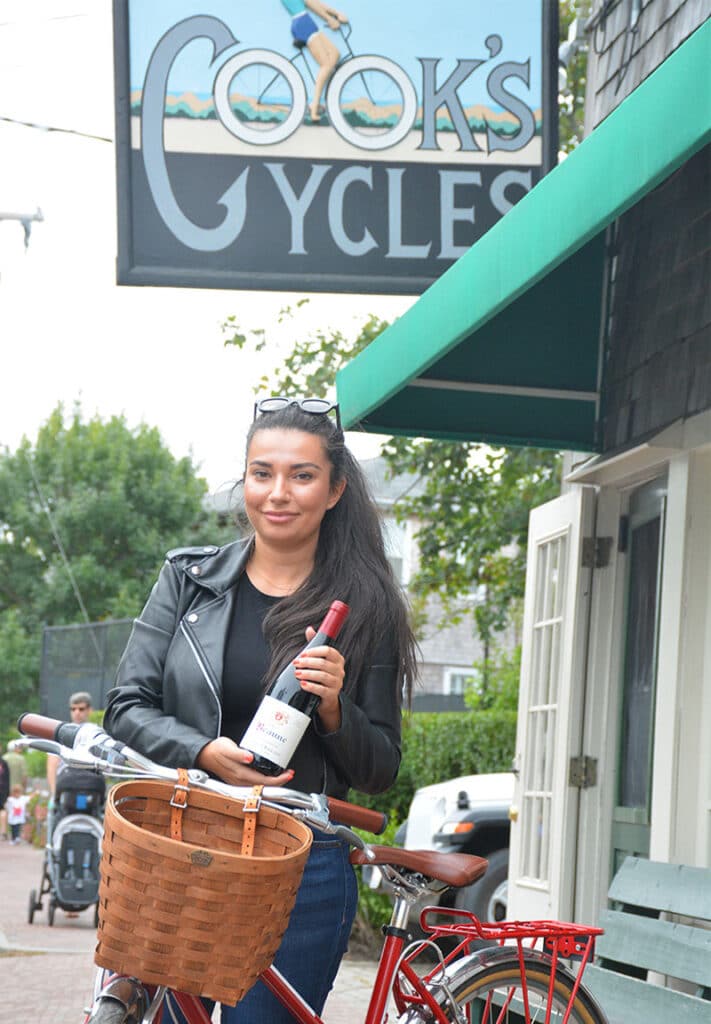 Another great place to tour by bike is Beaune, the sister city of Nantucket, located in Burgundy, France. Since you rather be on Nantucket at the moment, why not drink a lovely red wine from that region instead? Arnaud Baillot Beaune "Montrevenots" is made from 100% Pinot Noir. Having worked with the diversity of vineyards that the Burgundy region has to offer, Arnaud and his wife Lauren purchased this small vineyard as the beginning of their own estate produced wines. This French beauty has aromas of cherry, fresh cedar, and earthiness. The structure is fresh and silky, with mellow tannins that want to just keep you pedaling for more. Remember proper bike etiquette: wear your helmet, always stop at stop signs, and use a light at night!
Wherever this shoulder season may take you, may Nantucket be tucked firmly in your heart and mind. For those of you who remain steadfast here through the winter, now is your time to relish in the glory of what September brings!