by C. Oscar Olson
When it comes to finding food in downtown Nantucket, there are lots of great places to choose from. For us, outdoor dining is always ideal, and with more options than ever this summer, we're starting to see a silver lining in everything we've been through. However, not all porches and patios are created equal. There is just one that comes complete with harbor views, sea breeze, spacious seating, and fast, friendly, family fun. There's nothing on island like our own harborside oasis at Easy Street Cantina.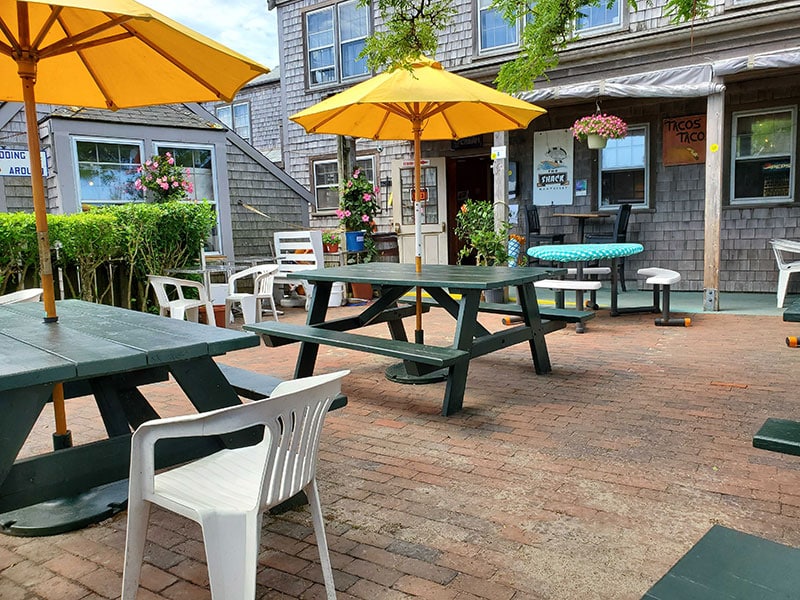 Easy Street Cantina is conveniently located on the corner of Easy Street and Broad Street, the last stop before the Steamship Wharf. Their garden patio safely seats several groups large and small, and there's plenty of room inside the restaurant as well. Place your order at the window and in minutes your food is ready, so you can grab a table or take it to go. They also offer convenient call-ahead curbside pick up so you don't even have to leave your car.
The menu runs the gamut with Mexican standbys like tacos, burritos, and enchiladas. If fresh fried seafood is what you're after, then look no further for favorites like hand-breaded fried clams or beer battered Atlantic cod. In addition to the homestyle classics like burgers, clubs, and subs, Easy Street boasts the biggest and best breakfast menu on Nantucket, and they offer it all day long. So whether you're up early or working late, you can get the fuel you need for all your island adventures.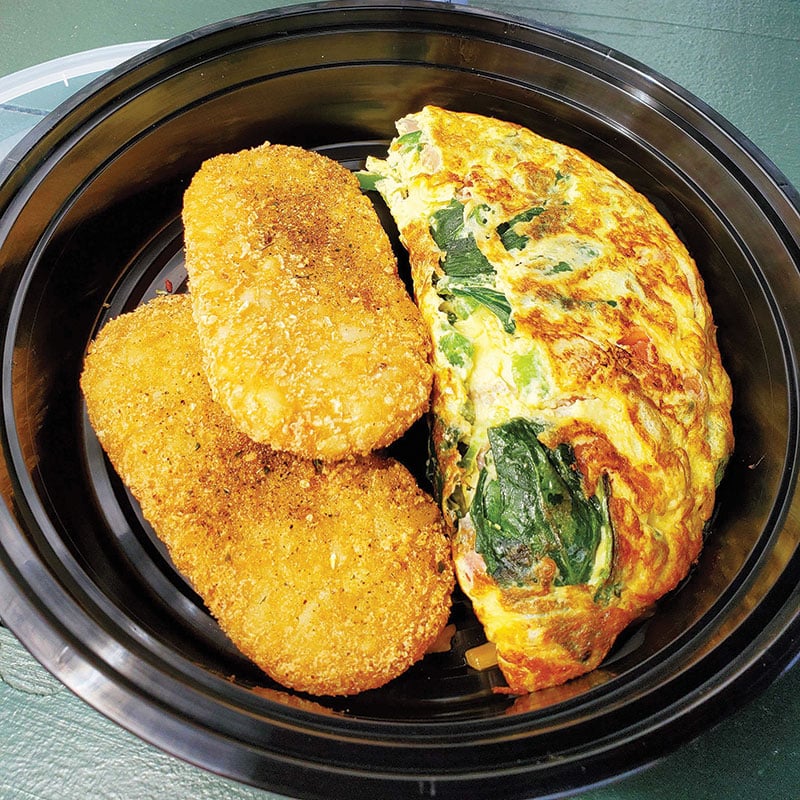 We started our Sunday brunch with a fantastic fully loaded Veggie Omelette. Three eggs envelop fresh spinach, mushrooms, onion, tomato, and green pepper with just enough melty cheddar cheese in every bite. We opted for hash browns over homefries, and their perfectly seasoned crunch was an excellent companion to our first dish.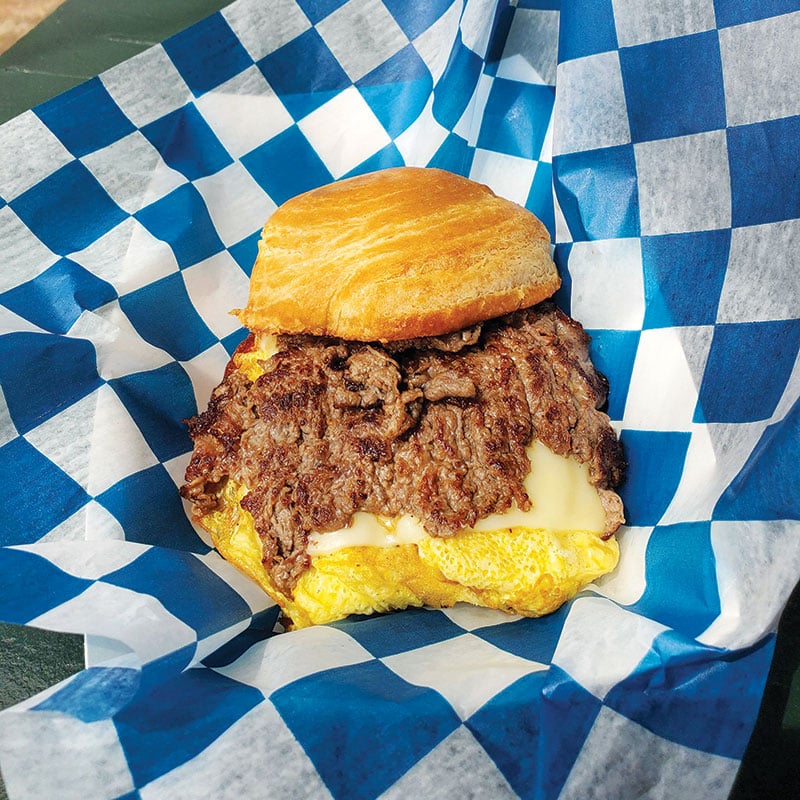 Omelettes are customizable at Easy Street, and so is just about everything else. Get your breakfast on a bagel, bun, English muffin, or, our favorite, the flaky, buttery croissant. The Steak, Egg, and Cheese is one hearty handful! It has the best balance of savory steak and scrambled egg and was as satisfying as it was piping hot.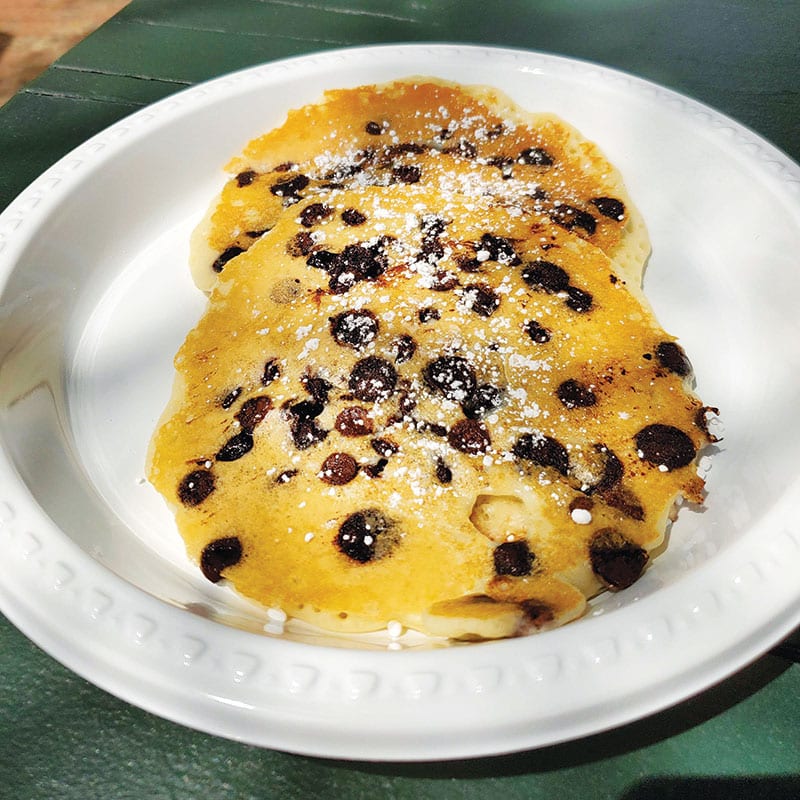 For the kids and the kid in all of us, pancakes are always a sure shot. Light, fluffy, and golden brown, they can be served in several different ways with the topping or filling of your choice. We can never say no to chocolate, so the Chocolate Chip Pancakes made for a tantalizing midday treat. They always come with plenty of maple syrup and an added extra of house whipped butter.
And don't forget the coffee! Easy Street Cantina is one of the few that grind fresh, and the Kona beans they use are rich, full bodied, and never bitter.
Everything you order can be eaten inside or out, or wrapped up to go for all of your island adventures. Convenient containers bring breakfast to the beach, lunch to the lighthouse, or dinner to the dunes.
Almost everything at Easy Street is made or finished with owner Bartholomew's own Nantucket Island Spice. It contains an exotic blend of dehydrated vegetables and herbs, along with sea salt from the waters around Nantucket. It adds a fresh, savory blast to everything except maybe the pancakes, but don't knock it till you try it! Add a jar to your order and take the taste of Easy Street home with you.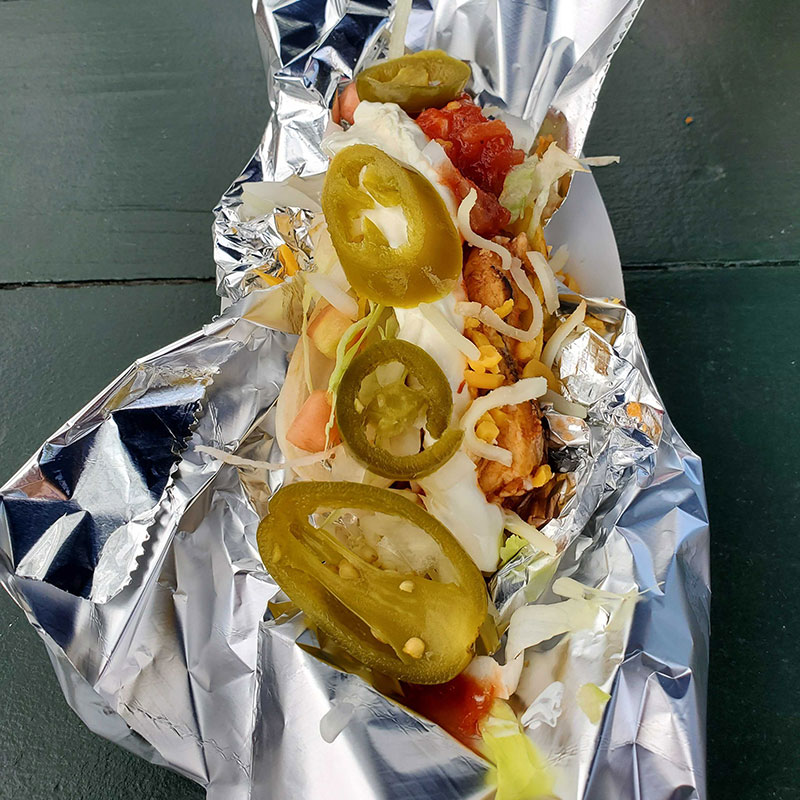 Crunch in to the hard shell Chicken Taco and you'll be wishing you ordered more than one. The flavors and textures keep coming with ripe red tomatoes, fresh salsa, refreshing lettuce, and the spicy tang of pickled jalapenos surrounding tender chicken and topped with a dollop of sour cream.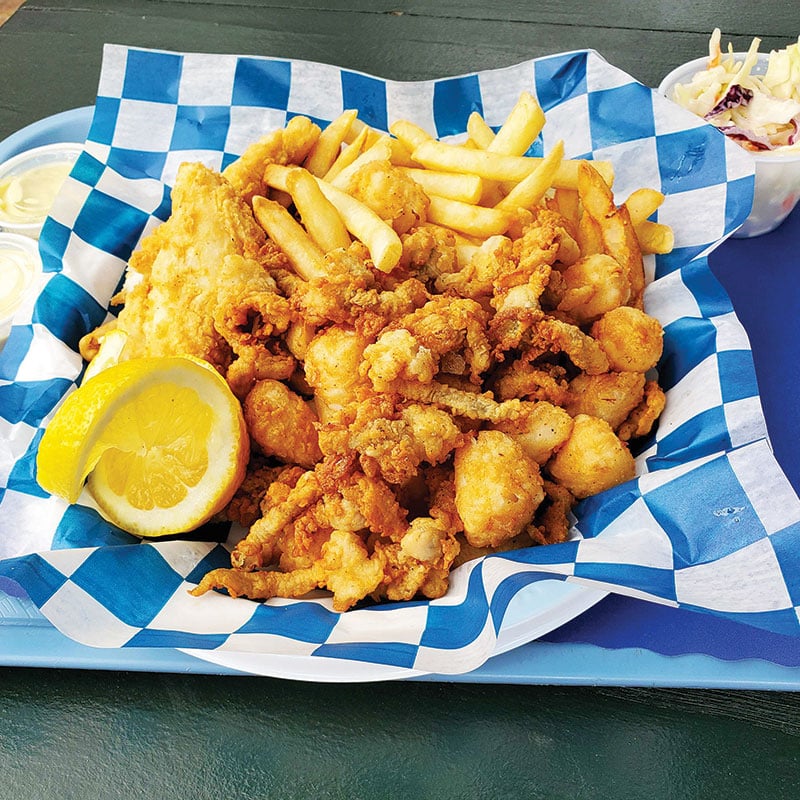 We just can't visit the Cantina with a taste of our favorite Fisherman's Platter. This dish is truly a taste of Nantucket. It's packed with all your favorite seaside staples–fresh clams, scallops, and flaky white cod–deep fried for a delicious golden crunch with hot, crisp french fries. We love the tang of the homemade tartar and the fresh crunch of the slaw. A feast on it's own, and if you share, this dish makes a great starter to any meal.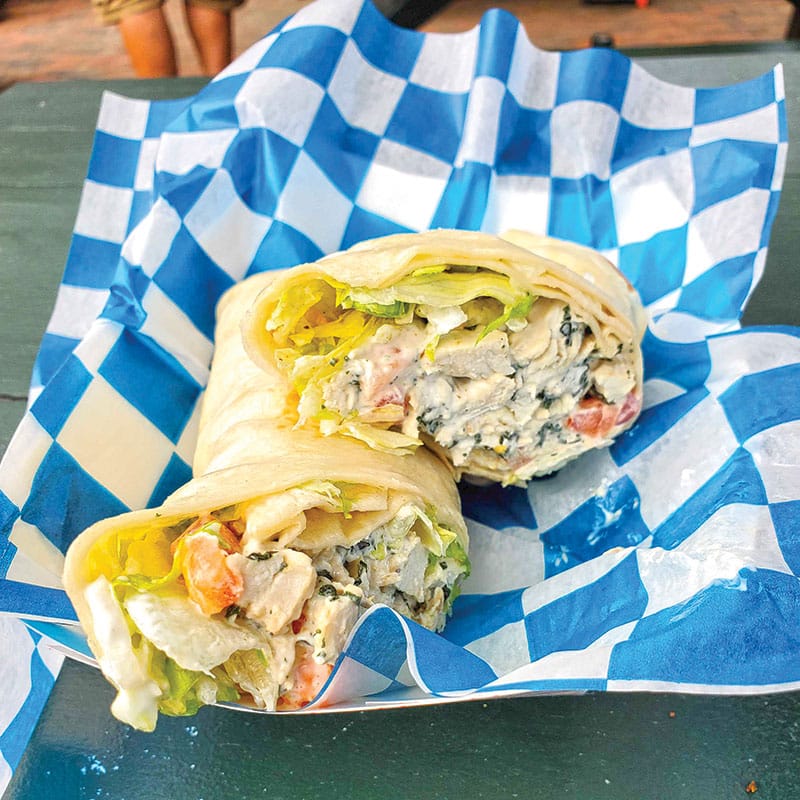 For fresh food on the go, all of their wraps are portable perfection. The alluring, herby aroma of the Basil Chicken Salad is ideal for a hot summer's day. Moist white meat, lettuce, tomato, and plenty of fresh basil make this handheld hard to put down.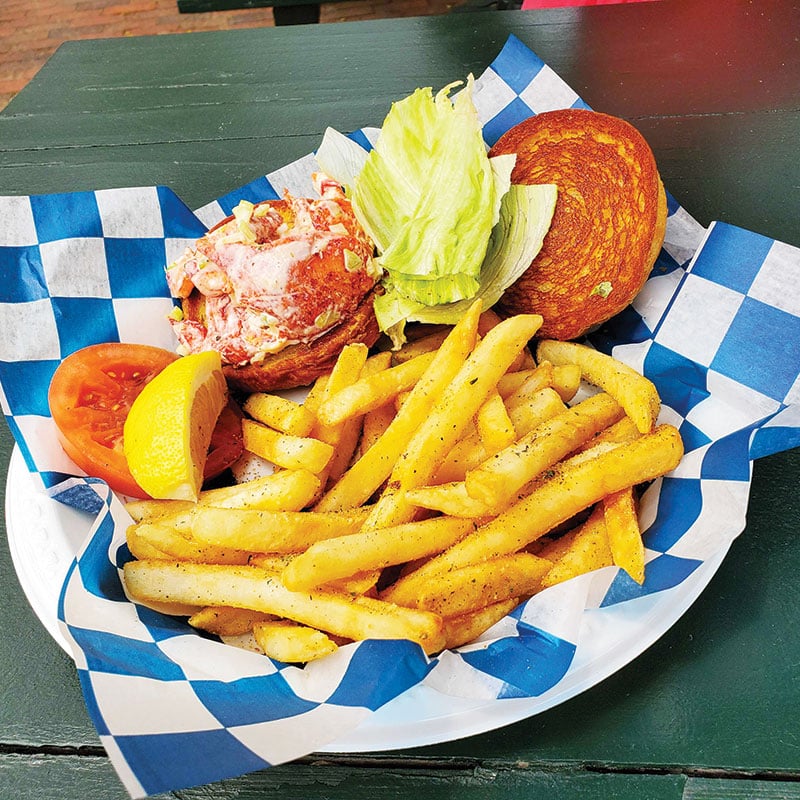 Everything on the menu is an incredible value at Easy Street Cantina, but we think the best deal by far is their Lobster Roll. This Cape Cod classic has loads of lightly dressed fresh lobster and is served on the bread of your choice. It comes alongside seasoned French fries and we love it on a warm, grilled croissant with cool, crisp lettuce and just a touch of lemon.
Still hungry? The desserts are divine on Easy Street. Home of The Nantucket Cookie Company, the bakery makes specialty cookies, gift tins, gift baskets, scones, muffins and more. Sip a shake made to order or end your meal with ice cream.
The team at Easy Street Cantina never takes shortcuts. Everything on the menu is made from scratch and prepared with care, and the attention to detail on every plate is what keeps us coming back.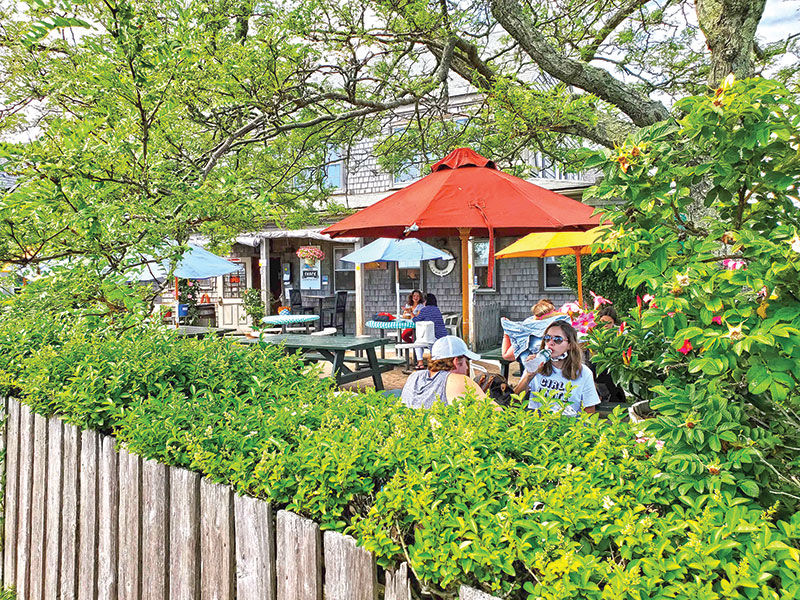 Owner Bart Gangemi has been serving the Nantucket community for close to 30 years. Throughout that time, he has given back over $1,000,000 to islanders and visitors with his 10% discount program. Valid all year 'round and available on their website, it's something rarely seen on Nantucket or elsewhere. It puts on display The Cantina's passion for their patrons and the island as a whole. Head down to Easy Street and bring some friends, because the prices are great and the food is fantastic.
Easy Street Cantina • 508-228-5418
Corner of Easy & Broad Streets • easystreetcantina.com
Open Every Day
Breakfast foods served all day with prices from $8.95 to $13.95
Prices range from $4.50 to $29.95
Indoor Dining, Outdoor Dining, Window Service, & Takeout
Party Platters available
Home of the Nantucket Cookie Company:nantucketcookiecompany.net