• by Sarah Teach •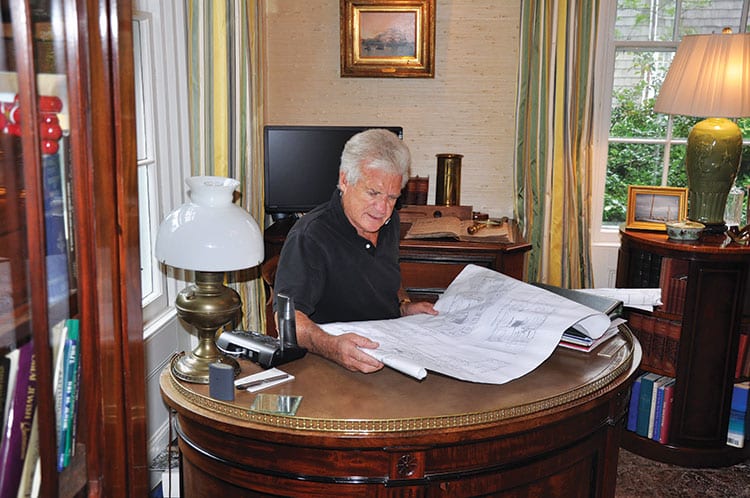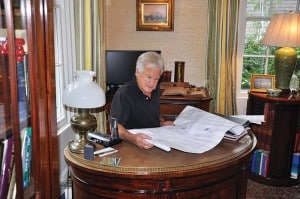 One would think that being a fine wine aficionado and restaurateur is enough of an enterprise in life.  Mark Goldweitz, owner of the Nantucket Wine Festival, partner at several restaurants (including Grill 23, which is widely acclaimed as one of Boston's best steakhouses), and owner of full-service real estate management firm Garrison Square Management, is most passionate about his work reviving homes that are part of Nantucket's fabric.  "I love restoration," Goldweitz says, and then admits, "I can't sing or draw or paint or do anything artistic, but," (he pauses; his eyes twinkle as he lifts his index finger) "I can look at an old house and see what it could become."  A rescuer of decrepit historic houses, Goldweitz strikes you as more of a knight in a shining Land Rover than a hard hat-wearing hammer-and-nails craftsman. But every great construction team needs an equally great creative team behind them.  "I [start off with] the vision," Goldweitz begins, "I come up with a rough idea of what the house will look like, and then my architect fine-tunes everything.  One thing we always do is we keep the historical configuration [of a house].  And my end goal," he says, "is to make a house look like it always has been that way."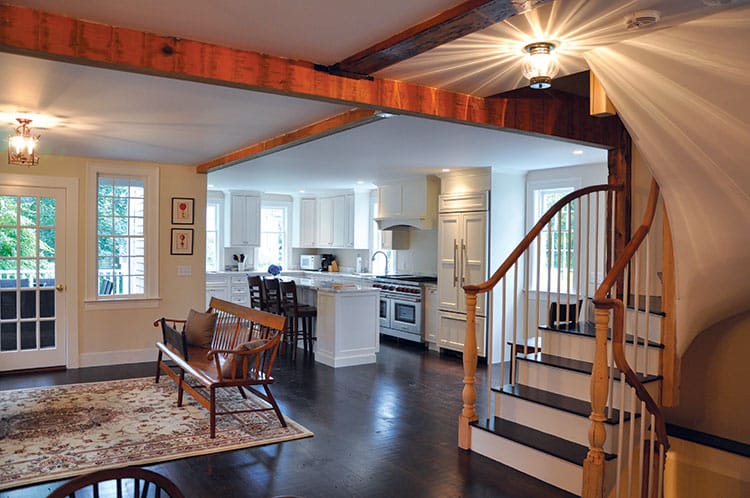 Goldweitz has had a lifelong relationship with the island. "When I was a kid in the 50s," he says, "My mom and dad and my little brother and sisters used to come to Nantucket for a week."  Goldweitz smiles and directs my attention to a black and white picture framed on his desk.  "There we all are, with our rental bikes from Young's," he says fondly as he takes a moment to gaze at his parents and siblings.  "Then when I was in my 20s, I had a wooden sailboat." With the utterance of that phrase, a smile plays on his lips.  "We'd sail over [to Nantucket] every weekend.  We'd anchor in the harbor because I didn't want to pay the $15 for a slip!"  He chuckles at the memory.  "I don't think I ever went out to dinner; it was too expensive.  We'd just cook some fresh fish out on the boat."  And the young Goldweitz worked hard for his playtime on Nantucket.  During his college years, he spent his free time working as a bus boy; and he didn't take a break from working and learning when he traveled to Europe after graduation.  He worked in restaurants and made his acquaintance with the world of food and wine.  "[Because of the era and that fact that I was in Europe], I was able to try many, many wonderful wines for very, very cheap.  Great Bordeauxs that cost $500 today only cost five dollars back then.  I am very fortunate to have had those opportunities to learn so much for so little."  By the time the 70s rolled around, Goldweitz had held onto his growing love for food and wine, but decided to devote his life to the restoration of historic houses.  Boston was his focus; and today, well over 100 structures in Boston's Back Bay and South End owe him their lives.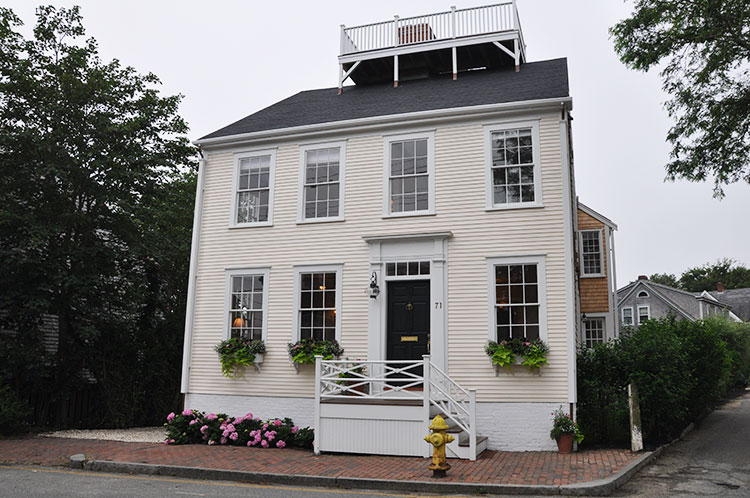 To Goldweitz, a history buff, directing his restoration efforts at Nantucket was a natural progression.  It all started in 2002 when he was enjoying a meander about town and he stopped to look at a real estate agency's ad for an old Orange Street mansion: the Levi Starbuck house!  The listing agent beckoned Goldweitz inside and offered to take him on a tour of the place.  Goldweitz politely declined, saying, "Oh, I'm not looking to buy a house.  I don't want to waste anybody's time."  The agent said it was no trouble, and he insisted on showing the house anyway.  Goldweitz agreed, and off they went to Orange Street.  And alas, we cannot help when we fall in love.  Today, Goldweitz and his wife Joyce enjoy summers in his own beautifully restored Levi Starbuck house.  When the couple first purchased the home, it had endured decades of deferred maintenance.  Goldweitz told Joyce of his intention to restore it in five-and-a-half months; and she in turn told him he was crazy!  But long working hours and a trusted team allowed the project to be completed exactly on time.  "It's all about planning," he states emphatically.  "We try to do as many parallel tasks as we can."  Today, the Orange Street home is a piece of history that has been exquisitely kept and decorated; Joyce lavishes all creative credit on her husband.
The "Gut fish, not houses" bumper sticker that is seen from coast to coast in this country takes on special meaning on Nantucket, where so many houses are steeped in the island's rich history.  "Gutting, from my point of view, is destroying," says Goldweitz.  "I would never 'gut' a house.  I take it apart.  I repair it.  I open up walls and install new plumbing.  And I create big, open spaces that are great for entertaining, which is what people often do here on Nantucket.  But," he notes, emphasizing each word, "I do not gut something as precious as an historic home."  Whenever possible, Goldweitz retains original glass windows, which often possess beautiful grooves in their clarity from having been hand-blown in a molten state.  The most distinctive mark of Goldweitz is luxury with an antiquated aura; he can somehow make a 5,000 square-foot mansion with a Sub-Zero refrigerator and home gym feel quaint and charming.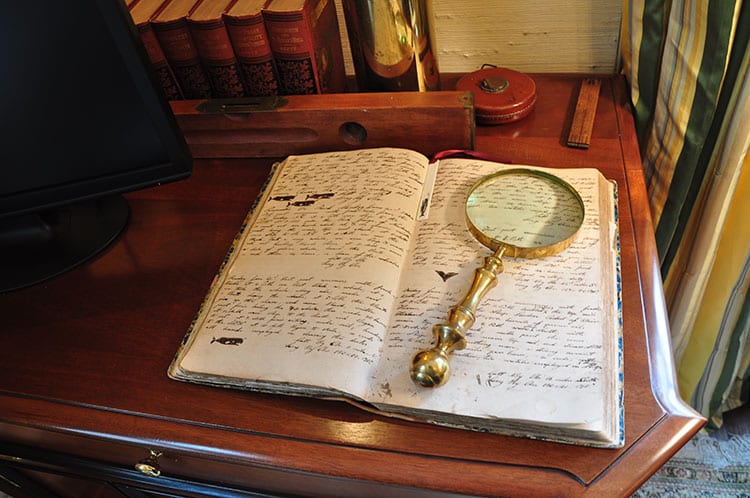 In choosing a home fit for restoration, Goldweitz seeks out what he calls a captain's house.  "You know it when you see it," he says.  "It's majestic, built between the 1740s and the 1830s, has five or more bedrooms.  But most important of all, it has to have the right bones.  Structurally, the home must be strong enough to hold our appliances, our Wolf stoves, all the clothing and belongings that we have today."  He's not afraid to take on what the real estate world euphemizes as "a real fixer-upper."  "Essentially," he says, "I look for a special home that is going to show its historic character but provide a good living experience for the 21st century.  People don't want to compromise their lifestyles.  A home has to have all the modern amenities."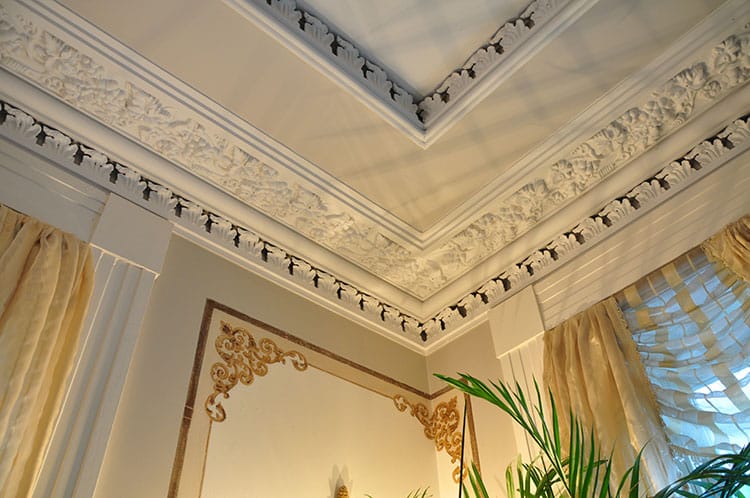 Goldweitz says it is becoming increasingly difficult to find these old historic houses in great locations.  Fortunately, sometimes hidden homes seek him out first.  A handful of Nantucket homeowners have looked to Goldweitz to provide historically sound restorations.  He tells the tale of a recent Orange Street acquisition, sold to him by an aging couple that could no longer properly care for their beloved Nantucket property.  Goldweitz smiles gently and says, "They knew it would be in good hands."  In looking ahead for new projects, however, Goldweitz doesn't like to gamble.  "I can't get too personal and fall in love with a house," he says.  "It'd be like falling in love with a woman who wasn't your wife!" he adds with a laugh.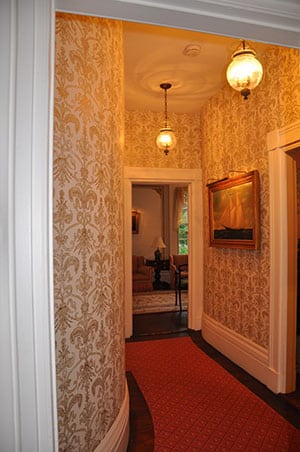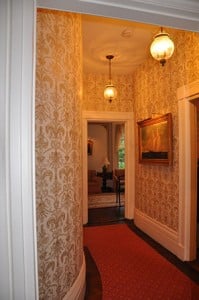 This year, several of Goldweitz's masterpieces were featured in the Nantucket Garden Club's 59th Annual House Tour.  Tour goers visited the Gardner House at 141 Main Street, and the garden behind 93 Main Street, a home commonly known as the East Brick.  Goldweitz seems to have a particular affinity for his work on this 1838 home built by whaling merchant Joseph Starbuck (who happens to have been the younger brother of Levi Starbuck, in whose former house Goldweitz now lives).  The Nantucket Preservation Trust was thrilled with Goldweitz's restoration of East Brick, which is very much a staple of island history.  Age-wise, the granddaddy of Goldweitz's projects was built in 1747 and was briefly the home of Benjamin Franklin's mother, Abiah Folger Franklin.  Incidentally, the house, located at 20 Cliff Road, is adjacent to what is today her family's namesake street, Folgers Lane.  "[The most rewarding part of my job is] seeing a dilapidated home conceptualized, and seeing the finished product."  Goldweitz gives a strong nod.  "Nantucket is a living, working community and Nantucket homes are part of the past, present and future.  These are places worth preserving."
See some of Goldweitz's completed restoration work at nantucketvacationhouses.com.