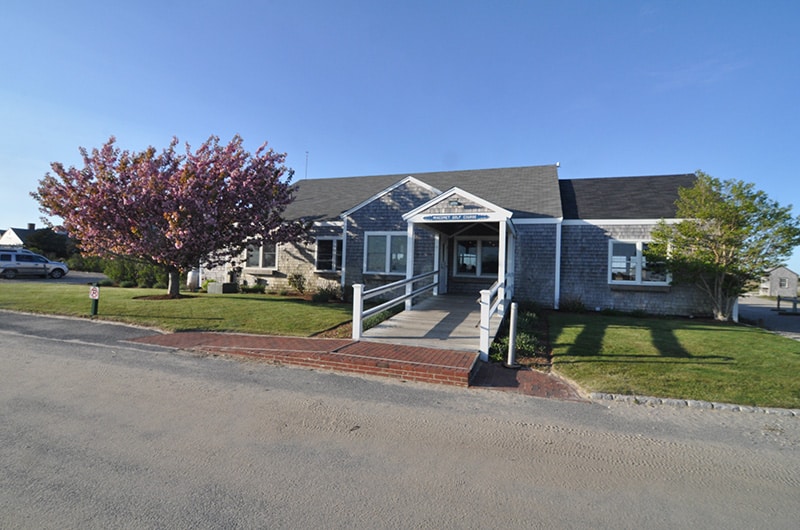 You don't have to make it to the 18th hole to enjoy the 19th at the island's Miacomet Golf Club. Tucked away off a residential road a mere three miles from downtown Nantucket, Miacomet is the island's only public 18-hole golf course, and its club restaurant is open to all, whether you hit the links or would rather sip a cocktail by the greens.
Service at The Restaurant at Miacomet is fast and professional, and from the time guests are greeted and seated till the last plate is cleared, staff is warm and friendly. Golfers often come in straight from the course, so dress is casual and the chatter around the bar in "Henderson's Hideaway" is usually about the latest tournament, local or international.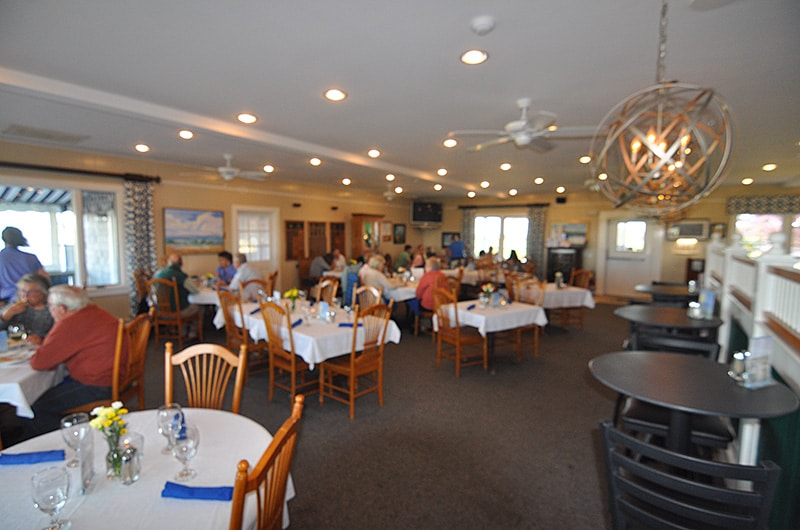 New to the kitchen at Miacomet, but not new to island kitchens is Chef Karen Michele Thureson. Islanders loved her cooking at Fusaro's, and she brings 15 years of experience and a wide range of culinary talents to The Restaurant at Miacomet. Chef Thureson's spot-on technique and skills in matching flavors elevate the simple, fresh foods served here to dishes worthy of high praise. She describes the cuisine at The Restaurant at Miacomet as American style cuisine with hearty plates and lighter options, and she is revitalizing the menu choices with seasonal selections and summer flavors.
We had a sampling of these changes at our dinner last week, and we loved Thureson's new dishes. Even the Miacomet classics we ordered had a freshness and heightened flavor that makes us excited to see what else this talented chef has planned.
Click images to view enlargements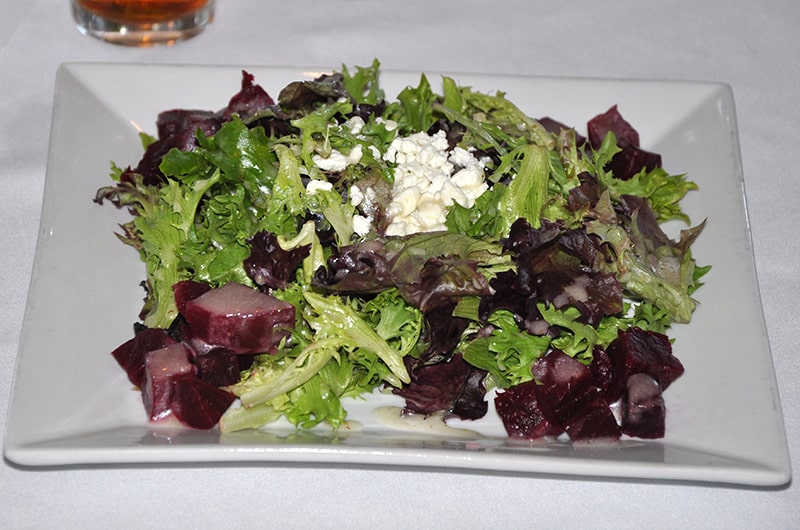 The four salads on the menu are served in half and whole portions, and can become entrees with the addition of shrimp, burger, chicken, salmon, calamari, swordfish, or fried clams. The Beet Salad is a plateful of fresh mixed greens tossed in a lemon-thyme vinaigrette that coats the lettuces with bright flavor. Cubes of tender, sweet red beets are clustered in each corner of the plate, and goat cheese crumbles add a creamy tang. (Suggested wine pairing: Mark West Chardonnay)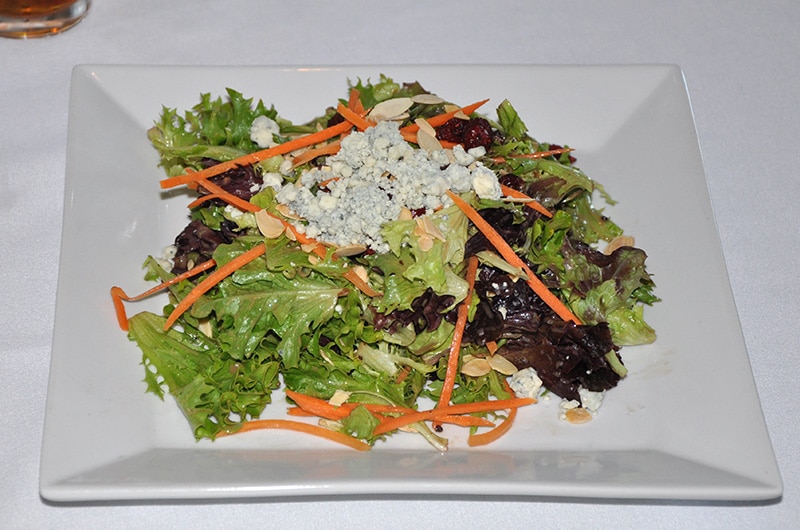 The Beet Salad was very good, but the vivid and vinegary toss of tastes and textures they call the Miacomet Salad was our favorite. Mixed greens, in a balsamic vinaigrette with crisp julienne carrot, sweet dried cranberries, crunchy slivers of almonds, and tangy gorgonzola is just fun eat! Each bite has a little something new. (Suggested wine pairing: Barton & Gustier Rosé)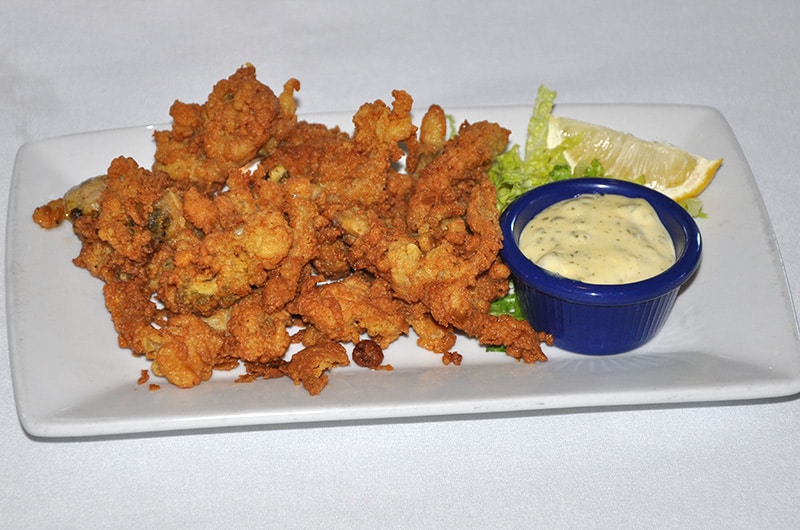 Ipswich Fried Clams have long been a patron favorite at Miacomet, whether you order them at lunch in a classic Clam Roll or as an appetizer at dinner. The way Chef Thureson prepares them reminds us of why these tasty morsels have become so widely adored! They arrive piping hot, fresh out of the fryer, the coating so crisp that it shatters between your teeth; the clams inside clean-tasting, tender, and succulent. (Suggested pairing: Cisco's Whales Tail Ale)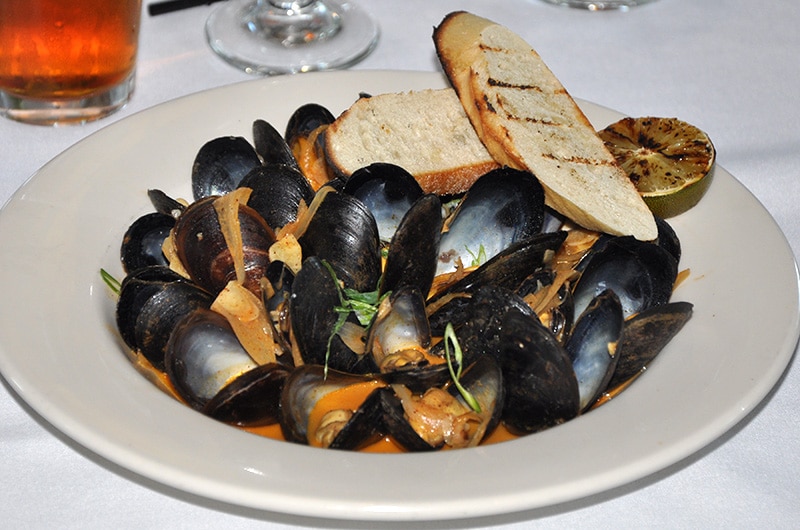 The Mussels, too, were so good that we could have asked for a double order and been perfectly happy feasting only on these. Small but plump, the mussels are brought to table in a wide shallow bowl arranged like a flower blossom: each glossy shell wide open to reveal a glistening orange morsel. And the deeply flavorful coconut-harrissa broth with sparks of heat left us purring with delight! After we devoured the mussels and dipped and ate all the grilled bread, we were tempted to lift the bowl to our lips to drink the rest. (Suggested wine pairing: J Vineyard Pinot Gris)
The main course at the Restaurant at Miacomet can be a light entree (Angus Burger, Grilled Chicken Breast, Fish & Chips) or a full entree. We opted to order four of the new entrees introduced last week. Chef Thureson told us that she loves "to grill, roast and braise. There are so many different ways to cook so many different cuts of meat … and so many different flavor profiles you can use." Her enthusiasm turned into delicious dinners with her new preparations of pork and of beef on the Early Summer Menu.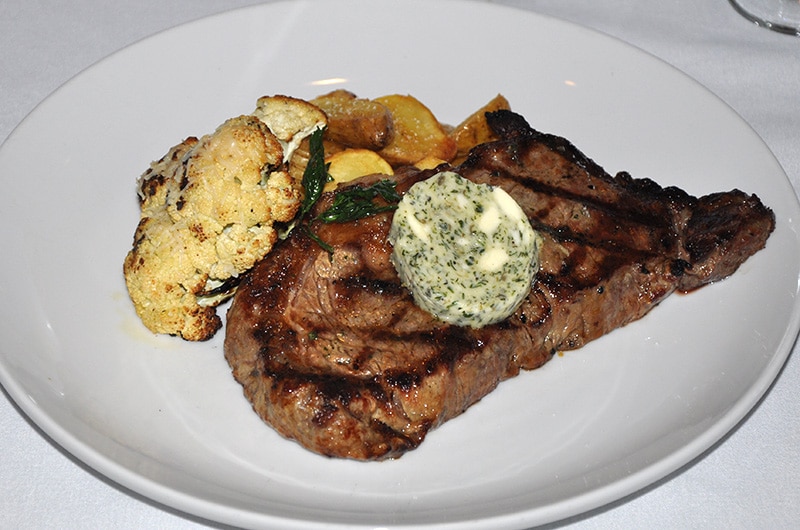 Served with beautiful grill markings, the Ribeye Steak is tender and beefy. A delectable char along the edge crisps the luscious fat of the ribeye into something sinfully delicious. Chimichurri butter melts over the top of the hot steak and anoints the grilled cauliflower and salty golden brown fingerling potatoes served alongside. (Suggested wine pairing: Justin Cabernet Sauvignon)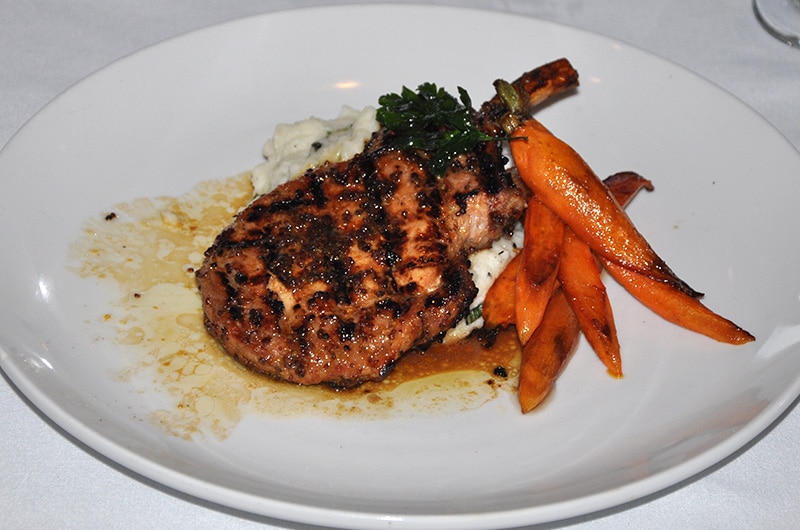 Every time we've eaten at this restaurant, a Pork Chop has been on the menu, but never one quite like this! The chop is grilled for a summery, smoky flavor and painted with a superb, slightly sweet marinade of whole grain mustard (one ingredient this chef would never be without), pomegranate, and maple. Baby carrots, roasted till they are spectacularly sweet nearly stole the show, and mashed potatoes flavored with bits of charred scallions were just the thing for mopping up every drop of the marinade-infused jus. (Suggested wine pairing: Frances Ford Coppola Claret)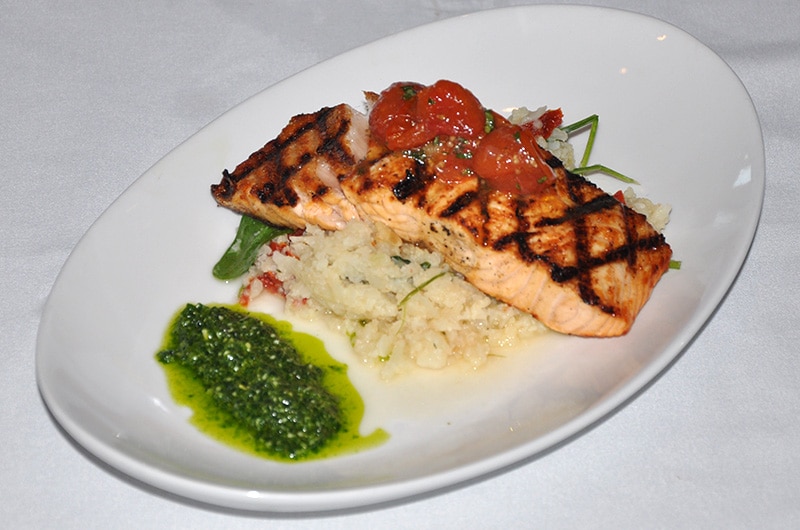 She may love to cook meats, but this chef is every bit as skilled with seafood. Her Fresh Atlantic Salmon arrived expertly cooked: exterior crusted with a slight smoky char, the inside cooked through (but only just) and delectably moist. Cherry tomatoes, blistered till they burst with sweetness and stirred with lemon relish and herb oil, are served overtop the fish, and underneath is a tasty, gluten-free cauliflower risotto with spinach and sundried tomato, made even better by stirring in the arugula pesto that adorns the plate. (Suggested wine pairing: Louis Latour Chardonnay)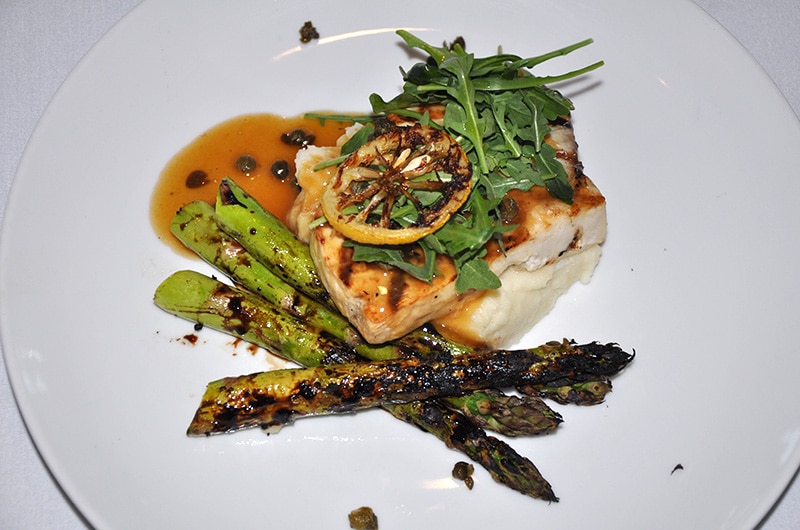 It takes a talented chef to cook Swordfish the way Chef Thureson does: moist and meaty, cooked through but not dried out. She serves it Piccata style—a wonderful choice for a hearty fish that can hold its own with tangy lemon and briney capers. Roasted garlic mashed potatoes and grilled asparagus finish the dish. (Suggested wine pairing: Jed Steele Pinot Noir)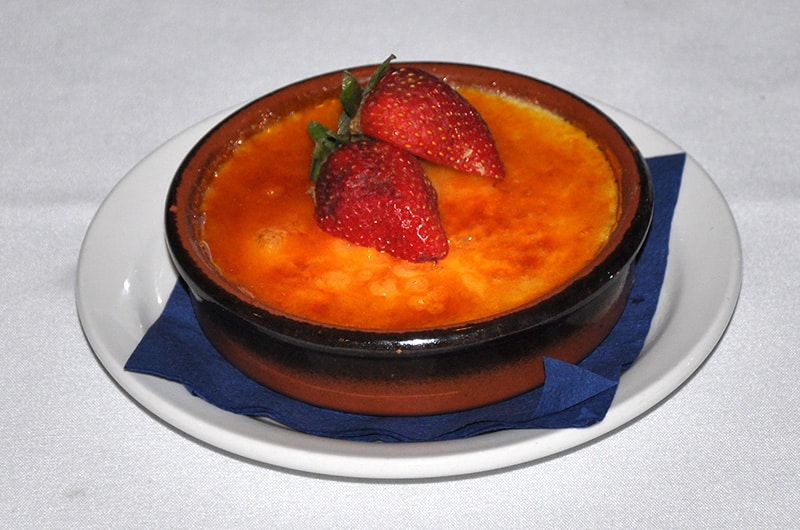 The Classic Creme Brulee makes an ideal ending to a summer meal: satiny custard topped with perfectly caramelized crust.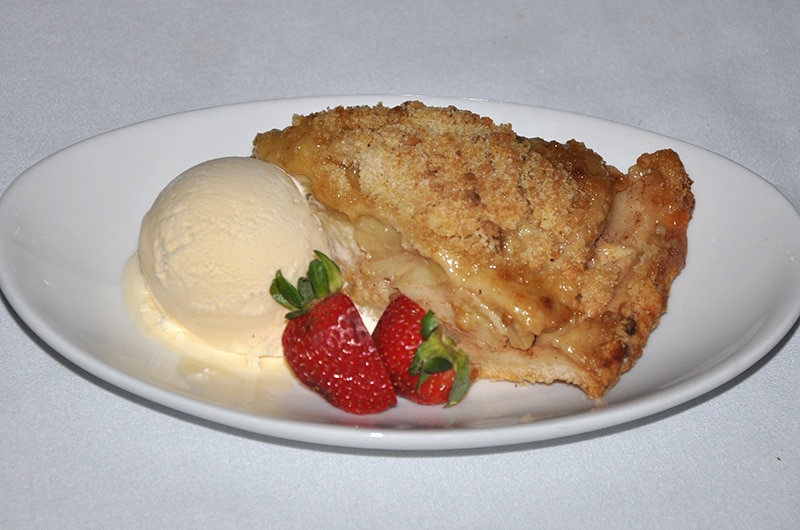 Their Dutch Apple Crumble, served warm with vanilla ice cream melting down over the soft cinnamon-scented apples and the crunchy topping is a homestyle favorite.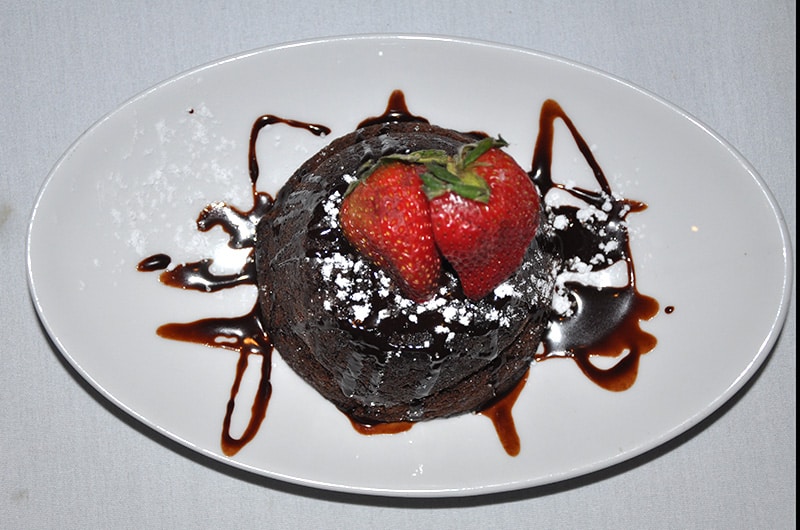 But if you like chocolate, then you'll want to order either their Chocolate Lava Cake with the rich, hot, molten center . . .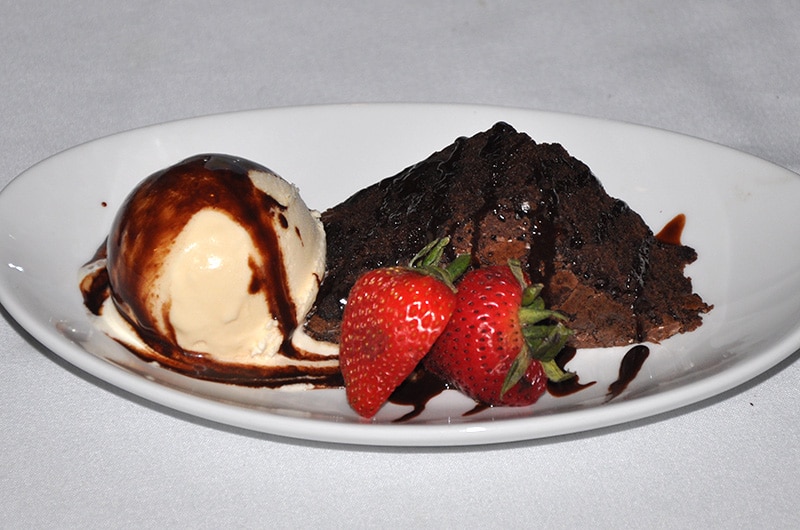 . . .or their famous Wasted Brownie, drenched in bourbon, topped with vanilla ice cream and housemade chocolate sauce, and only served to guests 21 and older.
Expert barkeeps at The Restaurant at Miacomet prepare a Salted Caramel Martini if you prefer to drink your dessert, or you can share a half bottle Saracco Asti Muscato from their nicely curated selection of wines.
Whether you're anxious to escape the Figawi revelers who take over the town this weekend or you just want a great meal at a price that won't break the bank, try the Restaurant at Miacomet for a welcome change from the invasion of "summer chic" scene.
The Restaurant at Miacomet
12 West Miacomet Road (turn left at the white rock) • 508-325-0335
MiacometGolf.com
Dinner Wednesday-Saturday from 5:30 to 8:30 pm • Bar open daily
Lunch served daily 11:30 am to 3 pm
Lite Bites from 3 to 5:30 pm
Sunday Brunch served from 10:30 am to 3 pm
Expanded hours starting May 29
Dinner entrees range from $23 to $32, plus lighter fare from $10 to $16
reservations accepted for dinner • Open year-round • handicap accessible
full bar • take-out available • private function room available