by Dr. Sarah Treanor Bois
Director of Research & Education at the Linda Loring Nature Foundation
April showers bring May flowers and hopefully those flowers are bringing in the pollinators! As the weather warms and the skies clear, Nantucketers are feeling like spring is truly in the air (finally!). Many of us are cleaning up our gardens planning and planting for the season ahead.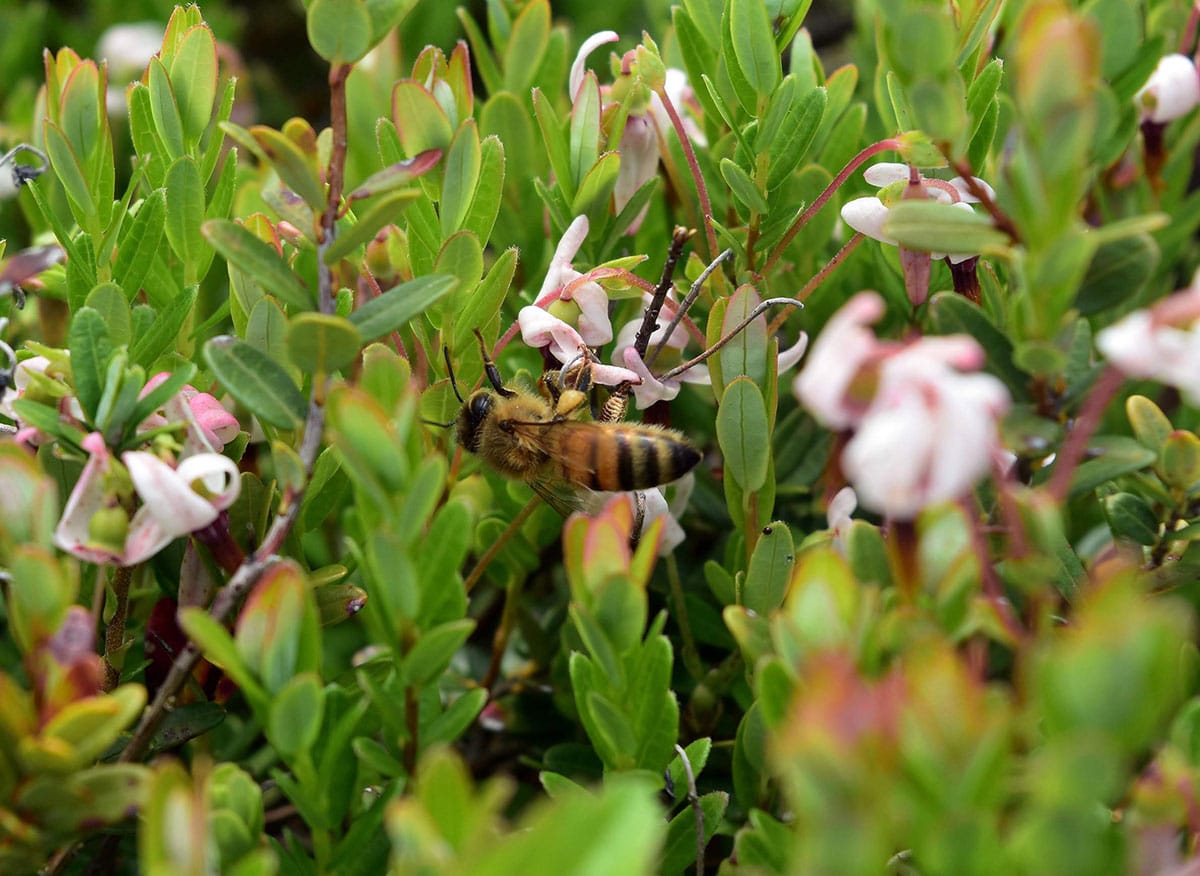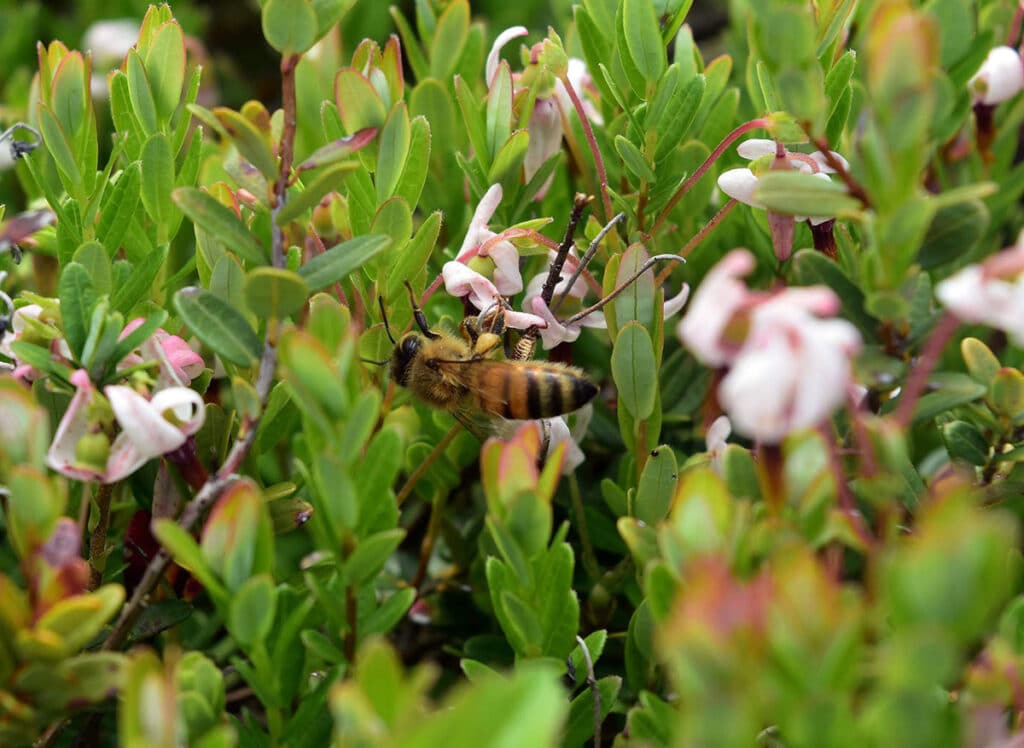 There is planting for food (think vegetable and herb gardens), planting for birds (sunflowers for example), and planting a multicolored flower garden. But the most important of all is planting for native pollinators. Pollinators provide a vital service helping plants reproduce and increasing genetic diversity. Without pollinators, the food we eat and many of the plants we enjoy would not exist. Native bees in particular, pollinate native plants like cherries, blueberries, and cranberries, and were here long before European honeybees were brought to North America. Native bees are estimated to pollinate 80 percent of flowering plants around the world!
Bees feed on both nectar and pollen: the nectar is for energy and the pollen provides protein and other nutrients. Most pollen is used by bees as larvae food, but bees also transfer it from plant to plant, providing the pollination services needed by plants and nature as a whole.
And we aren't talking about honeybees here. While important for agriculture, honeybees, as a nonnative species, can destabilize natural ecosystems by competing with native bees. There are about 5,000 native bee species in North America. Some are thriving, but many are becoming rare.
Insects on the whole have been in major decline in decent decades due to increasing threats of habitat loss, non-native species, climate change, and increase in agricultural practices and insecticide use. Native pollinators and bees in particular are under threat due to similar factors as well as competition and disease from non-native honeybees. Native bees also play an important role in food production, contributing at least $3 billion annually to agriculture in the USA.
Wild bees have a unique way of extracting pollen called "buzz pollination," which is when they shake flowers at a certain frequency in which more pollen is released. Honey bees can't do this. A honeybee would have to visit a blueberry flower four times to deposit the same amount of pollen as a single bumble bee.
An important part of conservation on Nantucket is protecting the pollinators that our native plants depend on. So what are we doing about it? Both the Linda Loring Nature Foundation (LLNF) and the Nantucket Conservation Foundation (NCF) are part of a regional project investigating native bee pollinators in grassland habitats. The objective of the Xeric Grassland, Barren, and Woodland Pollinator Conservation Project is to improve the ability of Northeast states to implement cost-effective habitat management for the benefit of native pollinators. In its fourth year (out of five), the project has thus far demonstrated that Nantucket, in particular Head of the Plains where NCF is sampling, has some of the highest native bee diversity.
Grasslands up and down the East Coast, including our own sandplain grasslands, offer unique assemblages of plants and likely pollinators. As these habitats are lost to development, succession, and non-native species, pollinators lose important nectar sources and breeding areas. This is an important opportunity for our local groups to participate in a region-wide study and learn more about our own native pollinators.
In addition to this important conservation research, Nantucket is looking at ways homeowners can contribute to supporting native pollinators.
The Nantucket Land Council (NLC) has launched a Planting for Pollinators program this year to help homeowners plan some garden space with pollinators in mind. Turning your yard into a pollinator-friendly ecosystem will help you and all of Nantucket!
How to get involved? Visit the NLC planting for pollinators page as a start for resources and information. If you sign up (for free) to participate in the 2021 program, the NLC will send you a "do-it-yourself guide" to planning, prepping, and planting your garden space. As part of the program, you will receive monthly emails with updates and tips to help guide you through the season. Plant suggestions in the guide are available on-island. These suggested species are mostly native and are definitely not invasive. They also require less water and fertilizer than most commercially available garden plants leading to overall improved water quality and sustainability.
And don't worry if you're concerned about attracting bees to your yard. Very few native bees sting – truly!
As a novice gardener, I'm using the guide to assist in adding a new bed in my own yard. The guide helps with site selection based on sunlight availability in your yard, soil, and location. The plant lists are Nantucket- specific and include suggestions for combating herbivory from deer and rabbits. It also includes soil prep and tips for successful establishment. I especially appreciate the on-going maintenance guidance to ensure success through the growing season and into early autumn.
The goal of the project, according to Executive Director Emily Molden, is to "build a network of pollinator habitat and beautiful natural spaces across Nantucket in our own backyards."
By helping our native pollinators, we're helping our whole community thrive.
What else can you do to help native pollinators?
• Plant native species.
• Lay off the pesticides. Most sprays are non-specific, so if you try and kill one thing, you could actually be killing bees and butterflies as well.
• Provide a diversity of pollinator-friendly plants with various bloom times to ensure availability throughout the growing season.
• Provide water sources. During the hot, dry summer, even small pollinators could use some water.
• Don't clean up every area of your garden. Fallen plant material and twigs can provide important habitat and breeding areas. Leave at least a small portion of your yard with some debris.
• Support your local conservation organization! These groups, like LLNF, NLC, and NCF, do a lot to support native pollinators and manage important habitat.