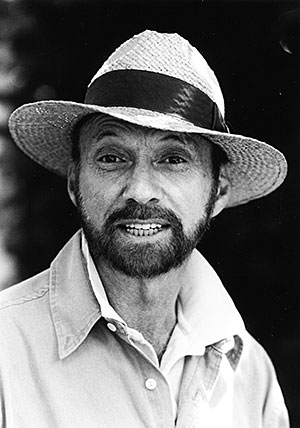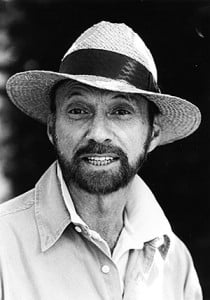 This Saturday, August 20, the Artists Association of Nantucket (AAN) is hosting their second annual Donn Russell Print Collaborative at their Visual Arts Center, 24 Amelia Drive. Free and open to all, this day of events will be held from 10 am to 3 pm.
The print collaborative provides printmakers (novice and experienced) and members of the public the opportunity to try their hands at a variety of printing techniques with all materials provided.
At 10:45 am, AAN member Miki Lovett, who received the Mixed Media Award in 2014, will give an artist talk as part of the Print Collaborative about the Solar Plate Etchings and marbled silk scarves she is showing as Spotlight Artist this week at the Nantucket's Artist/Patron Exhibit at AAN's downtown gallery.
Donn Russell is a longtime AAN artist member, and an accomplished printmaker, painter, sculptor, along with being an actor, writer, and musician. "In the 70's, Donn started working in graphic arts and printmaking, especially silkscreens or serigraphs, an obsession that would continue for the rest of his artistic career," said AAN curator of exhibitions Robert Frazier. "He began exhibiting his works in local galleries, and eventually set up his own print gallery on Old South Wharf."
"Donn is a legend in the Nantucket art world and especially known for his printmaking. We are thrilled to have him here for this great print collaborative. His talent and expertise is enormously important to AAN and we greatly appreciate his generosity and support of our print-making program," said AAN adult education program director Mary Emery Lacoursiere.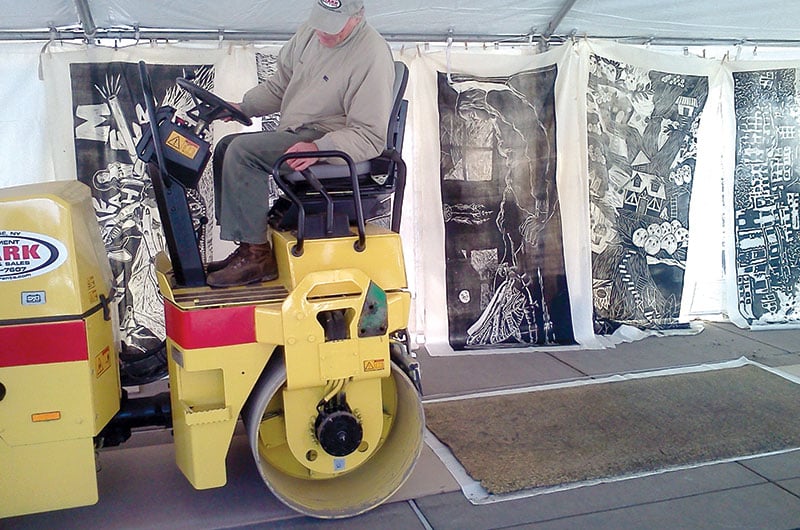 A highlight of the day will be the steamroller printing. "Artists have been preparing for weeks for this great opportunity," said Lacoursiere. "We have begun to build a long-section of hand-carved blocks, but we are counting on participants, on the day of the event, to add to the collection. Once the blocks are all inked-up and in placed on our driveway — a honest to goodness steamroller will come and drive over it. The images from the blocks will be captured on a long piece of fabric," she added.
All ages are encouraged to attend and experience the art of printmaking. In addition to opportunities for attendees to make prints and to witness the steamroller printing, visitors may choose a block to have a t-shirt made. During the second annual Donn Russell Print Collaborative, Roamin' Pizza and other refreshments will be available.
Also on exhibit this week at the Artists Association's Cecelia Joyce & Seward Johnson Gallery, 19 Washington Street is their annual Artist/Patron Exhibition, on display through September 5.
"By tradition our artists bring in their strongest works for this special exhibition, which we consider one of the highpoints of our gallery season. George Korn, this year's juror, has a collector's eye and has such an in-depth knowledge of island art work," added Frazier. "He will select from works in oils, acrylics, watercolor, photography, mixed media, and ceramics for recognition or awards."
For details about the Donn Russell Print Collaborative, as well as AAN's new Visual Arts Center and the schedule of classes and public programs, visit the AAN website at Nantucketarts.org.