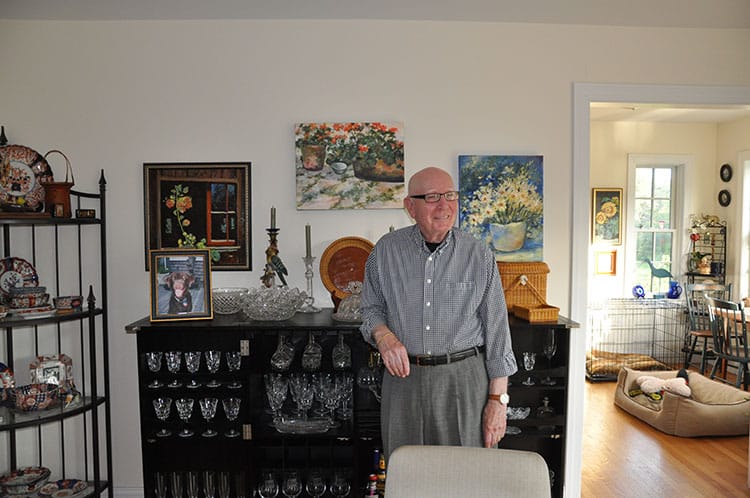 Blue eyes sparkling, with a mischievous grin, Paul Willer explained how he fell in love with Nantucket: "Oh, it was right away…I fell in love with the island as the boat was coming into the harbor…the next day, Peter said 'Let's go to the beach,' and I said 'No, let's go see a realtor.'"
It was 1969 when his first love, Peter Guarino, introduced him to this second. They were living and working in New York City and needed a break. "Peter suggested we visit Nantucket—he had been here and loved it, but I had never been—and I said 'Oh good, we can drive there!'" Paul explained with a chuckle.
After that first visit, Paul and Peter decided to sell the boutique they operated in the the city and move to Nantucket. "We were ready for a change," Paul explained. In 1971, they bought 25 Orange Street. They renovated the house, doing most of the work themselves, converting it into a seven-room inn which they called The House of Orange. It was their treasured home for the next three decades and a much beloved home-away-from-home for hundreds of others. Now, 45 years later, speaking from his home in Sherburne Commons, Paul cannot imagine living anywhere else but on Nantucket.
Innkeeping can be an all-consuming task, but Paul loved doing it. "It was the best job I ever had!" He and Peter did everything, from the initial renovations and repairs to making beds and even ironing the sheets. Still, they found time to participate in the island community and to entertain. "It became quite an honor to be invited over to Peter and Paul's," said long-time friend Judi Hill, "It was always a good time, and you'd never say no," added Greg Hill.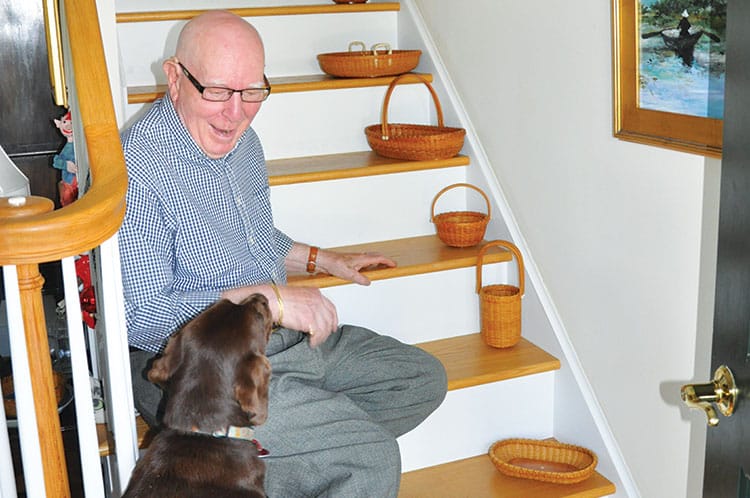 And the couple found time to pursue hobbies that brought them into Nantucket's vibrant scene of art and artisans. Peter started painting, becoming an active member of the Nantucket Artists Association, serving as AAN board member and president.
Paul started making Nantucket lightship baskets. "My first basket was pretty sorry looking," Paul said with a smile, "but I was determined! Edgar [Seeler] offered to loan me one of his molds, and I took him up on the offer. It came pretty quickly to me [once I got started]."
Willer did much more than just weave the baskets: he is a master basket maker who constructed every piece, from the molds and the staves to the rims and knobs. He even carved the bone and ivory he used. "Back then, you had to do everything from scratch," Paul explained. "You started with green oak—green so you could bend it—I'd start with a five-foot plank, but I had to cut it in half so I could get it into the basement." In his basement workshop at 25 Orange Street, he'd cut the planks on a band saw to make thin stays, which he then boiled to make them pliable. The rims had to be steamed, so Paul rigged up a pipe to a teakettle to accommodate the long pieces.
In 1975, Paul sold one of his baskets and then another and another. He estimates that over the years he made more than 2,000 lightship baskets, many of his own design and each with a signature look. He never made a traditional ladies' covered handbag, though he did design and make ditty bag baskets that many women used as purses. Paul collected cobalt glass and would often use the glass as molds for his custom baskets. He smiled as he reminsced about the cobalt open salts he made for Dorothy Tonkin to sell in her shop: "She used to bring me the glass to make the baskets…once she came back with about 400 of them!"
Basketmaking was a creative outlet for Paul, and he was innovative in what he made. He's known for many "firsts": the first square lightship basket, the first ice bucket basket, the first bud vase basket, and the open salts. "He made beautiful miniatures," added Judi Hill, "tiny nests of baskets that could be worn as necklaces and earring baskets the size of pencil erasers."
"I like the practical baskets," he commented. Practical but also exquisite: Paul Willer's baskets are prized for his consistent and fine craftsmanship. They are tightly woven, constructed with flat oak staves, finished with orange shellac and rims that are not nailed.
Willer retired from basketmaking more than ten years ago, but his baskets can be seen at the Nantucket Lightship Basket Museum. Occasionally some of his baskets are included in a Rafael Osona Auction. "Our collectors absolutely love his work," said Gail Osona, "when we have them, they are highly coveted—they fight over them."
Judi Hill sold baskets for Paul "during his early days," and currently has eight of his lightship baskets for sale at Hill's of Nantucket, 40 Straight Wharf. She agrees with Osona that the quality and craftsmanship of his work is a real draw. "Paul is a basketmaker, not a weaver—he created his baskets from scratch—and that makes such a difference."