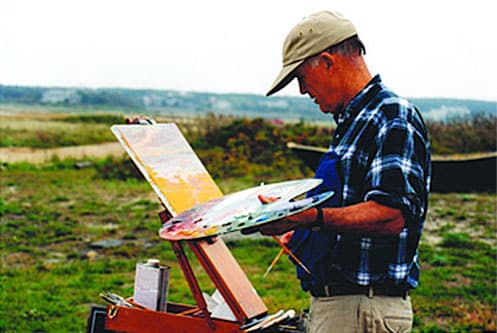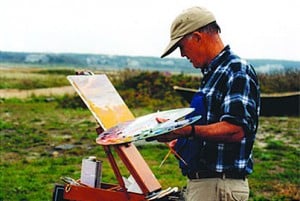 Artists Association of Nantucket (AAN) is hosting the second annual Plein Air Nantucket, open to all outdoor painters on Saturday and Sunday, June 29 and 30. The two-day painting festival will conclude with an exhibition of the art and the presentation of the Frank Swift Chase Awards at 6 pm on Sunday, June 30, at 33 Washington Street.
Plein Air Nantucket is open to all artists who wish to paint in the fresh air and pristine scenery of the harbor and enjoy the camaraderie of painting with their peers.
A huge proponent of plein air painting, Frank Swift Chase taught outdoor classes on Nantucket starting in 1920 and ending in the early 1950s, and the core of his regular students became the founders of the AAN.  It is in this spirit, that the AAN hosts Plein Air Nantucket.
"We're excited to present this opportunity again," says AAN curator of exhibitions Bobby Frazier. "It's a chance for today's painters to explore the same wharves and harbor beaches that intrigued the painters who dominated that golden era of Nantucket art."
All artists are asked to sign up for Plein Air Nantucket on Saturday morning, June 29 beginning at 9 a.m. at 33 Washington Street. There is a small entry fee of $15. All artists' canvases are limited to between 8" x 10" to 12" x 16" and must be stamped by the AAN at the time of registration.
Artists will paint within the area north from Step Beach/Jetties area to the Monomoy Public Landing, taking care not violate private property restrictions. The majority of the work should be painted on location and all art must be returned to 33 Washington between 3:45 and 5:15 pm on Sunday, June 30.
The Frank Swift Chase awards presentation and a reception will be held on Sunday, June 30, from 6 to 7:30 p.m., at 33 Washington. All are welcome to attend this free event.