by Suzanne Daub
I've never seen the movie Footloose, so I didn't know what to expect from the current Theatre Workshop's stage adaptation.
What I got was an entertaining evening and a story with more substance than many musicals I've seen. Thanks to a talented and charismatic cast, skilled directing by Justin Cerne, and fabulous choreography by Molly Cerne, the play is energetic and fast-paced, lively and loud, suggestive and bawdy — overall, it's a fun and wild ride.
Kyle McClellan as teen outsider Ren leads the charge. He's expressive and tireless and light on his feet, a delight to watch — and the boy can sing! McClellan has several scenes in which he proves his acting chops as well. He is sincere and convincing when Ren has his chat with the Reverend after losing at the Town Council meeting.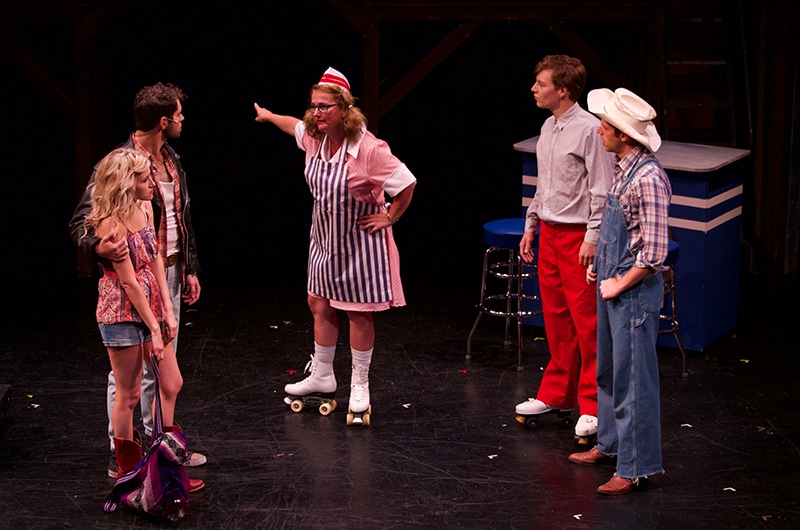 Brittany Lacey as female lead Ariel is confident on stage and gives herself completely over to the role of the rebellious, sulky teen who truly cares. When she and Ren talk about their dreams one night on a railroad bridge, the audience buys it. And in the scene when she leads the campy song "Holding Out for a Hero," she nearly has the audience on their feet.
Joel Bauman keeps everyone smiling at Willard's slow innocence and sense of wonder, the perfect foil to Ren's city-smart charisma. Delightful in singing "Mama Says," he has the expressive face and comedic timing required for this type of humor. Rhys Conklin, Jesse Lynn Harte, and Brooke Sweeney as Rusty, Wendy-Jo, and Urleen, work well together, expressive and talented in their singing, dancing, and acting abilities. They were great performing "Somebody's Eyes."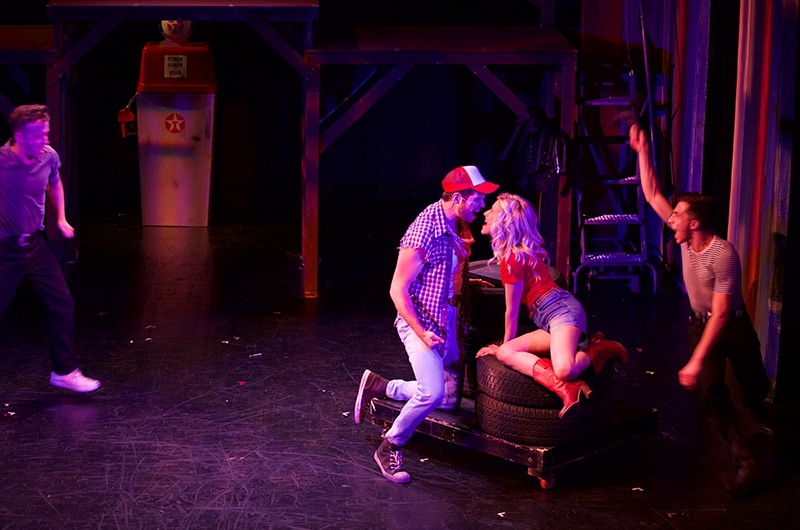 Timothy Booth played the part of the brooding Reverend Shaw Moore expertly, with the skill to make the audience empathize with his character's bitter reaction to losing his son and his fear of losing his daughter without ever turning against him. And the very talented TWN regular Sarah Fraunfelder perfectly portrays Ren's mother Ethel with sympathy and strength. I loved the duet "Learning to be Silent" she sings so expressively with the Reverend's long-suffering but stalwart wife Vi, played by Caitlin Lester-Sams.
Kudos to the director and choreographer for a tight production and to Scenic Designer Peter Waldron for making the stage seem large enough to depict the many scenes of Chicago and Bomont with his suggestive sets. Angela Carstensen's many costumes perfectly evoke the 1980s. Sean McGinley does a superb job with the audio so the music rocks the audience without blasting anyone out of their seats. Audience members were tapping their toes in time to the many familiar and infectious tunes throughout the play.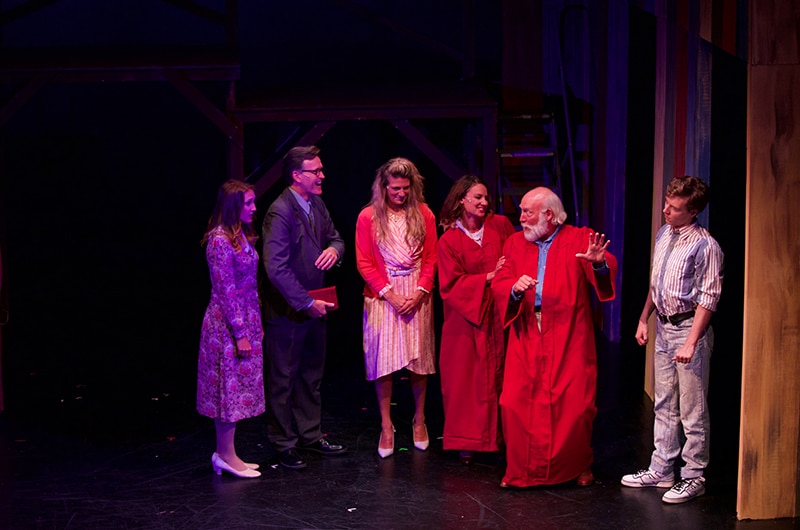 Footloose is fun and playful romp—perfect summer theatre—you'll leave TWN's Bennett Hall with a smile on your face and a song in your heart. Don't miss it!
Theatre Workshop of Nantucket's Footloose is playing through
August 25. For tickets call the box office at 508-228-4305 or
reserve a seat online at theatreworkshop.com