For four decades, Greg and Judi Hill have been an integral part of the Nantucket community. Greg's paintings grace many homes on- and offisland and the gifts Judi has designed are always popular holiday and hostess gifts. They've devoted their time and donated their works to more island causes than can be counted, and they're always ready with a warm welcome to anyone stopping by their gallery/shop at 40 Straight Wharf.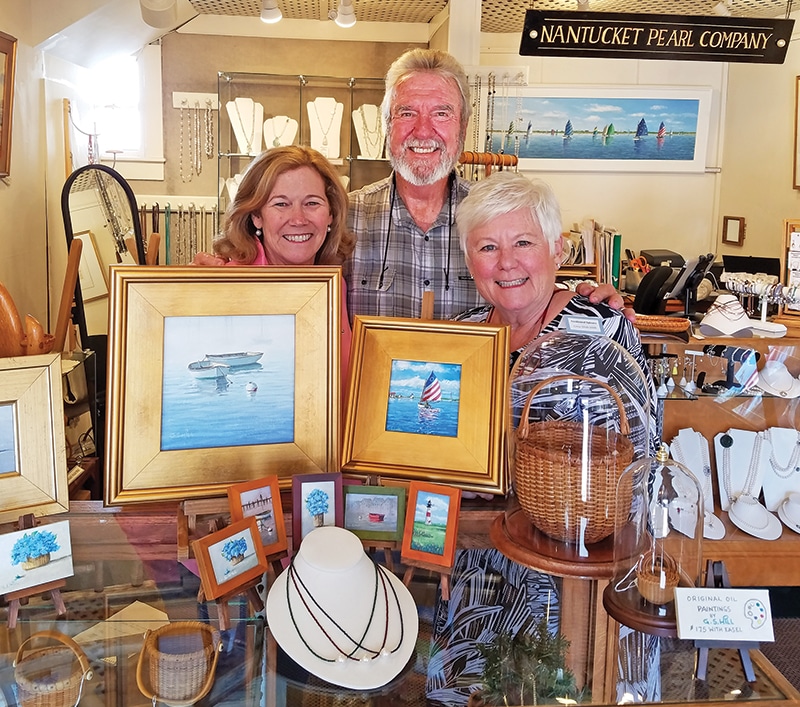 The Friday of Stroll Weekend, December 6, Greg and Judi Hill invite everyone to join them to celebrate their 40th year on Nantucket Island with some Christmas cheer between 10 am and 5 pm.
Greg has completed new paintings, several winter scenes, for the party, and he has also created some special mantle clocks in very limited edition. Over the years, this artist has adorned a number of unusual "canvases" with his art. Greg finished the woodwork on each clock by hand and has adorned each with different Nantucket scenes.
Also at the celebration, Pam Freitus, a good friend of Judi's and the jewelry designer she has been working with since they started the Nantucket Pearl Company more than ten years ago, will be on-island to introduce their new Holiday Collection. These new jewelry designs feature sterling silver, gold, semi-precious stones, Swarovski crystal, and, of course, pearls.
"Our everyday pearl jewelry shimmers, but these new earrings, necklaces, and bracelets have more sparkle and shine for holiday parties." Pam explained. "You may find that one piece you need for your little black dress."
With the Nantucket Pearl Company in the G.S. Hill Gallery and online at nantucketpearlcompany.com, Pam and Judi love being able to offer real freshwater pearls to American women at affordable prices, and the jewelry is made in America.
Pam's designs are inspired by the pearls: "I'm inspired by their color and their shapes. I love the feel of pearls, the way they reflect light, and how well they mix with leather, gemstones, crystals…"
Judi added "You can wear a strand of pearls with a t-shirt, and you're dressed… they make an ordinary outfit look extraordinary. And you can wear them every day!"
Like most of the Nantucket Pearl Company jewelry, the Holiday Collection is limited edition, so if you find a piece you like, you might want to buy it in two colors before they sell out. Or perhaps you'll match a new holiday sparkle necklace with one of their Must Have Bracelets. At price points for many pieces under $100, shopping here won't empty your wallet.
When you stop by Friday, December 6 to toast Greg and Judi Hill's 40th year, remember to ask for a free ticket to their annual Stroll Drawing—the winner will be chosen on Stroll Saturday, December 7.