by Sarah Teach
Most of us think of Nantucket as a place where relaxation reigns; but on one July morning every year, the island becomes an epicenter of physical challenge and accomplishment. The first Nantucket Triathlon took place in 2009 with 400 participants, and it has grown exponentially since. This Saturday, July 21, 950 athletes will compete in a race that plunges them into the waters at Jetties Beach before biking halfway across the island and back, then running their way to the finish line.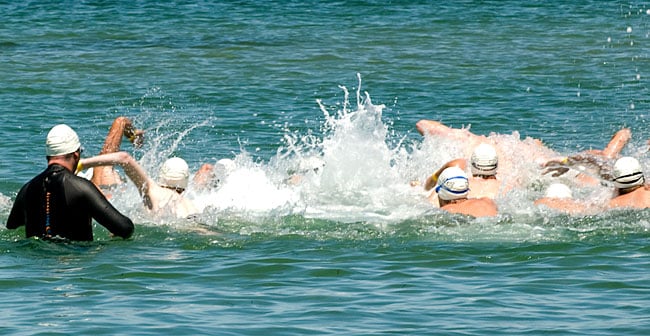 Note that the word "compete" is used lightly when it comes to the Nantucket Triathlon. The race is more about fun and personal triumph than athletic rivalry. Nantucket Triathlon founder and race director Jamie Ranney says, "There are very few hyper-competitive athlete types. Sure, you see a couple sprints at the very end, but for the most part, the people doing the Nantucket Triathlon are just normal folks. That's what's so great about it. [You wouldn't believe] the amount of people that I know just on this island who have changed their lives through getting in shape. So many good things flow out of it." Ranney shakes his head then offers a perspective, "I think people are very intimidated by triathlons. The mental part is the hardest part of everything. For example, I am not a swimmer. When I swim, I count to 20 then start over. My breathing calms and I get into a kind of rhythm that takes my mind off of what I'm doing."
Ranney, more than six feet tall and well over 200 pounds, wasn't always a fitness guru. His massive shoulders rising in a shrug, he acknowledges, "I am built like the anti-triathlete. For me, the running is the hardest part. I used to go run in the moors so people wouldn't see me! You know, here's this Sasquatch,"    he jokes. In 2004, Ranney entered a triathlon in Ashland, MA, that asked contestants
how much time they would need to swim 400 yards in the pool. Ranney says, "I was so incompetent at that point that I just put down 20 minutes. When I got there, the staff was kind of looking at me and finally, one of them approached me and said, 'Do you really need 20 minutes in the pool? We had a one-legged grandma who just did it in nine.'" Ranney laughs in self-effacement and admits,"That's how incompetent I was when I was first starting out. I had no frame of reference." He gives some sound advice for first timers: "I always tell people, just do a web search for 'first time triathletes' and tons of information will come up. Training, certain exercises, tips."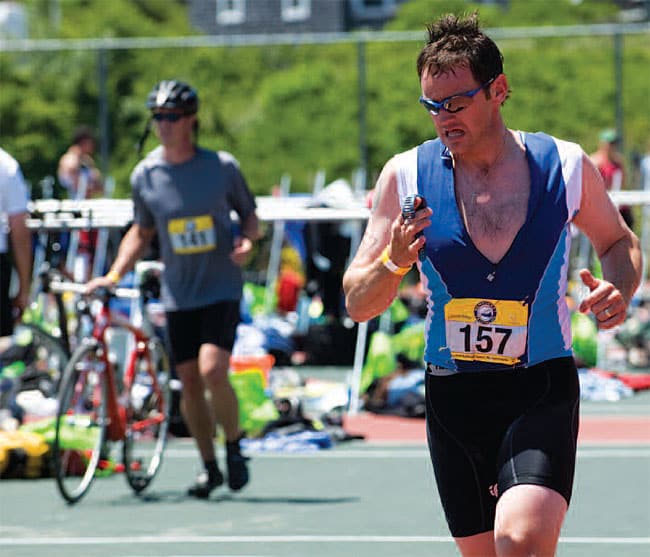 What better place is there than Nantucket to try out a triathlon? "It's an easy course, very amenable to first-time athletes,"    says Ranney. The race begins with a 0.33-mile swim at Jetties Beach. Water temperatures are expected to be 63-65 degrees, so wetsuits are recommended. Then, like Darwinism in fast-forward, athletes emerge from the water and immediately mount their bikes for the 14-mile ride out to Madaket and back. Capping off the race is a 3.4-mile run before the athletes burst gloriously through the finish line! Whether or not a triathlon is involved, we all know that arm-twisting is not necessary to get someone to come to Nantucket. Accordingly, the race has brought some big names. Ranney recalls, "Harry Connick Jr. was in it the first year, just using a little borrowed bike. We didn't even know he was there. Then we've had Senator Scott Brown and [eight-time gold medal Olympian] Jenny Thompson." But celebrities are the least of Ranney's interests when it comes
to contestants. "You'll meet some of the most compelling people," he reveals, leaning forward. "One year, a guy with Parkinson's did the race with a friend. He came to me in tears after the race and thanked me for letting him check something off his bucket list." Another year, after the race's
clean up crew had come and gone, Ranney walked a 79- year-old man across the last thing that had been left standing: the finish line. Ranney's face slowly bends into a wide grin as he recalls, "The guy's family was there cheering him on."
In order to figure out just how much money the Triathlon is bringing to the island, the race organizers conduct in-depth post-race surveys. Last year, over 400 responses came in, verifying that each athlete brought 3-5 friends or family members to the island with them. In our tourism-driven economy, welcoming more visitors means welcoming more money into the community. Race rganizers
estimate that the weekend brings in an astonishing $2 million. And while Ranney himself doesn't make a dime off of the race, some of Nantucket's teenagers make out like bandits (or scholars, to be exact). This year, the Nantucket Triathlon will be able to mark off a $35,000 total donation to the scholarship fund that helps island youth pay for higher education. "[The race itself] isn't a moneymaking operation.
My main concerns include continual improvement of the race and benefit of the town." A year-round resident of the island, Ranney offers locals first priority for race admission. In 2011, more than 100 year-round islanders competed!
If you're a local, you can definitely get in next year, and can even avoid the $125 entry fee by volunteering at this year's race. But the Nantucket Triathlon isn't all run and games. A point of significant controversy has been the road closures implemented to keep the athletes safe on race day. From 6:30 a.m. until 8:30 a.m., several major roads on the west side of the island will be closed completely to vehicle traffic. (For full information about road closings, visit www.acktri.com.) But for every upset party, it seems there is someone else who is delighted about the Triathlon. Jason Bridges, threetime Nantucket Triathlon competitor, owner of Nantucket Bike Tours, and president
of the Nantucket Triathlon Club, expresses his thoughts about the race:    "This race has ignited a huge interest in active recreation, getting fit and overall [improving] health. The demand for other races has also increased, and cycling studios and fitness classes have popped up all over the island in the past three years. The overall health and fitness of island residents has directly benefited
from this event."
"This isn't a ham-and-egg operation," Ranney jokes lightly before growing serious. "Our goal is to run a very professional event that people are just dying to get into."
Swim Across America Joins Nantucket Triathlon
The nation's largest non-profit swimming organization fighting cancer, Swim Across America, is paddling back to its roots. Twenty-five years ago, the group's very first swim was held in the Nantucket Sound, set up as a relay swim from Nantucket to Hyannis. It has since evolved to dozens of open water and pool swims around the country. With the help of hundreds of volunteers nationwide and past and current Olympians, Swim Across America is helping find a cure for cancer through athleticism, community outreach and direct service. To date, Swim Across America has raised over $40 million for cancer research, prevention and treatment! This year, Swim Across America is joining the Nantucket Triathlon and hosting their landmark event on July 22, the day after the Triathlon takes place. Swimmers of all ages and skill levels are invited to participate in the one-mile open water swim at 8 a.m. at Jetties Beach. As a way to give back to the island where it first began, Swim Across America is allotting a portion of the swim's proceeds to the cancer initiatives of Palliative and Supportive Care of Nantucket and the Nantucket Cottage Hospital.